I was well past college, well into my adult years before I ever realized that not everyone made potatoes this way.
But everyone should!
These potatoes are perfectly fluffy and tender and steamy and so delicious! And they are ready to go in about 10 minutes. 🙌
Which is perfect because who has time to heat up an oven and let a couple of potatoes roast for an hour?!
(You can also check out Air Fryer baked potatoes, which are a bit faster than the oven method and get a crispy crust, but still not quite as quick as these.)
Potatoes are a great pairing for so many dinners. Or they can be the main event at dinner, as in my cheesy chicken and broccoli baked potatoes or chicken hash over baked potatoes.
Plus, everyone can fix and top their microwave baked potato just as they please, so they work well for families with different tastes (aka picky eaters).
Now, I've got some notes and substitutions coming up on how to make microwave baked potatoes. Just tryin' to be helpful. (I've made these A LOT and want to share all the details so you can get them perfect, too!)
If you want to jump on down to the recipe, simply scroll right on through the rest of the text. The recipe card is near the bottom of the page, above the comments section.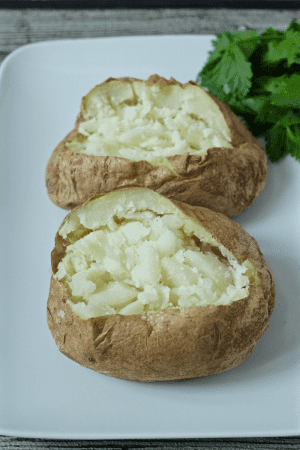 How to make microwave baked potatoes:
Scrub the potatoes and poke each potato 5-6 times with a fork – I do it a few times on each side. Place potatoes directly onto the microwave plate.
The time depends on the number of potatoes and the size of your potatoes. See just below for an easy-to-read list.
When the time is up, get a towel or oven mitt and gently squeeze the sides of the potato. If it gives without resistance and starts to open up, it's ready. If it still seems a bit firm, microwave for another minute at a time until tender. If your potatoes are different sizes, remove the ones that are tender and continue cooking only the ones that need additional time.
Carefully cut open your potato, add your favorite toppings and enjoy!
Let's talk specifics about the timing.
How long does it take to microwave potatoes?
– The exact timing will depend on your microwave power, potato size and the number of potatoes. Here's a general guide.
– For 2 medium-sized russet potatoes, start with 10-11 minutes of microwave time on 100% power. If the potatoes don't seem tender (give them a squeeze with an oven mitt; they should give readily), add another 1 to 2 minutes at a time.
– For 4 medium-sized russet potatoes, start with 15-16 minutes.
– For a single potato, start with 5-6 minutes.
– If your potatoes are especially large or fat – like the kind you'd get in a restaurant – you'll likely need an extra couple minutes of microwave time. Just put them back in the microwave and add more time until they get cooked through.
– It's not necessary to turn your potatoes over during the cook time; I usually don't because I'm busy doing something else for dinner. However, you certainly can and it can be helpful for larger or fatter potatoes to get them to cook evenly and a bit more quickly.
(Oh, and check out this post if you're looking for microwave sweet potatoes; the timing is just a little different.)
OK, let's really make these potatoes fun with the toppings! You know I love adding some toppings…
Topping ideas for baked potatoes:
Butter, sour cream or Greek yogurt
Shredded cheddar cheese, crumbled blue cheese, or feta or goat cheese
Crumbled cooked bacon
Chopped chives or fresh herbs
Guacamole or diced avocado
Salsa or pico de gallo
Hot sauce or sriracha
Sprinkle of paprika or other seasonings
So many possibilities!
Any way you serve them, I love that potatoes are perfectly portion controlled. I tend to get a bit crazy when piling pasta or rice on my plate, but a potato? The whole thing is mine.
(I love when I don't have to share!)
And I'm one of those people who eats the entire potato, skin and all. I take after my dad that way. I'm a serious potato lover, and these microwave baked potatoes measure up beautifully. 👌
I hope you give these a try – they make dinner so easy and you end up with perfect, fast microwave "baked" potatoes every time.
Enjoy!
XO,
Kathryn
P.S. You can sign up for my free e-newsletter and get my free e-cookbook with 10 easy weeknight dinners!
P.P.S. This is my favorite potato scrubber (and it's less than $5!)
Want to make it a meal? Try my fast cheesy chicken and broccoli twice-baked potatoes – an all-in-one meal that everyone will love!
How high can YOU stuff them?!
For more information, please see more information about Best way to cook potato in microwave
Detail: 🔗