Los Angeles is arguably the best place in the nation to experience the bold flavors and spices of Mexican cooking. But, it's also one of the best places to find satisfying vegan options for these spicy dishes. Showcasing the best and brightest of LA's Mexican scene, these vegan burritos below are seriously delicious. If you're craving an explosion of flavors, check out our full list of the best vegan burritos in LA.
Cena Vegan
Pop-Up
Vegan
Reading: Best vegan mexican food los angeles
If you're searching for the best vegan Mexican options in LA, Cena Vegan is an iconic name that constantly pops up—but there's a reason for this fame. Cena Vegan's Mexican eats are some of the best in the city, with an entirely vegan menu that boasts fresh ingredients and bold flavors. Their Big Vegan Burrito is no exception. Filled with your choice of Plant Ranch vegan protein—carne asada, pollo asado, al pastor, carnitas, barbacoa, or birria—and a tasty combo of beans and rice, Cena Vegan's burrito is wrapped in a warm flour tortilla and ready to eat. Choose from a wide selection of salsas and condiments like pico de gallo, guacamole, spicy birria salsa, and chipotle cashew crema to make it your own! Looking for a low-carb option? Cena Vegan's burrito bowl offers the same delicious flavors without a tortilla.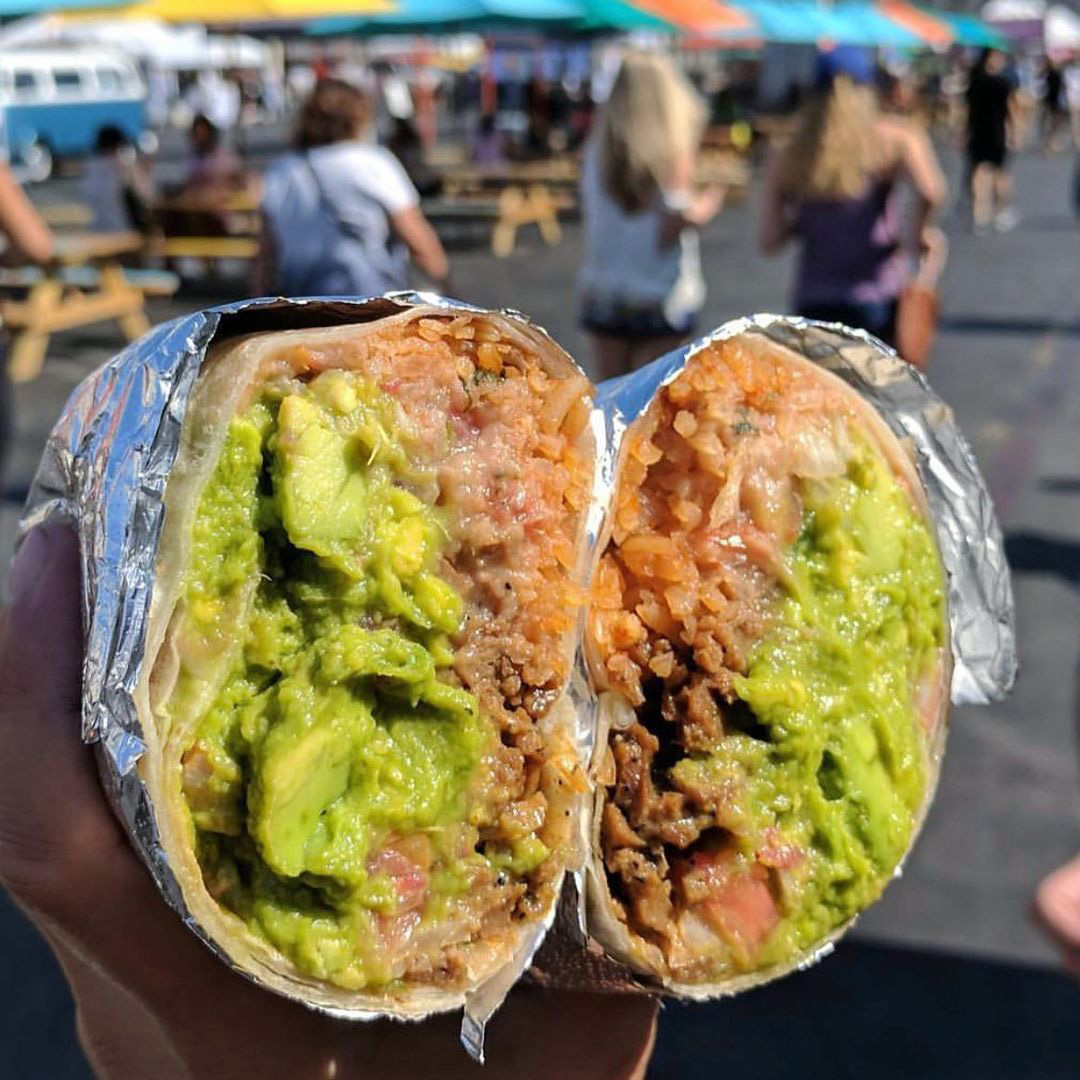 El Cocinero
Van Nuys
Vegan
Reading: Best vegan mexican food los angeles
El Cocinero has vegan Mexican food down to a science. Aside from serving up astonishing vegan tacos, tortas, and quesadillas, El Cocincero's vegan burritos are first-rate—sure to please vegans and non-vegans alike. All of their burritos come with your choice of vegan protein—soy al pastor, soy asada, soy chick'n, jackfruit carnitas, soy chicharrón, and a jackfruit/soy birria—alongside a combo of fresh cabbage, pico de gallo, refried beans, and rice. With add-ins like avocado salsa, mozzarella cheese, chipotle mayo, cashew crema, and habanero salsa, you can truly customize your burrito to your personal taste. The best part? El Cocinero offers burrito bowls, too!
Photo credit: @elizabethaward on Instagram
Sugar Taco
Fairfax & Sherman Oaks
Vegan
Reading: Best vegan mexican food los angeles
With their next-level vegan burritos, this women-owned restaurant should 100% be on your bucket list of LA Mexican spots to try. With a build-your-own style, Sugar Taco's Burrito comes with black beans, rice, salsa, pico de gallo, and your choice of savory vegan protein—carne asada crafted from house-made seitan, soybean pollo, seitan al pastor, or jackfruit carnitas. The best part? Sugar Taco has a wide variety of add-ons, including seasonal veggies, guacamole, nut-free queso, crema, and a pineapple jalapeno hot sauce, so you can create your own tasty combination.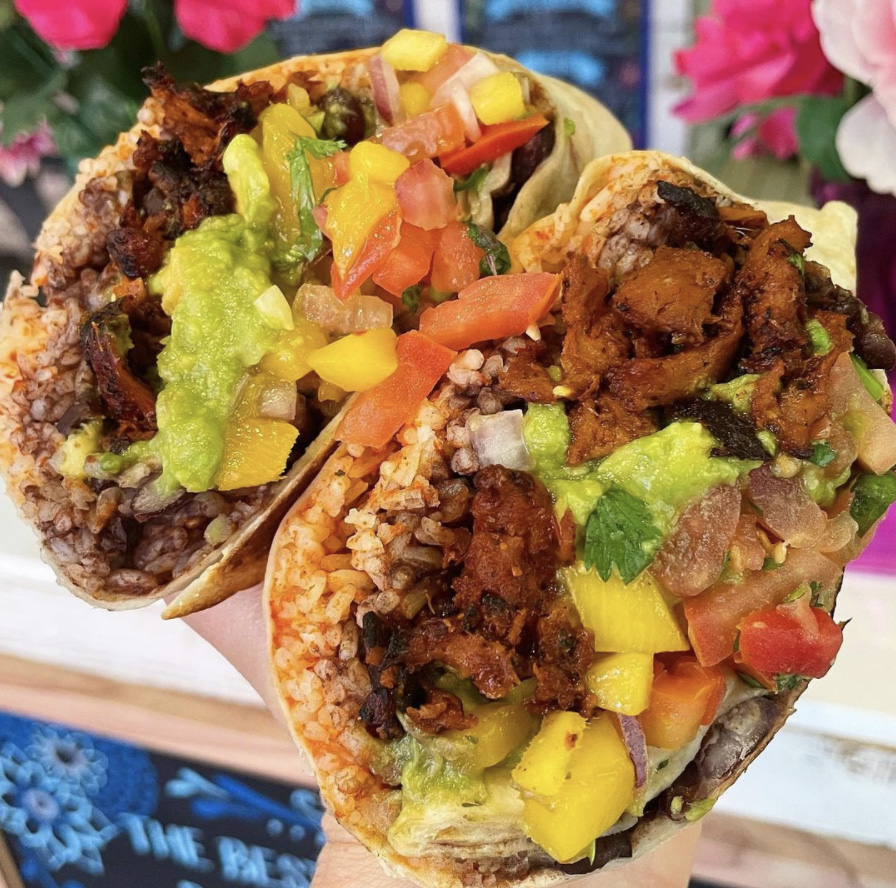 Doomie's NextMex
Hollywood
Vegan
Reading: Best vegan mexican food los angeles
Located in the heart of Hollywood, Doomie's NextMex boasts an all-vegan menu guaranteed to please. While they offer quesadillas, nachos, and flautas, their burritos are definitely the fan-favorite. With an all-star collection of vegan meat offerings, including al pastor, chile verde, asada, pollo, carnitas, mole chicken, Korean BBQ, and Baja artichoke, Doomie's NextMex certainly has a plant-based meat option for everyone—combine with rice and beans to make an excellent burrito! Looking to spice up your burrito routine with something different? Make it a wet burrito or deep fry your burrito for an extra few dollars—the taste is surely worth it!
Read more: Fried whole fish – We Count Carbs • Recipes for carb counters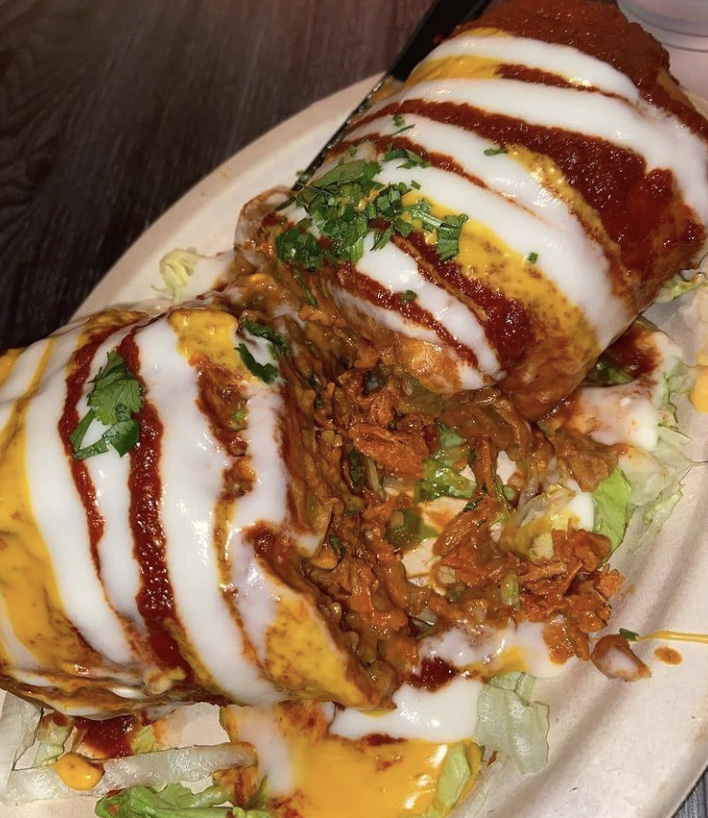 Photo credit: @thickveganvet on Instagram
Taco Vega
Fairfax
Vegan
Reading: Best vegan mexican food los angeles
There's no place that does burritos quite like Taco Vega does. With four different burrito options on their 100% plant-based menu, Taco Vega has something for everyone! Are you a fan of keeping it simple? Go with their OG burrito, with roasted yam, black beans, Spanish rice, chipotle tahini crema, and pickled red onion. If you're feeling adventurous, try their supreme burrito (made with seasoned quinoa) or their extra-spicy California burrito (stuffed with grilled oyster mushroom asada). The best part about Taco Vega? Their breakfast burrito (filled with a tofu scramble, farro chorizo, black beans, cheddar, and pico de gallo) is served all day. Make sure you save some room for dessert, because Taco Vega's fresh vegan churros and rice pudding are both excellent ways to finish off your meal!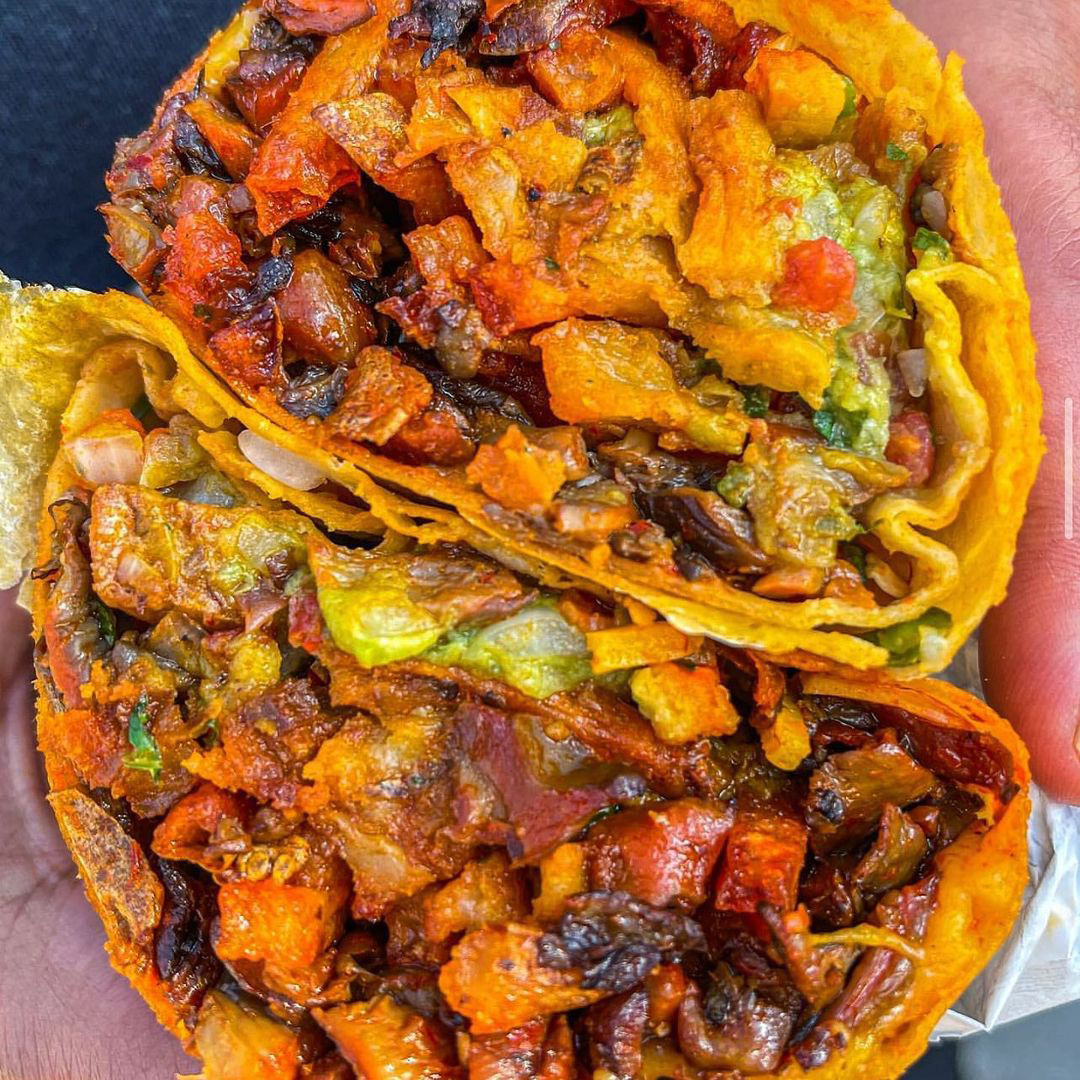 Photo credit: @elizabethaward on Instagram
Vegan by El Zamorano
Located in Santa Ana, Vegan by El Zamorano is Orange County's first all-vegan Mexican restaurant. This taqueria offers everything from quesadillas to asada fries—but they specialize in burritos. Vegan by El Zamorano has an insane burrito menu offering 13 different burritos. Don't know which to choose? Their California burrito (packed with house-made vegan cheese, vegan asada, french fries, pico de gallo, red salsa, gourmet cashew crema, and guacamole) and their Chile Relleno burrito (stuffed with rice, beans, vegan chile relleno sauce, and house-made cashew crema) are fan favorites. In the mood for breakfast instead? Try Vegan by El Zamorano's breakfast burritos—the perfect way to start your day!
Flaco
East Hollywood
Vegan-Friendly
If you're looking to start your morning off right, Flaco's plant-based breakfast burrito—served all hours of the day—should be on your radar. Flaco's Vegan Breakfast Burrito is filled with scrambled JUST Egg, Daiya cheddar cheese, purple potatoes, pico de gallo, avocado, and cilantro crema. While Flaco offers other innovative vegan eats, their colorful burritos are top-tier, and they certainly don't skimp on flavor. All wrapped up in a Sonoran-style flour tortilla, this vegan burrito is an LA burrito staple.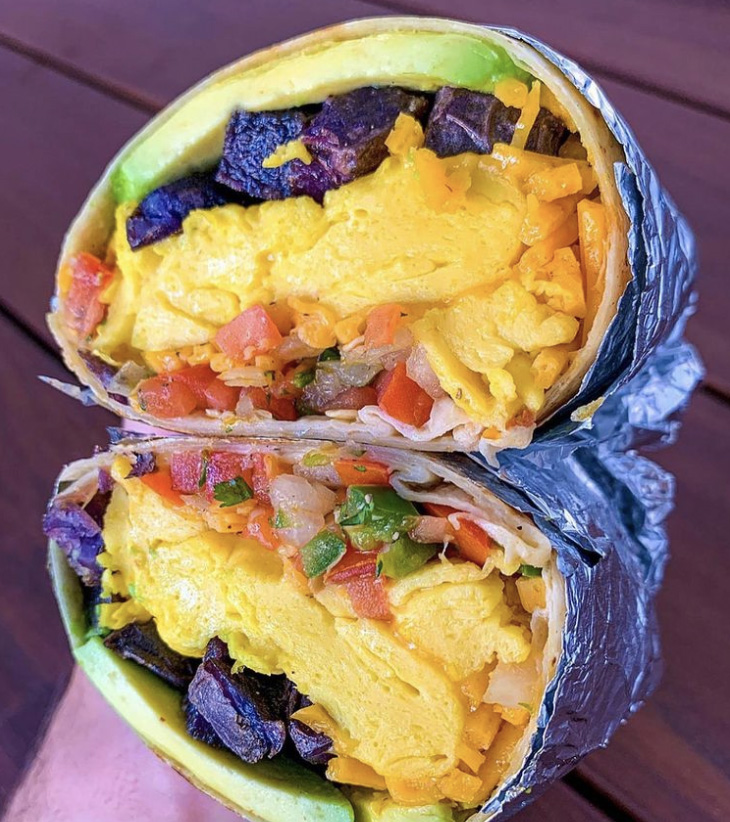 Tlayuda L.A. Restaurant
East Hollywood
Vegan-Friendly
Serving up homestyle Oaxacan cuisine, Tlayuda's dishes carry forward the flavors and tastes of Southern Mexico, offering spectacular vegan and vegetarian options—from tortas to fajita bowls. If you're feeling adventurous, be sure to check out their Vegan Chipotle Burrito—with marinated hibiscus flowers, white rice, lettuce, tomatoes, onions, and avocado, all wrapped in a warm tortilla.
Read more: What is the best gauge for a stainless steel sink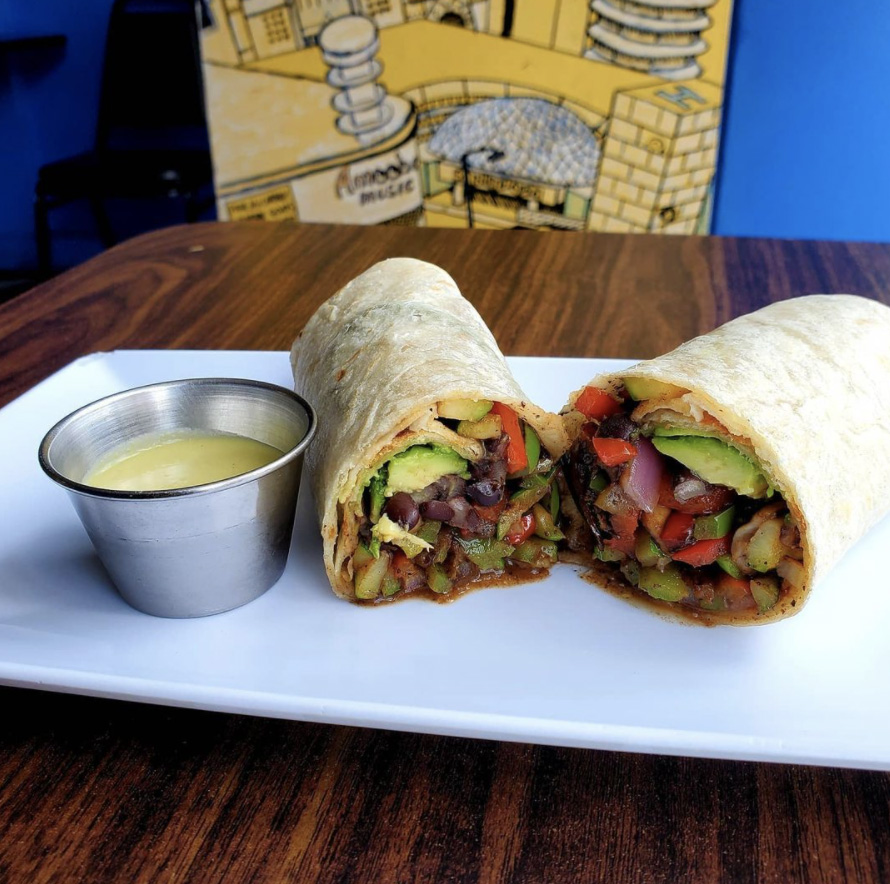 Olga's Naturally
Culver City
Vegan-Friendly
With an emphasis on serving the healthiest and freshest Mexican food in town, Olga's Naturally certainly lives up to its expectations. Sourcing organic ingredients from local farms, Olga's is proud of their all-natural quality ingredients. The highlight of their vegan menu's offerings? Olga's Seasonal Veggie Burrito, of course! Filled with seasonal veggies like zucchini, Italian yellow squash, carrots, bell peppers, black beans, brown rice, organic greens, roasted corn, tomatoes, and guacamole, the Seasonal Veggie Burrito is every vegetable-lover's dream.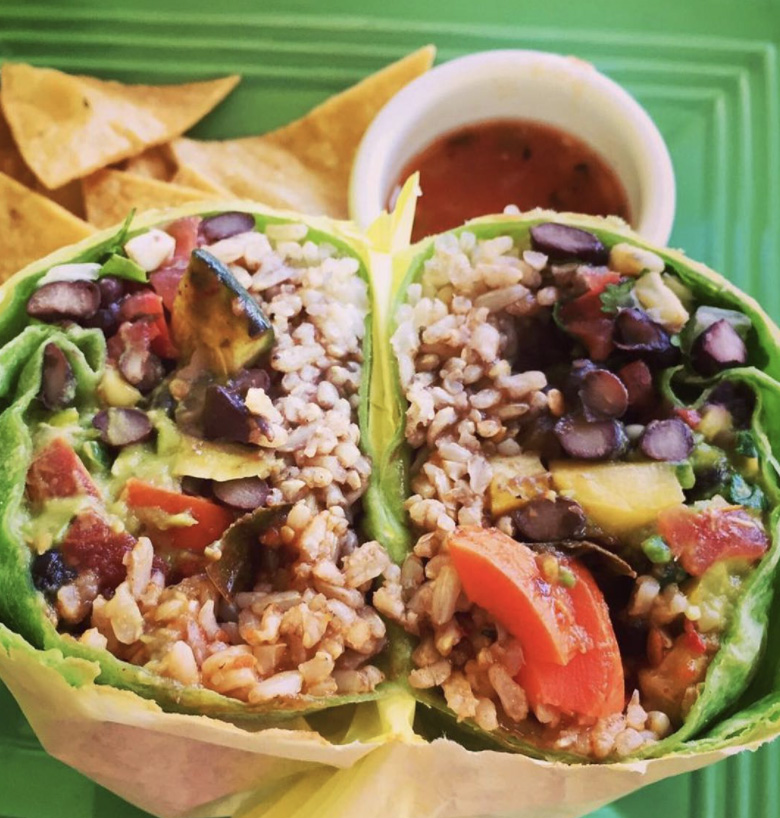 Photo credit: Crystal T on Yelp
Las Glorias Del Buen Comer
Silver Lake
Vegan-Friendly
Silver Lake's Las Glorias Del Buen Comer has a mass of fans from all over LA who praise the shop's ability to incorporate authentic Mexican flavors into plant-based creations. With a wide variety of vegan Mexican options available, this spot's burrito is clearly supreme. Las Glorias Del Buen Comer opts to keep it simple with their standard vegan burrito being served with rice, beans, guacamole, onions, and cilantro, and your choice of soy chicken or beef. We promise this burrito is worth the trip!
Leonor's Mexican Vegetarian Restaurant
Studio City
Vegan-Friendly
Leonor's Mexican Vegetarian Restaurant truly has it all in terms of burritos. With a wide selection of breakfast burritos—like their Bacon Breakfast burrito, Sausage Breakfast burrito, and more—Leonor's also offers an appetizing standard burrito, as well. This burrito comes with brown rice, steamed pinto beans, cheese, avocado, chopped tomatoes, red onions, and plant-based meat—all wrapped in a whole wheat tortilla. Just be sure to specifically ask for vegan cheese and you're all set! Feeling adventurous? Try out their Chili Burrito or Doug's Delight Burrito, served with a spicy Bolivian sauce.
Tacos Tu Madre
West Hollywood, Westwood, Larchmont Village, & Los Feliz
Vegan-Friendly
With a number of locations scattered around LA, Tacos Tu Madre's West Hollywood spot offers an extensive list of vegan options. These options include innovative meat-free creations such as Banh Mi flavored tofu (marinated for 36 hours), which you can order in the form of a taco, burrito, or bowl. Looking for a heartier filling? Try Tacos Tu Madre's Spicy Pulled Pork burrito (stuffed with marinated jackfruit carnitas, onion, pickled watermelon, and drizzled with vegan crema) or their Fried Chicken burrito (filled with house-made fried seitan, spicy agave sriracha, pickled fresno chili, and topped with poblano ranch slaw).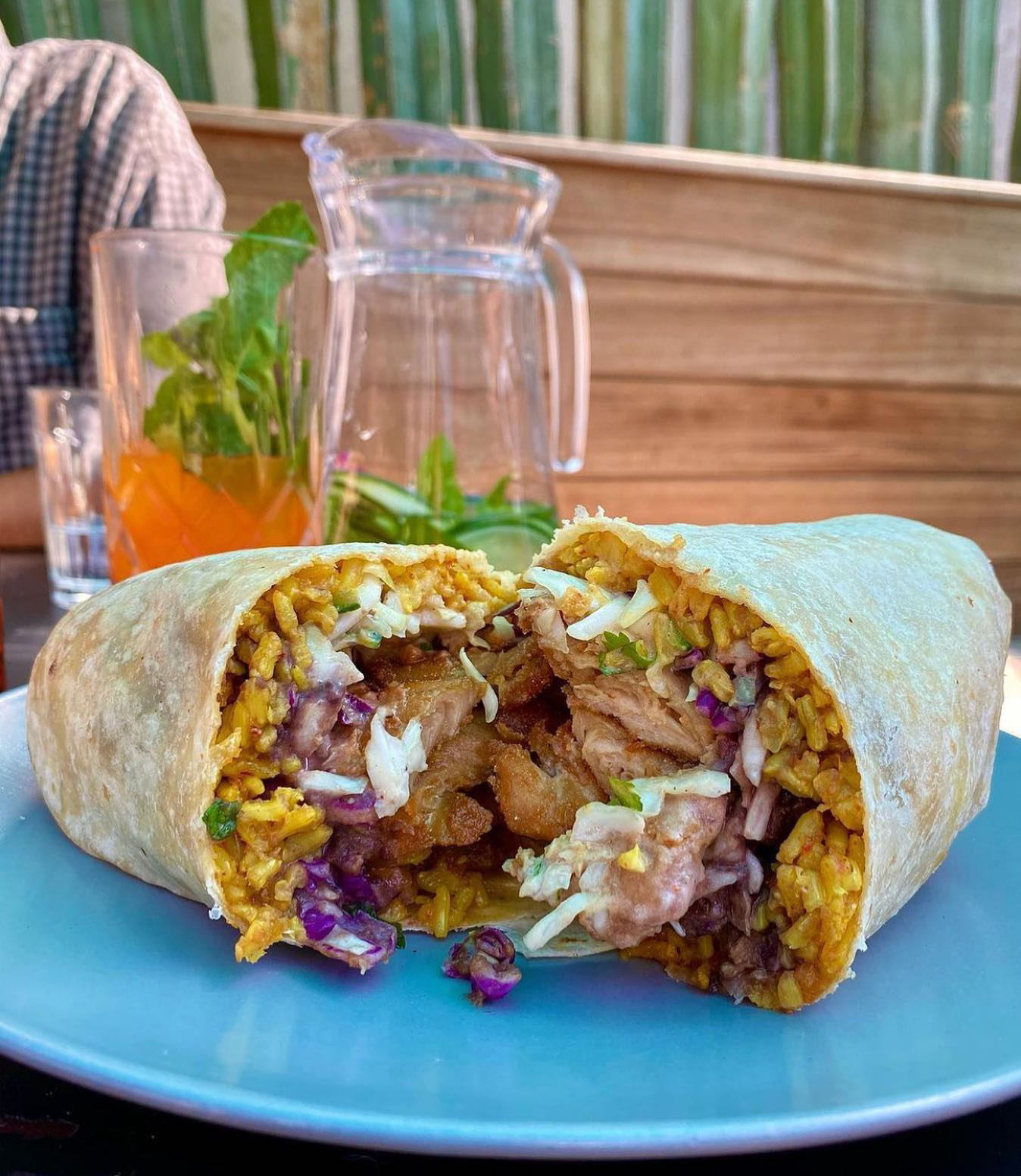 Photo credit: @plant_tastes on Instagram
Read more: 5 Best Puppy Foods for Cane Corsos (Reviews Updated 2022)
For more information please see the list of Best vegan mexican food los angeles
Source: https://vegoutmag.com/food-and-drink/12-spots-for-vegan-burritos-in-los-angeles/