One of our favorite parts about the Epcot Flower and Garden Festival is always the food, and this year is no different. There are a total of 22 outdoor kitchens offering a wide variety of food and drink options to try. That's why we've come up with our list of the Best Snacks at Epcot Flower and Garden Festival 2022, so you know exactly what to try.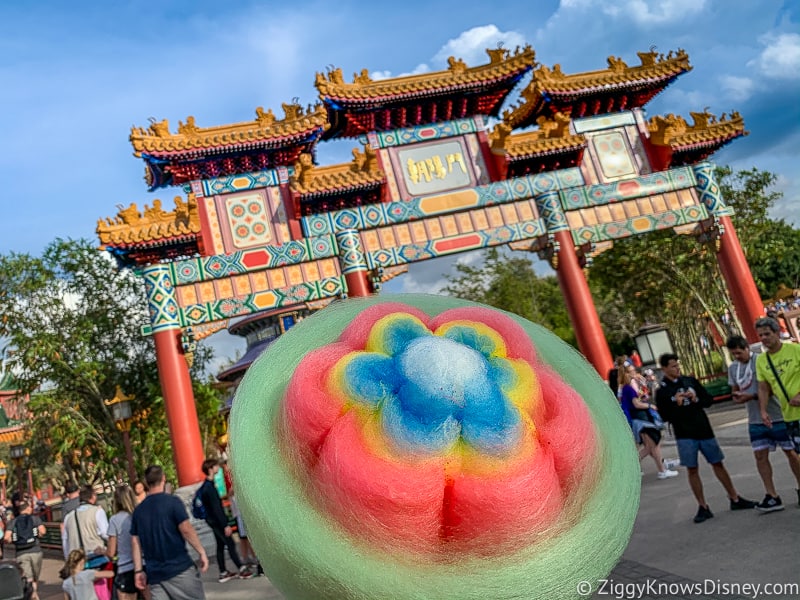 In this post, we are going to share our Top 25 Best Snacks at Flower and Garden including the best food and drinks, savory and sweet. Some of these options are brand new in 2022, while others are returning favorites from past years.
We couldn't help but list some of our all-time favorites as we've been waiting almost a whole year to eat them again!
Our list of best snacks is in no particular order, we just take you through the various outdoor kitchens in both World Showcase and Future World to find the tastiest treats at this year's festival. As always, World Showcase has the better selection, but we were thoroughly happy about the choices at almost every kiosk.
We've also tried to take cost into consideration in our best Flower and Garden snacks list to try and help you get the most for your money. Price was a factor, but if the food quality was high enough, we put it on our list. There are some pricey options, but overall we found them decent-sized portions for the money, especially in comparison to Food and Wine which always seems to have the smallest portions.
One tip that will help you to get the most out of your time at Flower and Garden is to share your snacks with others if possible. Yeah, I know what you are thinking, and I don't like to share my food either, but this is one of those rare times when it's actually better. We like to go with a group and try small amounts of all the food, then go back another time to re-order our favorites a second, third and fourth time!
We aren't including any of the normal Epcot Snacks you can find throughout the year on this list. We are only including those specific to the Flower and Garden Festival and that are here during that time.
If you are looking for what to eat while snacking around World Showcase on a normal day, check out our Best Epcot Snacks guide for our favorites.
For more info on the Epcot Flower and Garden Festival check out:
2022 Epcot Flower and Garden Festival Ultimate Guide – Full guide with menus, tips, concert information and general festival planning.
All the Topiaries from the Flower and Garden Festival – We look at every Disney character topiary from this year's festival.
Without further ado, here is my List of the Best 25 Snacks from the 2022 Epcot Flower and Garden Festival, don't read on an empty stomach!
1. Vanilla, Rose Water, and Pistachio Panna Cotta – Tangierine Cafe: Flavors of the Medina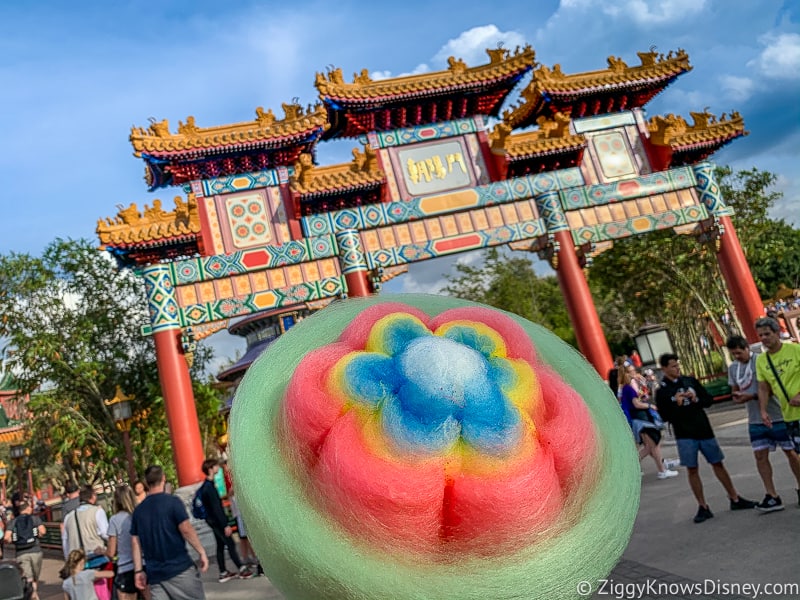 If there is one place in EPCOT that is severely underrated for amazing snacks, it's Morocco. Many people skip here and go for the more well-known countries like France or Mexico, but if you don't stop in Morocco, you are making a big mistake!
The first snack we tried at the Tangierine Café: Flavors of the Medina (the Morocco marketplace) was the Vanilla, Rose Water, and Pistachio Panna Cotta. Ok, we know it's a mouthful to say, but it's an even bigger mouthful to eat.
The outside is covered in a white chocolate shell which holds the creamy panna cotta on the inside. We liked the contrast of consistency between the two ingredients and the rose water gave it a unique flavor. The pistachio crumbs were a nice touch, we just wish they had a bit more pistachio flavor to them.
This is a returning snack we've had in years past, and it doesn't disappoint again this year either.
2. Seared Scallops – Northern Bloom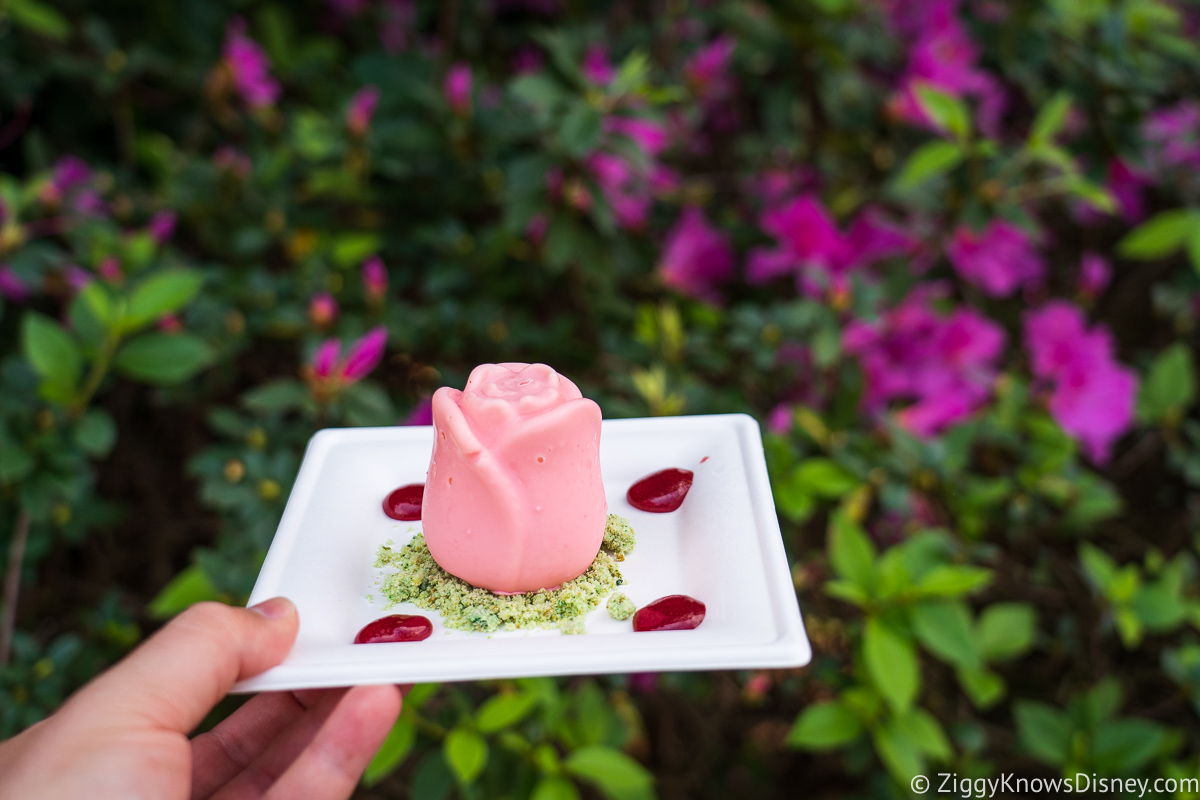 It seems like scallops are a part of any EPCOT food festival, but the seared scallops from the Northern Bloom in Canada are exceptional and one of the best we've tried.
The scallops themselves are huge and they are cooked perfectly, not chewy at all, and tender in the center. Some Disney restaurants charge you $40 for 4 scallops of the same size, so it's a bargain to get two of them for $7.00.
The sides are nothing to write home about, but the crisp green beans and small potatoes feel healthy. That of course offsets the fact the whole dish is covered in a brown butter sauce and topped off with apple-smoked bacon bits. That's right, start running to get this one now!
3. Honey-Peach Freeze – The Honey Bee-Stro
The Honey Peach Freeze comes in both non-alcoholic and alcoholic versions, and we got both versions, and love them equally as much. It's a yummy combination of honey and peach flavors, both very present in this drink. It almost has the consistency of a shake, and again a great choice for the heat.
As we said, we got the alcoholic version which added blueberry vodka to it. The non-alcoholic version is very sweet, so adding the vodka we thought really helped balance everything nicely.
You can get it in a glass, but even better, get it in the Spike the Bee souvenir sipper instead!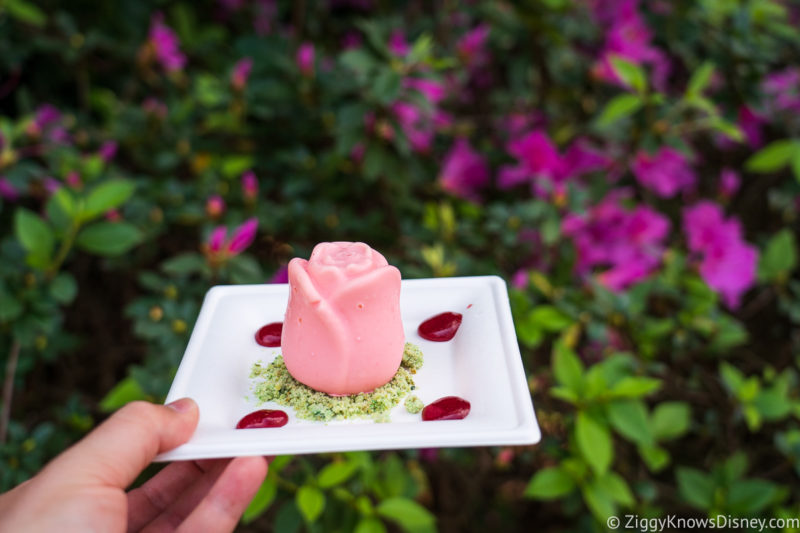 This is one of the best drinks at Flower and Garden, in one of the best souvenirs at the festival too!
4. Frushi – Hanami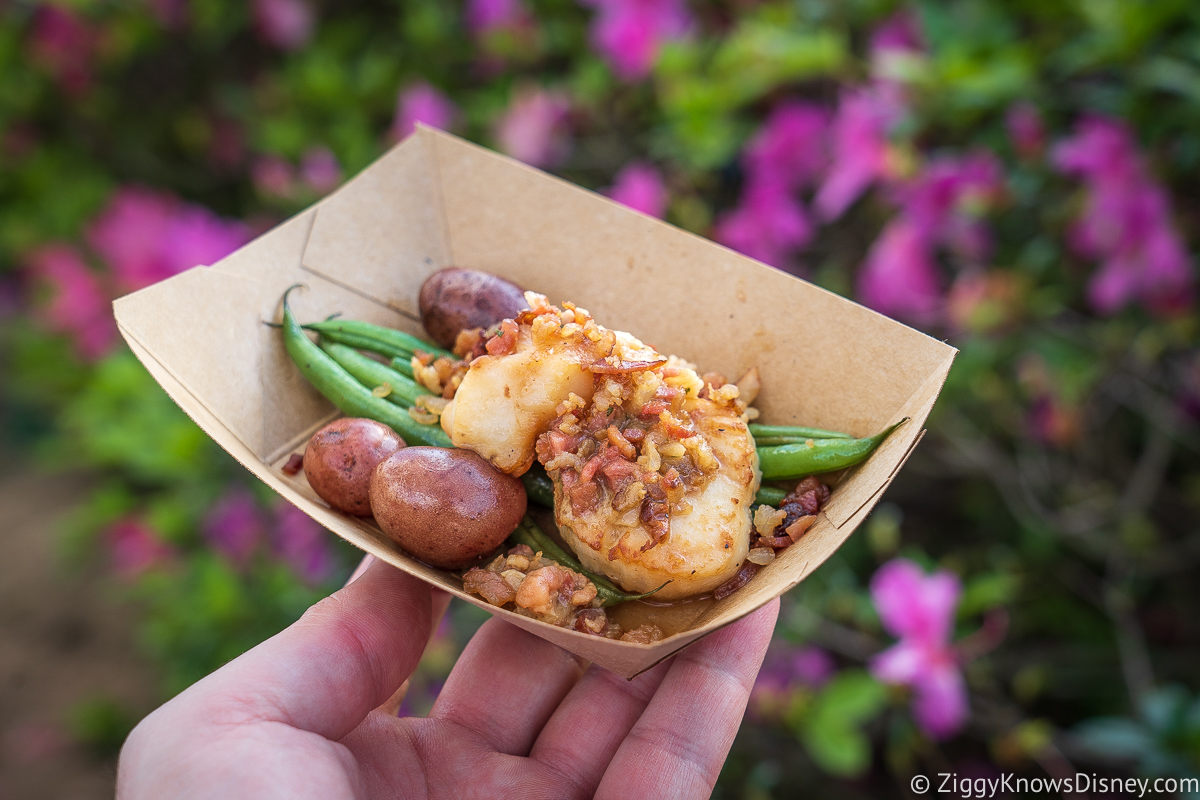 This is always one of Flower and Garden's most popular snacks and for good reason. But what is Frushi you ask? I was stumped at first too. It stands for Fruit Sushi. Instead of fish wrapped in rice and seaweed, you get little fruit pieces in their place.
This frushi uses Strawberry, Pineapple and Cantaloupe wrapped in Sweet Rice and Pink Soy Wrap served with Whipped Cream, Drizzled Berry Sauce, and Toasted Coconut.
I was a skeptic at first but it's really awesome and another light dessert and maybe the most creative snack you'll find. Give it a try and let me know what you think!
5. Corned Beef Brisket Hash – EPCOT Sunshine Griddle
There is perhaps nothing we love for breakfast more than homemade corned beef hash, and even if we are eating it in the afternoon at the Flower and Garden Festival, we love it all the same.
Honestly, we can't think of ingredients that blend together in a dish better than what is going on here. First off, the corned beef brisket hash is very succulent and juicy and it's sauteed with onions and peppers giving it an incredible flavor.
On top of the hash is a poached egg. We usually are more scrambled people, but even we admit it was fun mixing everything in the runny egg and eating it together. Even though they are really nothing special, we loved the potato barrels served with it, they were nice and crispy.
We were worried about the Tabasco hollandaise, but honestly, the flavor wasn't overpowering and it wasn't too spicy at all.
6. Frozen Desert Violet Lemonade – Pineapple Promenade
If there is a quintessential drink that you absolutely HAVE to try, it's the Frozen Desert Violet Lemonade. This is the perfect mix of sweet and sour and blends the flavors of lemon and violet (yeah, flowers) in a way that is beyond compare.
This makes for the perfect drink to carry around World Showcase and one that you'll be coming back again and again for. I sincerely wish they sold this stuff by the gallon as I would guzzle it down like no one's business. Just get it, end of story!
7. Grilled Street Corn on the Cob – Flavor Full Kitchen
Disney has greatly increased the number of Vegan food choices in the parks over the last year, and the Grilled Street Corn on the Cob was definitely one of the best plant-based snacks at Flower and Garden.
The corn itself is grilled up great, with a nice smokey flavor to it. It's then smothered in a savory garlic spread that is insanely addictive, and really makes this item what it is.
If you see a guy walking around World Showcase with one of these in each hand and trying to simultaneously down them, that'll be me!
8. Strawberry Mousse – Flavor Full Kitchen
Who doesn't love chocolate and strawberries? This is a modern twist on that concept with this strawberry mousse and chocolate crisp pearls. This is one of the cutest snacks as we just love that gummy worm on top!
The chocolate pearls are supposed to be like the dirt that the worm is crawling through. Trust me, it's a lot better tasting than it sounds right now!
The strawberry mousse is very smooth and almost has a whipped cream texture to it. It definitely is sweet and very rich, so you might want to share it. Definitely a very solid dessert and a kid-friendly snack.
9. Toasted Pretzel Bread – Bauernmarkt: Farmer's Market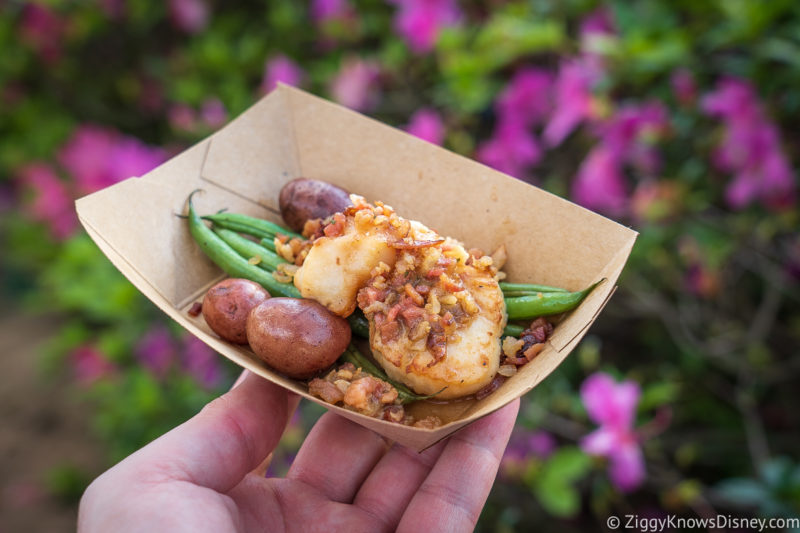 When I saw there was a Pretzel Bread topped with Black Forest Ham and Melted Gruyère Cheese, I knew this was going to be one of my first stops at Flower and Garden. What is not to like about this really? It's the same taste at the amazing pretzel rolls they usually serve the brats on during Food and Wine, just opened up and covered in cheese and ham.
It's definitely on the salty side so keep that in mind and make sure to ask them for a fresh one where the cheese has just been melted. At $4.50, this is one of the best bargains this year.
10. Crispy Mojo Marinated Pork Belly – The Citrus Blossom
The Citrus Blossom marketplace is always a favorite, and we're back once again this year, this time for the pork belly! EPCOT festivals are famous for pork belly, which is served in almost any way you can think of. This one, however, is right up there among the best.
The pork belly is crispy, and it has been marinated in a mojo sauce. If you like really tender pork belly, this isn't for you, but if you like it crispy it will probably be your favorite dish this year.
There are a lot of flavors at work here, but they all go together really well. The avocado, corn salsa, and cilantro, all add a real freshness to the dish, and the plantain chips add some additional crispiness to it.
Just out of curiosity, would you like to know what happens when you have a food allergy and just want to order plain pork belly here instead of all the toppings?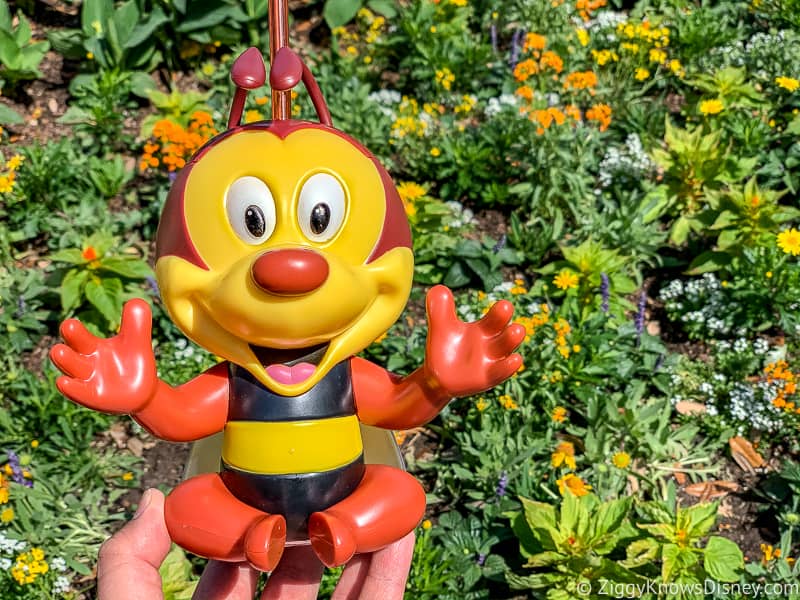 They give you about 30 pieces of pork belly on a plate, that's what! This is a great option if you are eating low carb or just feel like chowing down on a mountain of pork belly!
11. Char-grilled Bison Ribeye – EPCOT Farmers Feast
Usually, we aren't big fans of more gamey meats like bison, but this was exceptional and one of the best meat dishes at the whole festival. The meat was cooked at about medium temperature with a charred outside but very tender, pink inside.
We were expecting it to be dry but the meat was pretty juicy and full of flavor, pretty much like a regular steak, and it fell apart in our mouth. Not gamey at all.
The creamy leek fondue, however, was arguably even better! If there is one way to get us to eat our vegetables, it's to load them with cheese fondue. It was very rich, and we loved every bite. We even dipped the cauliflower in the fondue, which was otherwise served plain.
Overall this is a winner and another highlight of the Farmers Feast marketplace.
Sign Up For Our Newsletter Today!
12. Local Wildflower Honey-Mascarpone Cheesecake – The Honey Bee-Stro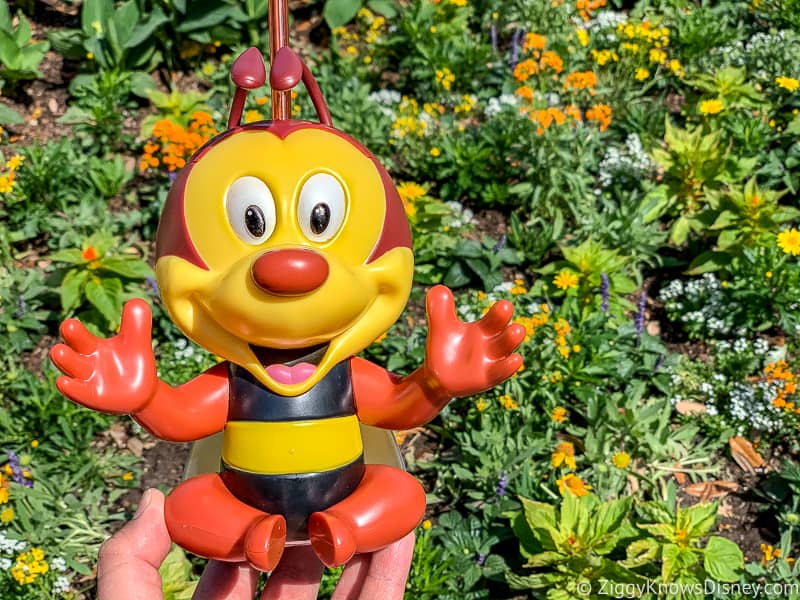 We're back at The Honey Bee-Stro again, this time for the rich and creamy Honey-Mascarpone Cheesecake. We very rarely say no to a cheesecake, but this is exceptional, even to us. It comes with Orange Blossom Honey Whipped Cream on the side with Fennel Pollen Meringue Kisses which were also yummy.
We love that they include an actual honeycomb in this and all the honey drizzled around the dish. The honey crisp on top was awesome too and we wish we could snag a whole bag of those somewhere.
Everything about it is great, and we loved all the different textures in this one dessert to balance out the cheesecake, just don't delay, the others in your group will be quick to devour it. Definitely, a can't-miss Flower and Garden snack if you are into sweets.
13. La Vie en Rose Frozen Slushy – Fleur de Lys
Of course, no trip through the Flower and Garden Festival would be complete without trying one of the drinks in France. While the wines were good, we focused on the delicious La Vie en Rose Frozen Slushy.
If you've ever had the La Passion Martini Slush from the France booth at Food and Wine, then this is right up there on that level of amazingness! It uses Vodka, Grey Goose l'Orange Vodka, St. Germain Liqueur, White and Red Cranberry Juice for a great combination of flavors.
You definitely feel the alcohol in this one, but without it being too strong. And it's also a great option when it's hot outside because the slushy is extra refreshing. This might be our favorite drink at Flower and Garden and you don't want to miss it!
14. Vampire Taco – Jardin de Fiestas
We have a love/hate relationship with the Mexico kiosks during the various Epcot festivals. We love Mexican food, but they usually end up being overpriced due to popularity. Even though the vampire taco is not cheap at all, it is definitely a must-try snack at Flower and Garden this year.
It's a Braised Beef on a Corn Tortilla which already sounds good, but what makes this taco special is the shell is covered in melted Monterey Jack cheese and salsa ranchera. We wish it were a little bigger, but as pure taste goes, there are few snacks better than this!
If we were looking for one savory item at the festival, the Vampire Taco very well might be our #1 choice!
15. Fried Cinnamon Roll Bites – EPCOT Sunshine Griddle
We never skip a good dessert at Flower and Garden, and we may have just found our favorite one this year at EPCOT Sunshine Griddle. Sure the shrimp and grits and the corned beef brisket hash will satisfy your craving for savory, these bad boys will hit your sweet tooth like no other.
The portion size is quite big and you get three big rolls in a dish. They are basically like fried fritters or dough rolled up and covered in a healthy dousing of cinnamon sugar. Then sweet cream cheese icing is drizzled on top.
The dough itself was light and airy, and not too heavy like we were afraid of. But wait, there is more…
Inside each roll, they are stuffed with a warm cinnamon cream cheese filling that oozes out with each bite. The bacon didn't add a whole lot, but we never turn down bacon, like ever.
These things are really insane. One thing to keep in mind is that they are very sweet, so if you are a savory only kinda person, they may not be for you. But if you have a sweet tooth and love the taste of cinnamon, this is just the snack for you!
16. Potato Pancakes – Bauernmarkt: Farmer's Market
We really had low expectations for the potato pancakes at Bauernmarkt, but they exceeded them all and left us no choice but to include them in our list of the best snacks at Flower and Garden this year.
There are two types of potato pancakes here, a savory kind with caramelized ham, onions, and herb sour cream, and a sweet kind with house-made apple sauce.
We really loved both of them so it just depends on what type of mood you are in. The consistency of the pancakes is what does it for us. They are crispy on the top and bottom but not overcooked and they stay together really well. The savory one also has a slight garlic taste which we always love.
All the ingredients were very fresh here and this is one of the most delicous and freshest food items you will find in EPCOT this year.
17. Orange Lemon Smoothie – The Citrus Blossom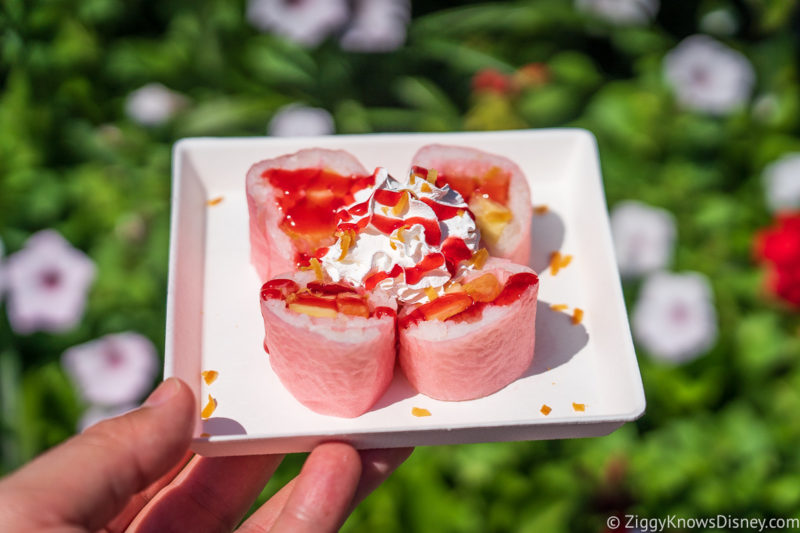 Like the Frozen Desert Violet Lemonade, the Orange Lemon Smoothie is one of those drinks at Flower and Garden that you absolutely MUST get when you go. It replaced the orange cream shake from last year, but we aren't complaining, it's just as good.
It's very similar to a dole whip, which happens to be one of our favorite Disney World snacks of all time. The consistency is about the same, but it has a strong orange and lemon flavors giving it a nice tart, citrusy flavor.
It has just the right balance between sweet and that citrusy taste we love so much. It's very addicting, and the perfect snack if you are hot while walking around the World Showcase.
Don't forget to get it in the Orange Bird sipper cup. Just get there early because the line is usually extremely long or they can even sell out.
18. Warm Cheese Strudel – Bauernmarkt: Farmer's Market
It seems like we've had an extremely high ratio of desserts on our list compared to other snack lists we've made, but they keep coming at us one after the other. The Warm Cheese Strudel was yet another sweet snack we can't resist.
The pastry underneath is served warm and still flaky. The cheese filling was good, but we loved the mixed berry topping most, and they pilled it on high. We had new friends with us this year that tried it and they said it was their favorite dessert at the festival!
And all this for $4.75 makes it also a great portion size for the price.
19. Hibiscus Lemonade Cocktail – EPCOT Farmers Feast
One drink that doesn't get nearly enough love at Flower and Garden is the Hibiscus Lemonade Cocktail. To be honest, at first sip, we weren't very big fans at all. We aren't big gin fans and that's all we tasted.
Then as we mixed it more, it became really, really good and addicting. The lemonade balanced it out well and we really enjoyed the pronounced flower taste.
The best part of it was the candied hibiscus flower in the drink. To us, it looked like some kind of alien plant you find in Pandora: The World of Avatar or something, but it was so delicious. Chewy, almost like a gummy and a little sour.
This is one of the symbols of the Flower and Garden Festival and not to be missed.
20. Shrimp and Grits – EPCOT Sunshine Griddle
We couldn't stay away from the Sunshine Griddle, and we're back again for the Shrimp and Grits. This was another favorite from last year, so we definitely had to come back and see if it was as good as we remembered. (Spoiler: it is!)
I know it doesn't sound like much, and you can get shrimp and grits almost anywhere, but this honestly blew us away!
It comes with 4 blackened shrimp which are covered in a spicy brown gravy. Not too spicy to set your mouth on fire, but just enough to get it tingling. The cheddar cheese grits themselves were nice and buttery and very smooth. The sweet corn salsa was just an extra flavor to top it off.
The tomatoes were fried perfectly in a nice crispy breading that held together and was not soggy. The tomatoes inside were sweet, making this among the best we've tried. The tomatoes were sitting on a Blue Crab-Fennel Salad which had a really nice cajun/smoked flavor to it.
For us, this was a solid snack that most seafood fans will love.
21. Mediterranean Flatbread – Tangierine Cafe: Flavors of the Medina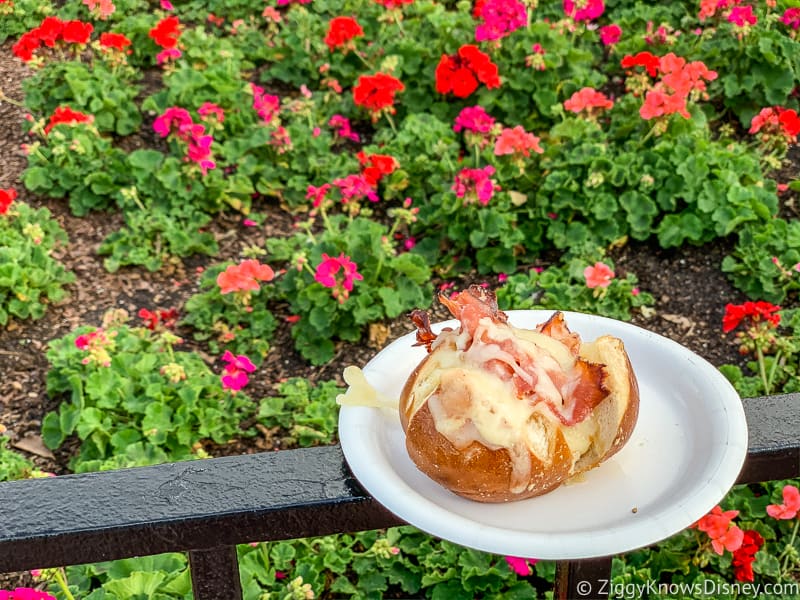 We are returning to the Tangierine Cafe: Flavors of the Medina for our next snack, the Mediterranean Flatbread. We didn't really have high hopes for this, especially since there is no meat on it, but it really surprised us in a good way!
There are a ton of flavors going on here, and they all worked for us. Everything about it tastes very fresh and pretty healthy, which is not easy to do in Disney World. The dough had the perfect combination of crispy and chewy going on.
There are plenty of vegetables on here including olives, roasted peppers, and artichokes. There is also an abundance of cheese between the mozzarella and feta which added a nice creaminess to the flatbread. The real star of the show however was the za'atar spices which tastes like pesto.
This is an awesome vegetarian option, and it even won us over. Don't leave the festival without one!
22. Grilled Oysters – Magnolia Terrace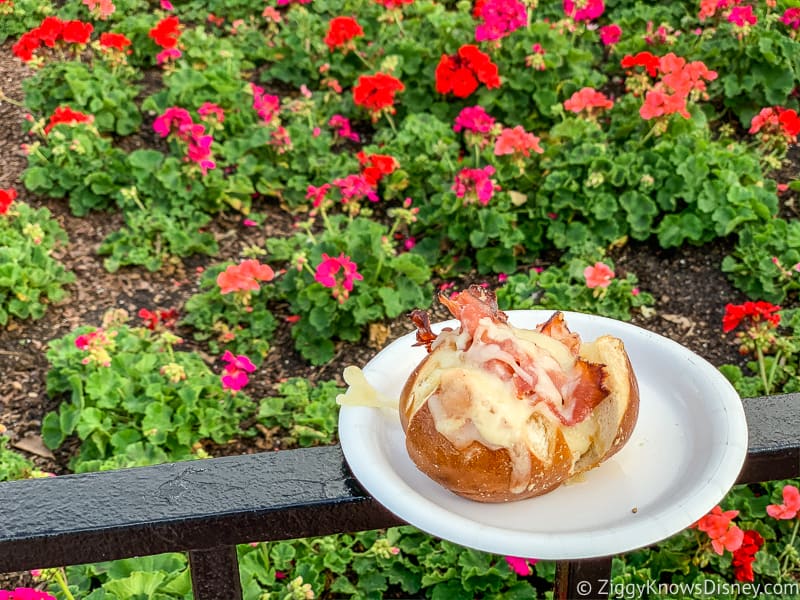 My family will eat oysters in any form, but my personal favorite is grilling them. That made me very interested in trying these from the Magnolia Terrace.
They were very similar to the oysters we've tried here in the past, and that is a good thing. They were cooked just right and tender, they weren't too chewy. What really makes this dish is the cajun butter that comes loaded on them and the crispy breadcrumbs on top. We also think the mini Tabasco bottle was a great touch.
This is a great option for seafood fans and our favorite at Magnolia Terrace.
23. Beef Tataki – Hanami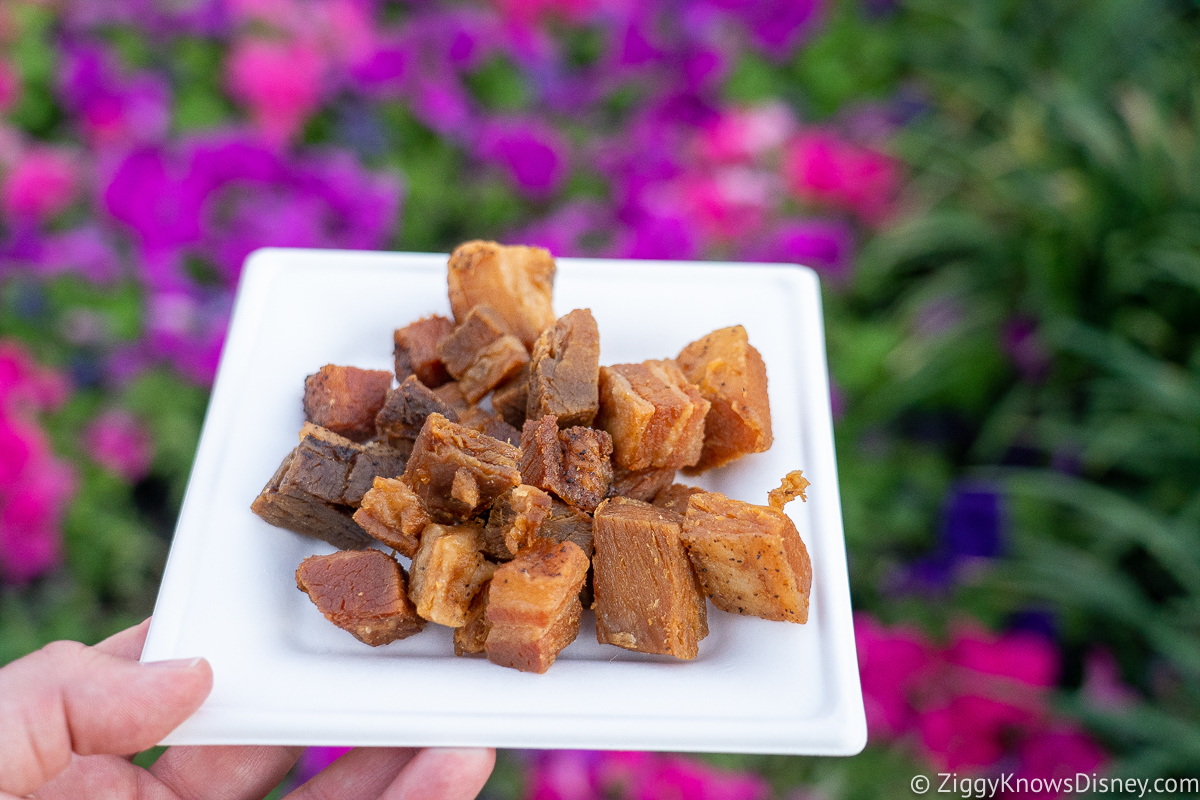 The Beef Tataki from Hanami is another really underrated snack at Flower and Garden this year, and one of the most healthy on any menu.
It is seared sirloin steak sliced very thin and served with a red shiso sauce, watermelon radish, and sprouts. I've seen those watermelon radishes all over Disney World lately, and they aren't bad, but they don't really have a lot of taste.
That's ok, we are really here for the beef. The portion size isn't the biggest, but the quality of meat is excellent and extremely tender. The sauce has a bright taste reminiscent of mint or basil and we think it pairs well with the meat.
This is one of the lighter snacks at the Flower and Garden Festival this year and perfect if you are not super hungry or if the weather is very hot and you don't feel like being weighed down by something heavy.
24. Tupelo Honey and Sweet Corn Spoon Bread – The Honey Bee-stro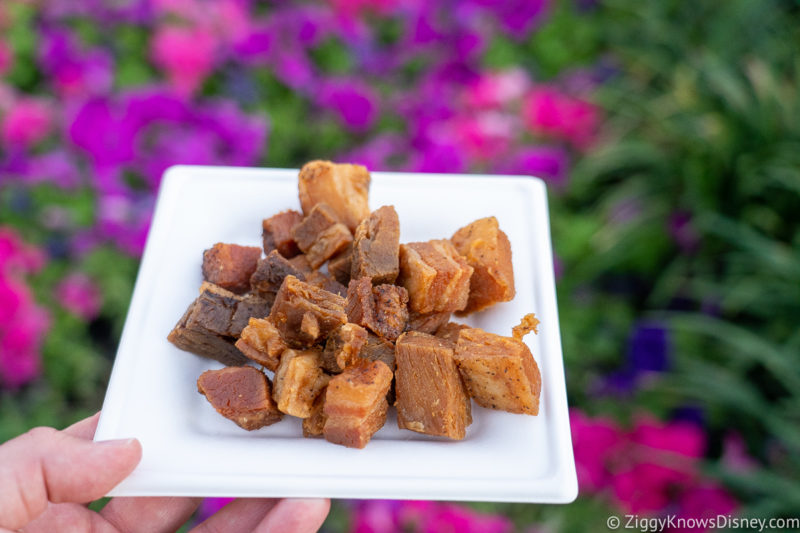 Anyone who likes cornbread is going to absolutely LOVE the Tupelo Honey and Sweet Corn Spoon Bread. Honestly, we really didn't know what to expect before we tried it since we had never had "spoonbread" before. Wow, have we been missing out all these years!
It's a bit lighter than a traditional cornbread and there is corn mixed in throughout. There also is a hint of jalapeno in there, but it's not overpowering at all.
What brings it all home for us is the sweet whipped honey button on top. It's the perfect combination of sweet and savory, something like we've never had before, but will definitely be getting just about every time we visit EPCOT this spring.
25. House-Made Cheesy Crab Wontons – Lotus House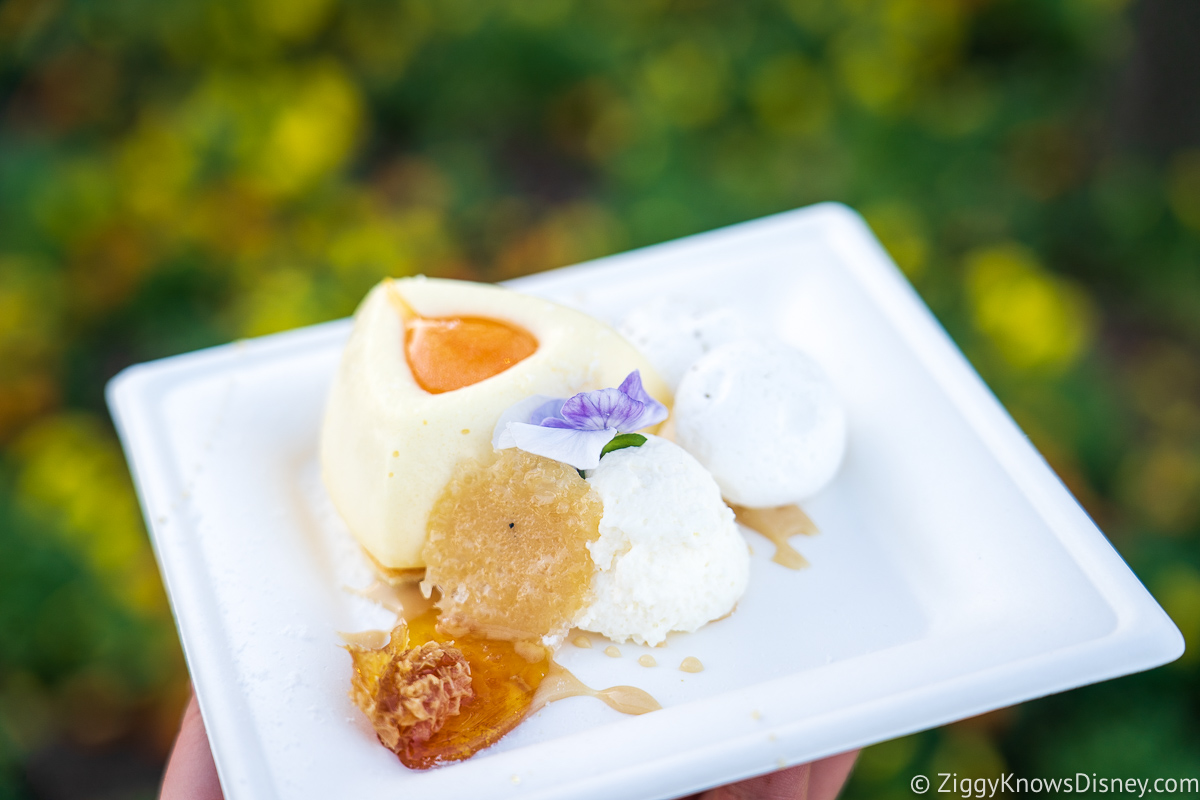 We always look forward to the Lotus House, and this year they really outdid themselves with the house-made crab and cheese wontons!
You get three wontons which were a good-sized portion if you aren't sharing. The wontons themselves were extremely tasty, very fresh tasting, and crispy. The wontons had just the right amount of "grease" to them, not soaking in it but not dried out either.
Inside we loved the combo of crab and cheese, we just wish there was a little bit more crab inside. Overall they are a winner and another highlight of the China booth.
That wraps up our list of the Best Snacks at the 2022 Epcot Flower and Garden Festival. I hope you enjoyed it and I hope I didn't make you too hungry while looking at all the pictures. I hope I was able to help you get a better idea of what to get next time you go to the festival. Make sure to share your personal favorite snacks down below in the comments section.
Also, don't forget to sign up for our FREE Weekly E-Mail Newsletter. There we bring you the latest updates on the Flower and Garden Festival and all the other latest Disney vacation planning tips. You can sign up here: Join our E-Mail Newsletter
Your Thoughts
I want to know what you think about our choices for the Best Snacks at the EPCOT Flower and Garden Festival…
Which snack is your favorite?
What dishes would you like to see added next year?
Let us know in the comments section below!
If you enjoyed this article, as always I appreciate it if you'd share it with others via social media. I work hard at making this website into a useful resource for you and your family to plan your visit to the Disney Parks and I hope it can help you! Thanks 🙂
For more information please see the list of Best food at epcot flower and garden festival
Detail: 🔗