Tender racks of ribs that have a sweet and caramelized bark of skin and smoked for hours on the grill-this easy smoked baby back ribs recipe will help any beginner get started on the smoker, all you need to do is remember to count backward: 3-2-1!
What is the 3 2 1 smoking method?
One of the most popular ways to smoke ribs on the smoker is the 3-2-1 smoking method. Back in 2011, George "Tuffy" Stone invented the 321 method at the 22nd Annual Jack Daniel's World Championship Invitational Barbecue and it's been used by many home smokers since then.
But what does the 3-2-1 method actually mean?
3 hours direct smoking on the grill
2 hours wrapped in foil (with some seasonings like brown sugar, butter, and optional other liquids) to tenderize
1 hour to sear on the grill (usually with barbecue sauce slathered on top)
Many like to contend that this is the best way to smoke ribs because it often gives you fall off the bone tender meat. However, many smoker professionals like to counteract that you don't necessarily want the meat to fall off the bone especially for competition ribs.
What are competition ribs?
Competition ribs are different from the 3-2-1 method because, for one, fall-off-the-bone tender meat is not some objective measure, and there's such thing as taking it too far. A few things desired in competition ribs are:
A nice caramelized bark on top of the ribs from the sugar cooking down, so when you bite into the rib it has a slight chew but is still tender.
Meat isn't falling off the bone from picking it up, but when you bite into the rib, the meat should come off cleanly from the bone while keeping its form.
The timing is also different from the 3-2-1 method because it's based on the temperature of the meat at the start of cooking. Sometimes instead of 3 hours of smoking, it's around 2 hours depending on the type of meat. After visiting many BBQ restaurants in Austin, Charleston, and other southern cities, I've found that there are also other differences in the presentation of the ribs too.
Buying the right type of ribs
The best ribs to smoke depend on your personal preference and here's how to choose. If you want something fatter and more tender, choose the St. Louis style ribs at the butcher. These ribs are near the belly of the pig and have much less meat than baby back ribs, but have more fat marbling which contributes to a more tender texture of meat.
If you want more meat (or are throwing a bbq with a lot of people attending), then baby back ribs are your mainstay. They're typically shorter and curved, have meat in between their bones, and come from the top of the ribcage.
How to make your own rib rub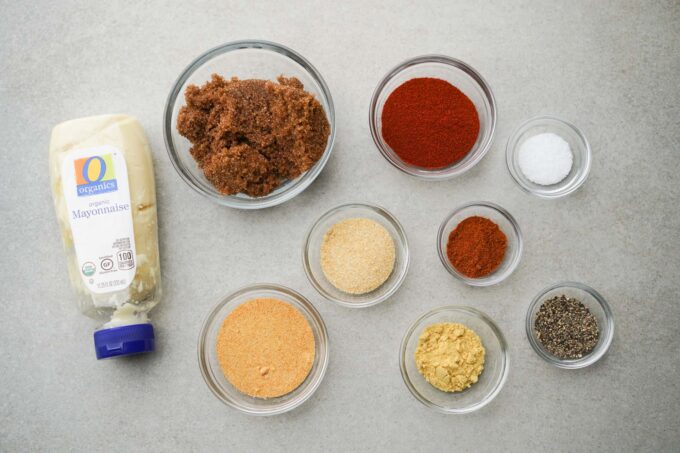 For this recipe, I tested different versions of my own rub recipe and realized it's super easy to make, meaning it's hard to have a bad combo. It really depends on what types of flavors you want in your rub and ultimately how you want your meat to taste since it's basically a marinade.
I used a combination of dark brown sugar, smoked paprika, garlic powder, onion powder, cayenne, and mustard powder. I also added salt and pepper to my rub too. All you have to do is combine all the ingredients into a bowl thoroughly (I like to use clean hands to mix) and then add it to your meat.
What's great about using your own rub recipe is that you can adjust flavors and ingredients to your preference. Or change it up each time for variety, and know it will still turn out tasty. I also like that I know there are no preservatives in the recipe.
Type of wood or pellets for smoking
It's important you use the right type of wood (aka fuel) for your smoker. This can range from different types of wood like logs, chunks, chips, and pellets. Since I use a Traeger smoker, I use pellets for smoking. Pellets are compressed pieces of sawdust shaped into small pieces that look like chicken feed-they also smoke fairly quickly due to their form.
My favorite variety of pellets (or wood) to use for smoking pork ribs is hickory because it helps infuse the pork with a strong flavor that pairs well with the sweet, savory, and fatty flavor profile of baby back ribs.
What is the 3 2 1 rule for ribs?
The 3-2-1 rule describes the number of hours that the ribs will be (3 hours) directly on the smoker to cook and infuse smoky flavor, (2 hours) wrapped in foil with liquid to tenderize, and (1 hour) back on the grill directly basted with barbecue sauce to caramelize a bark on top.
How long to smoke pork baby back ribs
For my pellet smoker, I smoke pork baby back ribs for about 2-3 hours to directly smoke on the Traeger. This allows the smoke to penetrate and cook the meat so that it reaches about 180 °F before wrapping it in foil and grilling it for another 1-1.5 hours to tenderize the meat. Afterward, I slather on some barbecue sauce and place it directly on the grill to caramelize the top.
What temperature should 321 ribs be?
Most recipes, including this recipe, will call for you to smoke ribs at 225 °F. Many electronic pellet smokers like Traegers will have a handy dandy thermometer to tell you what temperature level so make sure to keep track of this during smoking. Traegers are also known to run a little hotter than other smokers, however, my Traeger seems to hover right at 225 °F during smoking.
Do you need to spritz 3 2 1 ribs?
Some people like to use a half and half recipe of their liquid of choice (apple juice, grape juice, etc.) and water to use as a spritz when they see their ribs looking a bit dry during the smoking process. It's completely optional, but helpful if you need it.
Do 321 ribs need to rest?
After pulling the ribs from the grill, you want to have them rest for about 10-15 minutes before cutting and serving to allow the juices and heat to redistribute. When they're ready to go I love serving them with my backyard bbq favorites grilled corn on the cob, smoked salmon, veggie kabobs, deviled eggs, and crab cakes.
Through this article, we hope to help you understand Smoking baby back ribs on pellet grill
Detail: 🔗