3 Ingredient Crock Pot Pork Chops are an easy gluten-free meal made with cream of mushroom soup and a packet of french onion dip.
These pork chops are my go-to meal when pork chops are on sale at the grocery store. The whole family loves these pork chops covered in a flavorful gravy. The best part is you only need 5 minutes and 3 ingredients to make this delicious meal. If you only have a few minutes and need to get dinner taken care of this recipe is for you!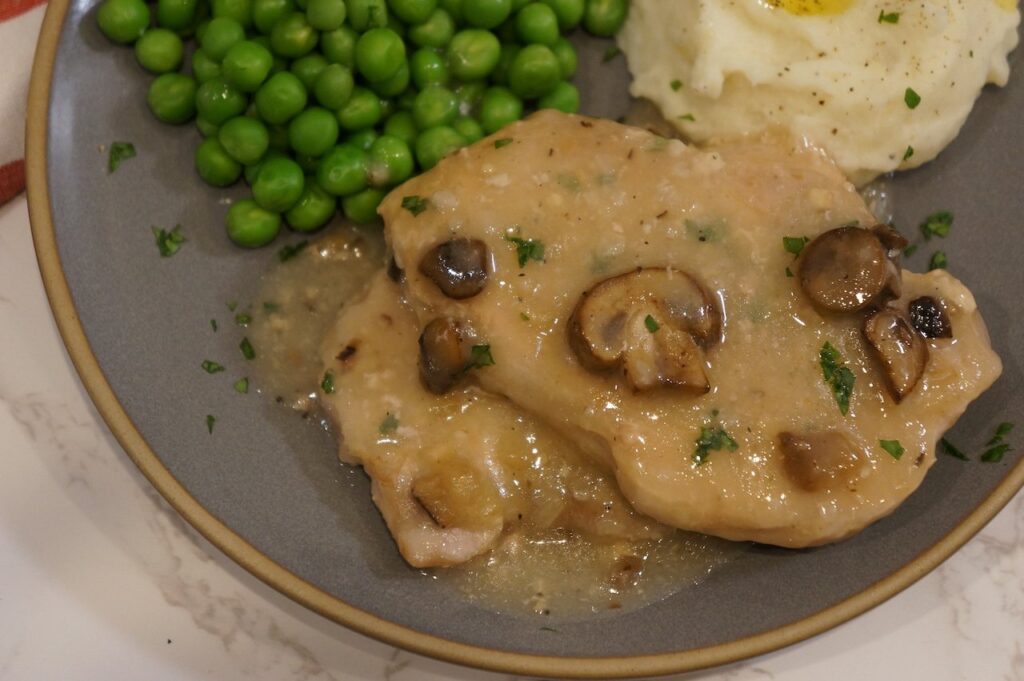 Disclaimer- Some links below are Amazon affiliate links, meaning at no extra cost to you, I will earn a commission if you click through and make a purchase.
3-INGREDIENT CROCK POT PORK CHOPS
Pork chops offer a healthy and delicious alternative to chicken. I find myself forgetting all about pork chops and how scrumptious they are. Crock pot pork chops with cream of mushroom soup make a simple dinner with no chopping needed. This recipe is bursting with flavor thanks to the french onion packet and it's so easy you just open it up and pour it in. The creamy gravy from the cream of mushroom soup adds the perfect balance to the french onion packet with the subtle mushroom flavor. Plus this meal is great for a busy weeknight. I'm a big fan of pork chops and another great recipe I love to make is these Honey Garlic Pork Chops.
WHAT TO SERVE WITH PORK CHOPS?
This rich and hearty meal goes great with mashed potatoes and a vegetable. I like to serve it with peas but green beans or corn would work too. I don't know about you but I love to mix all my meat, veggies, and mashed potatoes into one bite. My husband is the exact opposite and keeps all of his food separated. Either way, this meal can be made to your family's preferences on the sides.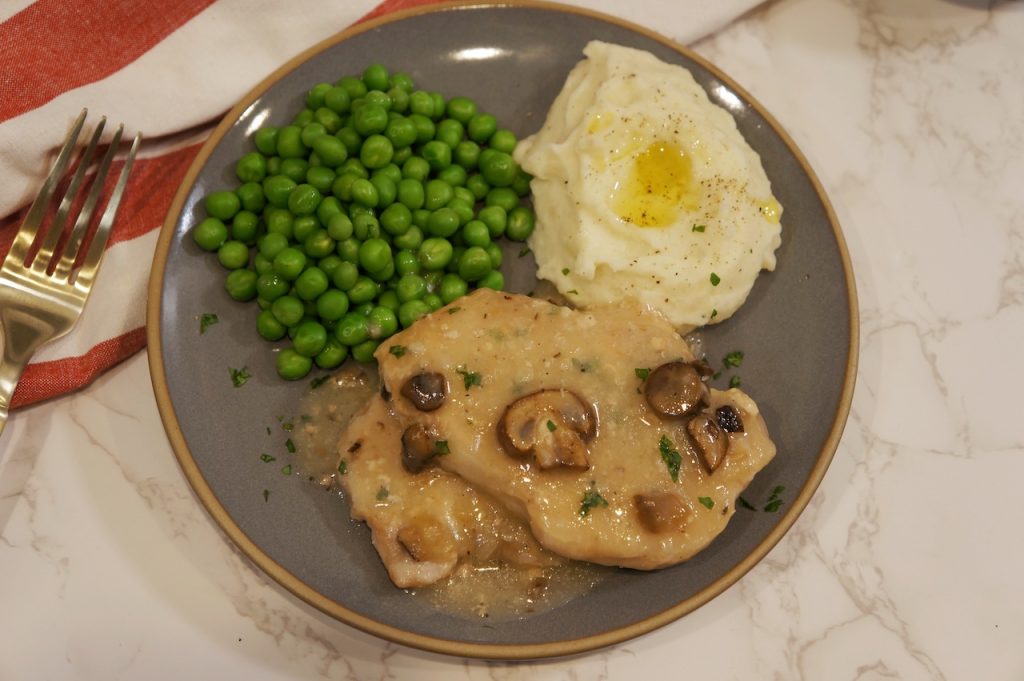 I always keep a few bags of frozen vegetables in my freezer so I can just pop them in the microwave and have a balanced dinner. Plus, whenever I have leftover mashed potatoes I freeze them. I add those to the microwave rotation and then add some milk and butter when dinners like this come around. It makes it so quick to put together dinner without even having to go to the store or boil potatoes. You could also use refrigerated mashed potatoes to make this a simple meal.
If you don't want to do mashed potatoes you could serve this over rice or noodles as well! The recipe is so versatile so it can really go with anything. Another delicious pork recipe that uses simple pantry items is this crock pot pork tenderloin.
INGREDIENTS FOR 3 INGREDIENT CROCK POT PORK CHOPS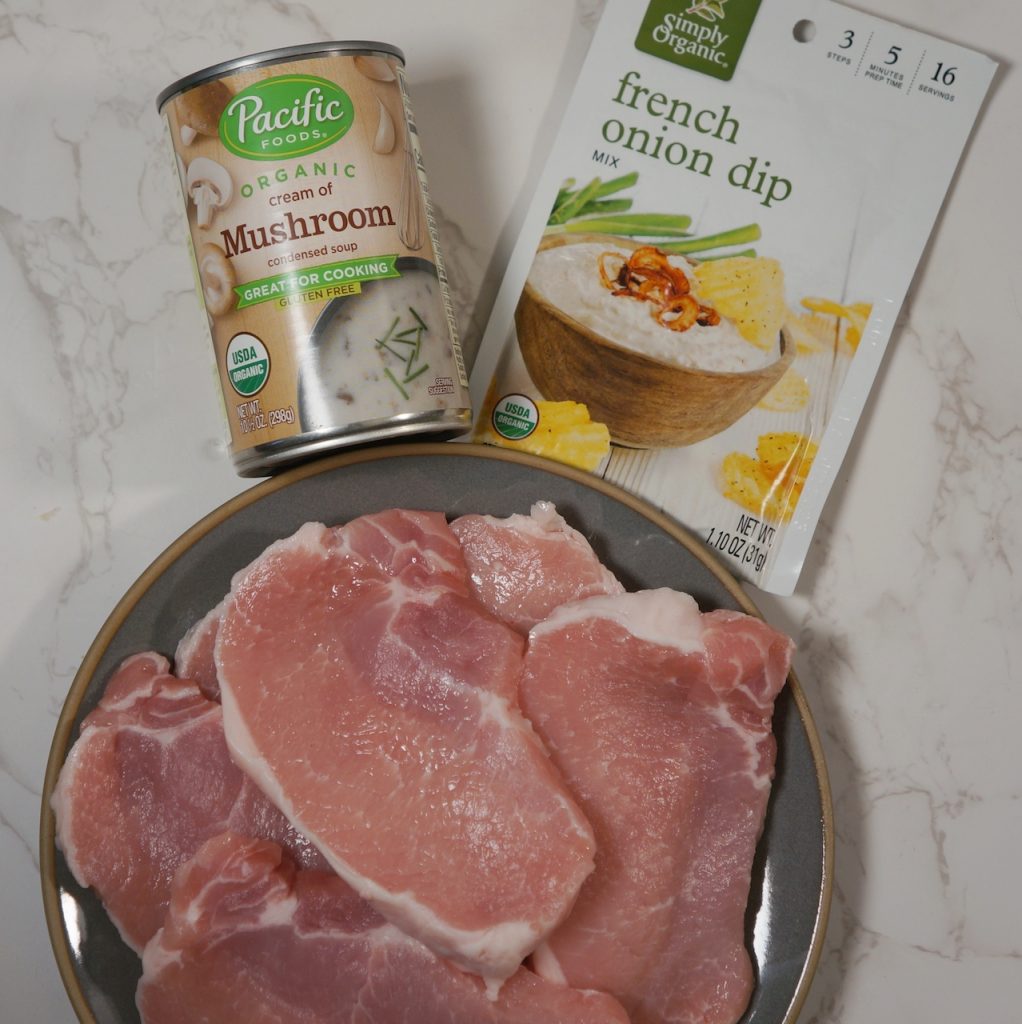 Pork Chops
French Onion Packet
Cream of Mushroom Soup
You can add a few more ingredients to this recipe if you want to jazz it up. I have added extra baby bella mushrooms and sliced onions.
WHAT PORK CHOPS SHOULD YOU USE?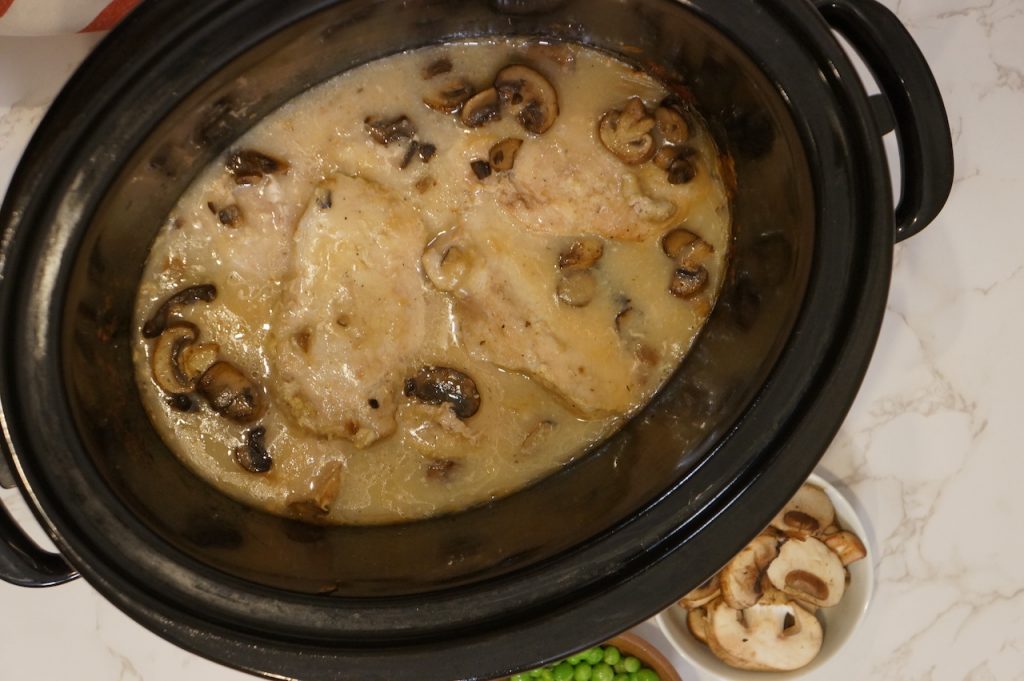 You can really use any kind of pork chops you want in this recipe. My grocery store only had thin-cut pork chops available so I used those. I made sure to only cook mine for 3 hours on low because they were so thin and I didn't want to dry them out. However, if you plan on cooking these 3 ingredient pork chops for very long you will want to get a thicker cut. I would recommend a one-inch thickness.
Bone-in pork chops are a great option too. These have even more flavor and can stand up to a longer cooking time as well.
HOW TO MAKE 3-INGREDIENT CROCK POT PORK CHOPS
STEP 1. Add pork chops to the bottom of the slow cooker.
STEP 2. Sprinkle french onion packet over pork chops.
STEP 3. Pour cream of mushroom soup over pork chops.
STEP 4. Cook on low for 4-6 hours or high for 2-3 hours. Cook until internal temperature reaches 145 ºF.
STEP 5. Serve with gravy poured on top of pork chops.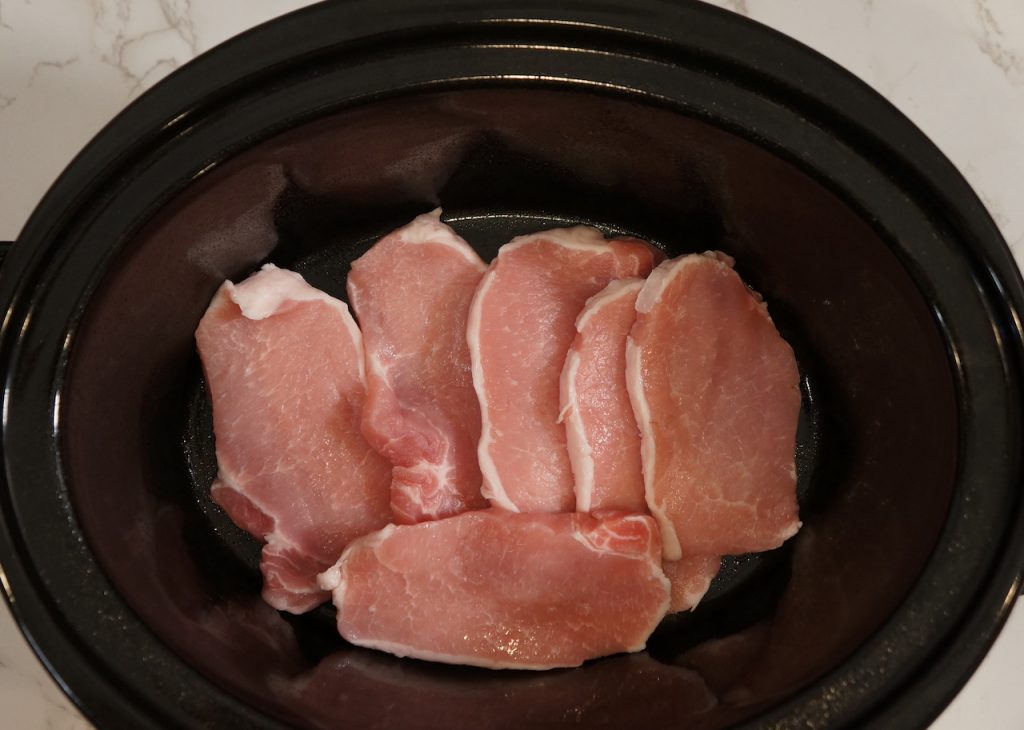 For more information please see the list of Pork roast with cream of mushroom soup in slow cooker
Detail: 🔗