Date: By Categories: Restaurant Tips No comments
Last Updated on July 11, 2019
Have you ever had the desire to travel around the world and visit every corner of it? The desire to discover new cultures and learn from each trip and experience? Congratulations! That means the Wanderlust spirit lives in you and it is dying to go out.
However, your innate traveler´s spirit and the immense curiosity to know the world is worthless if you don't take the first step and start traveling.
The world is full of beautiful places to discover, and they aren't going to come to you, you must go to them. It is time to pack your bags and start quenching your thirst for discovery.
The truth is, there is no better way to start developing that wanderlust spirit than with a trip to the best destination of all: Cabo.
Los Cabos offers everything you need to please all tastes. This destination will allow you to have a luxury vacation, admire the most beautiful landscapes and have the most fun experiences. Definitely, this destination is the best way to initiate yourself in the wanderlust world because you will have the certainty that it will be the best trip of your life.
However, even if you have found the ideal destination to start your life as a traveler , you may be wondering "how do I get to know a place correctly and what I should do to take advantage of any trip?"
The answer is very simple: Culture, attractive places, and gastronomy.
Every destination has those perfect places to learn about culture and history. In the case of Los Cabos, San José del Cabo is that place. This town is surrounded by a cultural and traditional atmosphere.
San José del Cabo is known for being the most traditional and peaceful town in Los Cabos, it is the best way to get to know the city's history, architecture, and traditions.
On the other hand, when it comes to attractive and fun places, Cabo San Lucas takes the prize without hesitation.
Cabo San Lucas offers tourist attractions and beautiful natural places that will add a touch of adventure to your trip. This town also has a great nightlife reputation with endless parties to dance and have fun like never before.
We have talked about two ways and two perfect areas to get to know and enjoy Los Cabos.
However, the most important thing is missing. It has already been proven that it isn't possible to go to a place and fully enjoy it if you do not try its gastronomy.
Gastronomy is a universal experience, the best way to explore the world. So if you really want to get to know Los Cabos then get ready, because the spicy and exotic flavors are there waiting for you!
Cabo's Gastronomy
One of the main advantages of Los Cabos is that it is a tourist place that offers a wide variety of restaurants to get delicious and fresh food and a high-quality service.
You can easily find restaurants with the best traditional Mexican, international and even local fusion gastronomy.
Therefore, if you want to have the best experience during your trip, in the following lines you will get the information you need to make it happen.According to other travelers, the best places in Cabo to go to please your palate are:
TOP 5 Restaurants in Los Cabos
Although there are plenty of areas in Cabo and all these have incredible places to please your palate we will focus mainly on the areas of San Jose del Cabo and Cabo San Lucas.
El Matador
Let's start with one of the best-known places in San José del Cabo.
With a fusion of Mexican, Spanish, Latinamerican, and seafood, as well as a varied wine selection, El Matador has everything you need for a unique and delicious evening.
With a professional chef with 20 years of experience, this place is ready to pamper your palate in a Spanish atmosphere with its outdoor terrace and bar. It is undoubtedly the best way to achieve the best Mexican Mediterranean gourmet fusion, something you certainly cannot miss.
El Matador is not a very big place, as it can accommodate approximately 50-60 people., We recommend making a reservation, so you can ensure a memorable experience, as outlined by this Tripadvisor's user:
Bullfighting and Cooking "Matador y[T1] Chef… Passionate and Survivor… the magic of the place, its cuisine, and its architecture impregnates you to know the life of Matador Velez… owner, chef, idealist, and animator… An excellent evening with music and a luminous moon, octopus in wine, meat cuts, the freshest and most organic vegetables, and the final lunge in the form of churros and ice cream … a memorable experience and very pleasant is highly recommended".

https://www.tripadvisor.com.ve/ShowUserReviews-g152516-d1937915-r670529667-El_Matador-San_Jose_del_Cabo_Los_Cabos_Baja_California.html
Café Des Artistes Los Cabos
In San Jose del Cabo you can let your palate taste a combination of traditional Mexican food with a French touch, you just need to visit Café des Artistes Los Cabos.
This restaurant has high-quality dishes that seek to offer the perfect fusion between different textures and flavors. This place is the best option for a unique dining experience in an environment that complements your meal perfectly with an unparalleled sea view.
There is no other place in Los Cabos that offers you the quality of food that you can get in Café des Artistes Los Cabos. The traditional gastronomy and techniques of French cuisine, a unique culinary evolution experience, is waiting for you, so you will be as satisfied as this Tripadvisor´s user:
The best! "We were celebrating my daughter's birthday and the experience was unforgettable: simply perfect, from the reception, the good taste in the decoration, the variety of the menu, the quality of the food, as well as its preparation are of the highest level and not to mention the pianist and the wonderful view of the sunset. Without a doubt, I will come back a thousand times and that is what I will do tonight. Congratulations and success!"

https://www.tripadvisor.com.ve/ShowUserReviews-g152516-d8855751-r667916467-Cafe_Des_Artistes_Los_Cabos-San_Jose_del_Cabo_Los_Cabos_Baja_California.html
Sunset Monalisa and Sunset Point
Located very close to Cabo San Lucas, in the Tourist Corridor, the Sunset Monalisa has always been a reference of good quality and luxury for all visitors, and a place recognized for having the best view of Los Cabo facing the wonderful Arch.
Although this is a perfect option that you can't miss, there is also a place worth mentioning that offers the same incredible view and quality service as Sunset Monalisa, we're talking about Sunset Point.
Located literally above the Sunset Monalisa, the Sunset Point Wine and Pizza Lounge area is slightly more relaxed places, where you can find gourmet pizzas, seafood, Mediterranean food, and the best wine selection. This lounge has wonderful facilities, sea view and the explosion of flavor on your palate will leave you speechless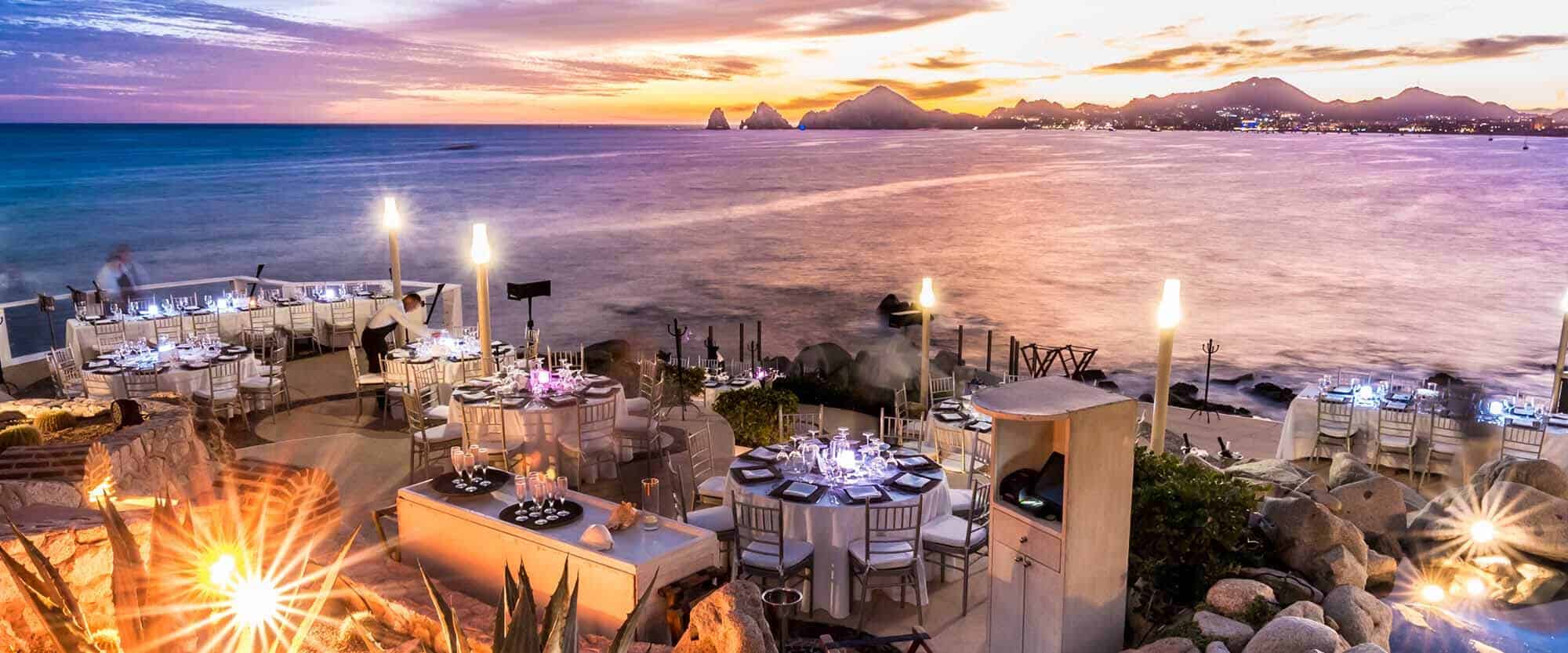 A place you should not miss, because you will be as happy as the next Tripadvisor´s users:
Excellent "A wonderful view, to enjoy the sunset, excellent service, a wonderful place.

https://www.tripadvisor.com.ve/ShowUserReviews-g152515-d1798704-r673568279-Sunset_Point-Cabo_San_Lucas_Los_Cabos_Baja_California.html
Excellent service "Excellent service, super-rich dinner and an incredible view I loved it, widely recommended. Served by the best, Range"

https://www.tripadvisor.com.ve/ShowUserReviews-g152515-d1798704-r673565525-Sunset_Point-Cabo_San_Lucas_Los_Cabos_Baja_California.html
El Peregrino
As mentioned above, you already have a few options of incredible places that fuse Mexican food with the best Spanish, French and Italian style.
However, El Peregrino, located in Cabo San Lucas near the famous Squid Road, makes you travel to another part in Latin America. This is the best option when it comes to a good cut of meat, taking your palate to a place where Mexican and Argentine cuisine meet.
In addition, Mexican food, Churrasquería, Seafood, and International dishes are the gastronomy options that you can get in this cozy place. There you can see that the most expensive and luxurious places are those that can offer you an unforgettable dining experience not a huge price tag.
Among all the places mentioned above, this is undoubtedly the most accessible one and where your palate will be more than pampered, you can read about this restaurant food quality on the following reviews:
Best food, best price "This restaurant shows that the best food doesn't have to be the most expensive, the food is delicious with a great service. Not to be missed on every visit to Los Cabos."

https://www.tripadvisor.com.ve/ShowUserReviews-g152515-d8552941-r656884144-El_Peregrino-Cabo_San_Lucas_Los_Cabos_Baja_California.html
Delicious family dinner! "We were undecided where to have dinner on Christmas Eve, but we were recommended el Peregrino restaurant and the truth is that it is delicious! Everything was excellent, good service and very kind all staff, 100% recommended.

https://www.tripadvisor.com.ve/ShowUserReviews-g152515-d8552941-r641370837-El_Peregrino-Cabo_San_Lucas_Los_Cabos_Baja_California.html
Don Manuel's
Finally, it was only fair to mention a place offers 100% authentic Mexican cuisine. That's why Don Manuel's should be on your list when you come to Los Cabos.
Located in Cabo San Lucas, Don Manuel's is a restaurant that is part of the Resort at Pedregal, where you can find the best dishes with the freshest ingredients. Apart from the excellent food you can also get some delicious cocktails and experience a perfect atmosphere for a romantic evening.
Many couples take this place as their first choice and do not regret it at all:
5th anniversary "There was no better place than this beautiful restaurant for such a special celebration. A thousand thanks to all the Don Manuel's staff for giving us an excellent dinner. Thanks to Mr. Xavier Gonzalez, Leonardo Koslivy, to my waiter Osvaldo who served me wonderfully to the mixologists Juan, Romeo, and Luis for making us some wonderful cocktails and to all the staff for agreeing with us and making us feel very special.100% recommendable, exquisite dinner, menu of drinks and desserts…"

https://www.tripadvisor.com.ve/ShowUserReviews-g152515-d1474303-r667959390-Don_Manuel_s-Cabo_San_Lucas_Los_Cabos_Baja_California.html
How to get to Los Cabos?
To close with a finishing touch, we offer you this extra information so that the beginning of your journey as an adventurous spirit is as smooth as possible.
Both San Jose del Cabo and Cabo San Lucas are a few kilometers away from Los Cabos International Airport. This is why when you get a transfer to these places you must be attentive to the type of service you want to use.
Your options for transportation include, public transportation, taxis, and car rental are available in Los Cabos. However, if you are looking for security, comfort and a perfect trip, the best option for you is to hire a private transportation service.
VIP Transportation Los Cabos is the best option you can find in the area. It is the only service whose impeccable reputation promises you punctuality, safety, comfort, and affordable prices.Let yourself be transported by the experts and enjoy the best VIP service so that your vacation is a luxury from the moment you leave the airport.
With the perfect destination, the most striking areas, the top 5 restaurants to get your palate dancing and the best transportation service in Los Cabos, you have more than enough to have the best trip of your life.
Don't wait any longer. Let your wanderlust experience begin. Los Cabos is waiting for you!
Please see more list about Best food in san jose del cabo
Detail: 🔗