African Peanut Soup is made with everyday pantry items that transform into a lively soup with full-bodied flavors. Richly spiced with chickpeas, ginger, garlic, and chilies in a creamy peanut tomato base, this protein-rich soup is one you will crave. Vegan and Gluten-free! Includes a Video.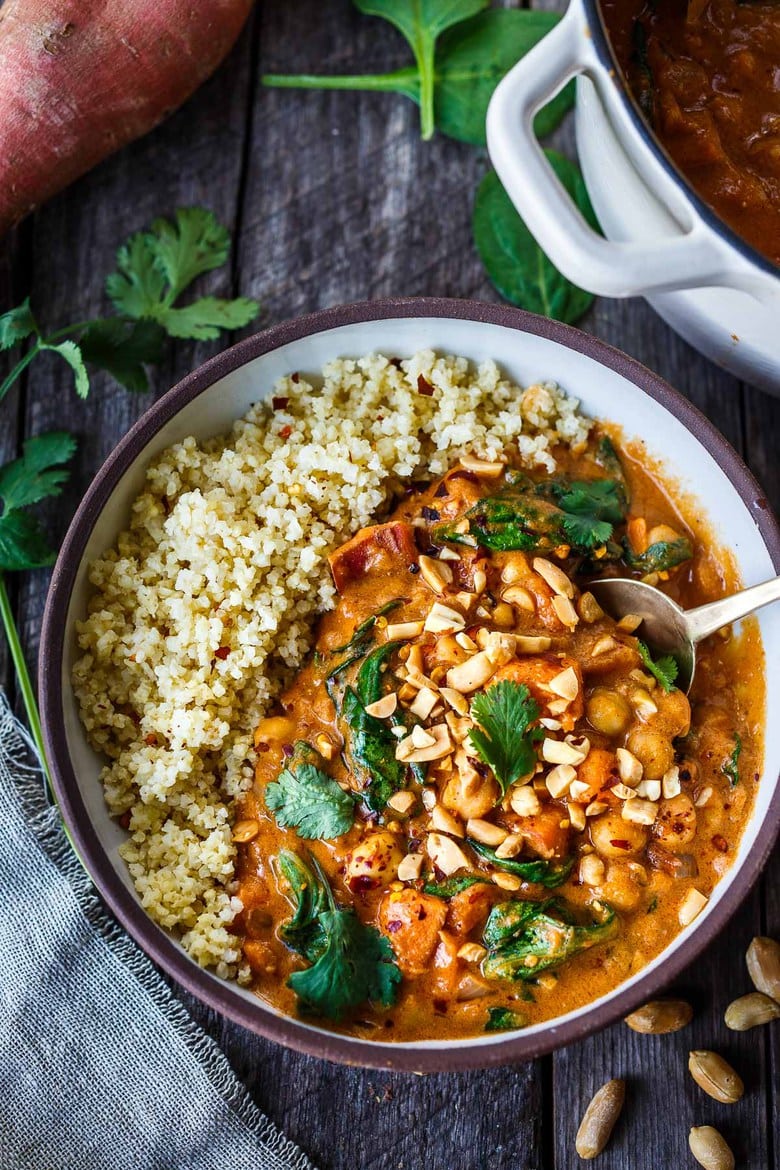 The same stream of life that runs through the world runs through my veins.~Rabindranath Tagore
Dairy-free and full of protein, this African Peanut Soup is sooooo delicious! It can be served as a hearty soup, or served over millet or rice for a satisfying one-bowl meal. It all comes together fairly quickly though it tastes anything but simple. The flavors and creamy texture are reminiscent of curry, developing even more over time, making leftovers something to be very excited about!
Why is it called African Peanut Soup?
African Peanut Soup, also known as Groundnut Stew, is a cultural staple to West Africans. There are many variations of this peanut soup, with the recipe ingredients varying by region. Peanut butter (groundnuts), tomatoes, and chilies are generally the base components, the flavors are tweaked from there. Most traditions include starchy vegetables like yams and sweet potatoes. Some also include eggplant, okra, or corn, as well as chicken or other ground meats, and beans. Hot chili peppers are also traditional. It is most often served over millet or rice.
Groundnut Stew is a popular dish during Kwanzaa, a celebration of the first fruits of the harvest, African cultural heritage, and traditional values. Did you know that peanuts are known as groundnuts in many parts of the world? They actually originate from South America then somehow found their way to Africa. From there the peanut was brought over to the United States on slave ships.
Our vegan version of West African Peanut Stew is may not be completely traditional but it is none less mouthwateringly delicious.
African Peanut Soup | Video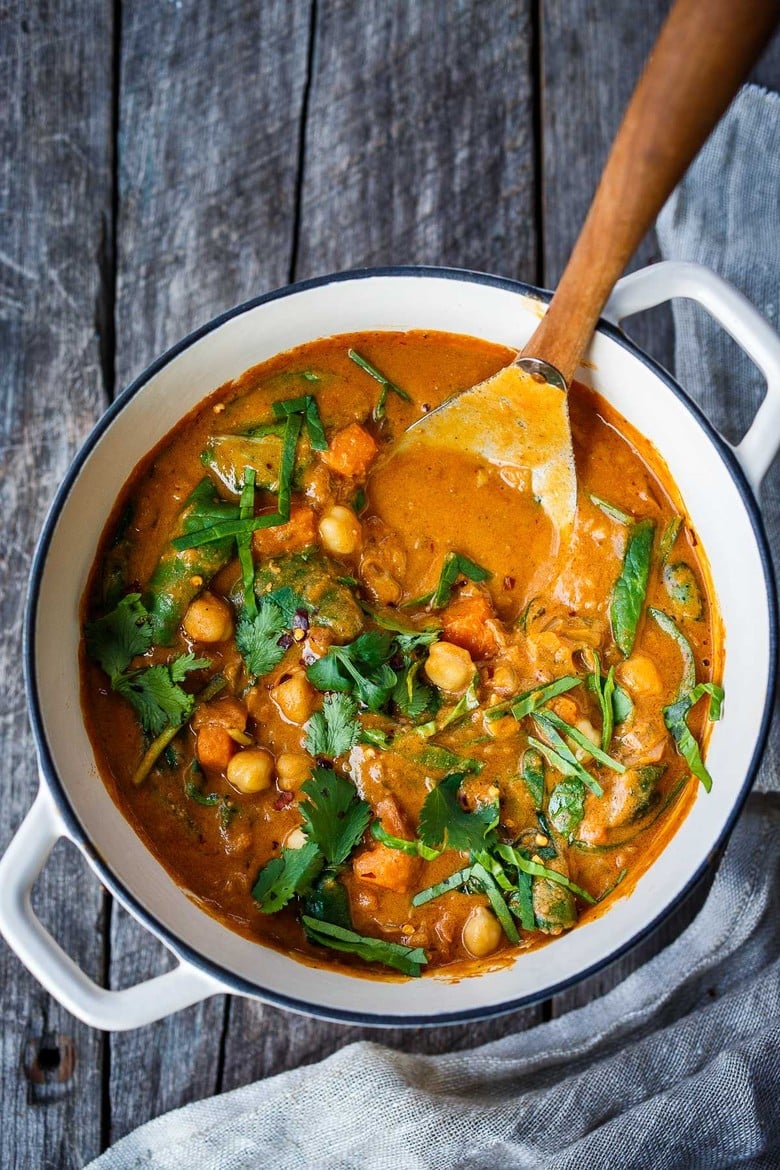 What does African peanut Soup Taste like?
The creamy rich base is smooth and reminiscent of curry. Balanced savory flavor with a touch of sweetness and a bit of spice.
Is African Peanut Stew Healthy?
Yes! The beauty of homemade is that you can control the quality of the ingredients and adjust to your preferences. Make sure you use fresh ingredients and use natural peanut butter with nothing added-just peanuts and salt (or unsalted if that is your preference). Another way to boost nutrients is to make your own vegetable broth, with our easy and delicious recipe.
What is African Peanut Soup made from?
Onions, ginger, garlic, and serrano chili sauté together with fragrant spices create a heavenly aroma. Tender yams and chickpeas fortify the creamy peanut tomato soup base. Fresh spinach is added just before serving to lightly wilt preserving fresh flavor and nutrients.
Ingredients
coconut oil
onion
garlic cloves
ginger
serrano chili
smoked paprika
black pepper
ground coriander
ground cumin
yams or sweet potatoes
chickpeas
tomatoes paste
diced tomatoes
vegetable broth or chicken stock
creamy natural peanut butter- no sweetener (crunchy is fine too if you like more texture)
sea salt
red pepper flakes
apple cider vinegar
fresh spinach (or a mix of baby kale and spinach is nice)
Garnishes: Cilantro, Crushed Peanuts and Chili flakes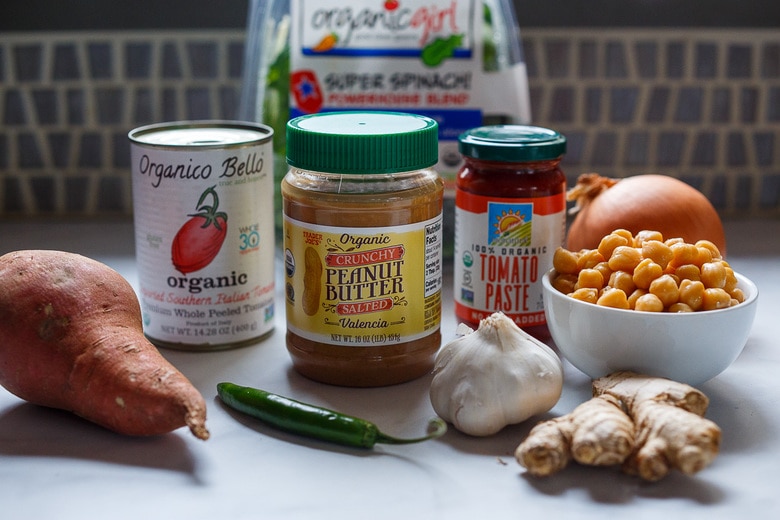 How to make African Peanut Soup
Step one
Cube yams, chop, dice, and minced onion, ginger, garlic, and serrano chili. Measure out spices and remaining ingredients. This will help the process flow and make cooking a much more enjoyable experience!
Tip: If you are cautious of the spicy heat of the serrano, try this instead of mincing it: Add the entire pepper when you add in the broth, letting it simmer in the soup, and then remove the cooked pepper before serving. You will get the flavor and a little softer heat.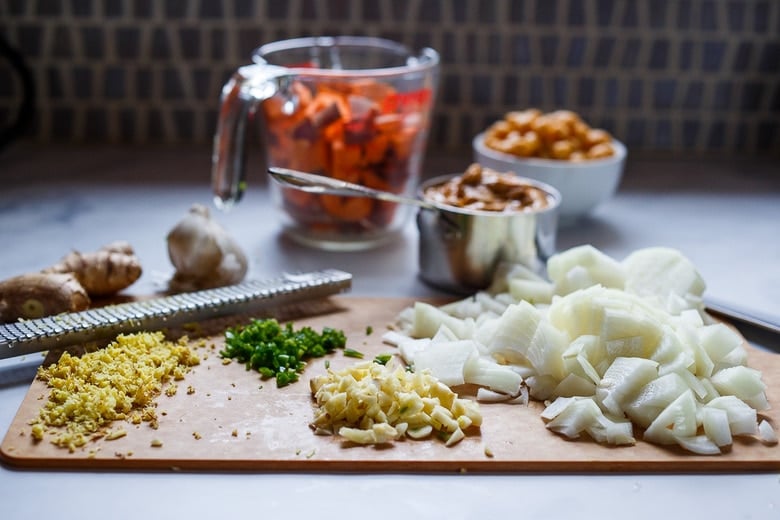 Step two
In a soup pot with coconut oil, start sautéing, onion, garlic, ginger, and serrano chili.
Add smoked paprika, black pepper, coriander, and cumin. Adding them in with the sautéing aromatics will release and enliven the flavors of the spices and will smell amazing!
Stir this mixture until the onions start to soften, about 7 minutes.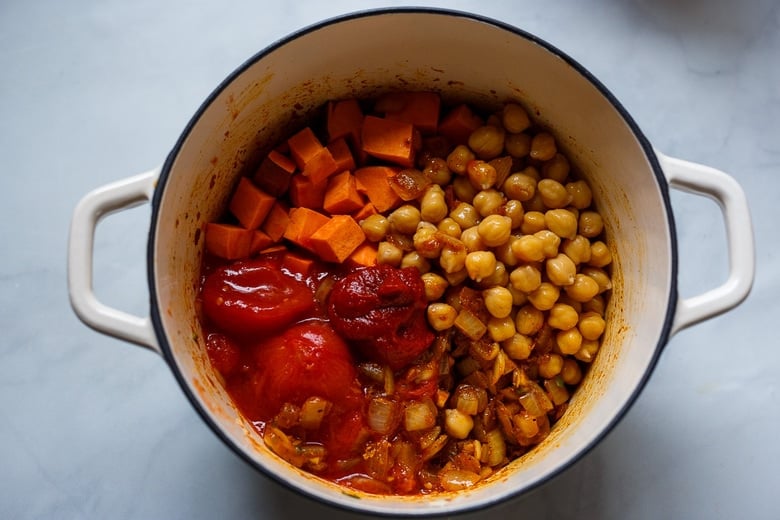 Step three
Add yams, chickpeas, tomato paste, diced tomatoes, broth or stock, peanut butter, salt, and red pepper flakes.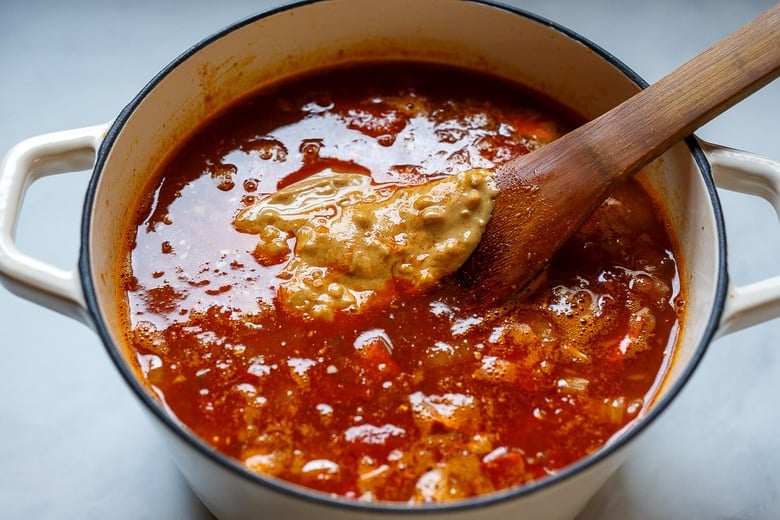 Step four
Bring the soup to a simmer and cook for 20 minutes or until yams are fork-tender.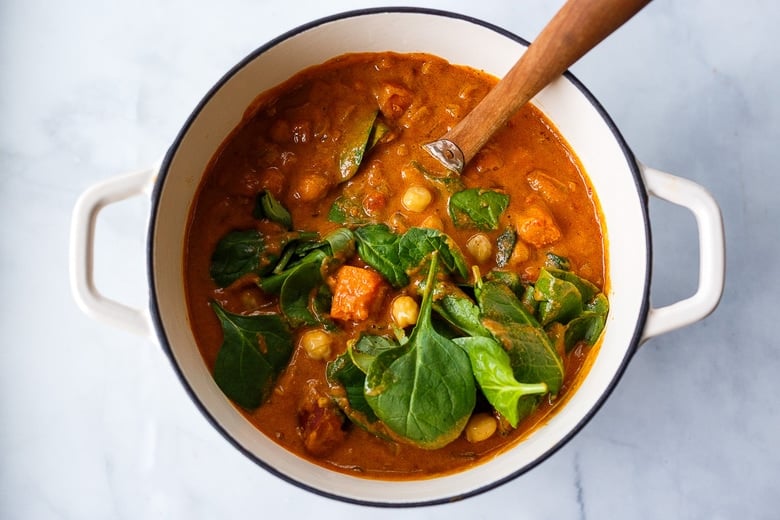 Step five
Add apple cider vinegar and salt to taste. Turn off heat and stir in spinach leaves.
Garnish with crushed peanuts, fresh cilantro, and red pepper flakes.
How to Serve African Peanut Soup?
Serve it in a bowl as a soup. (Use less peanut butter if you prefer it not so rich).
Serve it over cooked whole grains- like millet, rice, or quinoa for a hearty one-bowl meal.
Top with crushed toasted peanuts, fresh cilantro, and red pepper flakes (for the spice lovers).
Ways to Adapt
Swap out yams for sweet potatoes, butternut squash, potatoes, or parsnips. Or add them all!
Feel free to add more veggies! Squash, eggplant, peppers, okra…
Chard, kale, or collard greens can be used instead of spinach. Add in along with the yams to cook sufficiently.
Variations
Add cooked chicken or crispy tofu.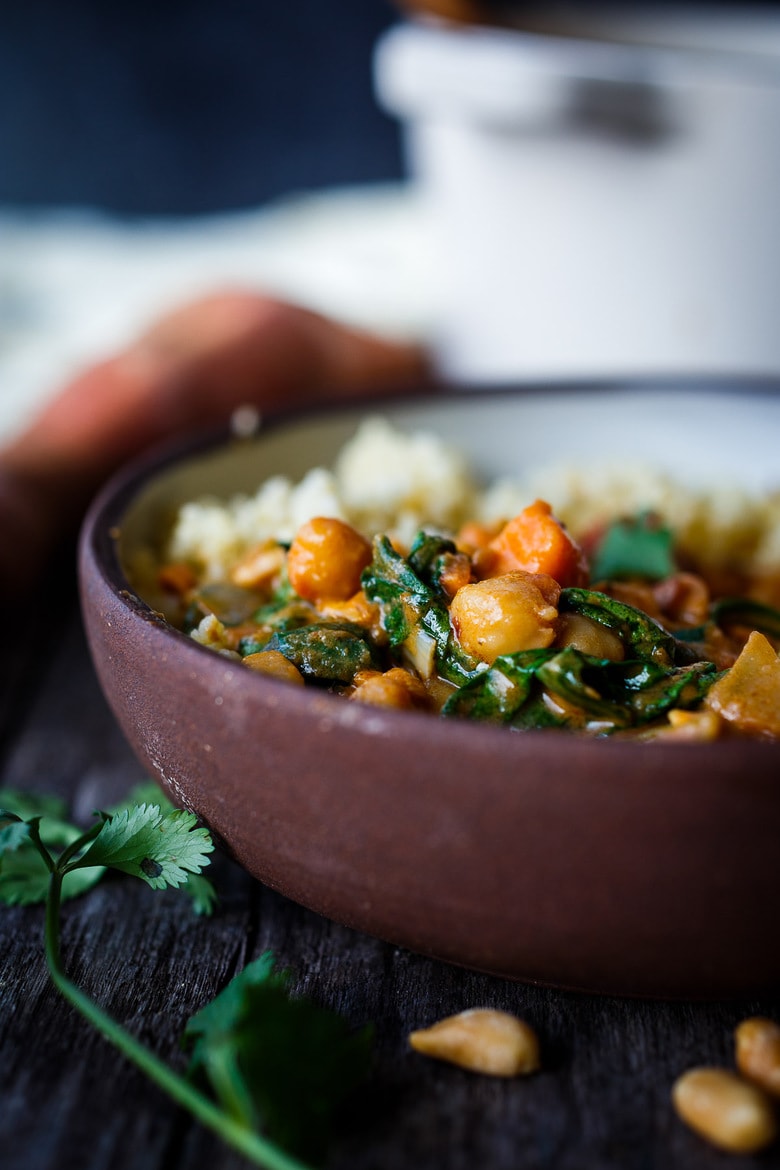 More Peanut recipes you may enjoy:
Thai Burrito with Peanut Sauce
Healthy Vegan Spring Rolls with Peanut Sauce Recipe
Bali Bowls with Peanut Tofu
Thai Noodle Salad with the BEST EVER Peanut Sauce
Instant Pot Peanut Chicken
Thai Crunch Salad with Peanut Ginger Dressing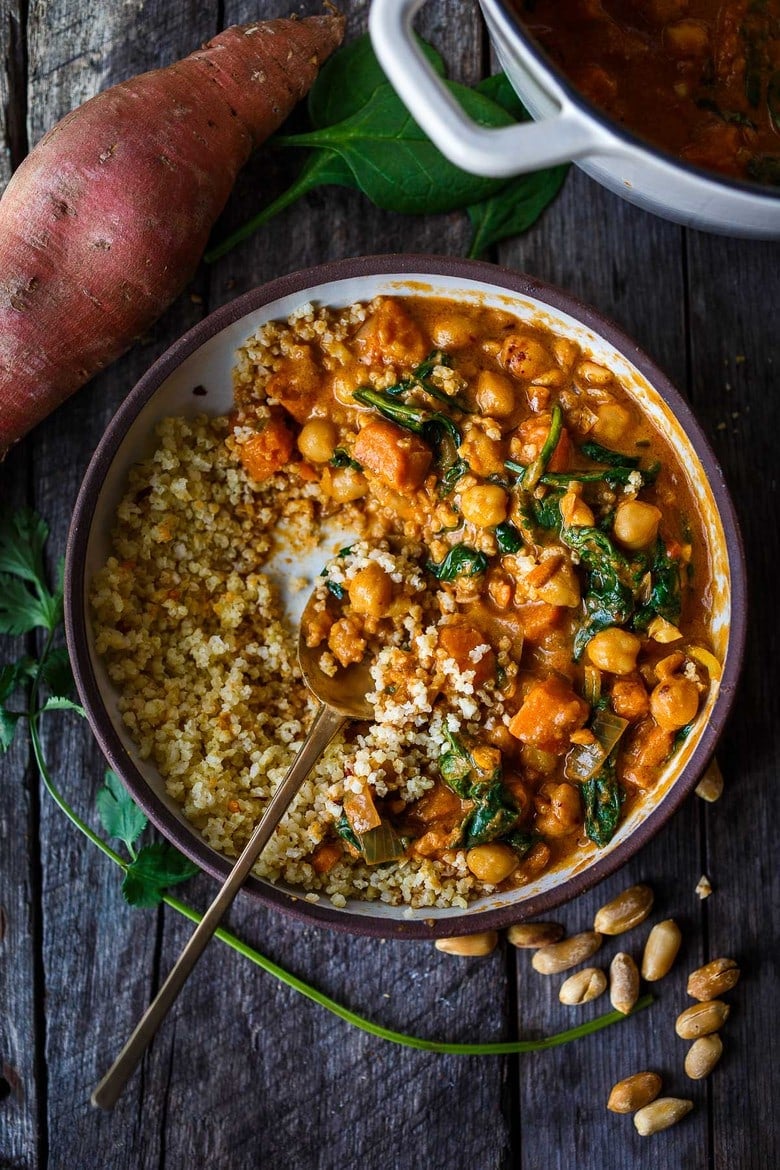 The flavors develop even more after cooking, leftovers are delicious! Keeps in the fridge for 5 days.
Hope you enjoy this African Peanut Soup. Let us know how you like it!
~Tonia
Print
Through this article, we hope to help you understand African nut stew vegetarian recipe
Detail: 🔗