These mouthwatering air fryer bell peppers are bursting with flavor and have the perfect charred edges. Whether you enjoy them as a side dish or paired with your favorite dip, these roasted bell peppers are a healthy and delicious treat.
Healthy Air Fryer Bell Peppers
Looking for a low-carb alternative to tortilla chips? Look no further! These air fryer roasted bell peppers are the ultimate hack for satisfying your snack cravings. They also make a quick and healthy side dish that pairs perfectly with any protein.
Incorporating more veggies into your daily diet has never been easier!
Made with just a drizzle of olive oil, a dash of salt and pepper, these air fryer peppers are not only packed with flavor but also rich in vitamins, especially vitamin C. They are low in calories and high in fiber, making them an excellent choice for a nutritious meal.
Pick Your Favorite Bell Pepper Color
You might have noticed that sometimes bell peppers' skin turns black when cooked. Contrary to popular belief, this charring is exactly what brings out the incredible flavor of bell peppers. That smoky, charred skin is where all the deliciousness resides!
Furthermore, bell peppers come in a variety of vibrant colors, which not only adds visual appeal but also affects the taste. The most common colors you'll encounter are red, yellow, orange, and green.
While green peppers have a slightly bitter flavor and are less ripe, red bell peppers tend to have a sweeter taste profile. For this recipe, we will be using red, orange, and yellow bell peppers to create a delightful medley of flavors.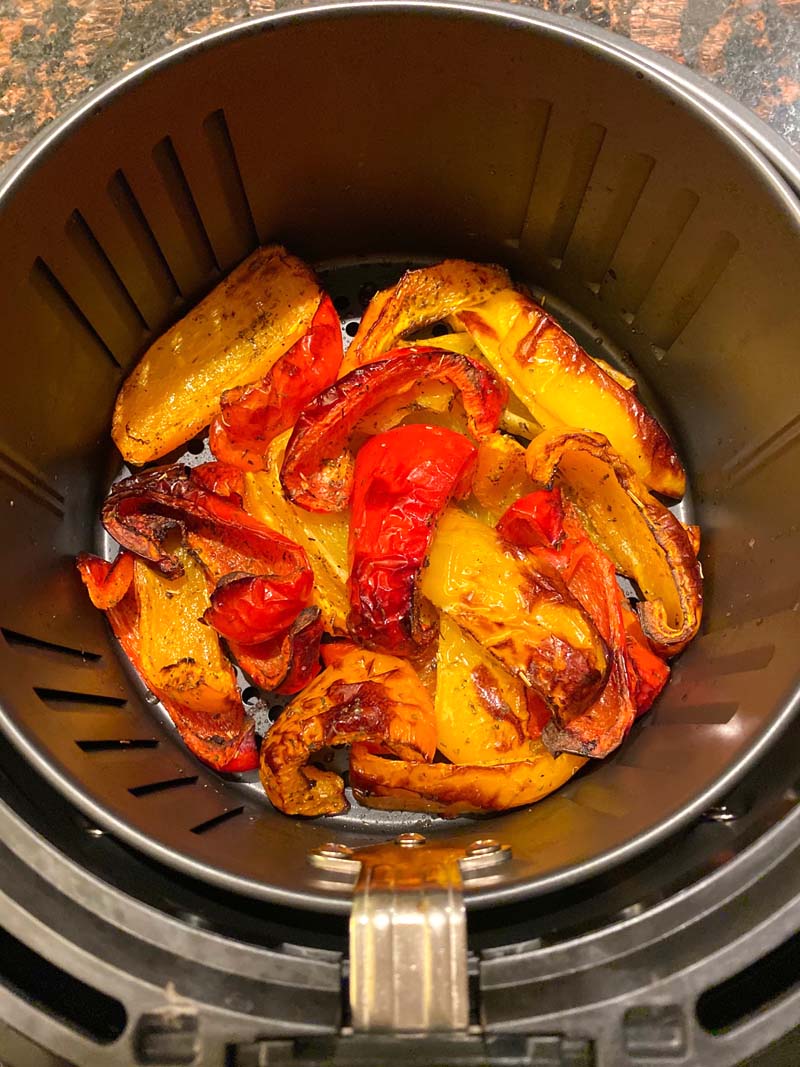 By the way, if you don't have an air fryer, don't worry! There are two alternative methods to quickly make delicious bell peppers. If you own an Instant Pot, you can try making Instant Pot Bell Peppers for a quick and flavorful side dish. Alternatively, you can use your oven and make Oven Roasted Bell Peppers at 450 degrees Fahrenheit for 20 minutes.
How To Roast Peppers In The Air Fryer
Roasting bell peppers in an air fryer is one of the easiest and quickest methods to achieve that perfect char and flavor. Let's get started!
Begin by cutting each bell pepper in half. Remove the stem and scoop out and discard the seeds. Then, cut each halved bell pepper in half again lengthwise.

In a bowl, toss the bell pepper pieces with a drizzle of olive oil, salt, and pepper to taste. If you desire some heat, sprinkle on a bit of cayenne pepper.

Place the seasoned bell peppers in the air fryer basket and cook at 400 degrees Fahrenheit for 13 minutes.

To ensure even roasting on all sides, halfway through the cooking process, pull out the air fryer basket and give it a shake.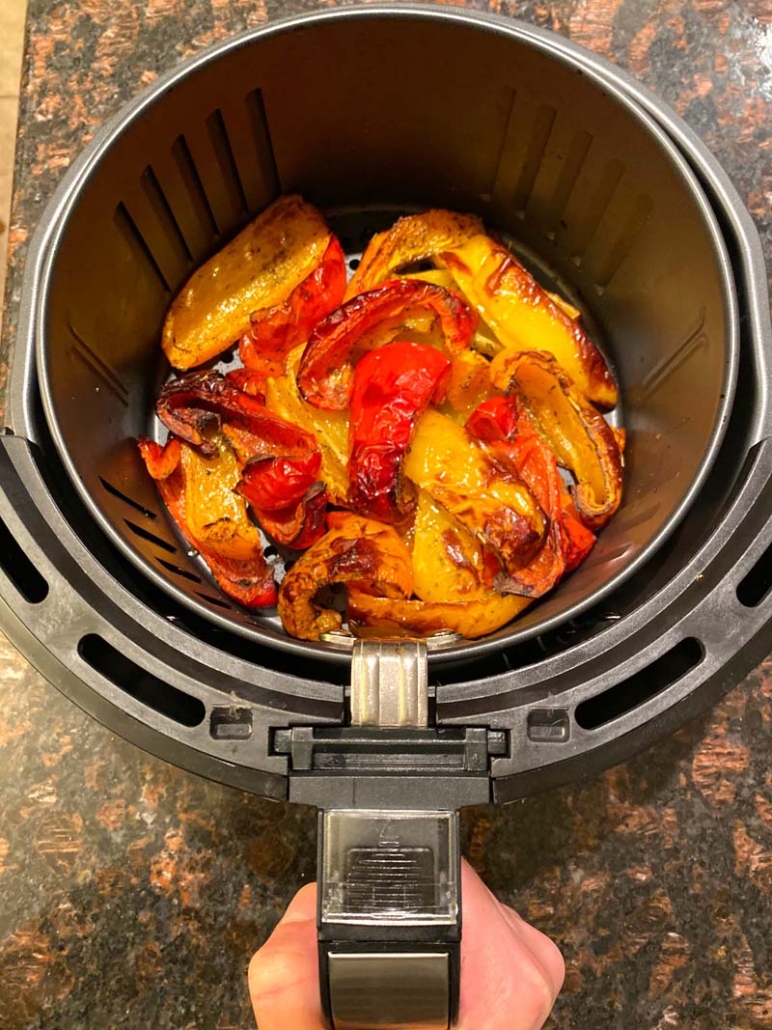 What To Serve With Air Fryer Peppers
While these "fried" bell peppers are incredibly tasty on their own, they pair perfectly with a variety of dips. Here are a few I recommend:
7 Layer Dip
Keto Bacon Cheddar Dip
Chunky Guacamole
You can also serve these air fryer peppers as a side dish alongside some Italian Sausage for a classic sausage and peppers meal. Another option is to add them to your Shrimp Fajitas for a quick and flavorful Mexican-inspired dinner. The possibilities are endless!
More Healthy Air Fryer Recipes
If you loved these "fried" bell peppers, you'll definitely enjoy some of my other healthy air fryer recipes. Here are a few of my current favorites:
Air Fryer Keto Zucchini Fries With No Breading
Baked Apples In The Air Fryer
Roasted Chickpeas – Air Fryer Recipe!
Additionally, you'll love these easy recipes:
Air Fryer Mushrooms
Air Fryer Sweet Potatoes
Air Fryer Quesadillas
Remember, these recipes are brought to you by Family Cuisine, your go-to source for delicious and nutritious meals.
So fire up that air fryer and get ready to indulge in some sensational air fryer bell peppers!