Air fryer turkey burgers are a quick and easy way to create succulent patties that are perfect for your burgers. Whether you opt for homemade turkey patties or store-bought ones, the air fryer will deliver perfectly cooked results every time!
Customize Your Turkey Patties to Your Liking
While store-bought turkey patties offer convenience, I personally prefer making them at home. This allows you to adjust the flavors according to your taste preferences. Whether you use frozen or homemade turkey patties is entirely up to you.
When cooked in an air fryer, these patties do not require any additional oil. They cook evenly and in no time at all. You can use the turkey patties to create a delicious burger for lunch, or serve them on a bed of lettuce for a low-carb alternative. And if you only have chicken on hand, don't worry! You can try our air fryer chicken patties recipe instead. For a low-carb burger option, consider these hamburger stuffed mushrooms.
Ingredients You'll Need
If you're using store-bought turkey patties, that's all you need! Simply place as many turkey patties as can fit in a single layer in the air fryer. For me, that's about 4 patties at a time. Additionally, you'll need burger buns and any desired toppings for your turkey burgers.
If you're making your own homemade patties, you'll need a few more ingredients to enhance the flavors:
Ground turkey: The main ingredient for this recipe. You can either buy minced turkey or grind your own turkey meat at home.
Seasoning: Salt, black pepper, seasoning salt, onion powder, and paprika. Feel free to add additional herbs or spices for extra flavor.
Breadcrumbs: Finely ground breadcrumbs help bind the turkey together, preventing the patties from falling apart.
Spray cooking oil: This is a handy product for air fryers. If you don't have spray cooking oil, you can grease the air fryer basket with olive oil instead.
For the burgers: Buns, tomato slices, onion slices, lettuce, and mayo.
How to Make Your Own Turkey Patties From Scratch
To make your own turkey patties, combine ground turkey, salt, pepper, seasoning salt, paprika, onion powder, and breadcrumbs in a bowl. Mix everything together until evenly combined. I find that using my hands works best for this, ensuring that all the ingredients are thoroughly mixed.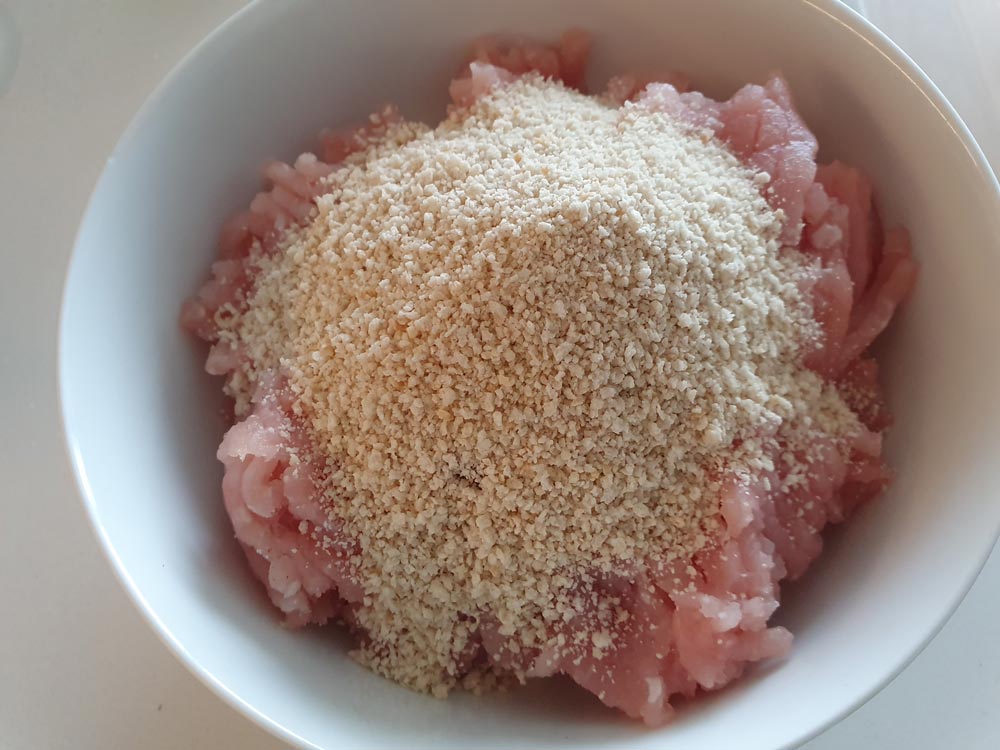 Shape the mixture into flat, round patties. Place them in the refrigerator for about 15 minutes to firm up before cooking. You can easily double or triple the recipe if needed. Any extra patties can be stored in the freezer for future use.
Cooking Turkey Patties in the Air Fryer
Cooking turkey patties in an air fryer couldn't be simpler. Just follow these easy steps:
Step 1: Remove the store-bought turkey patties from the freezer or take out your homemade turkey patties from the refrigerator.
Step 2: Prepare the air fryer basket by spraying cooking oil on the bottom to prevent sticking. Place the turkey patties in the basket.
Step 3: Cook thawed or homemade turkey patties in the air fryer at 400°F (200°C) for 8 minutes. Flip the patties halfway through the cooking process to ensure they are evenly browned on both sides. For frozen patties, cook for an additional 2-4 minutes, totaling 10-12 minutes.
Remember that cooking times may vary depending on your air fryer model. Frozen patties may require a few extra minutes to ensure they are thoroughly cooked. Use a meat thermometer to check that the internal temperature of the patties reaches 165°F for safe consumption.
Why Choose an Air Fryer for Cooking
An air fryer provides a hassle-free method to cook a wide range of dishes. Its fryer-style basket, coupled with hot circulating air, creates a crispy texture similar to deep-frying, but without all the oil. You can use it to cook various foods that you would typically make in the oven.
Frequently Asked Questions
Can you cook frozen turkey patties in an air fryer?
Absolutely! Cooking frozen turkey patties in an air fryer is actually the best way to do it. There is no need to thaw the patties beforehand. Simply place the frozen patties in the air fryer basket and cook them for 10-12 minutes at 400°F, flipping them halfway through.
Can you add more spices to turkey patties?
Definitely! Feel free to experiment with different spices to enhance the flavor of your turkey patties. Add Italian herbs, jerk seasoning, cumin, paprika, or any other spices that tickle your taste buds.
Can you coat these turkey patties in breadcrumbs?
Yes, you can. For a crunchy exterior, you can coat your homemade turkey patties in an egg wash and then add breadcrumbs to each side. Remember to spray the patties with cooking oil before air frying to achieve that desirable crispy crust.
If you enjoyed this recipe, we would love for you to share it with your friends on social media. For more delicious recipes, follow us on Pinterest and Facebook, where we share our favorite recipes daily.
🥧 For additional mouth-watering recipes, visit "A Food Lover's Kitchen". If you're looking for Instant Pot recipes, head to "A Pressure Cooker Kitchen," and for all things cocktails and drinks, check out "Savored Sips." Explore these websites today!
Pin this recipe for later!