A delicious Air Fryer Baked Sweet Potato recipe made with only 3 simple ingredients for a quick healthy dinner.
Bonus, this is a gluten-free, vegan-approved air fryer recipe perfect for meat-free Mondays.
What Are Baked Sweet Potatoes?
Baked sweet potatoes are whole sweet potatoes baked in the oven for a long time, usually about 90 minutes.
It's a delicious side dish or meal filled with any plant-based protein like baked beans or lentil meat.
How To Make Air Fryer Baked Sweet Potato
Air Fried Baked Sweet Potatoes are very convenient, much faster to make, and low in fat.
In fact, you need way less oil to make the sweet potato skin crispy and about half the cooking time.
Ingredients
Medium-sized sweet potato – don't use large varieties. They are way too long to air-fry. Also, use orange sweet potatoes for the best result. Read my section below for types on how to choose the right sweet potato for baking.
Olive oil – or any high smoke point oil like avocado oil
Salt
Sweet potato variety
The key to making a dish with sweet potato is to choose the right variety based on what you intend to cook. For a crispy skin and sweet
White sweet potatoes – the most popular are Hannah and Japanese variety. They both have yellow-white skin and flesh similar to regular potatoes. These sweet potatoes are very starchy and best enjoyed as a puree.
Orange sweet potatoes – the most popular are the Garnet, long and thin or Jewel, packed and wide. They have sweet and moist flesh that makes a great baked dish like a casserole or to make sweet potato fries.
Purple sweet potatoes – their skin is purple, and flesh can be white/blue/purple depending on the variety. Their skin is rich, dense, and slightly dry, so not the best for baked sweet potato recipes. However, they are perfect for roasting or making fries.
Preparation
First, wash and scrub the skin of the sweet potato under tap water. Next, pat dry roughly with a clean kitchen towel and poke holes with a fork all over the surface of your sweet potatoes.
In a bowl, mix olive oil, salt, and any flavoring you want like, garlic powder, onion powder, or dried herbs.
Use your hands or a pastry brush to rub the sweet potato skin evenly with the olive oil mixture.
Air frying
Place the sweet potatoes on the air fryer basket, ensuring they don't touch each other. You don't have to add foil to the air fryer basket or parchment paper.
The sweet potatoes will air-fry very well placed on the basket with nothing under. Plus, they barely leak any liquid, and it won't make your clean-up process very intense.
If you have a preheating function in your air fryer, you can use it, but it won't change much in baking time.
Set the air fryer temperature to 400°F (200°C) and air-fry for 40 minutes, flipping the sweet potato halfway with tongs to make sure they cook evenly on all sides.
Note that the air frying depends on the size of the vegetable you put in the basket.
Always prick the sweet potato after 30 minutes to check if it's ready to take out from the air fryer.
The sweet potatoes are cooked when you can insert a knife blade in the center of the sweet potatoes.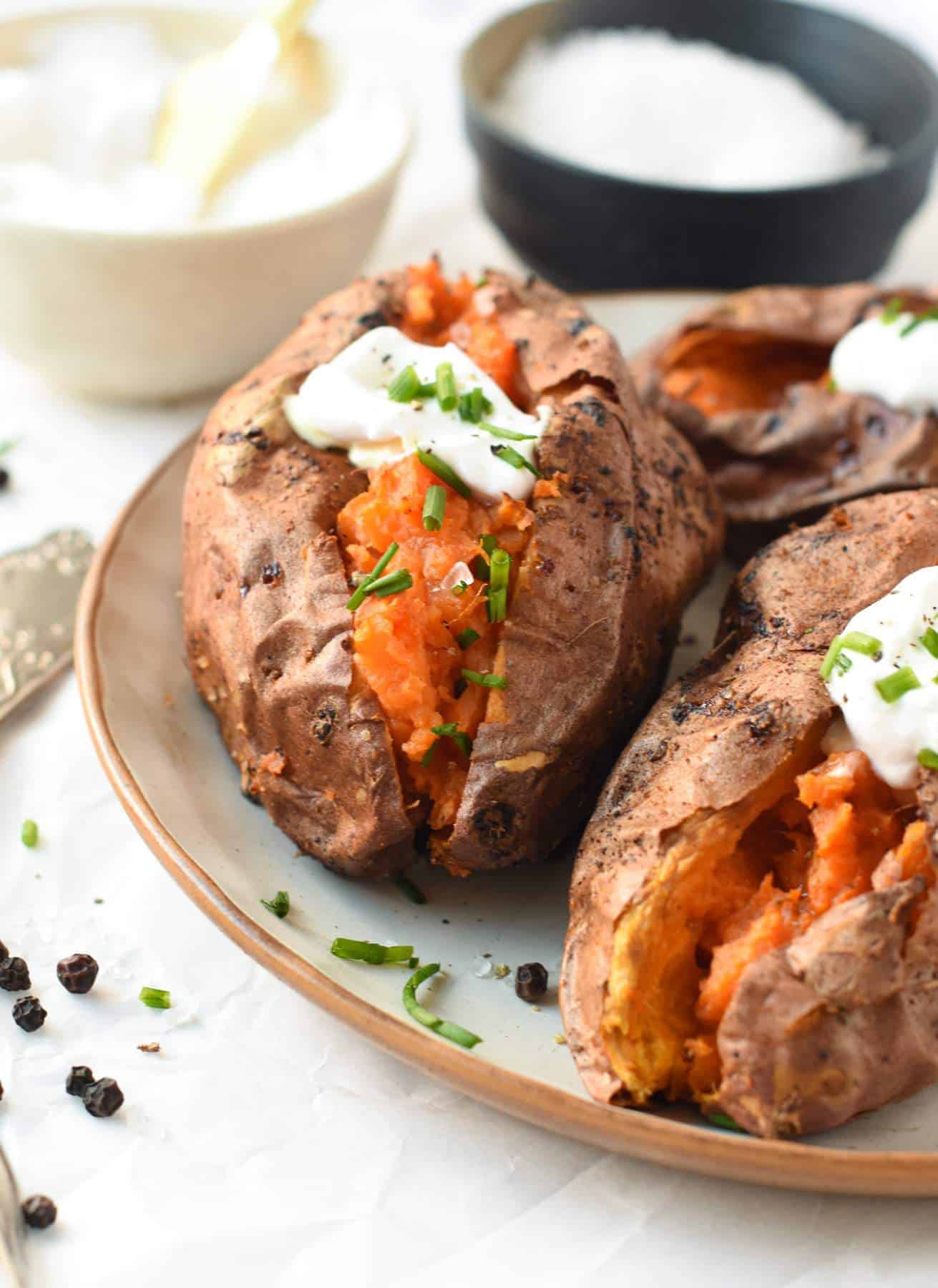 Fill and air-fry again
Now, cool down the sweet potatoes and then cut them halfway lengthwise. Next, scoop out the flesh from the skin, mash on a board with seasonings like salt, pepper, and a drizzle of garlic-infused oil or vegan butter.
Then, return the mashed sweet potato into the skin, add topping like protein – beans, lentils, or vegan cheese.
Return to the air fryer basket for 5 minutes at 400°F (200°C) until the filling is hot, the cheese melts, and the skin of the sweet potato crisps.
Serving the air fried sweet potatoes
Of course, these air fryer sweet potatoes are even better with extra toppings.
Add some of the below options to your hot sweet potatoes.
Fresh chopped herbs
Sauce
Top the hot sweet potato with a dollop of vegan:
Sour cream
Coconut yogurt
Cucumber dip
Almond ricotta
Salsa
Nacho cheese sauce
Storage
Store the baked sweet potatoes in an airtight container in the fridge for up to 4 days or freeze up to 3 months.
Thaw the day before in the fridge.
Rewarming
To rewarm sweet potatoes in the air fryer, add them to the basket and air fry for 10-12 minutes to 350°F (180°C) until hot and crispy.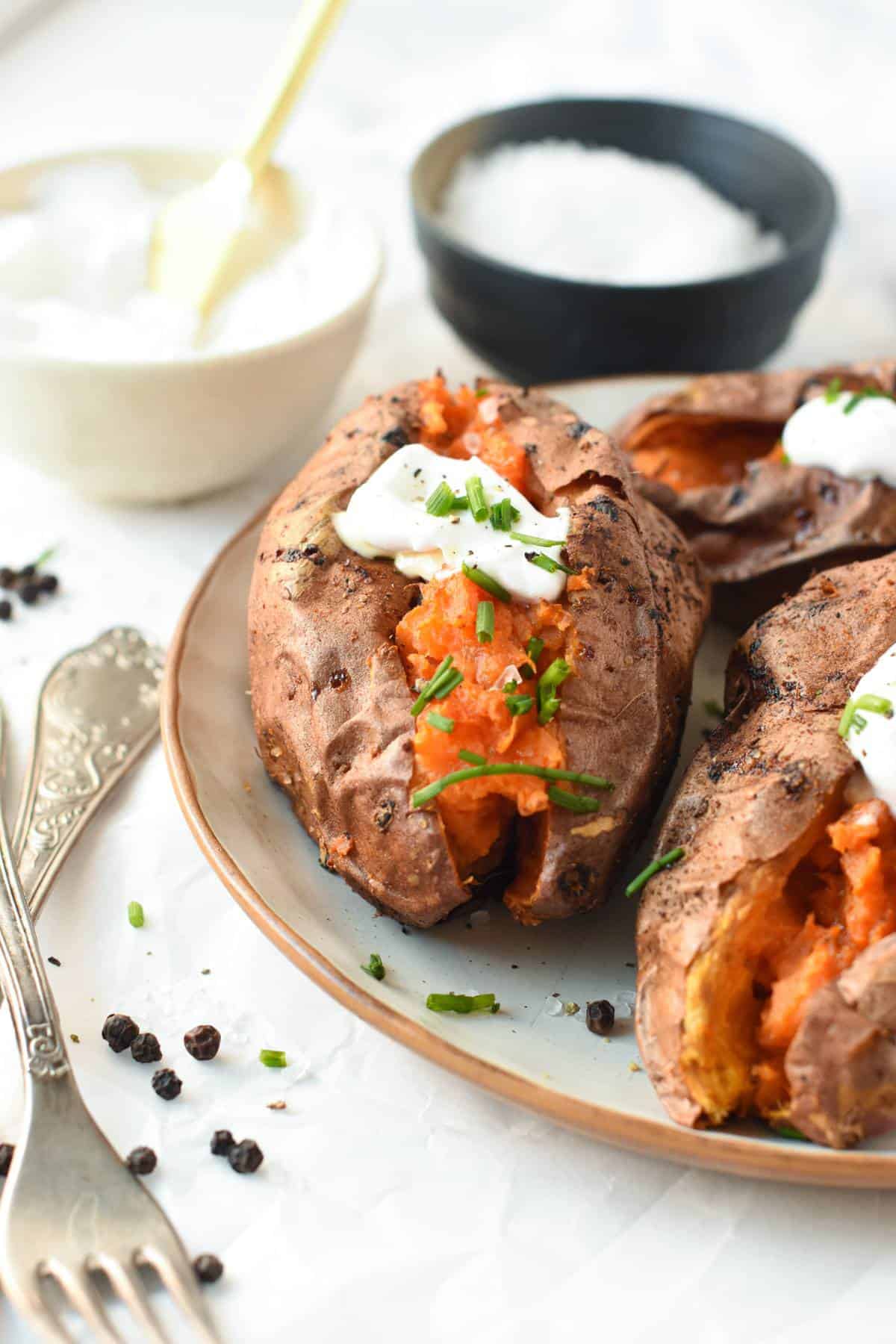 For more information, please see more information about Roast sweet potato air fryer
Detail: 🔗