Sharing is caring!
Air fryer Brussel sprouts make a great appetizer, snack, or side dish. These healthy little morsels go well with your favorite dipping sauces. We love serving them with mustard aioli to turn them into a dunkable, addictive veggie treat none of us can get enough of!
Reading: Roasted brussel sprouts in air fryer
LET'S BE FRIENDS ON PINTEREST! WE'RE ALWAYS PINNING TASTY RECIPES
Roasted Brussel Sprouts in Air Fryer
Brussel sprouts in the air fryer have a slightly crispy outside and soft, moist inside. Our recipe uses balsamic vinegar, which helps give the Brussel sprouts extra flavor and helps to soft the inside up a bit with the acid.
We also provide you with an excellent dipping sauce, which you can make the day before if you want.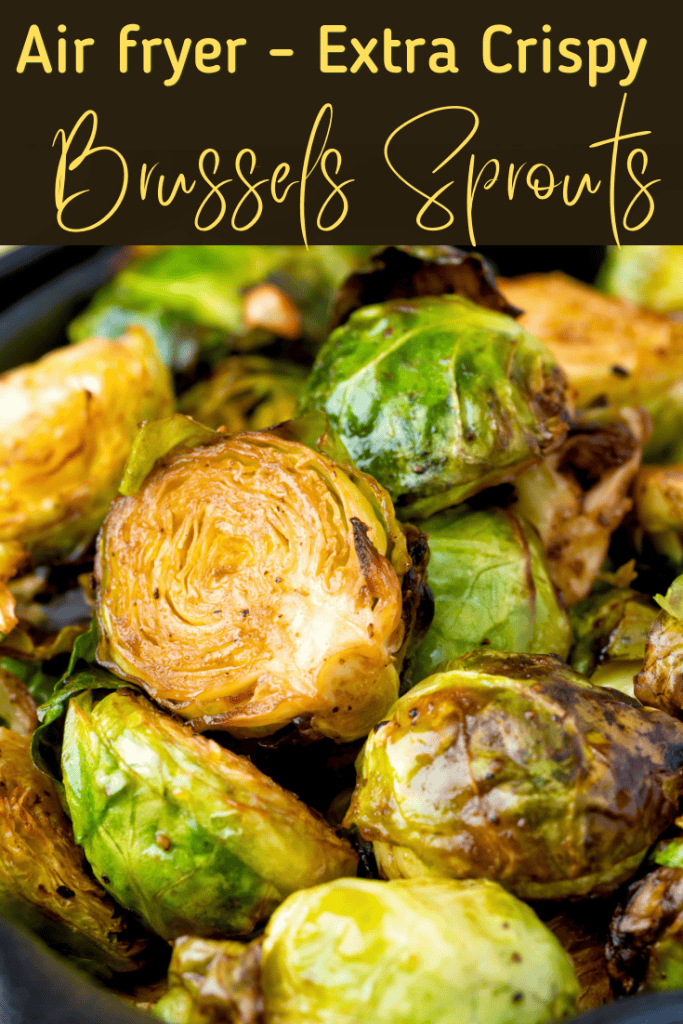 Ingredients for Air Fry Brussel sprouts Recipe
When making air fryer Brussels sprouts, you'll need these ingredients to make the sprouts. We've also included ingredients below to make a tasty mustard aioli for dipping or smothering the sprouts.
Brussels sprouts – You can typically find these in the refrigerated section of the produce. In some places, you may be able to find them still attached to the stalk, but they tend to be more expensive than bagged sprouts.
Olive oil – You could also use a different light tasting oil.
Balsamic vinegar – We like the flavor of balsamic, but you could use another vinegar flavor if you prefer, like red wine, white wine, or apple vinegar.
Seasonings – You'll want to use garlic powder, salt, and pepper. You could omit the salt if you follow a low sodium diet.
For the mustard aioli, you'll need the following:
Mayonnaise – You can use regular or reduced fat versions, but regular has a richer flavor.
Dijon mustard – You can use your preferred brand.
Whole grain mustard – You should be able to find this in the spices aisle at the grocery store.
Honey – You could sub in maple syrup if you follow a vegan diet.
Garlic – You need to smash this into a paste or you can often find pre-smashed tubes of garlic. Fresh tends to taste better though.
Lemon juice – We use fresh juice, but you could use bottled juice instead.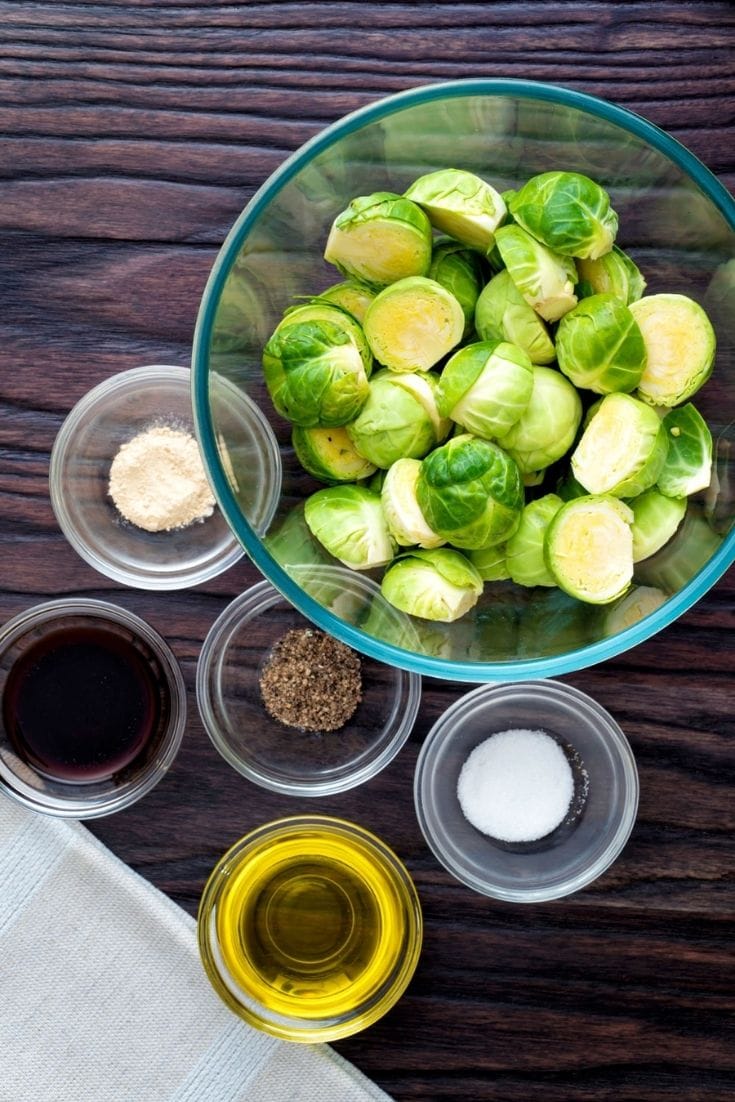 How to clean Brussels sprouts for air frying
Read more: The top 16 roasted unsalted peanuts in shell
When you get bagged Brussel sprouts, they are often cleaned of most debris. But to be safe, we recommend rinsing them in cool water and allowing them to dry or patting them dry with a towel.
Once rinsed and dried, place a sprout on a hard surface and use a sharp knife to carefully remove what is left of the stem on the bottom.
When you have the stem removed, cut the Brussel in half lengthwise. If you have very large sprouts, you may want to quarter them to be a roughly similar size.
How to cook Brussel sprouts in Air Fryer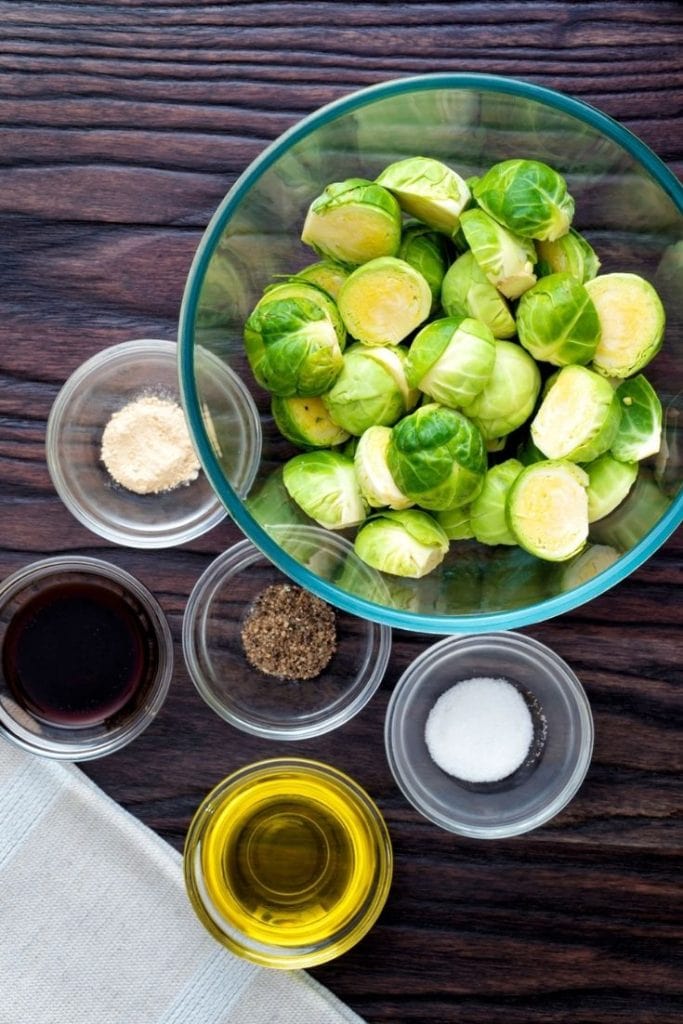 Once you have the sprouts cleaned and cut, follow these directions to make them in the air fryer.
Preheat the air fryer for 4 minutes to 375 degrees F.
In a large bowl, toss the brussels sprouts with the olive oil, balsamic vinegar, garlic powder, sea salt, and black pepper.
Next, add the brussels sprouts to the air fryer basket, making sure to not overcrowd it. It is best to work in batches so they have a bit of room to cook evenly.
Air fry them for 5 minutes and remove the basket, shake it, and cook for another 2 minutes.
For the mustard aioli, you need to do is:
Whisk the mayonnaise, Dijon mustard, whole grain mustard seeds, honey, lemon juice, and garlic together. Once combined, sprinkle with some salt and pepper.
Finally, cover the bowl and let it rest in the fridge for at least 30 minutes up to one day.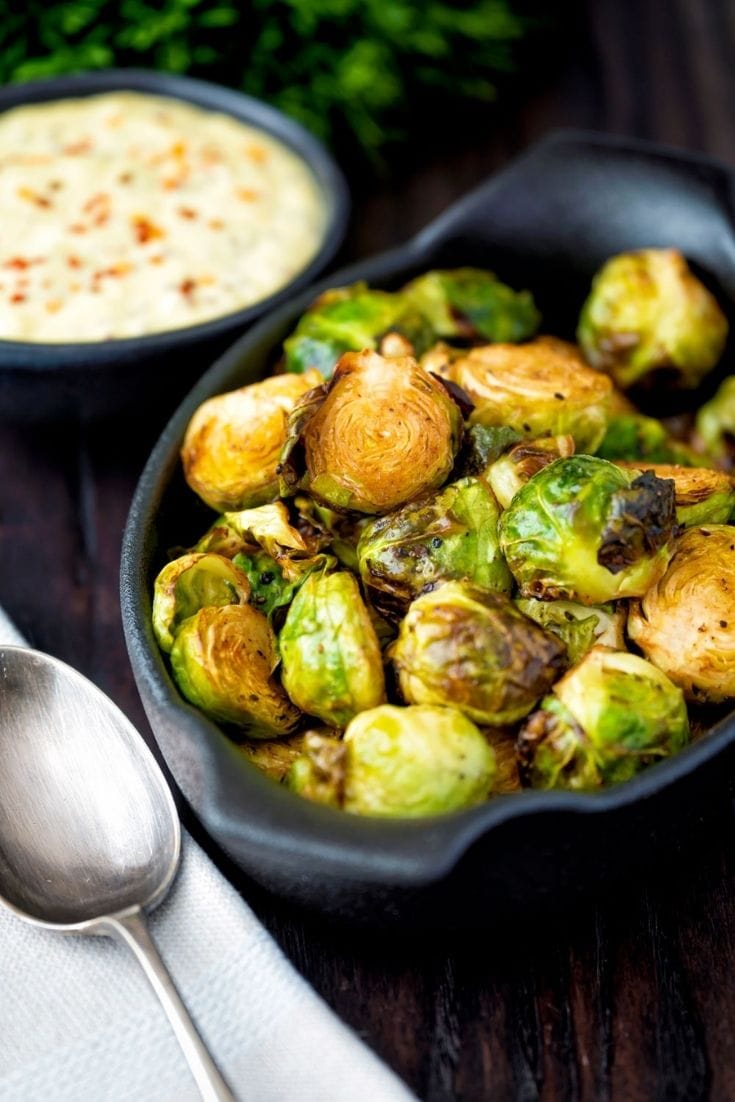 How to make roasted Brussel sprouts in oven
First, follow the instructions to clean, cut, and coat the brussel sprouts. Once ready, take the following steps:
Before beginning, preheat your oven to 350 degrees.
Next, place the prepared sprouts on a non-stick pan.
Finally, place the pan in the oven and bake for 20 minutes or until the sprouts start to brown on the outside.
How to serve roasted crispy roasted Brussel sprouts
We love serving these sprouts with the aioli recipe we included in this post. But if you want other ideas, here are a few good ones:
Serve with other air fryer treats to create a tray of apps to serve your family or guests
Dip them in honey mustard
Serve them alongside your favorite entrees for a complete meal
Smother them in melted cheese, like cheddar or provolone
Pick your favorite dipping sauce either cover them or dip them in
If you need more healthy air fryer ideas, here are a few others to try:
Air Fryer Pickles
Air Fryer Okra
Broccoli Air Fryer
Air Fryer Carrots
Air Fryer Asparagus
Sweet Potatoes Air Fryer
Air Fryer Zucchini Fritters
Air Fryer Jalapeno Poppers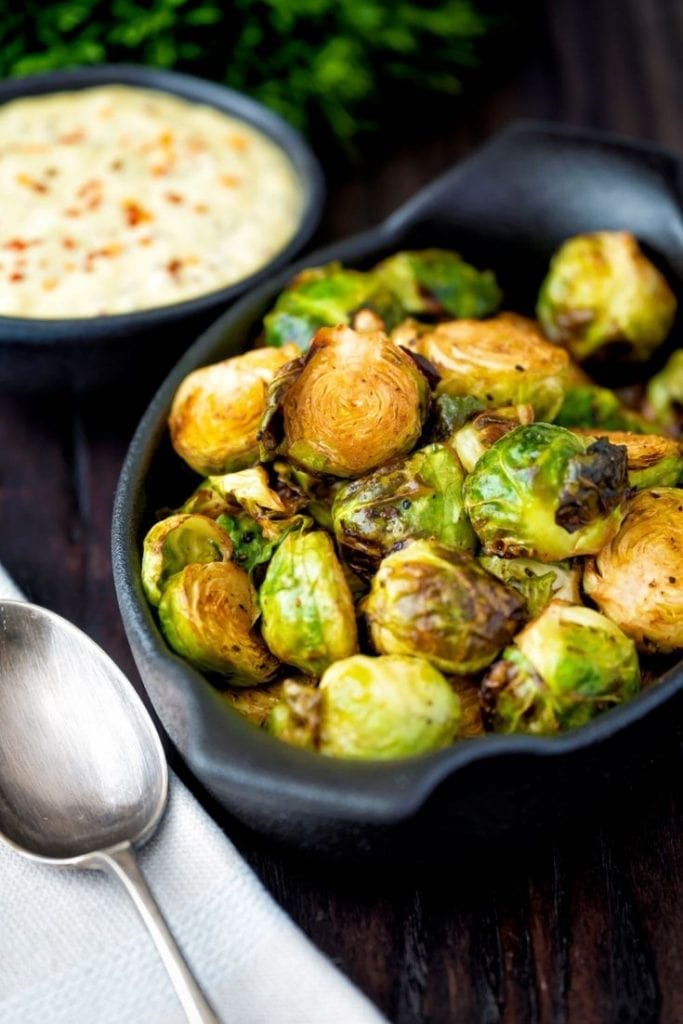 Seasoning variations
Read more: Grilled Potatoes in Foil – Dinner at the Zoo
When you air fry brussels sprouts, you can use any number of different seasoning combinations. Often, we mix some spices with a liquid so the flavor soaks in a bit. Here are a few variations to try:
Salt and pepper
Use southwestern seasonings
Change the vinegar you use for slight flavor variations
Can I air fry frozen Brussel sprouts
Yes, you can air fry frozen brussel sprouts, but we recommend thawing them first. If you place them in frozen, they may not get the nice crispy outside.
When using frozen, we thaw them overnight and pat them dry. Once ready, we season them and air fry them as described in the recipe.
How to store air fried brussel sprouts
Whether you want to make them ahead or have left overs, you can easily store them for later.
To store, first let them cool completely. Next, place them in an airtight container. You can then place them in the fridge for about 3 to 4 days.
You can also freeze them by placing them in a freezer safe container. When you want to serve them, allow them to thaw overnight.
To reheat, you can warm them in the air fryer set to 350 for about 3 minutes or until warmed through.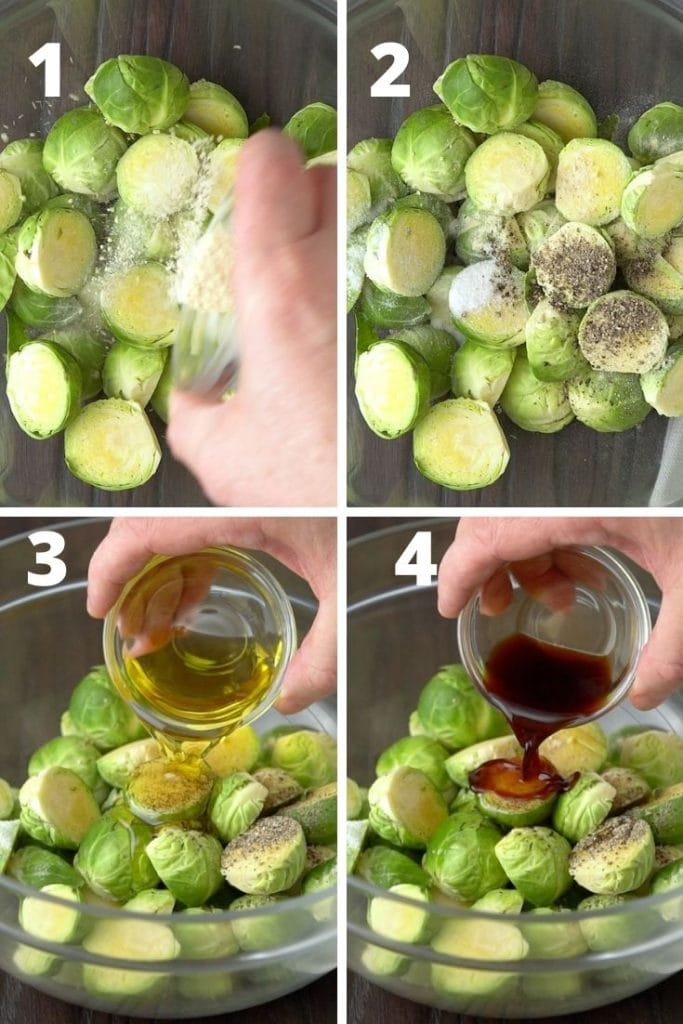 Pro Tips to make the crispy brussels sprouts in Air Fryer
When you make brussel sprouts in the air fryer, you can follow these great tips for excellent results:
Make sure to leave some space between the sprouts and not over crowd you basket
Cut the sprouts in half lengthwise and quarter any really large ones so they are roughly the same size
Use your favorite dipping sauces to make the perfect app or snack for you and your family
Let us know what you think
If you make this delicious recipe, let us know how it went! When you make this, be sure to take a pic and tag us on Instagram @dbellyrulesdmind or Facebook @thebellyrulesthemind!
Read more: Perfect Prime Rib Roast Recipe & Cooking Tips
For more information please see the list of Roasted brussel sprouts in air fryer
Source: https://thebellyrulesthemind.net/roasted-air-fryer-brussels-sprouts/