Air Fryer Brussels Sprouts are quick, easy, and absolutely delicious. Choose from a variety of seasonings, including Classic, oil-free Maple Balsamic, and Sweet & Spicy. In just 20 minutes, you can have this delicious vegan side dish on the table!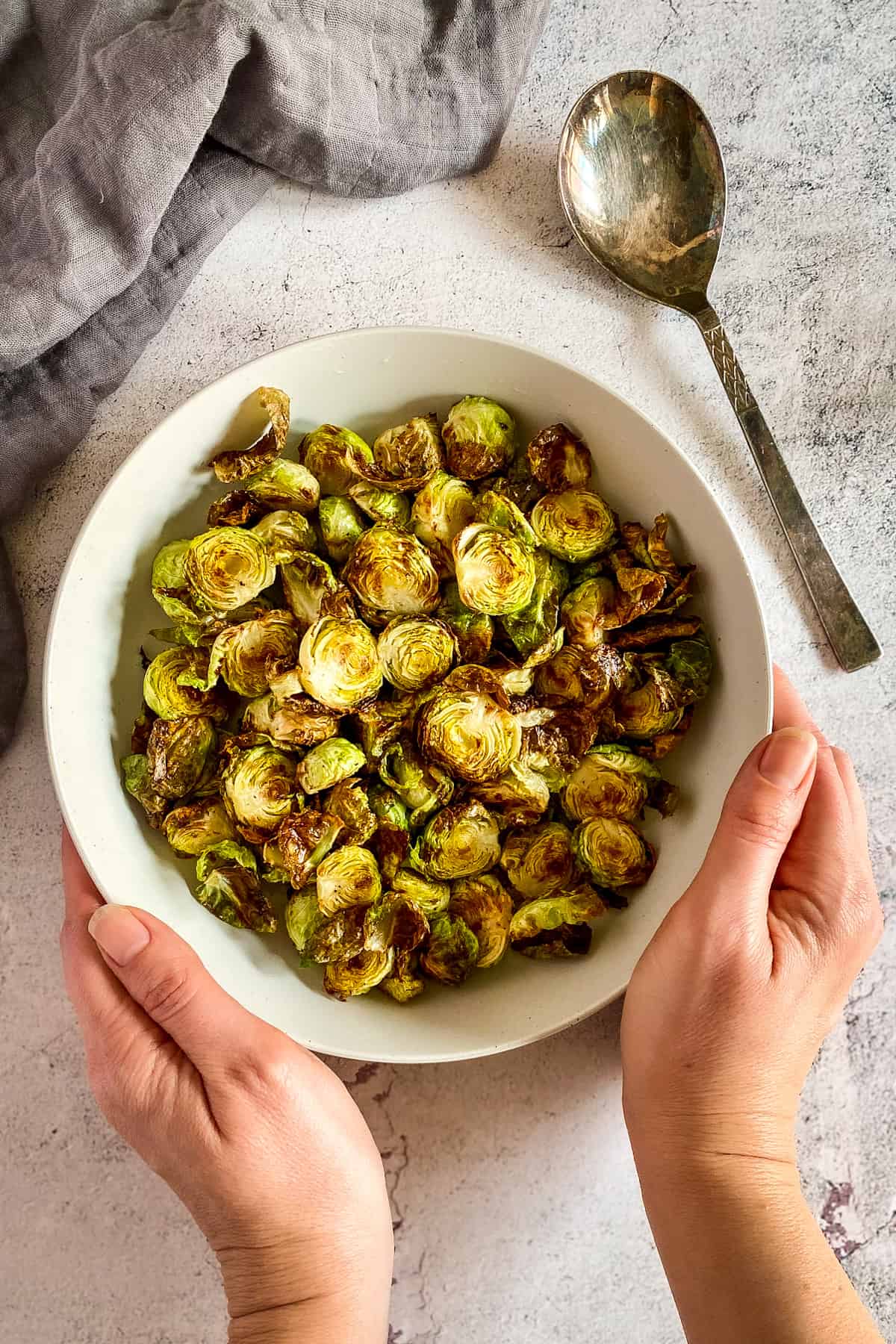 Brussels sprouts, the long-hated cruciferous vegetable of our grandmothers, have made a huge resurgence in popularity in recent years, thanks, almost completely, to the shift from steaming to roasting. Roasting Brussels sprouts in the oven gets them crispy, caramelized, and delicious-and you can apply that same magic to the Air Fryer.
Reading: Roasted brussel sprouts in air fryer
Roasting Brussels sprouts in the air fryer is quicker than in the oven (you'll cut the time in half). Another reason I love air frying Brussels sprouts is that it frees up space in the oven. This matters because brussels sprouts only really roast properly if nothing else is in the oven. If you put a tray above it, the sprouts steam and if you put a tray below they don't caramelize properly. So air frying is a perfect solution if you're making a meal that requires other dishes to go in the oven.
Not only are these Air-Fried Brussels Sprouts quick, easy, and delicious, but they are also super versatile. I've included 3 possible seasoning choices here-Classic, Maple Balsamic, and Sweet & Spicy-but really the sky is the limit. So go wild! Season your sprouts up and get them air frying!
Jump to:
Should I air fry the stray leaves?
Is it spelled brussel sprouts or Brussels sprouts?
Are these WFPB?
How do you season Brussels sprouts?
What type of Air Fryer should I use?
Ingredients
Instructions
Troubleshooting
How to serve
Can I make it ahead?
How to store
More Air Fryer vegetable sides
📖 Recipe
You'll love this recipe because it's:
Quick & Easy
Vegan / Vegetarian
Kid-friendly
Gluten-Free
Easy to make WFPB
Perfect for Holidays
Healthy & Delicious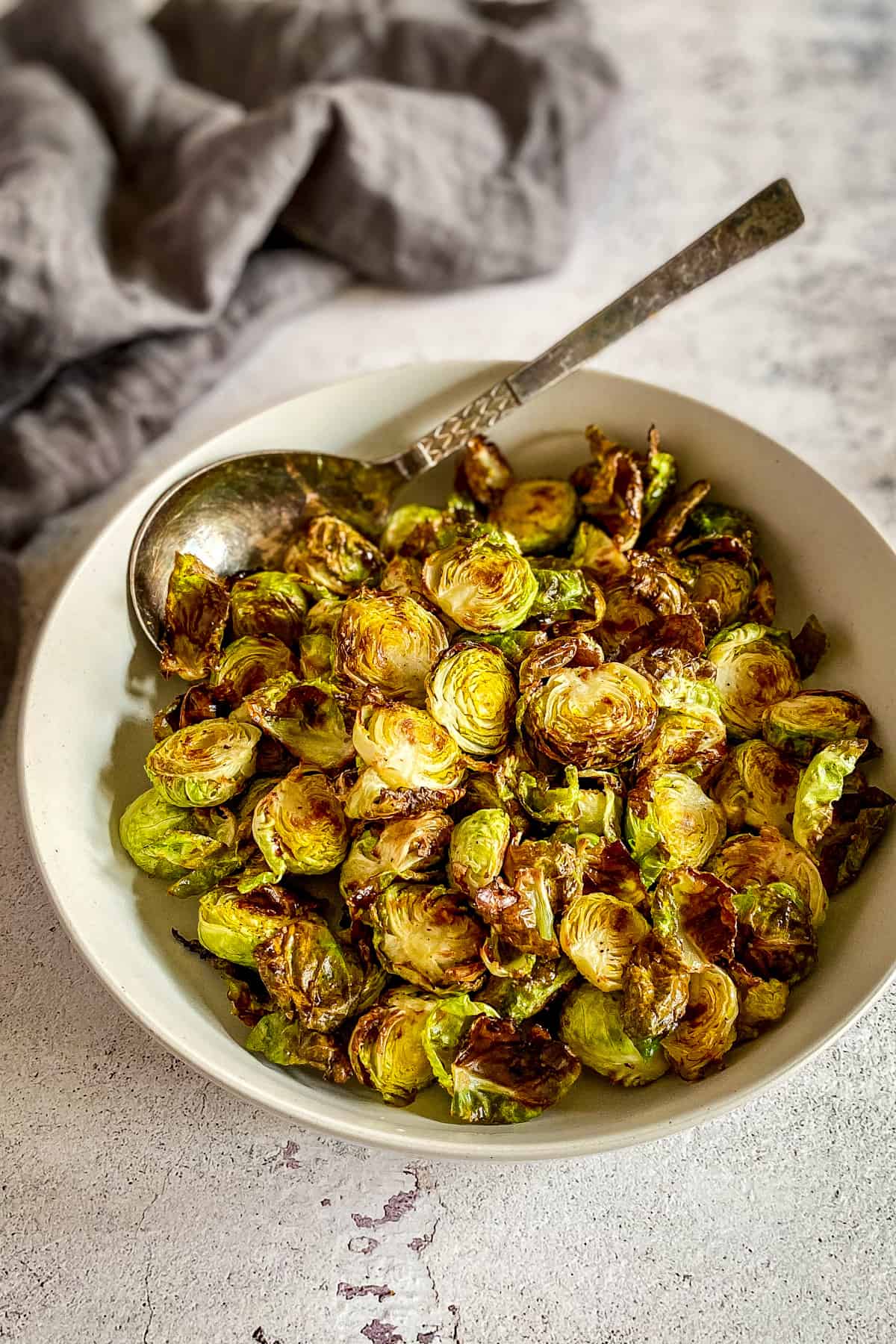 Should I air fry the stray leaves?
When you prep the Brussels sprouts some of the outer leave will fall off. You obviously want to discard any discolored or bad leaves. However, some people like to roast or air fryer the good extra leaves with the sprouts because they get crispy.
Read more: How Traeger Pellet Grills Work
I don't like to do this for two reasons. 1) The leaves cook faster and end up burning. 2) They crowd the baking sheet or air fryer, making it hard for the Brussels sprouts to caramelize and causing them to steam instead.
Not to worry though. As the Brussels sprouts cook, some of the leaves will naturally detach and you'll still get those extra crispy bites.
If you don't want to waste the leaves that fall off while prepping, you can save them and roast them separately. They cook very quickly and will be done in mere minutes, especially if roasted in the air fryer.
Is it spelled brussel sprouts or Brussels sprouts?
Technically, they are called Brussels sprouts with a capital "B" because they were so popular in Brussels, Belgium. But both will get the right idea across, so don't worry if you've been spelling it "brussel sprouts." I won't tell. 😉
Are these WFPB?
The Maple & Balsamic option is Whole-Foods Plant-Based because it is oil-free and refined-sugar-free.
How do you season Brussels sprouts?
Brussels sprouts work well with a variety of seasoning combinations, but you'll have more luck caramelizing them (in this short amount of cooking time) if you add a touch of something sweet like maple syrup, balsamic glaze, or agave. In this recipe, I've included 3 combinations:
Classic: This is a simple but delicious combo of olive oil, balsamic glaze or maple syrup, garlic, salt, and pepper.
Oil-Free Maple Balsamic: This combo was adapeted from my Maple & Balsamic Roasted Brussels Sprouts recipe. If you want to keep it WFPB, then this one is for you.
Sweet & Spicy: This was easily my favorite of the three! I gobbled down an entire bowl right then and there. For this combo the sweetness comes from Agave and the spicy comes from Sriracha. It's an absolute match made in heaven!
What type of Air Fryer should I use?
The air fryer you choose should be the one that best meets your needs for budget, capacity, and storage space. Some air fryers also have other functions like grilling and dehydrating. I ended up buying the Ninja Foodi Grill 4-in-1 because it has a large capacity to feed my family of four.
Read more: Cooking The Perfect Potatoes On The Grill : Simple Guide
If you wanted a smaller and more economical air fryer, check out this Farberware 3.4 quart or 4.2 quart Air Fryer. For even more possibilities, take a look at this list of the Best Air Fryers of 2021.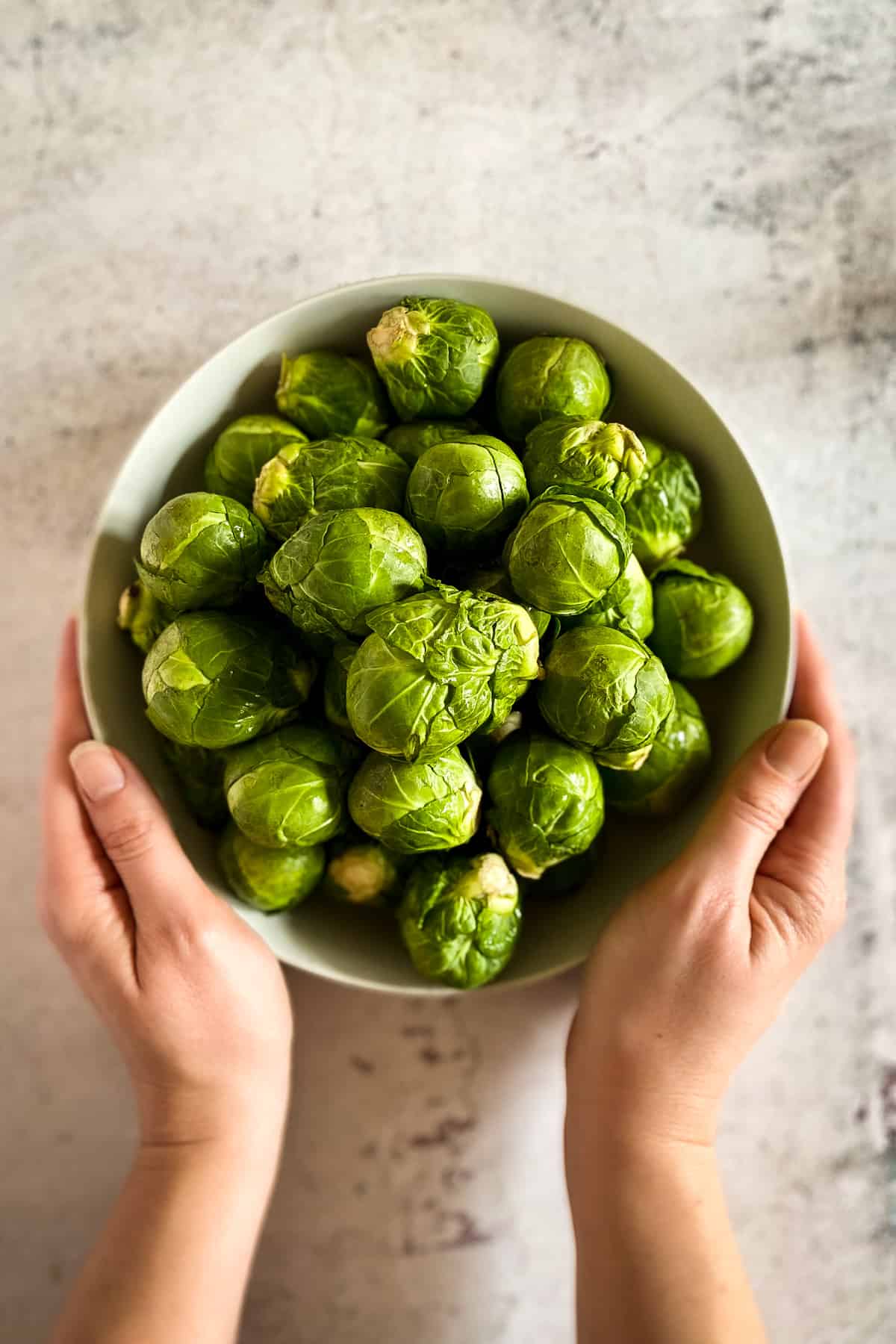 Ingredients
Classic
olive oil
balsamic glaze or maple syrup: Since these are cooking so quickly, adding a touch of sweetness will help the caramelization process along.
salt
granulated garlic
fresh cracked pepper
vegan parmesan (optional garnish)
Maple Balsamic
balsamic glaze: Be sure to use the glaze, which is a sweeter, more concentrated version of balsamic vinegar.
maple syrup
dijon mustard: Brown mustard would work in a pinch. You could also leave this out if you don't like mustard.
granulated garlic
salt
fresh cracked pepper
vegan bacon bits (optional garnish)
Sweet & Spicy
olive oil
Agave: You could use maple syrup as a substitute but I prefer agave for this combo.
Sriracha: You could also substitute Gochujang or Chipotle in Adobo paste, though it will change the flavor profile a little.
granulated garlic
salt
sesame seeds (optional garnish)
*See recipe card for quantities.
Instructions
Prep the Brussels sprouts by washing them to remove any dirt. For each sprout, trim off the stem end, removing any discolored or stray leaves that naturally detach. Then place the Brussels sprout trimmed end down, and cut it in half. Repeat this process until all of the sprouts are trimmed and halved.
Preheat the Air Fryer to 375F or 190C.
Place the trimmed and halved sprouts in a bowl, add your seasoning of choice (except the garnish) and mix to combine. (If you choose the Maple Balsamic or Sweet & Spicy option, mix your seasonings in a separate bowl first before pouring over the sprouts.)
Place the Brussels sprouts trimmed-side down in the air fryer basket. Try not to overcrowd the basket. If you have a smaller air fryer, you might need to cook them in two batches.
Roast the Brussels sprouts for about 6 minutes. Then stop to shake the basket.
Cook for another 4 to 5 minutes, or until the Brussels sprouts are crispy and golden brown. Garnish, serve, and enjoy right away!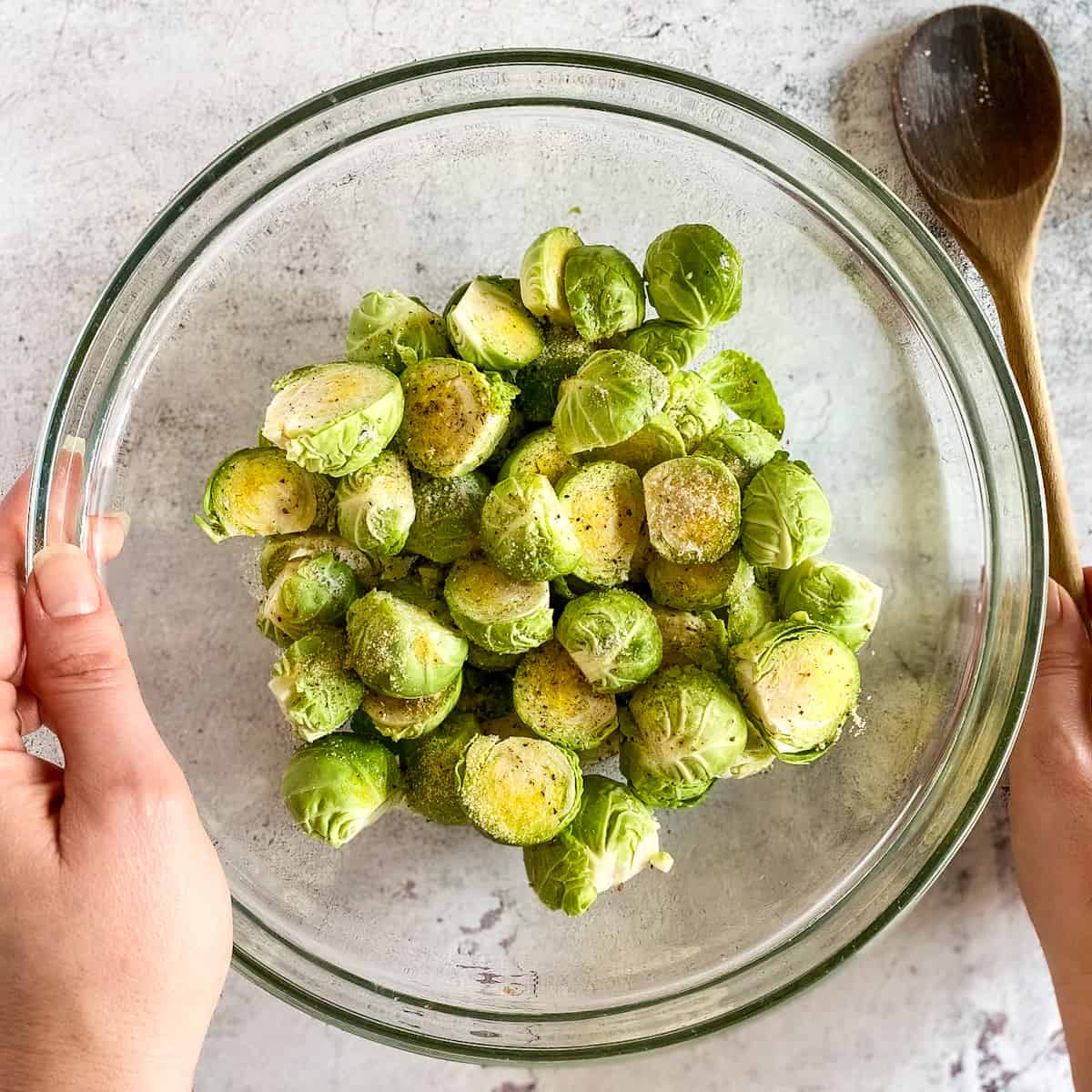 Troubleshooting
Why are my Brussels sprouts bitter? Brussels sprouts are naturally a little bitter, more so to some people than others. If you find the the Classic option to be bitter, I suggest trying the Maple Balsamic or Sweet & Spicy seasonings.
Why are my Brussels sprouts mushy? Overcrowding can cause the Brussels sprouts to steam rather then roast. This will lead to mushy Brussels sprouts. Next time try cooking them in two batches.
How to serve
Serve these air fryer Brussels sprouts as a side dish with your favorite main course. I think they would go especially well with:
General Tso's Tofu
Chick-fil-A style Tofu Nuggets
Vegan Shepherd's Pie
Korean Tofu
Vegan Stuffed Shells
Tofu Po' Boys
Air-fried Brussels sprouts also make the perfect addition to any holiday meal, including Thanksgiving, Christmas, Easter, or Valentine's Day.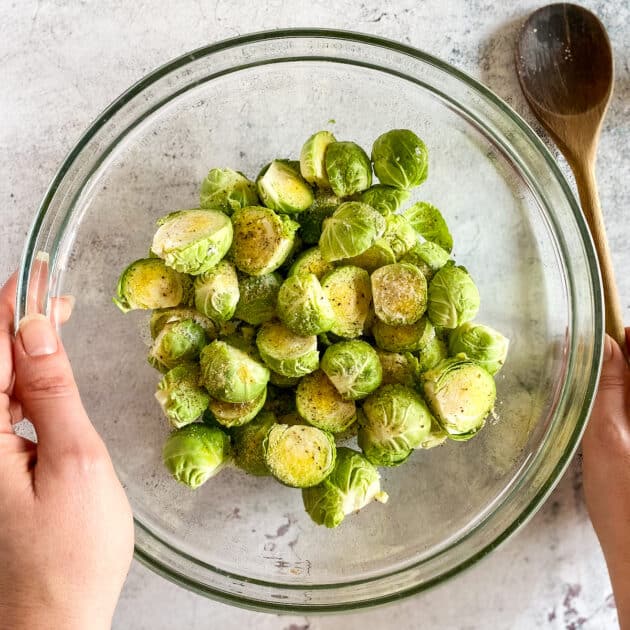 Can I make it ahead?
Unless you plan to serve them cold, I wouldn't make these ahead. However, if you want to save time you can prep the Brussels sprouts up to a day in advance. Store in the refrigerator in an airtight container until you are ready to air fry them.
How to store
Store any leftovers in the refrigerator for up to 4 days. To heat, recrisp in the air fryer for 1 to 2 minutes.
More Air Fryer vegetable sides
📖 Recipe
Want access to my Exclusive Meal Planning Tips & Printables page?
Did you try this recipe? Have a question? Just leave a comment below and I'll get back to you ASAP!
Read more: Top 5 marinade for chicken wings on the grill
For more information, please see more information about Roasted brussel sprouts in air fryer
Source: https://nosweatvegan.com/air-fryer-brussels-sprouts/