These Air Fryer Carrots are crispy on the outside and warm and tender on the inside. They are the perfect side dish for any meal! The maple tahini sauce on top is swoon worthy. Fire up your air fryer for the easiest air fryer roasted carrots ever!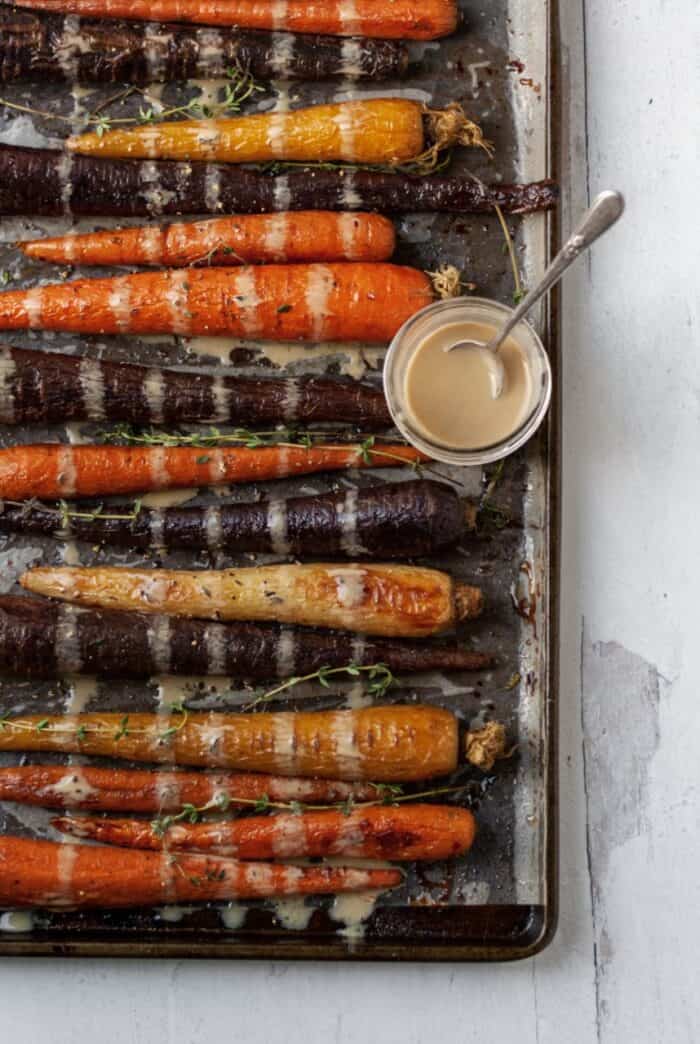 This is the recipe I make to sneak in veggies without even realizing it! These air fryer carrots are sweet, savory and so delicious. I serve them every Christmas and Easter and they are among the first to be devoured!
Reading: Can you roast carrots in an air fryer
Why This Recipe Works
Air fried carrots are far superior to any other carrots. Hear me out:
Air frying carrots are crispy on the outside and soft in the middle.
No need to roast carrots in the oven for an hour – an air fryer gets it done in half the time!
There are only a handful of healthy ingredients necessary.
The (optional but recommended) maple tahini sauce is crave worthy!
This is a quick and easy healthy side dish.
Add some broccoli or potatoes for an even better side dish.
These air fried carrots are just as delicious as leftovers.
Serve alongside Air Fryer Bacon Wrapped Asparagus for the best air fryer veggies!
This recipe is Paleo, gluten free, dairy free, and Vegan. For Whole30, leave off the maple tahini sauce.
Ingredients & Substitutions
Large rainbow carrots are packed with both color and flavor, but any carrots work. For baby carrots or chopped carrots, cut down frying time to 10 minutes, flipping halfway. For sliced carrots or carrot chips, fry only 10 minutes as well.
The sea salt, pepper and garlic powder add a touch of flavor without being overbearing. Feel free to add a touch of cinnamon for a sweeter flavor.
The maple tahini sauce is entirely optional, but really delicious! It is made with only maple syrup and tahini. Honey can be used in place of maple syrup if desired.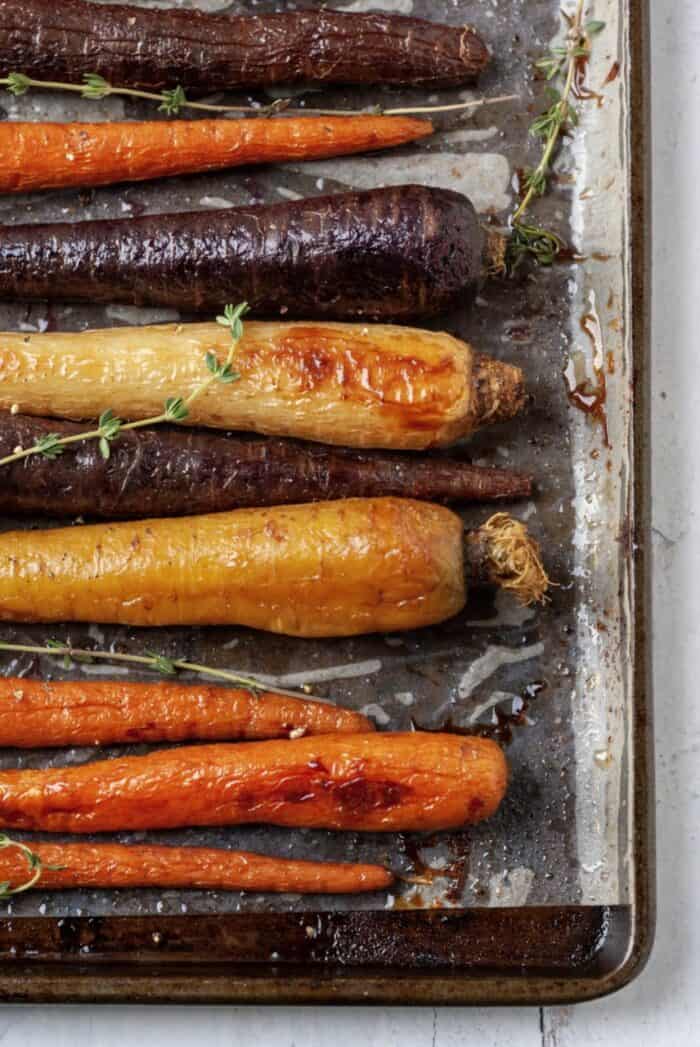 Recipe Steps
Step 1
First, wash and dry carrots.
Step 2
Toss carrots with olive oil and spices. Once coated, place carrots in an even layer on air fryer baking sheet.
Step 3
Read more: Color Changes in Cooked Beef
Air fry at 390 degrees Fahrenheit for 15 minutes. Then, remove from air fryer and flip carrots. Return to air fryer for an additional 10 minutes.
Step 4
Remove from air fryer.
Step 5
To make the maple tahini sauce, stir together maple syrup and tahini.
Step 6
Drizzle sauce over carrots and garnish with rosemary if desired. Serve!
Maple Tahini Sauce
The Maple Tahini sauce is easy, versatile and delicious. It is made with only maple syrup and tahini, but it's packed with flavor. This creamy sauce complements the crispy air fryer carrots so well! I also love using this as a dressing for salads!
Feel free to use honey in place of maple syrup if needed. It adds a nice touch of sweetness to these caramelized roast carrots in the air fryer!
Expert Tips & Tricks
These air fryer carrots are the best carrots!
Flip after 15 minutes of frying time. This allows both sides of the carrots to get crispy.
Read more: Ninja foodi pressure cooker pot roast
If possible, use the same sized carrots for even cooking.
Since all air fryers are slightly different, test carrots with a fork. If they are fork tender, then they are done. If still firm, continue frying until fork tender.
To make this recipe with baby carrots, follow the same instructions but only air fry for 10 minutes. Flip carrots halfway through.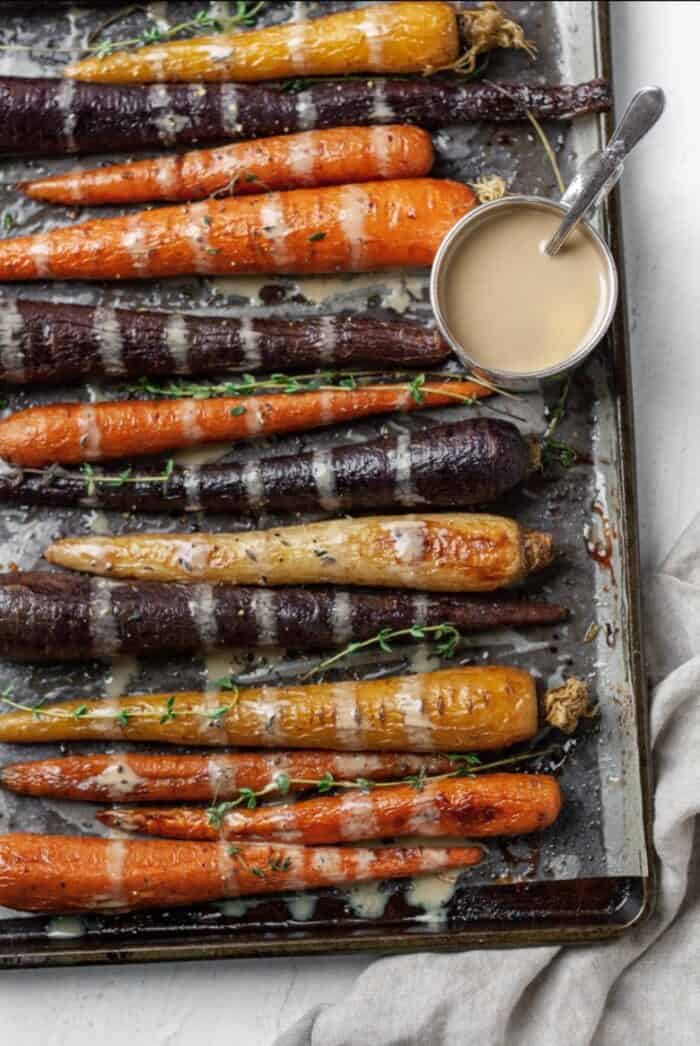 Frequently Asked Questions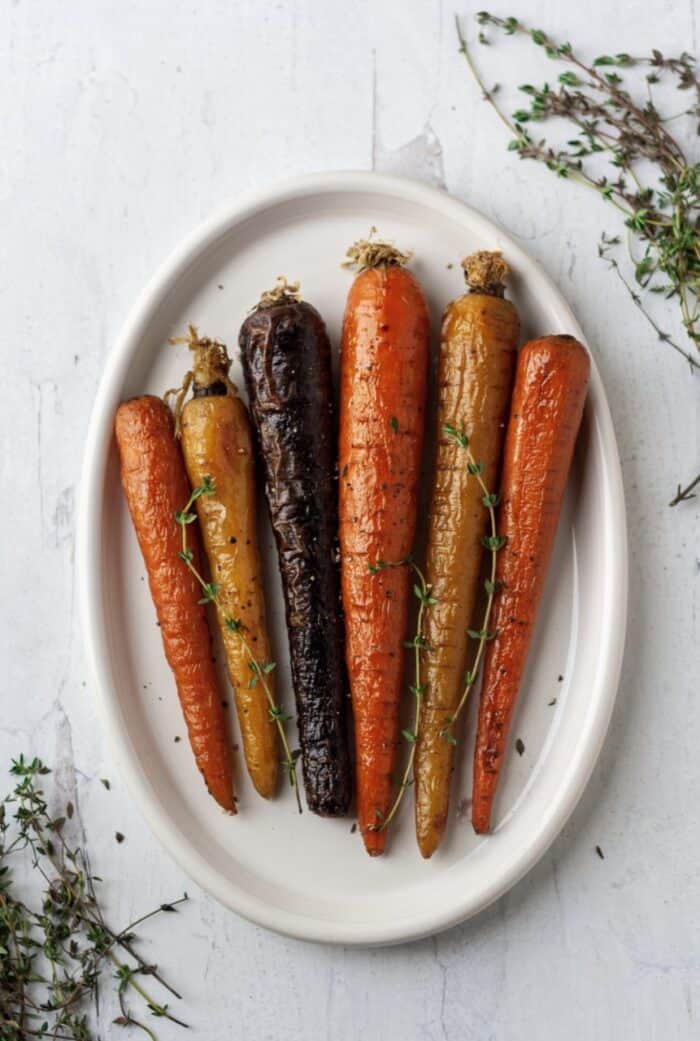 How to Serve & Store
These carrots are a great side dish for many dinners! Serve with Whole30 Whole Roasted Chicken, AIP Pork Chops, or Whole30 Steak with Gravy.
Serve hot from the air fryer for best results.
Store leftovers in an airtight container in the fridge for up to 4 days.
To reheat, microwave for 30 to 40 seconds or place back in air fryer for 3 to 4 minutes or until warmed.
You May Also Like
Paleo Carrot Cake
Air Fryer Frozen Chicken Wings
Air Fryer Sausage Links
Whole30 Chicken Nuggets
Air Fryer Frozen Broccoli
If you make this recipe, I'd love to see it! You can find me on Instagram, Facebook, and Pinterest. I'd love for you to follow along! For more ideas, check out these Side Dish Recipes.
Have you signed up for my free newsletter? You can sign up here to receive healthy meal plans and new recipes!
Read more: Oven-roasted wild turkey breast recipe – Mississippi Sportsman
Please see more list about Can you roast carrots in an air fryer