This Air Fryer chicken recipe is a healthier version of crispy deep-fried chicken as it's air fried with very little oil, which makes it a great guilt-free meal. It's golden and crispy from the outside, tender and juicy from the inside! It can also be ready in under half an hour in 7 easy steps.
Unbreaded version is also included in this recipe, this is the juiciest and most flavorful chicken that you will make in your Air Fryer.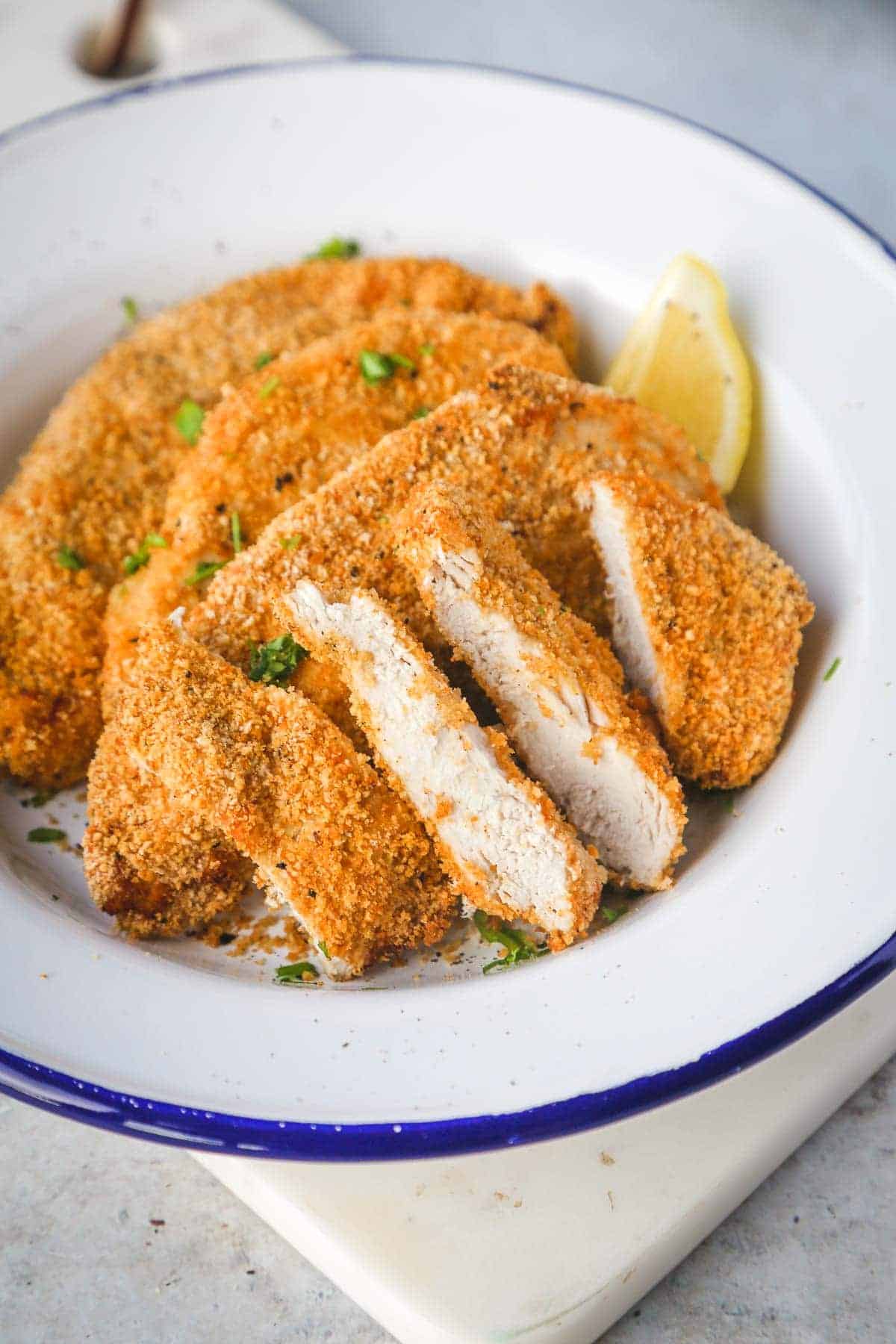 Make sure to check out my Air Fryer chicken tenders, chicken drumsticks, chicken wings, fish sticks, and my Crispy Fish recipe!
I can't believe that I survived 20 something years without an Air fryer! I've heard people talk about it, and I've seen other bloggers post many recipes but I never really looked into it.
And only now did I understand how I was completely missing out on so much convenience, and awesome food without feeling all guilty after eating all the flavourful comfort food.
So I finally got myself an Air Fryer. I started testing recipes, and we already made this healthy fried chicken recipe 3 times this week. My husband is obsessed with this recipe. Crispy, tender, and juicy chicken perfect every time!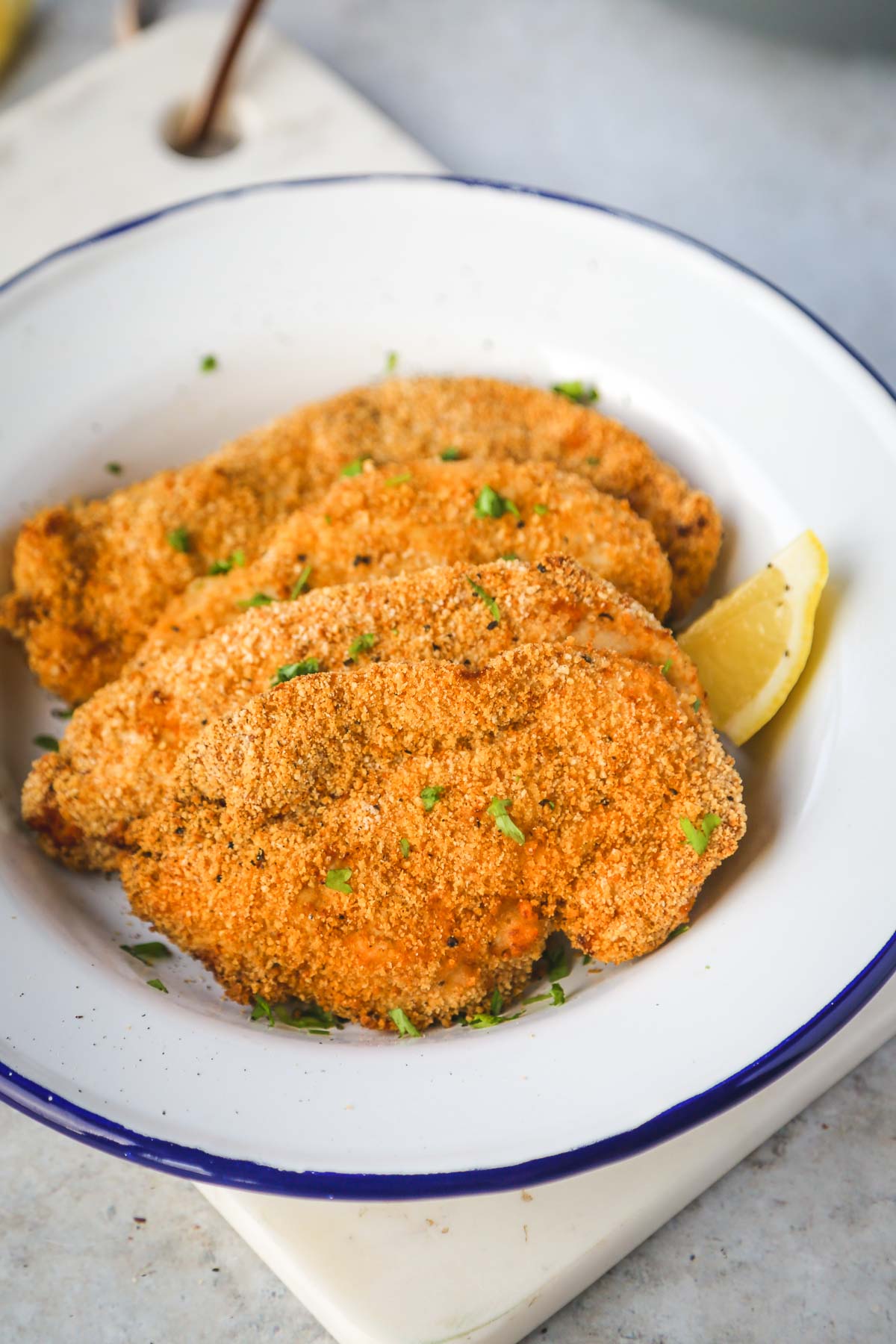 Air Fryer Chicken Breast
Cooking chicken breast in the Air Fryer is SO easy! So next time you crave crispy fried chicken, just follow this recipe and you'll have perfectly golden and crispy air fried chicken breast ready in just 10 minutes!
The chicken is cooked to perfection, it turns into a beautiful golden color, and I love how crispy it turns out from the outside, and perfectly cooked and white from the inside. It won't be dry, and it won't take long to cook either.
So what's there not to love about cooking chicken in the air fryer? This is real comfort food here!
Reasons Why You Will Love Air Fryer Recipes
Cooking becomes really quick. If you compare it to cooking the same recipe in the oven, or on the stove then cooking in the air fryer takes less time.
It's very convenient and it doesn't leave a mess. All you'll need to wash after cooking is the Air fryer basket, and it can go in the dishwasher anyway.
It's quite healthy as you can use just 1 tablespoon of oil if you're air frying chicken, but you will need 2 cups of oil if you're deep-frying on the stove.
It's economical since you don't need as much oil when compared to cooking on the stove. It also uses less electricity than the oven.
There are so many things that you can cook in the air fryer oven, you can even bake in it!
Recommended Tools
An Air Fryer. At the time I posted this recipe (and pictures), I used an older Air Fryer but I'm updating this post with this recommended Air Fryer as I recently purchased it and love it! So this is the one that I'm currently recommending.
Stainless steel locking tongs
I love these stainless steel measuring cups and use them every time I cook, as well as those measuring spoons.
These are the mixing bowls that you see in all of my pictures, they're honestly the best!
This air fryer magnetic cheat sheet is very handy, it contains cooking time and temperature to cook 66 most common ingredients which I find very useful.
I also really like these air fryer parchment liners, they're not just for steaming and you can use them for cooking things like fries or chicken without worrying that the food will stick to the basket. They're also quite cheap and there are 100 pcs in a package.
And for a full set of air fryer accessories, I recommend this set.
How to Bread the Chicken
Also read: Air Fryer Chicken Breasts (Extra Tender & Juicy) – Spend with Pennies
You have two options to choose from:
You could either bread the raw chicken breast in seasoned dried breadcrumbs, along with some oil that is drizzled directly over the chicken. This oil will help the breadcrumbs stick and together they will create that lovely crispy texture to the air fryer chicken breast.
You could use the traditional way of breading chicken just like our mothers and grandmothers always did, by using the egg and flour method (like I did in my Air Fryer fish sticks recipe). This is also a good option, but the breadcrumbs method is definitely my favorite.
Whichever way you choose, please make sure to season the coating (breadcrumbs and flour if using) as that's where most of the flavor comes from.
Do I Need Oil to Air Fry My Chicken?
Yes! To get the breading stick to the chicken, and get that great crispy texture and delicious flavor, you have to use a little bit of oil. Even if you're making unbreaded chicken breast in the air fryer, I recommend that you use a little bit of oil for better flavor.
I normally use olive, canola, or vegetable oil to air fry chicken.
Should I Marinate or Brine My Chicken Beforehand?
I always recommend that you brine the chicken beforehand if you have time.
To brine the chicken with a basic brine solution, you will need to dissolve 2 tablespoons of salt in 2 cups of room temp water (not hot). The water will also help the chicken come to room temperature, so it will cook evenly. Let the chicken sit in salted water for at least 15 minutes (but you can do 2 hours if you have time, or for up to 6 hours in the fridge), then rinse it with fresh water and pat dry with paper towels.
If you want to take your chicken game to the next level, check out my easy chicken brine recipe that also uses flavorings such as honey, lemon slices, fresh herbs, etc. It adds so much flavor to the chicken.
For breaded chicken breasts, I don't recommend marinating the chicken for this specific recipe. If you're making unbreaded chicken breasts, then marinating the chicken will give it more flavor.
Does Brining Add Moisture to the Meat?
Brining chicken prior to cooking makes it super tender and juicy! So whether you're smoking, roasting, baking, grilling, or air frying chicken, brine it first if you can. It's a worthwhile step, as otherwise, the chicken will dry out when it's being cooked with high heat.
How to Cook Boneless Chicken Breast in the Air Fryer
This is the breaded version, for unbreaded version instructions scroll down.
Also read: Air Fryer Bone-In Chicken Breasts
Step 1. Start by slicing the boneless skinless chicken breast into cutlets. For the chicken to cook quicker, you will need thinner strips.
Step 2. Drizzle with one tablespoon of oil, and distribute with your hand so that the chicken is well coated in oil.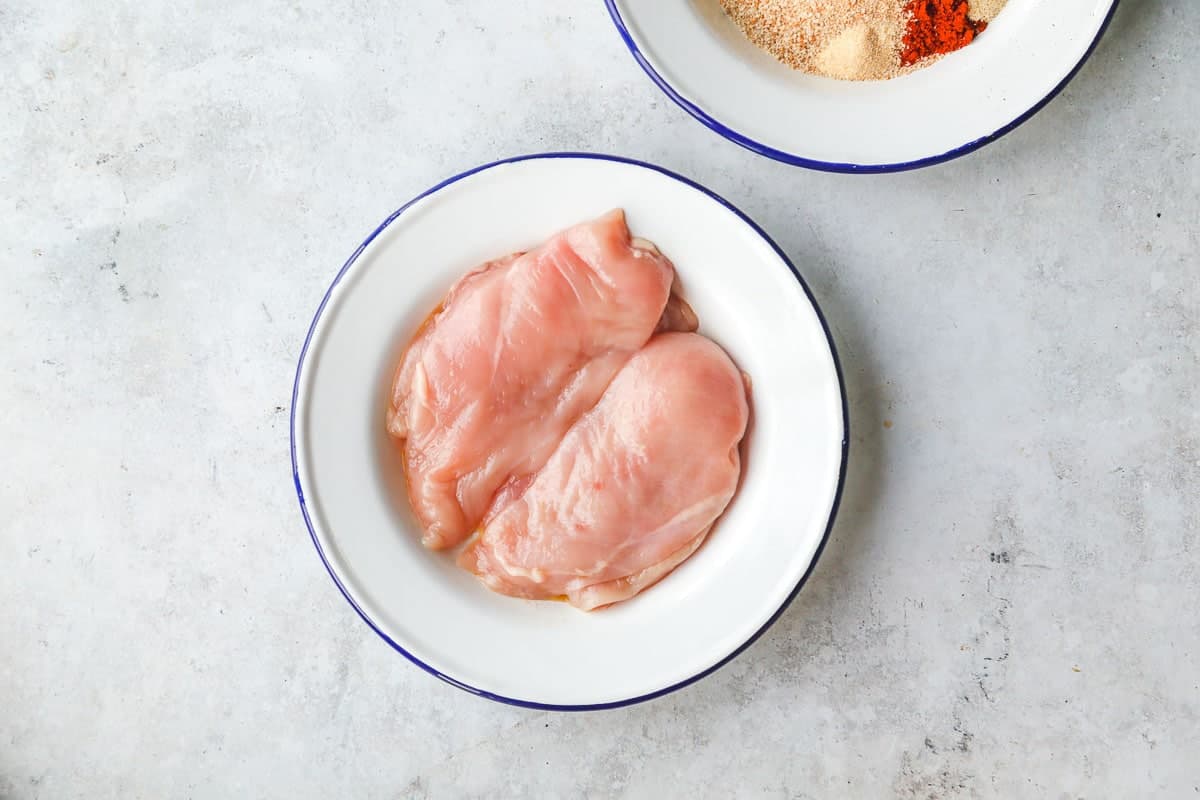 Step 3. Prepare the breading/coating. In a semi-shallow dish, mix breadcrumbs with all the seasonings that you're using. This depends on your taste, but I normally like to add chili powder, paprika, garlic powder, onion powder, black pepper, and salt.
Seasoning the chicken is very important, the seasonings are added with the breading here so if you skip this step you will end up with bland tasting chicken.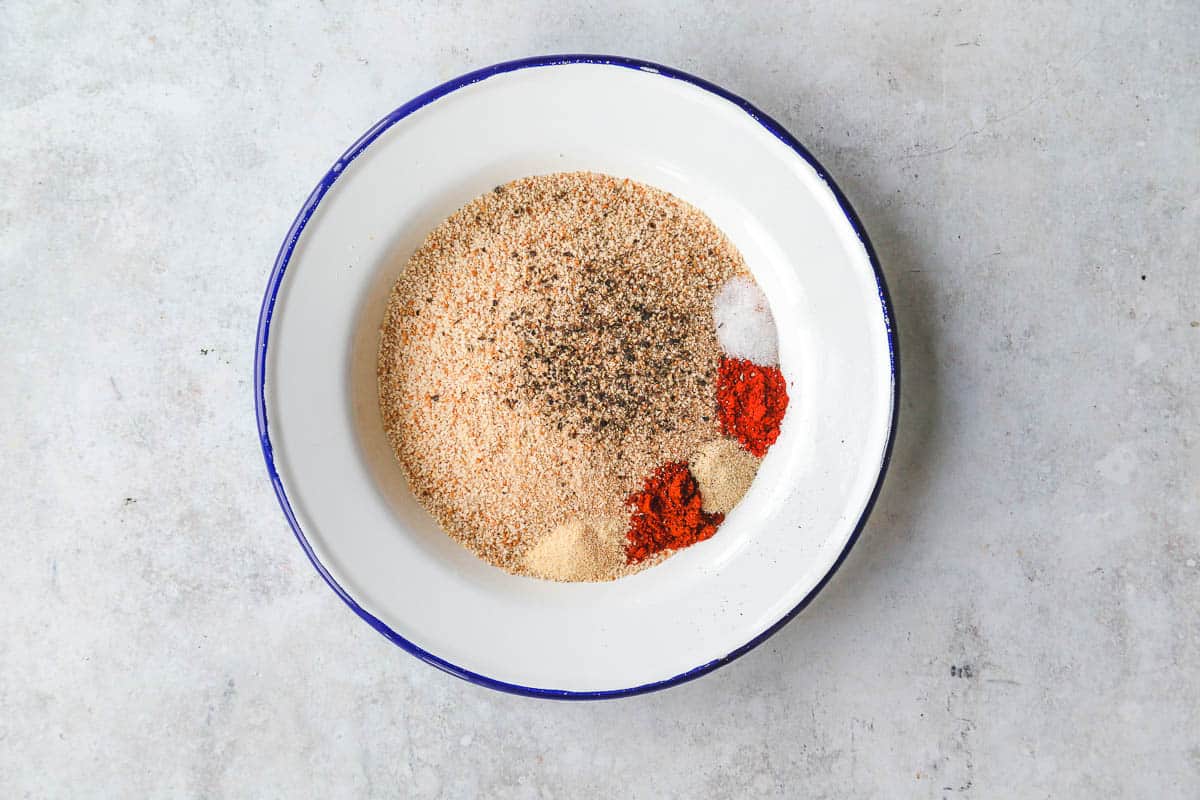 If you like your chicken spicy, add more chili powder or dried chili flakes! Mix the coating.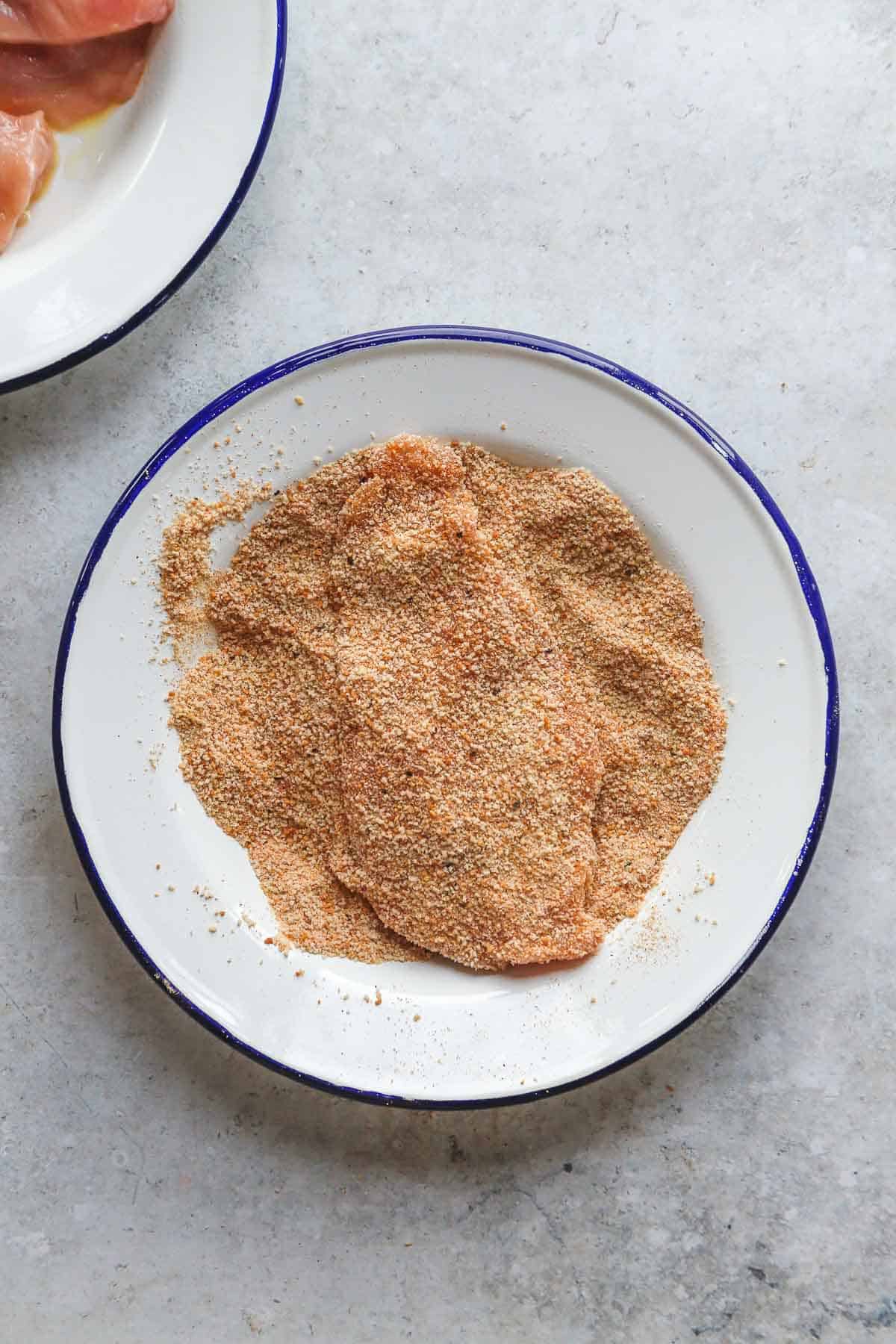 Step 4. Coat each chicken piece in the bread crumbs mixture. Make sure that the chicken is well-coated and there are no excess breadcrumbs.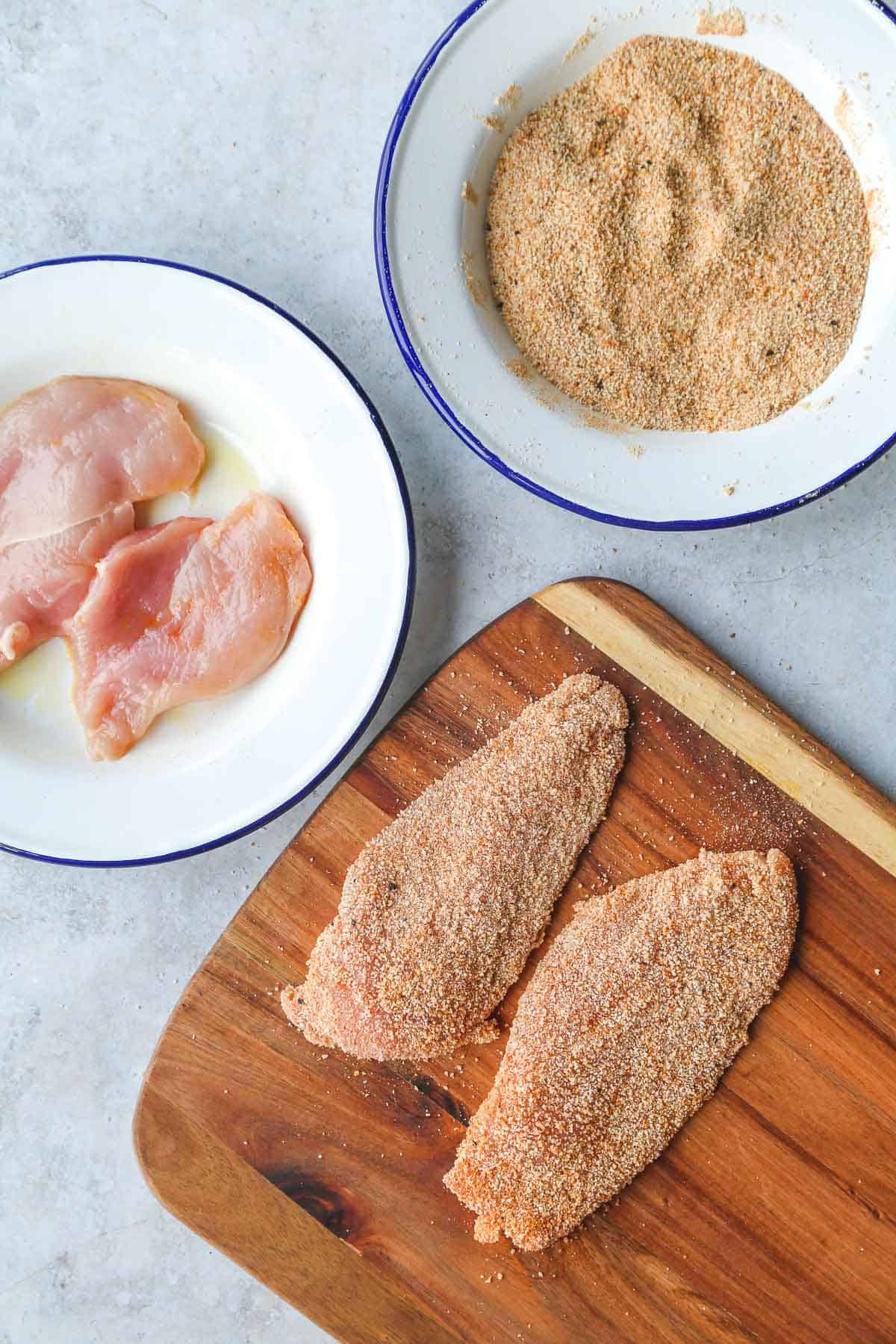 Step 5. Preheat your air fryer at 390°F (200°C). I usually switch it on about 5 minutes prior to cooking. This ensures that the chicken does not dry out.
Step 6. Transfer your chicken to the air fryer basket. Depending on the size of your basket, you can add more or fewer pieces at once. I have the 3.2-liter air fryer so I could only fit 2 pieces at once.
Step 7. Air fry for 12-15 minutes. After the first 8-10 minutes, you can open the air fryer basket and flip the chicken to the other side. Use tongs to flip the chicken as the basket can be too hot so handle with care. Air Fry for 5 more minutes.
Also read: Tender Air Fryer Chicken Breast Recipe
The texture of this chicken breast is very similar to Schnitzel, rather than KFC's fried chicken.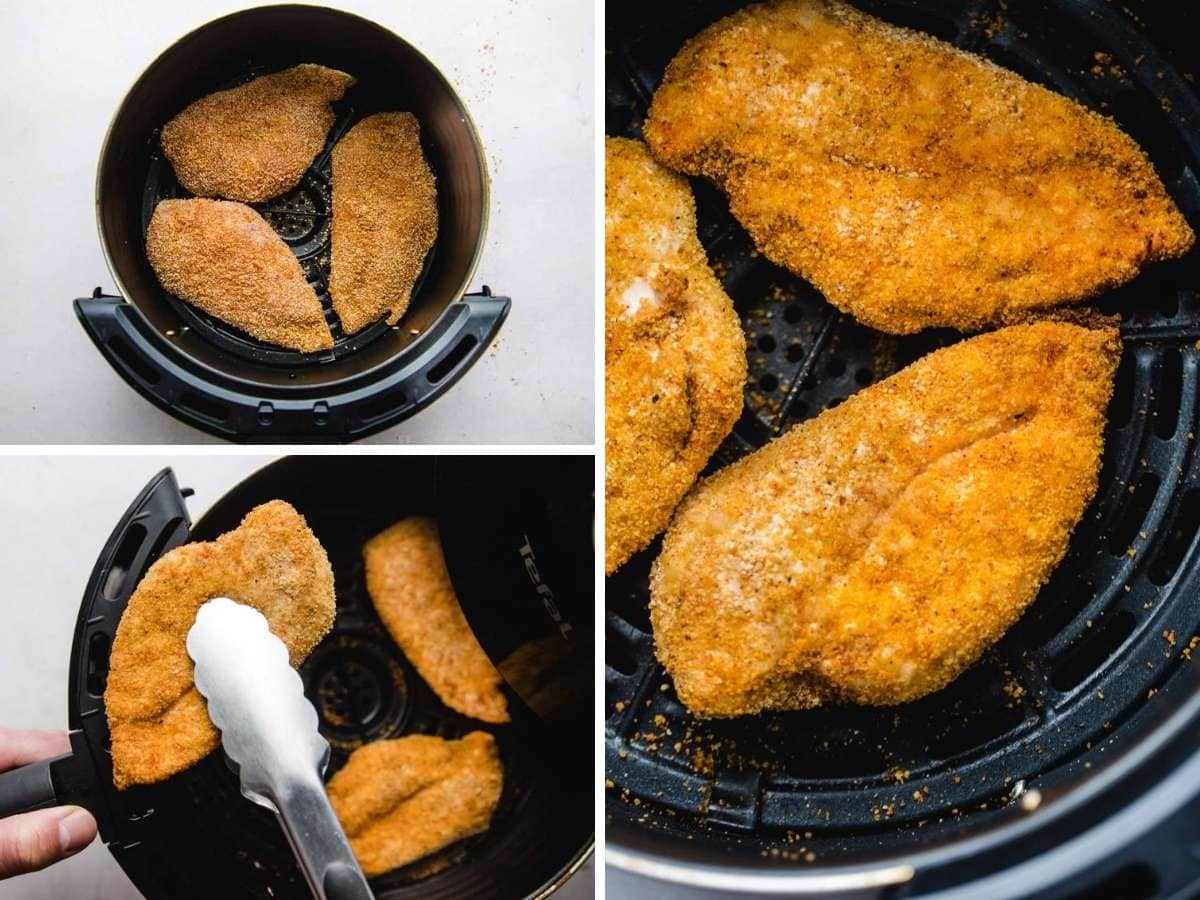 How Long Should You Cook Chicken in an Air Fryer?
After 12-15 minutes of cooking, the chicken breast in air fryer should become golden and crispy. Check the doneness of the chicken by using a fork and a knife and cut through a small piece to see if the meat is well cooked.
You could also check using a kitchen thermometer. Insert the thermometer in the center of the chicken, and the internal temperature of the chicken should read 165F or 75C.
How to Make Unbreaded Chicken in the Air Fryer
Now you might be wondering how to cook chicken breast in the air fryer if you don't wish to bread it.
Drizzle oil over your boneless skinless chicken breasts. Seasoning chicken depends on your taste, so add your favorite seasonings. I like fajita seasoning, and taco seasoning best!
Place the seasoned chicken breasts in the Air Fryer breast side down, and air fry for 12-15 minutes flipping halfway through using kitchen tongs.
When the cooking time is up, remove from the Air Fryer immediately so that the chicken does not dry out. Allow to rest for 5 minutes, and serve.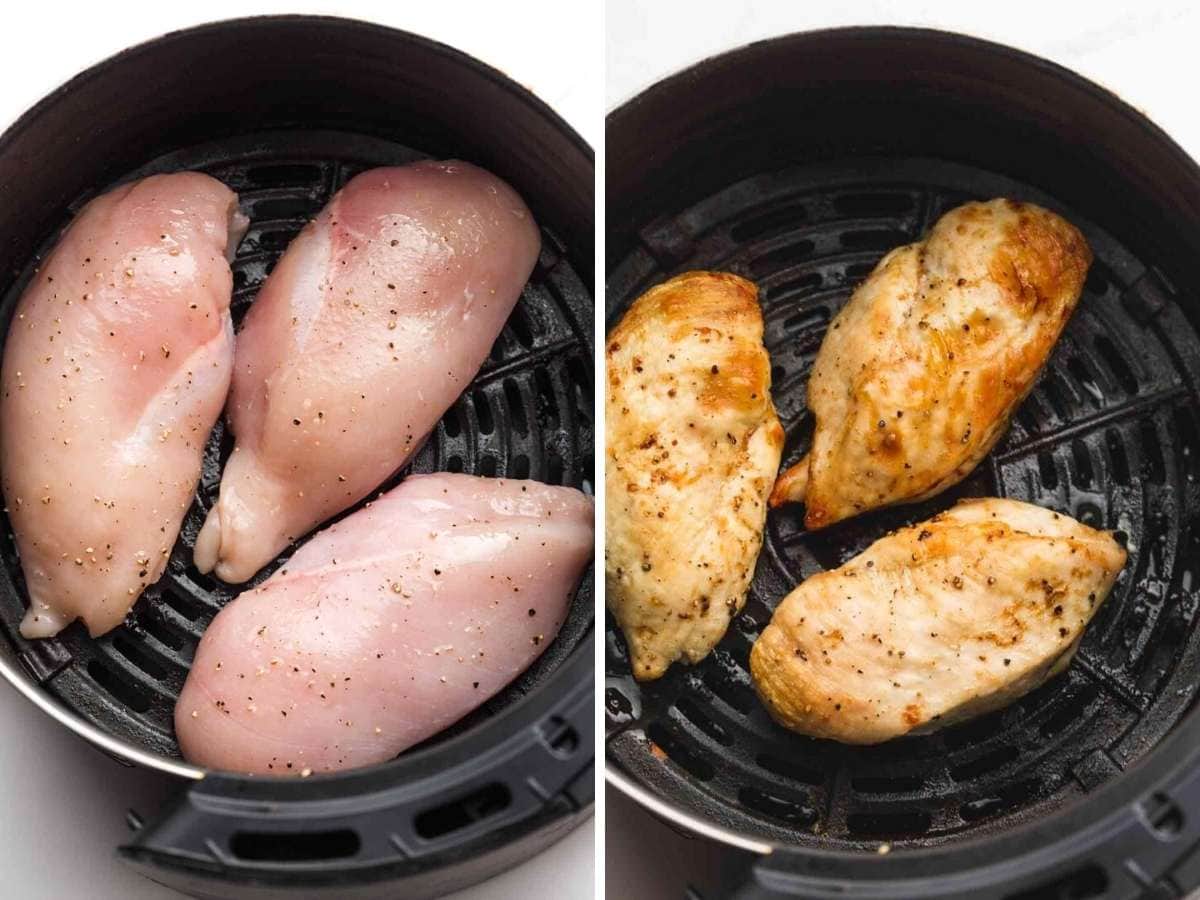 So if you want to cut a little bit on the calories then go for the unbreaded version. However, the breaded crispy chicken breast in the air fryer is definitely my favorite!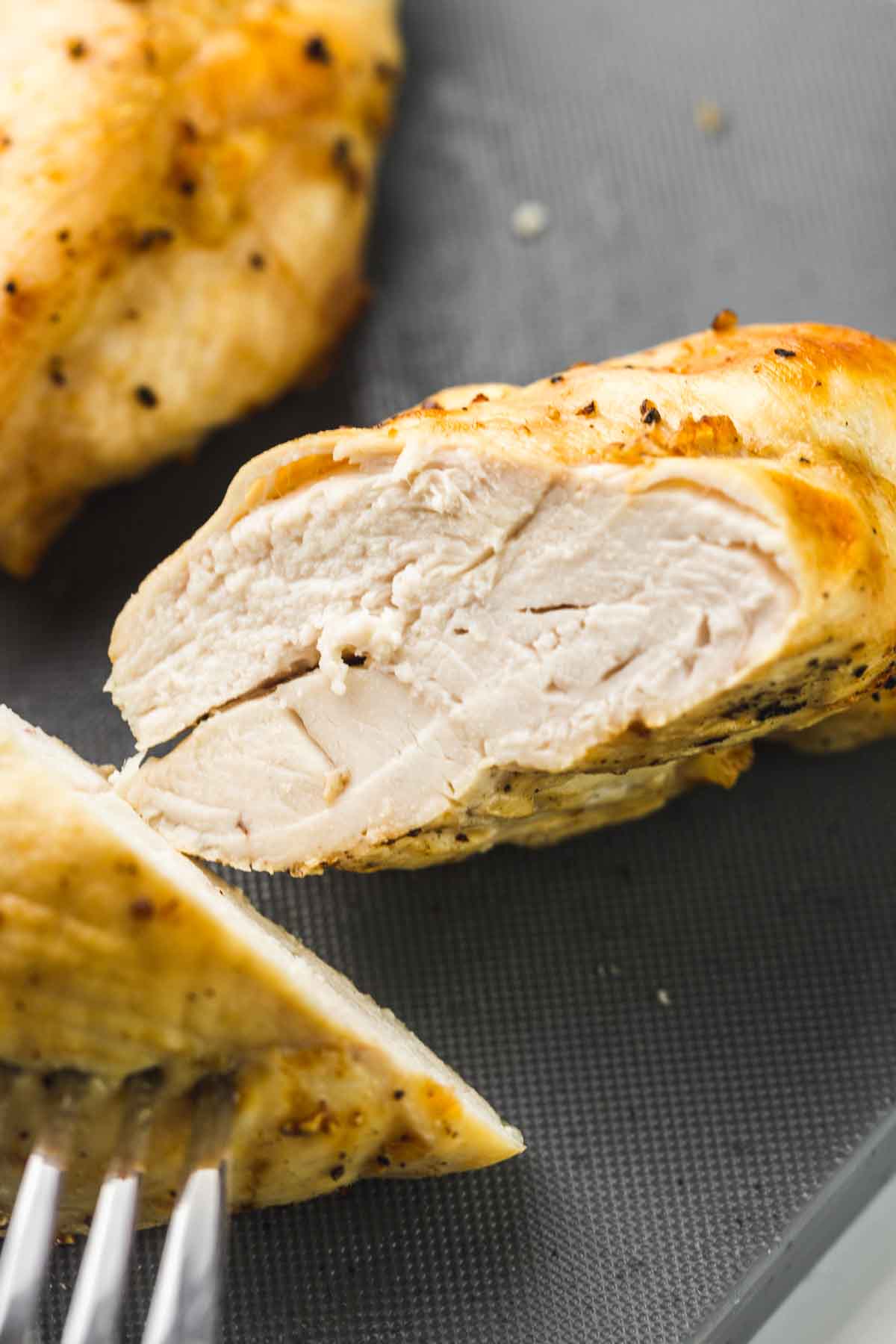 What Sauce to Serve This Chicken With?
Chicken and sauce is a match made in heaven! And I'm currently loving my homemade Yum Yum sauce. It's the sauce that you get at hibachi restaurants, and I love it so much and think that it works great with chicken, fries, in burgers, sandwiches, and more! It's almost like an all-purpose sauce that I add it to all of my food!
Homemade ranch is also always a great idea for dipping sauce! It's much better and creamier than store-bought, and you can even make cayenne ranch sauce (think Slim Chickens!) by adding paprika, cayenne, and a little bit of hot sauce. So good!
If you end up seasoning your chicken with fajita seasoning, then this lime crema would be amazing!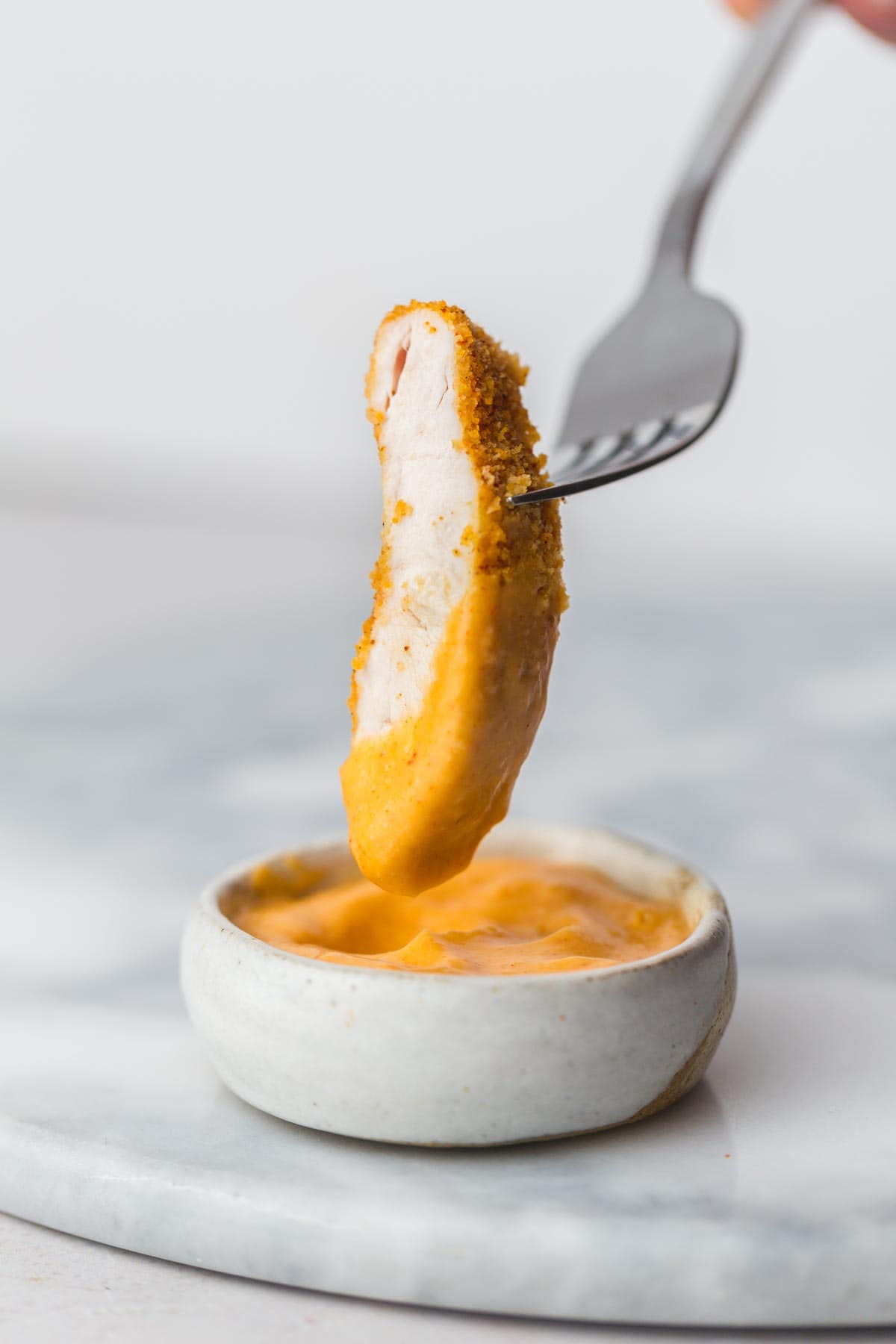 Join our private Instant Pot and Air Fryer Facebook group where we share exclusive recipes, and answer all of your IP and AF questions! We hope to see you there!
Instant Pot and Air Fryer Recipes and HacksPrivate group · 18,000+ membersJoin Group
What to Serve With This Air Fried Chicken Breast
Baked potatoes
Garlic butter pasta
Asparagus and mushrooms
The best ever oven-baked fries
Middle Eastern Batata Harra
Cheesy mashed potato cakes
Geat over salads (try my Caesar pasta salad!), rice, veggies, wraps, and sandwiches.
And don't forget to check out my Air Fryer Fish recipe, it's so good! The fish turns out so crispy and golden! And for a complete chicken dinner, check out Air Fryer chicken and potatoes, and Air Fryer chicken fajitas, yum!
Please see more list about Roasted chicken breast in air fryer