So quick and easy, our Air Fryer Roasted Garlic is irresistible with it's sweet mild flavor and creamy texture. Heads of garlic "roast" in your air fryer in about half the time it would take in your oven.
Air Fryer Roasted Garlic
I'm going out on a limb and saying that everyone loves roasted garlic. It's caramelized flavor and creamy texture make it a favorite way to eat garlic.
I mean really, who can resist the sweet notes and velvety texture of roasted garlic? This girl surely can't!
Have you ever wondered how to roast garlic? Wonder no more!
Now usually it takes about an hour or so to roast garlic in the oven. Let's put an end to that, shall we?
Roasting a head of garlic has always been easy but time consuming at the same time.
Enter air fryer garlic!
I make commissions for purchases made through links in this post.
So if you want to know how to roast garlic in just under half an hour, it's time to get your air fryer out.
Twenty minutes, and just two ingredients, are all it takes in the air fryer for a small head of garlic to be perfectly "roasted".
If your head of garlic is large, or if you want to roast more than one head at a time, you'll want to add a few more minutes of air frying time.
I air fryed four heads at the same time and, let me tell you, the garlic was roasted to perfection at about 30 minutes. Yes, half the time it takes to make oven roasted garlic.
You can substitute other oils for the olive oil but I highly recommend olive oil because it imparts a lovely flavor.
Extra virgin olive oil will lend a delicious flavor to the roasted garlic. But any good quality olive oil will work just fine.
Have I mentioned that my air fryer is my new best friend in the kitchen?
I air fry vegetables, potatoes and even tofu now. Yes, I am a teeny bit obsessed and always thinking about the next food that I can make in my air fryer. Hint hint, keep an eye out for sweet potatoes.
In the meantime, enjoy your air fried roasted garlic and the extra time you just saved by not waiting for the garlic to roast in the oven.
It's so easy to mash the roasted garlic with just a fork, but if you want to get fancy, as I sometimes do, you can mash it up with a mortar and pestle. Oh so fancy!
Need ideas on what to do with your roasted garlic! I have lots!
I love to spread roasted garlic on toasted bread, toss it with hot pasta, stir it into mashed potatoes and dollop on hot vegetables too.
If you love roasted garlic then you'll love our roasted garlic butter too!
Be sure to visit the Swirls of Flavor Amazon Storefront for GG's kitchen recommendations!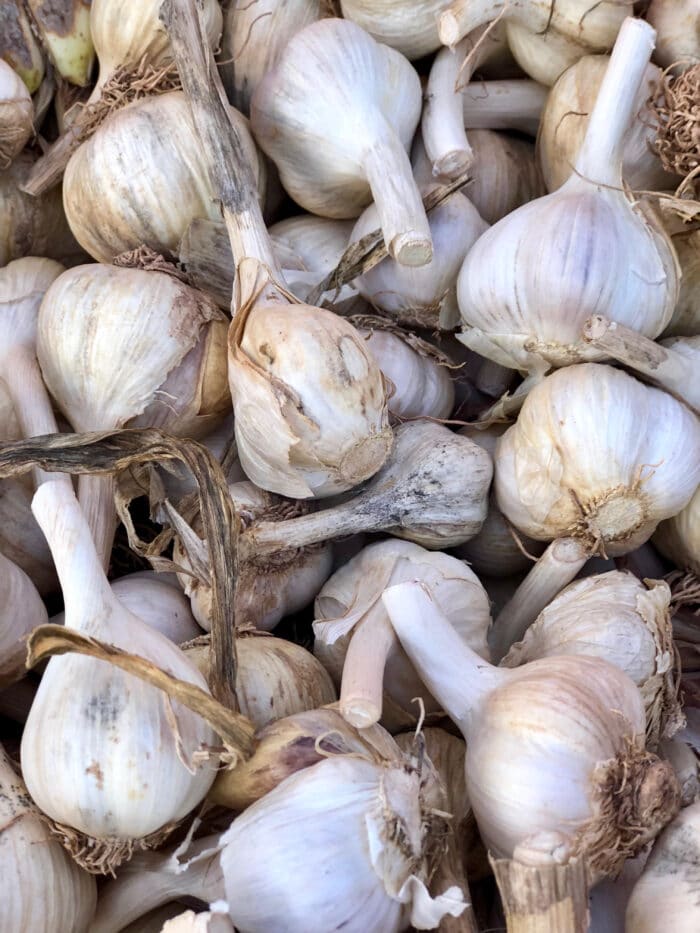 Roasted Garlic FAQ's
Can you freeze roasted garlic?
Yes, you can freeze roasted garlic.
After mashing the garlic, wrap one tablespoon of mashed garlic in plastic wrap and freeze. Repeat with any remaining garlic.
By freezing it in one tablespoon packets you will easily know how much garlic to use in your recipes.
What is the difference between garlic and roasted garlic?
There are two differences between garlic and roasted garlic, the taste and the texture.
Raw garlic is crunchy and has a sharp flavor.
Roasted garlic is soft and has a mild sweet flavor.
How to roast garlic in air fryer
Scroll down for the full recipe instructions and ingredient amounts in the recipe card below
Preheat your air fryer to 400F.
Cut aluminum foil into four square pieces.
Slice about ¼-inch off of the top of each head of garlic so that the cloves are exposed.
Place one head of garlic in the center of each square of foil.
Drizzle 2 teaspoons of olive oil over the top of each head of garlic
Bring the corners of the foil up and over the garlic and seal
Arrange foil packets in the air fryer basket
Air fry for 20 minutes or until garlic is tender. If garlic is not tender after 20 minutes, air fry in additional 5 minute intervals until tender
Let cool
Squeeze out the roasted garlic cloves and mash with a fork
Directions for roasting garlic in the oven
No air fryer? No worries! It's easy to make roasted garlic in the oven too but just takes a little longer. Follow these simple directions:
Preheat oven to 400F.
Slice about ¼-inch off the top of the head of garlic so that the cloves are exposed
Place the head of garlic, cut side up, on a square piece of aluminum foil
Drizzle 2 teaspoons olive oil over the top of the head of garlic
Bring the corners of the foil up and over the garlic and seal
Roast until the cloves are tender, about 1 hour.
Let cool
Squeeze out the roasted garlic cloves, mash them with a fork and use in your favorite recipe
Air fryer recipes for beginners
Air Fryer Brussels Sprouts
Air Fryer Cauliflower
Air Fryer Sweet Potatoes
Air Fryer Tofu
Air Fryer Keto Meatloaf from Restless Chipotle
Recipes with roasted garlic
Grilled Romaine With Roasted Garlic Salad Dressing
Chicken With Roasted Garlic and Lemons
Roasted Garlic Mashed Potatoes from Call Me PMc
Swirls of Flavor Recipe Tips
Be sure that the foil is sealed completely
Use a good quality olive oil
Season garlic with salt and pepper before air frying, if desired
Substitutions
Substitute olive oil for the extra virgin olive oil
You can substitute other oils for the olive oil but I highly recommend olive oil because it imparts a lovely flavor
What to serve with roasted garlic
Serve roasted garlic with toasted slices of a French baguette
Serve with a baked potato
Toss with hot pasta and butter
Ingredients for air fryer roasted garlic
For more information please see the list of How to roast garlic in air fryer
Detail: 🔗