Roasted garlic in the air fryer is quick and easy and ready in half the time of using a traditional oven. Roasted garlic is creamy and sweet. It can be used in dressings or dips, on top of a pizza, or in place of fresh garlic in almost any recipe. You can make a batch and store it in the refrigerator for several weeks so it is ready anytime you need.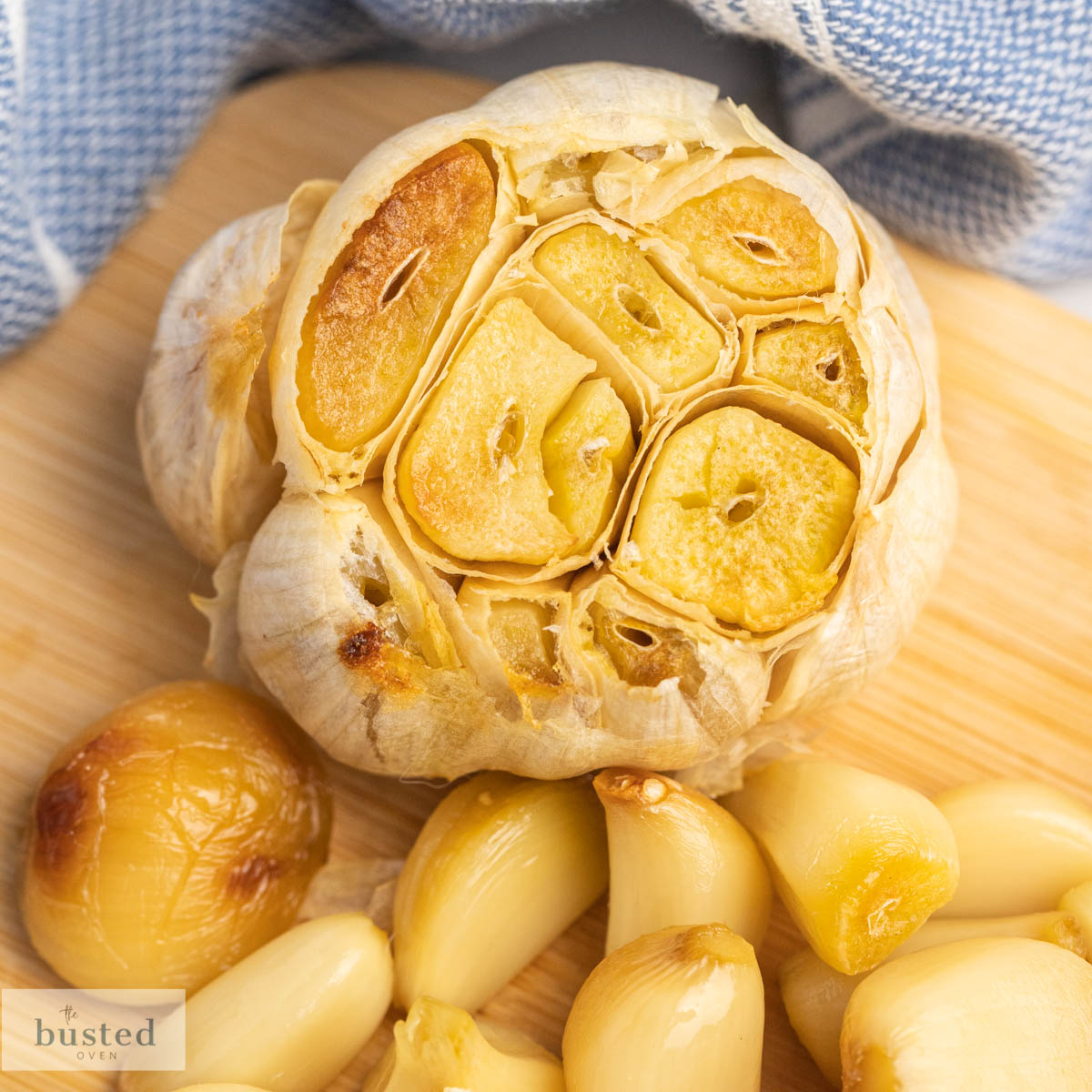 Jump to:
Ingredients
Instructions
How to use roasted garlic
Additional Tips
FAQS
More Easy Air Fryer Recipes
Printable Recipe
This post may contain affiliate links. As an Amazon Associate, I earn from qualifying purchases.
Roasted garlic is a delicious ingredient that you can add to almost any recipe.
When garlic is roasted it becomes soft and creamy. The roasted garlic cloves retain their garlicky flavour, but take on a slightly sweet, caramelized flavour.
The softened garlic cloves can be pureed, mashed and are spreadable. You can spread them directly on some crusty bread for a delicious, rich garlic bread or add them to your mashed potatoes for a burst of flavour.
Roasted garlic can be pureed into dips, spreads and dressings, added to pasta, or used on chicken, pork or beef.
When roasted in the air fryer it is ready in about half the time it takes in a traditional oven. You can roast as few or as many bulbs as you need and it can be stored in the refrigerator or freezer until ready to use.
Ingredients
There are only 2 ingredients you need to make roasted garlic in the air fryer;
Fresh, whole garlic bulbs
Olive oil
Optionally, you can add a bit of sea salt or other seasonings such as seasoning salt, chilli powder, or all purpose seasoning if you want some additional flavour.
Instructions
Begin by slicing off the top of each garlic bulb with a sharp knife. You want to just expose the the garlic cloves. It's ok if the smaller cloves around the edges are still fully enclosed in the paper skin, the idea is to open up enough of the bulb so the olive oil can flow between the cloves.
Next, using your fingers, rub the papery skin off the bulbs until you can't easily flake anymore off.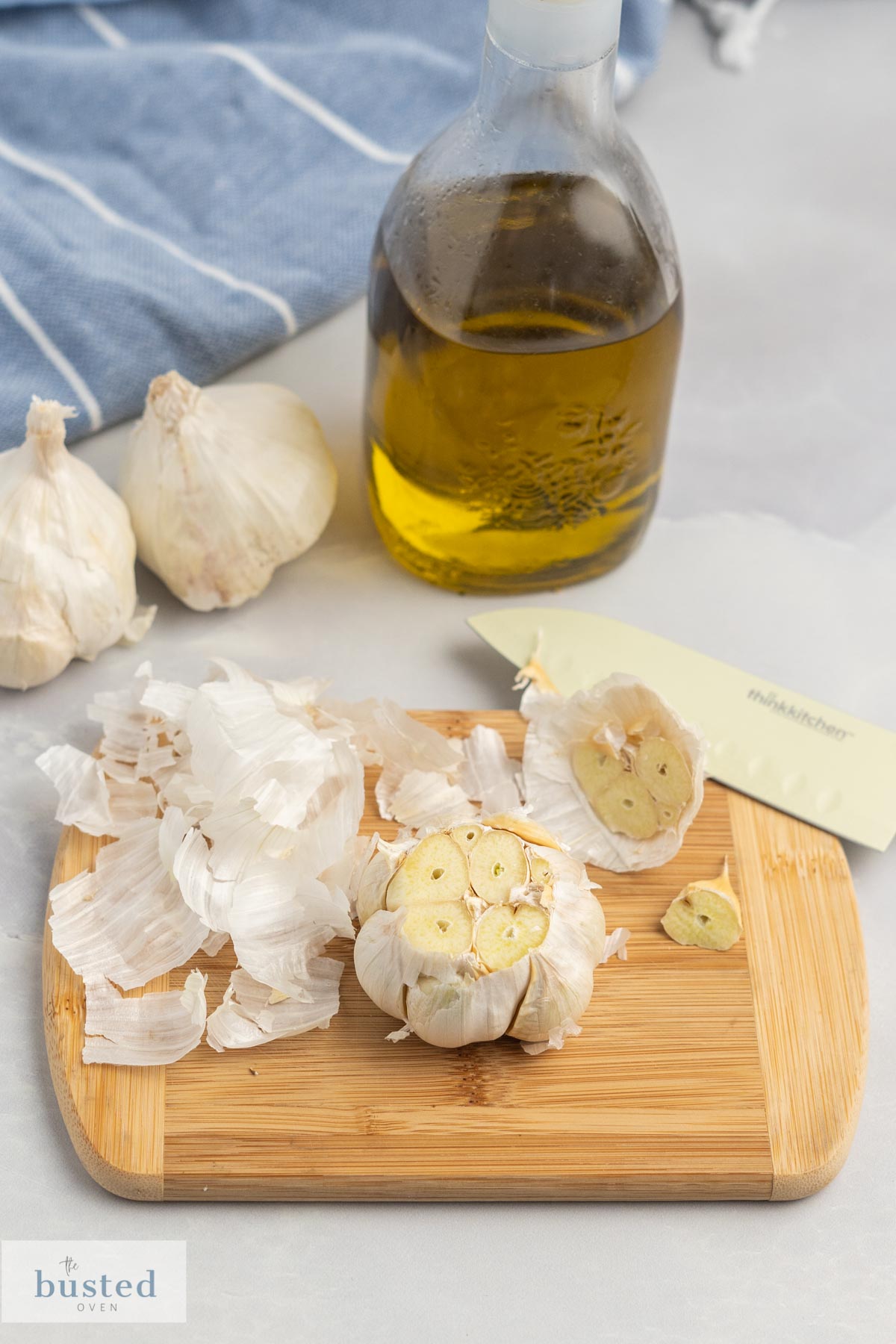 Place the bulbs in a piece of tinfoil that is big enough to fully wrap the garlic, then drizzle olive oil over each bulb. You want to use enough to fully cover the bulb and drip down the sides and between the cloves, about one tablespoon per bulb, depending how big they are.
Then wrap the tinfoil over the garlic making sure they are fully sealed.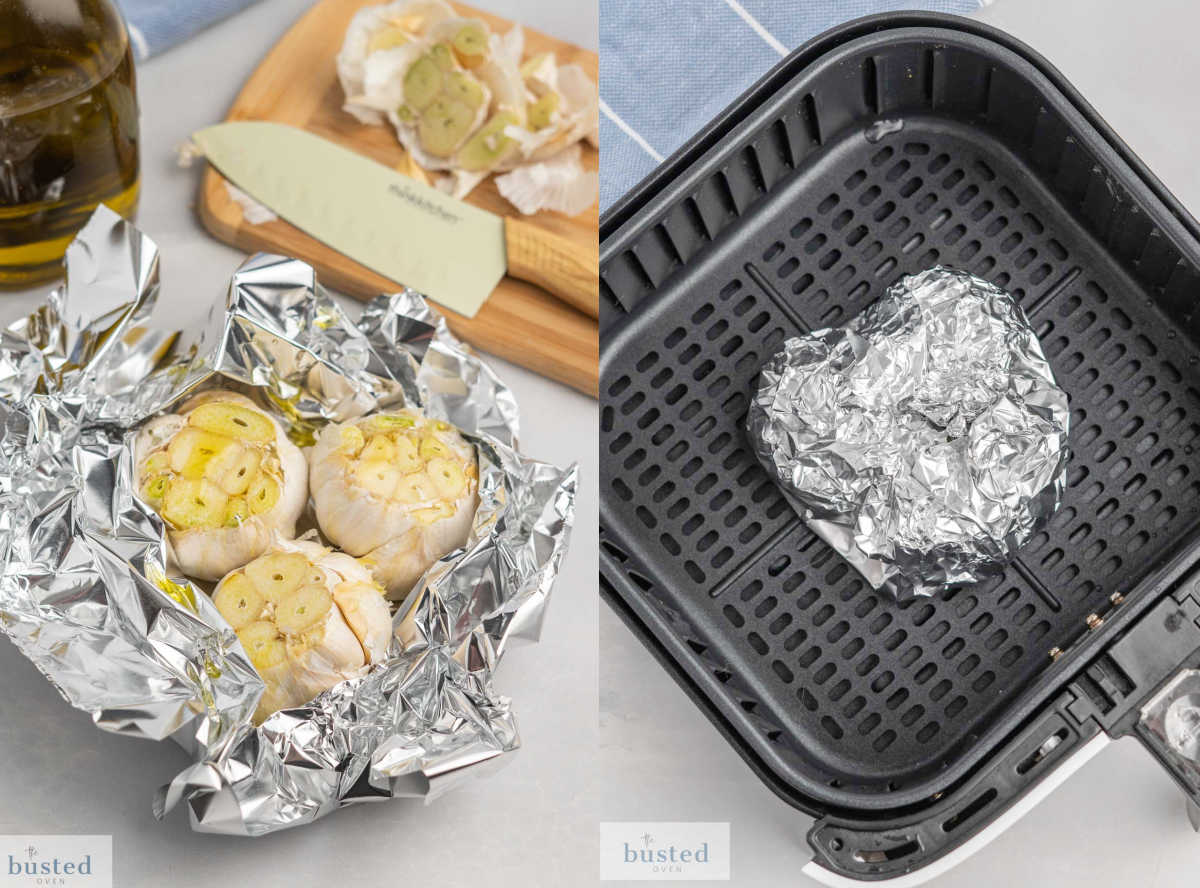 Place the tinfoil package into the air fryer basket. Place the basket in the air fryer, set it to 390°F and cook the garlic for 25-30 minutes.
Unwrap the garlic to test for doneness. You should be able to poke a toothpick into the garlic cloves easily. If the cloves are still too firm, cook for an additional 2 minutes at a time until they are done.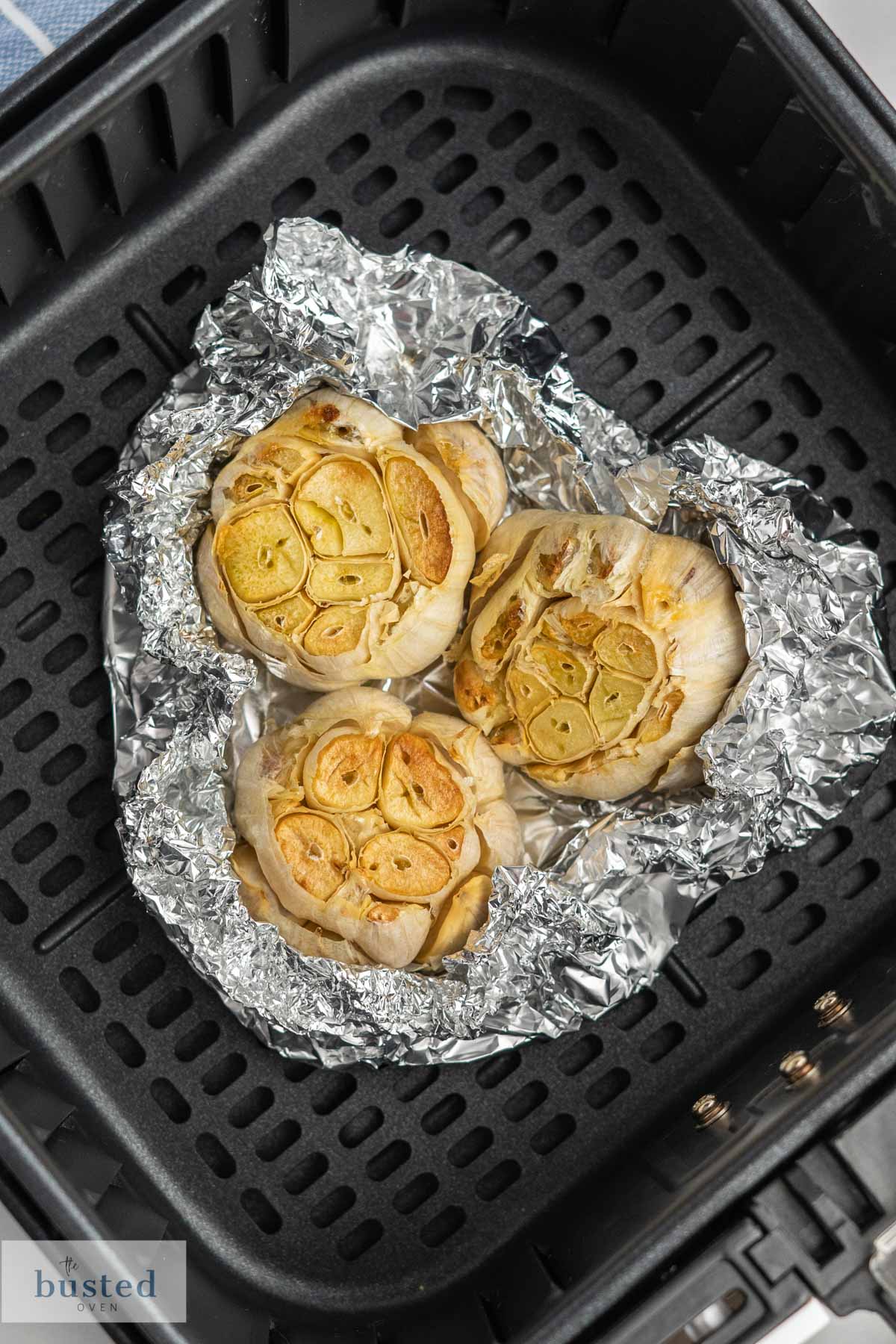 How to use roasted garlic
Roasted garlic is a fantastic ingredient because when roasted, the garlic is a bit milder and has a slightly creamy, caramelized flavour.
You can use roasted garlic in place of fresh garlic in almost any recipe.
Some of our favourite ways to use roasted garlic are:
add it to mashed potatoes for a burst of flavour.
use it in twice baked potatoes in place of fresh garlic or garlic powder.
use it in place of fresh garlic in your favourite dips, like sriracha mayo.
Peel the roasted garlic cloves and add them to homemade pizza before baking.
add it to pasta sauce.
use it to flavour roasted chicken breast.
simply spread it on some crusty bread for a delicious, easy garlic bread.
use it in homemade salad dressing.
Pro-Tip : Store leftover roasted garlic in a mason jar filled with enough olive oil to submerge the garlic. Store the jar in the refrigerator and use the cloves as needed. They should last about 2 weeks. The olive oil will take on the garlic flavour and can be used as well. It makes a great addition to salad dressings.
Additional Tips
Make sure the garlic cloves are covered in olive oil. The olive oil helps to soften and caramelize the garlic.
You need to make sure the garlic is wrapped tightly in foil. This will help create steam to soften the cloves and prevent the garlic from burning before it is ready.
If the garlic is soft at the end of the cook time, but has not caramelized enough for your liking, you can unwrap the garlic and cook for an additional 2-3 minutes.
For an extra flavour boost, you can sprinkle the garlic with a bit of salt, all purpose seasoning, or dried herbs before cooking depending on how you will be using it.
FAQS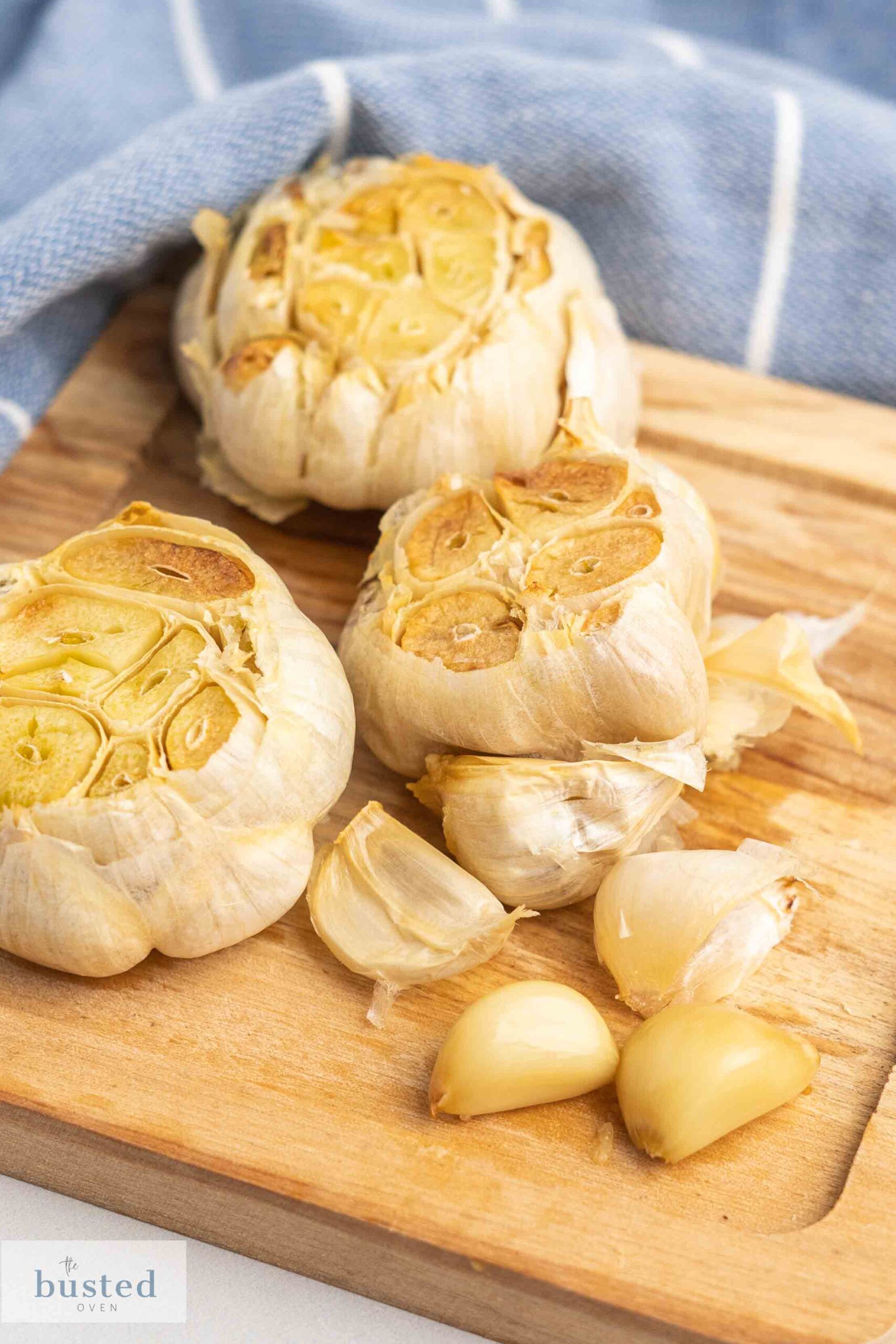 More Easy Air Fryer Recipes
Printable Recipe
Sharing is caring!
Through this article, we hope to help you understand How to roast garlic in air fryer
Detail: 🔗