Air Fryer Roasted Vegetables is a delicious, easy, FAST way to prepare a mixture of favorite vegetables for any meal. They are perfectly cooked, ready in less than 20 minutes and a delicious side dish the whole family loves!
Air frying is an easy way to cook healthy vegetables. It's a great way to change up the flavors too. We've used salt, pepper and garlic powder but swapping in Italian seasoning, tossing with some balsamic vinegar or another spice blend would work great too. The possibilities are without limit.
The best part about air fryer vegetable recipes is you are preparing nutrient-rich fresh vegetables in the best way to make them delicious. We've created a colorful vegetable medley combining sweet root vegetables and squash but you can use any variety of veggies.
This is one of those air fryer recipes whose cooking process can make any type of vegetables in a delicious way with little effort and cooking time.
Jump to:
What makes this skinny?
Recipe Ingredient Notes
How to make Air Fryer Roasted Vegetables – Step-by-Step
Variations
Air Fryer Variations
Pro Tip
How to Store
More recipes you'll love!
Recipe
What makes this skinny?
It's all vegetables. Only a few spritz's of olive oil spray are needed. The convection cooking method of the air fryer (circulating of hot air) does the work to bring out the natural flavors of the vegetables without loads of calorie-dense oils or butter.
Recipe Ingredient Notes
The key to success for this recipe is having the vegetables in just the right size so they all cook evenly in the same amount of time.
Carrot. Use a medium size carrot, peeled and cut into xx size pieces or slices.
Parsnip. Use a medium parsnip, peeled and cut into 1-inch pieces.
Zucchini. Use a medium zucchini cut into 1-inch pieces. It does not have to be peeled.
Yellow squash. Use a medium yellow squash cut into 1-inch pieces.
Flaked sea salt. Using flaked sea salt adds a wonderful flavor and you'll use it in and on many other dishes. If preferred kosher salt can be substituted.
Olive oil spray. Instead of tossing in olive oil we use olive oil spray. This provides enough of a coating to let the spices stick to the vegetables, cooks nicely on the vegetables and keeps the calories lower too.
How to make Air Fryer Roasted Vegetables – Step-by-Step
STEP 1. Preheat
Preheat the air fryer to 400 degrees F.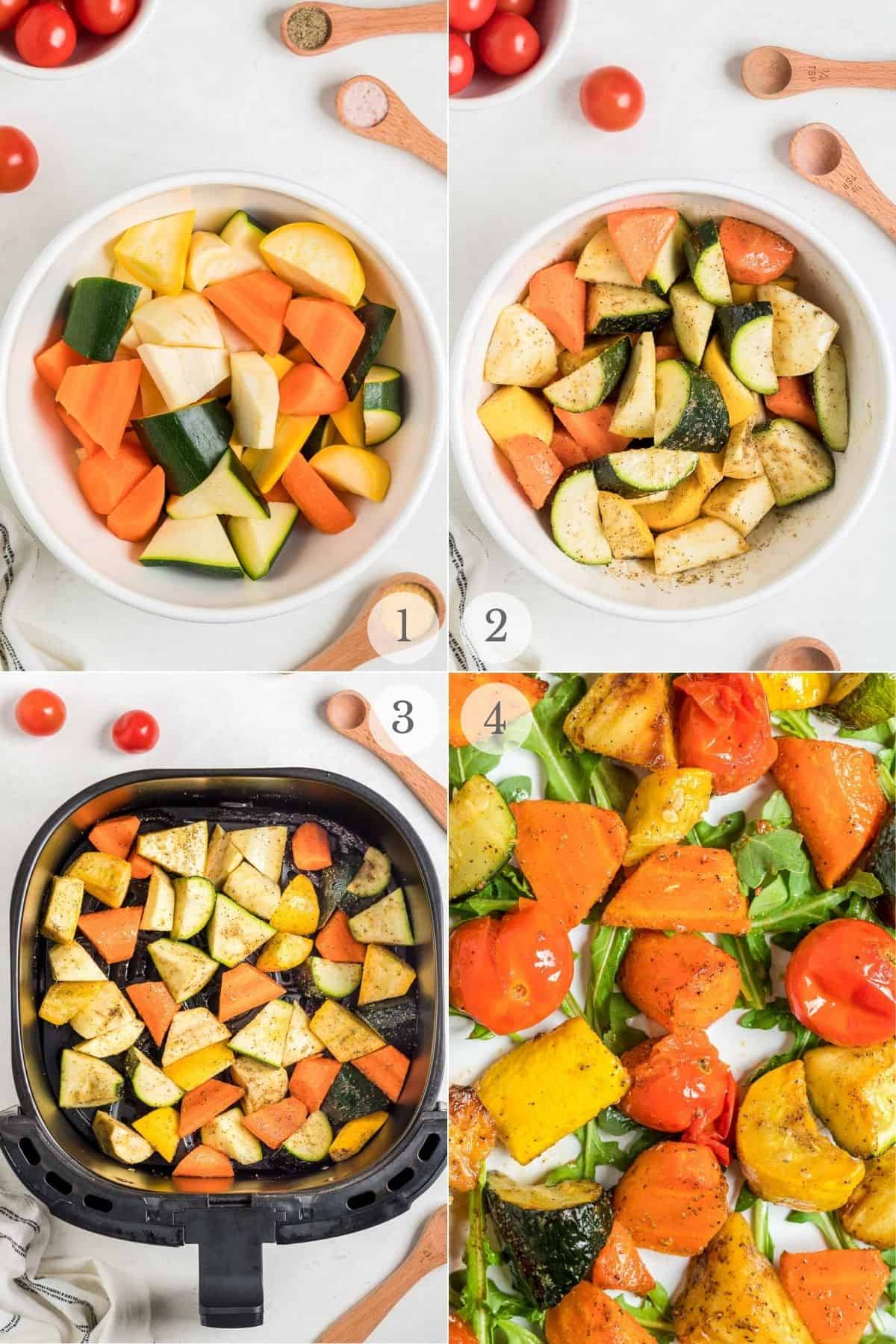 STEP 2. Season the vegetables
Combine the salt, black pepper and garlic powder in a small bowl. Stir or whisk to fully mix together.
Combine the carrot, parsnip, zucchini and yellow squash in a large mixing bowl (do not include the cherry tomatoes)(photo 1). Spritz with olive oil spray, toss and spritz again until all the vegetables are coated.
Sprinkle in the seasonings; toss to fully coat the vegetables (photo 2).
STEP 3. Cook
Place the seasoned vegetables in the preheated air fryer basket in a single layer if possible (photo 3). Cook for 7 minutes.
Flip the vegetables over. Add the cherry tomatoes and spritz with olive oil.
Cook an additional 7 minutes. Check for doneness and serve immediately (photo 4).
Variations
This recipe is very flexible regarding changing up the vegetables. The key is to combine types of vegetables with similar cooking times.
This can be done by choosing vegetables that when cut into 1-inch pieces require the same amount of time OR by cutting denser vegetables, like root vegetables (sweet potatoes, for instance) into smaller pieces.
Here are cooking times at 400 degrees for other types of vegetables you might swap in:
Bell peppers (red bell pepper or any color): 13 minutes
Green beans: 8-10 minutes
Sweet potatoes or butternut squash (cut into ¾-inch cubes): 16 minutes
Broccoli: 5 minutes
Red onion: 15 minutes (cut into wedges)
Brussels sprouts (trimmed and halved): 10 minutes
You can see from the varied times all cooking at 400 degrees you may need to add certain vegetables part way through cooking or start firmer vegetables (root vegetables) before tender vegetables for them all to complete cooking at the same time.
If adding vegetables part way through, spritz them with olive oil spray before adding to ensure proper cooking.
Air Fryer Variations
Each size and brand of air fryer cooks slightly differently making it important to monitor the doneness of the food being cooked. These roasted vegetables were prepared in a Cosori 5.8 quart Air Fryer which is a 1700 watt machine.
Air fryers with smaller baskets or with less wattage may require additional minutes cooking time.
Pro Tip
Did you know even if you'll be peeling a fruit or vegetable they should be rinsed first? Germs can travel from the outside in so rinsing well and patting dry before peeling is always good kitchen hygiene.
How to Store
If you have leftovers store them in an airtight container in the refrigerator for 2-3 days. Warm up in the microwave or pop them in the air fryer for a few minutes. This vegetable medley is great on salads as well as a healthy side dish.
More recipes you'll love!
Recipe
Through this article, we hope to help you understand Roast root vegetables air fryer
Detail: 🔗