This Crispy Smashed Potatoes recipe is full of flavor, and the perfect side dish for any occasion! Load these air fryer roasted potatoes up with fresh garlic, herbs, seasonings and parmesan cheese for a truly delicious bite.
We're convinced that there's always new, delicious ways to enjoy potatoes. Once we finally got an air fryer, we were thrilled to put it to use! These air fryer potatoes are golden brown, crispy and packed with flavor. Air frying has a way of making everything tastier, crispier, and it's just so easy to use.
These crispy potatoes are the perfect sides for the air fryer short ribs, this air fryer ribeye steak, or these air fryer garlic parmesan wings!
Jump to:
❤️Why you'll love this
🥔Ingredients
✏Ingredient notes
📖Instructions
✨Tips & tricks
💭Frequently asked questions
🍴More recipes to try
🛒Shop this post
🥣Storage
🌟Leave a review!
📖 Recipe
💬 Community
❤️Why you'll love this
Simple ingredients – You don't need a lot of ingredients to make something super delicious. With a few high-quality ingredients, you'll have a new favorite side that you'll fall in love with!
Quick and easy – If you love quick and easy, this is the perfect choice.
Minimal prep time – You only need a little effort for this recipe. Less work, more eating!
Lots of flavor – The garlic herb parmesan topping is delectable and is the perfect topping to these crispy potatoes!
🥔Ingredients
Here are the ingredients you will need.
✏Ingredient notes
Here is a list of ingredients, you can see the recipe card for quantities and nutritional information.
Avocado oil – You could also use extra virgin olive oil. Basically, we want an oil with a higher smoke point to ensure we can cook the potatoes at a high heat in the air fryer.
Golden baby potatoes – Small potatoes of any variety could work here, but our top choices are golden and red skin potatoes.
Dry seasonings – Kosher salt, black pepper and red pepper flakes are the dry seasonings we use to season up these potatoes! Some other great options would include cayenne pepper, smoked paprika or Italian seasoning.
Unsalted butter – We create a garlic butter, parmesan, seasonings and herb type of paste to add to the potatoes near the end of cooking.
Garlic – Freshly minced garlic. We add it near the end of cooking to ensure it doesn't burn. You could use garlic powder in place of fresh garlic.
Herbs – A mixture of fresh parsley, thyme and rosemary tastes delicious. Basil and cilantro would be options as well.
Parmesan – Freshly grated.
📖Instructions
Boil the potatoes
Make sure to wash and scrub the baby potatoes to get rid of any extra dirt, poke holes in the potatoes.
Add in the water, kosher salt, and potatoes, turn the heat to medium, and bring to a boil. Boil potatoes until they are softened and easily pierced with a fork, about 18-22 minutes, then drain away water.
Smash the potatoes
Spray your air fryer basket with a little oil, line with foil or parchment. Our air fryer uses trays, so we line the trays with parchment. Add the potatoes, being careful not to overcrowd each tray.
You want to make sure the potatoes have enough room to not overlap too much, and have enough room to flatten. We take the bottom of a glass to smash the potatoes flatten them.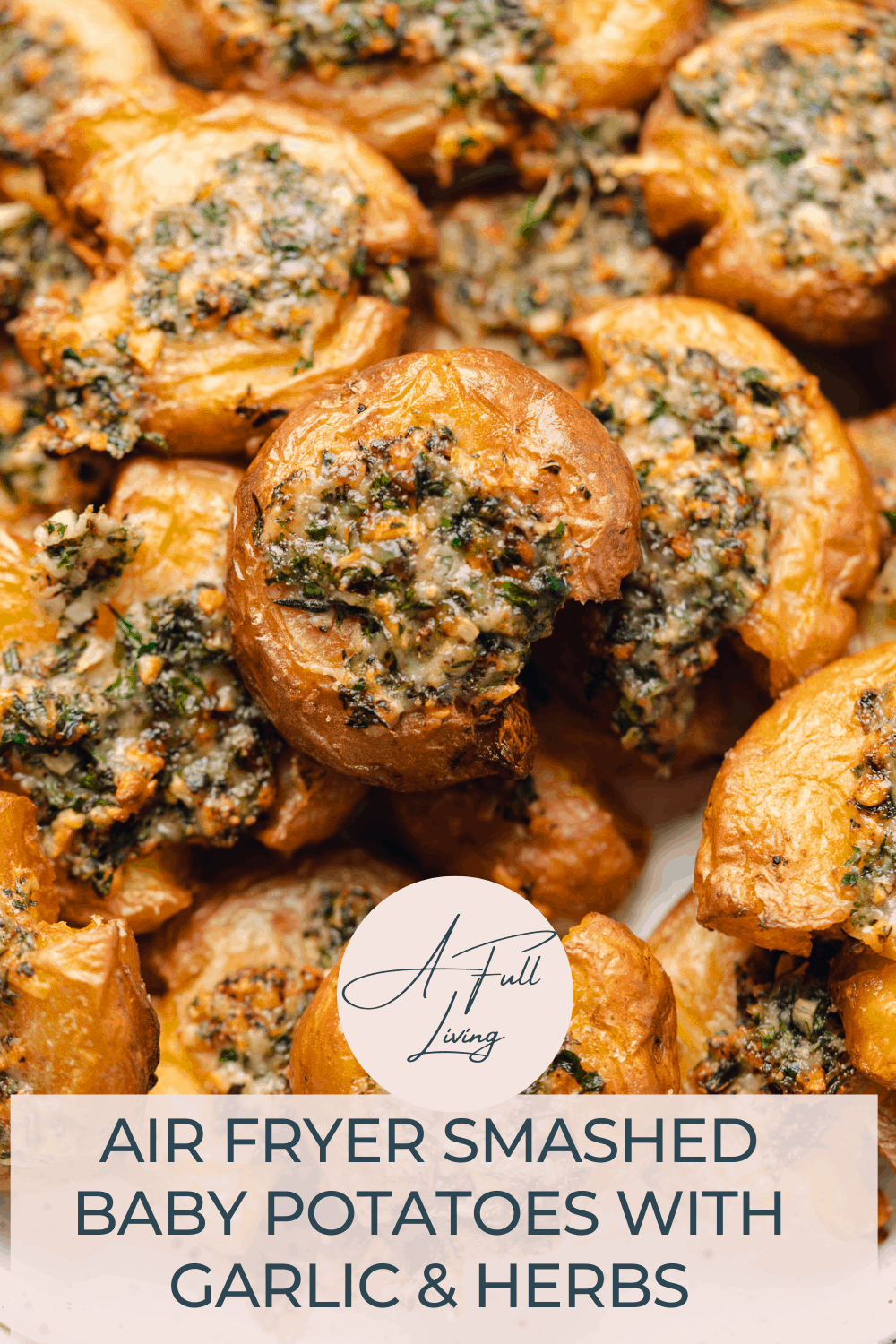 Bake the potatoes
Preheat your air fryer to 400°F. Drizzle the potatoes with oil, then season generously with salt, reserving some for your garlic & herb topping that will go on later.
Bake for 20-30 minutes, flipping halfway through to make sure every potato crisps up nicely.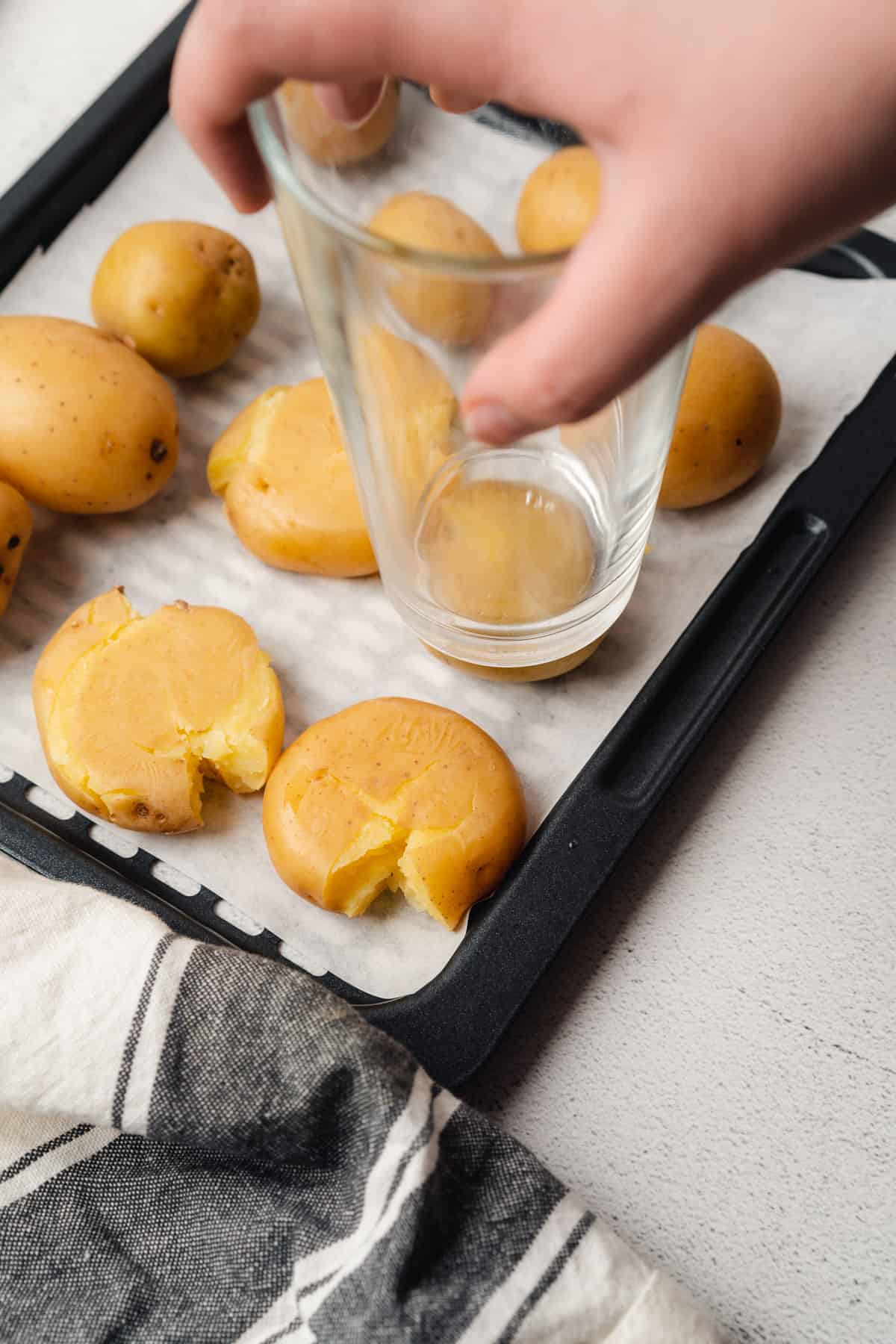 Mix up the garlic herb parmesan topping
While potatoes are cooking, mix together melted butter, parsley, thyme, rosemary, black pepper, red pepper flakes, garlic and parmesan. Toss to combine and set aside.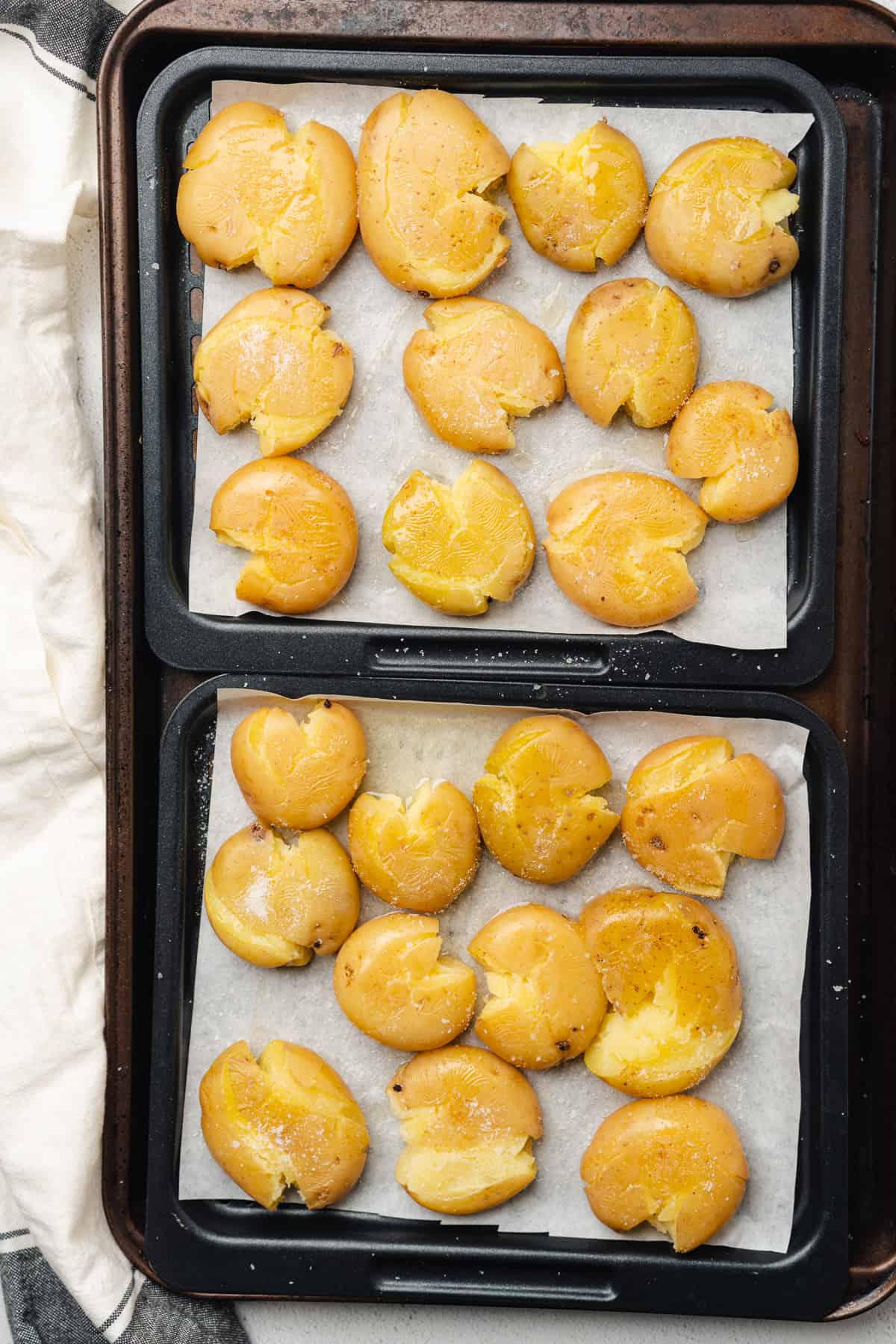 Top the crispy smashed potatoes and bake again
Distribute the garlic herb & butter topping over top of the crispy potatoes. Set the air fryer back to 400°F. Add the potatoes back to the air fryer for 3-6 minutes, keeping a close eye on the potatoes so the garlic doesn't burn.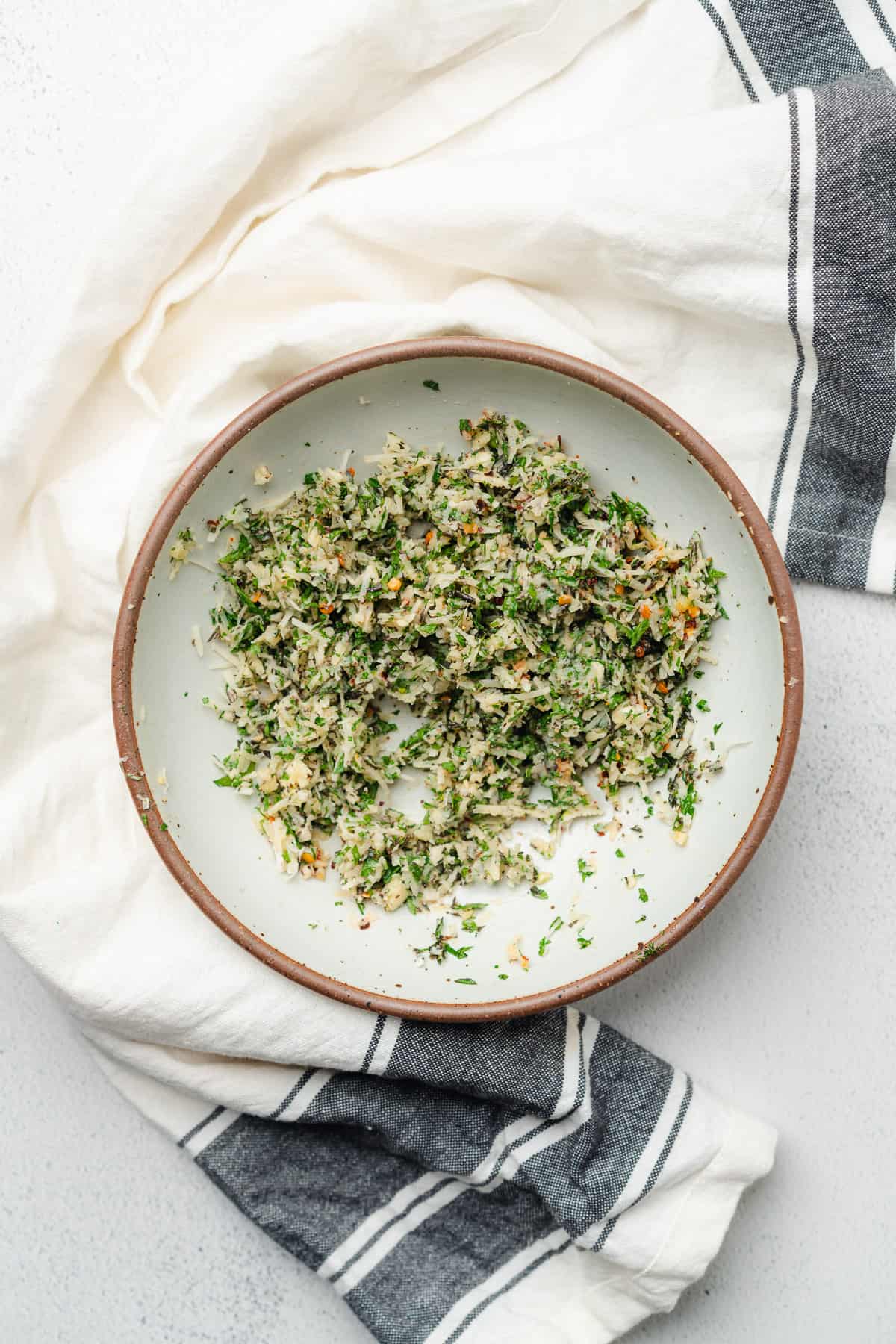 That's it! Serve with anything you like (we highly recommend serving these crispy smashed potatoes with these smoked sausage and shrimp skewers).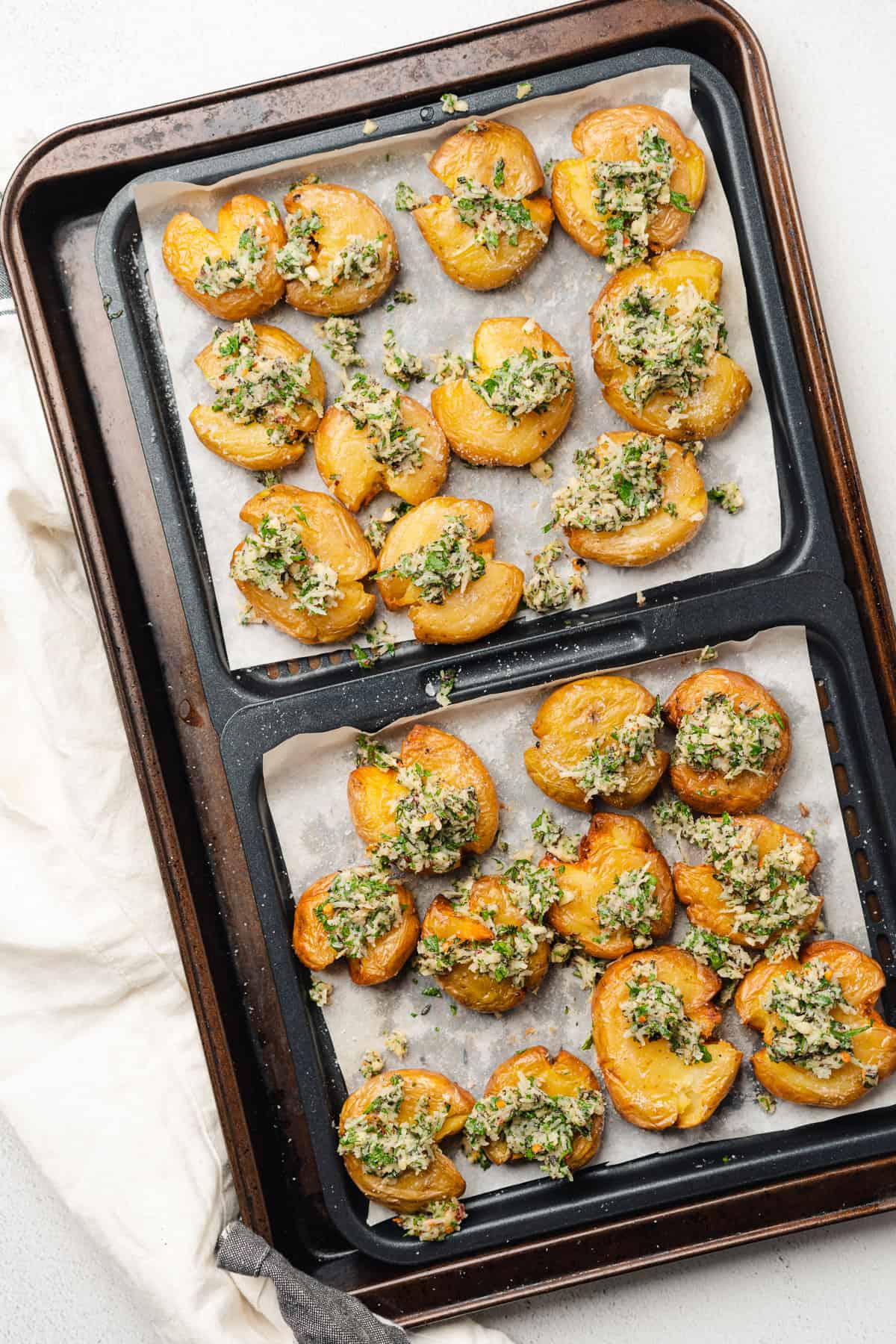 ✨Tips & tricks
Don't skip salting the water when boiling the potatoes! This will help infuse some much needed sodium into the potatoes.
Reheat in the air fryer at 350°F for up to 4 minutes, being careful not to burn the garlic and herbs.
💭Frequently asked questions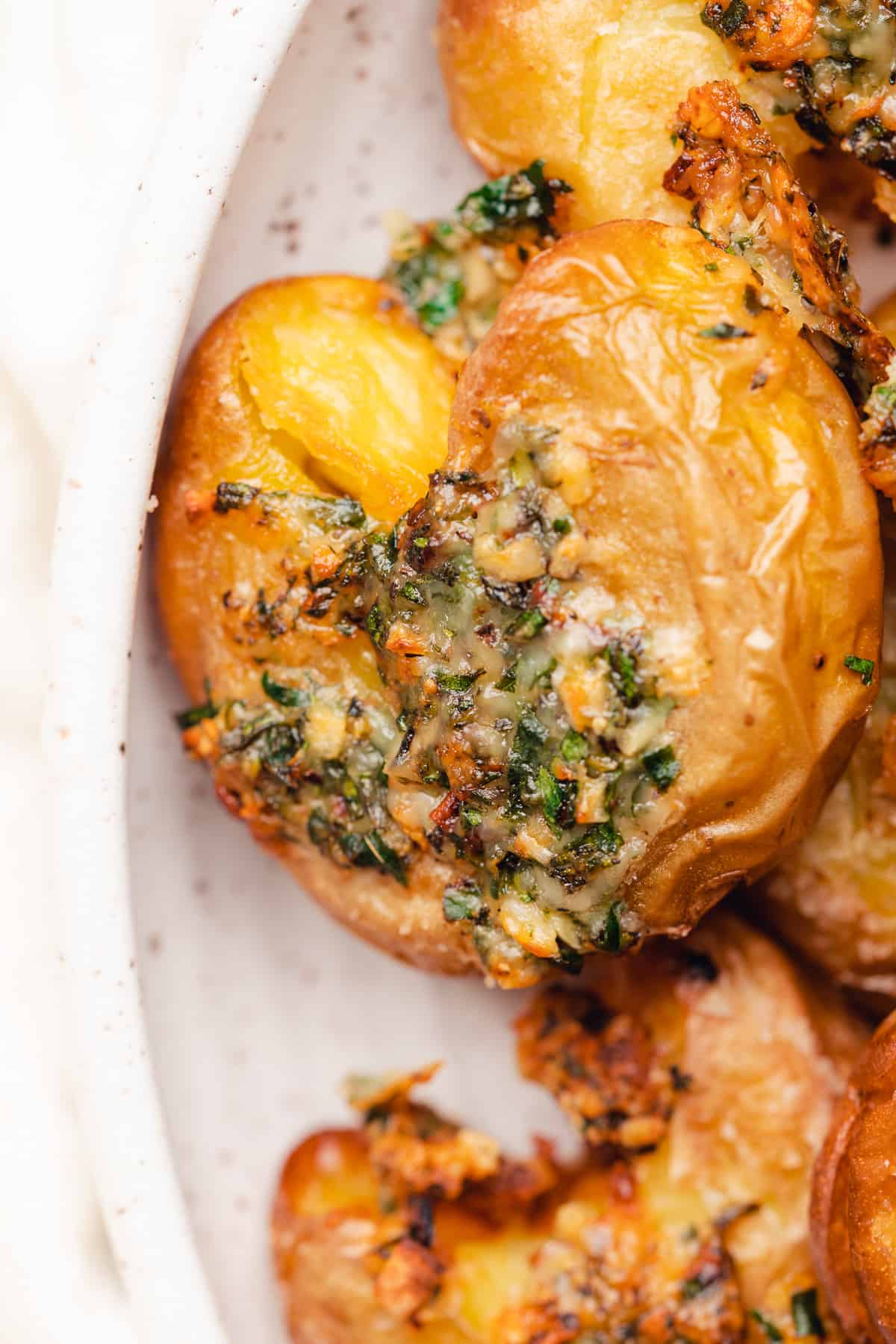 🍴More recipes to try
Redskin Mashed Potatoes
Air Fryer Fingerling Potatoes
Creamy Mashed Turnips
🛒Shop this post
Want to get supplies for this recipe or shop our kitchen or pantry? We've linked our favorites above and right here in our Amazon Store!
A Full Living is a participant in the Amazon Services LLC Associate program, an affiliate advertising program designed to promote a means for sites to earn advertising fees by linking products to amazon.com. We only share products we use and love. It doesn't cost you anything extra to shop using our links, but we earn a small commission that helps us keep this site going!
🥣Storage
Store components separately in airtight containers in the fridge for up to 5 days. Crisp up your potatoes in the air fryer or reheat in the microwave.
🌟Leave a review!
Make sure to leave a 5-star review below! This helps other readers find our recipes via Google, and encourages them to try them. Also be sure to leave a comment with your experience!
Take a photo and share with us by tagging us on Instagram or follow along on Pinterest for more ideas!
📖 Recipe
Please see more list about Roasted redskin potatoes air fryer
Detail: 🔗