Need a quick dinner full of flavor? Try these delicious, tender and juicy Air Fryer Steak Bites tossed in a garlic butter. They are ready in about 15 minutes for a quick dinner recipe that doesn't lack in flavor.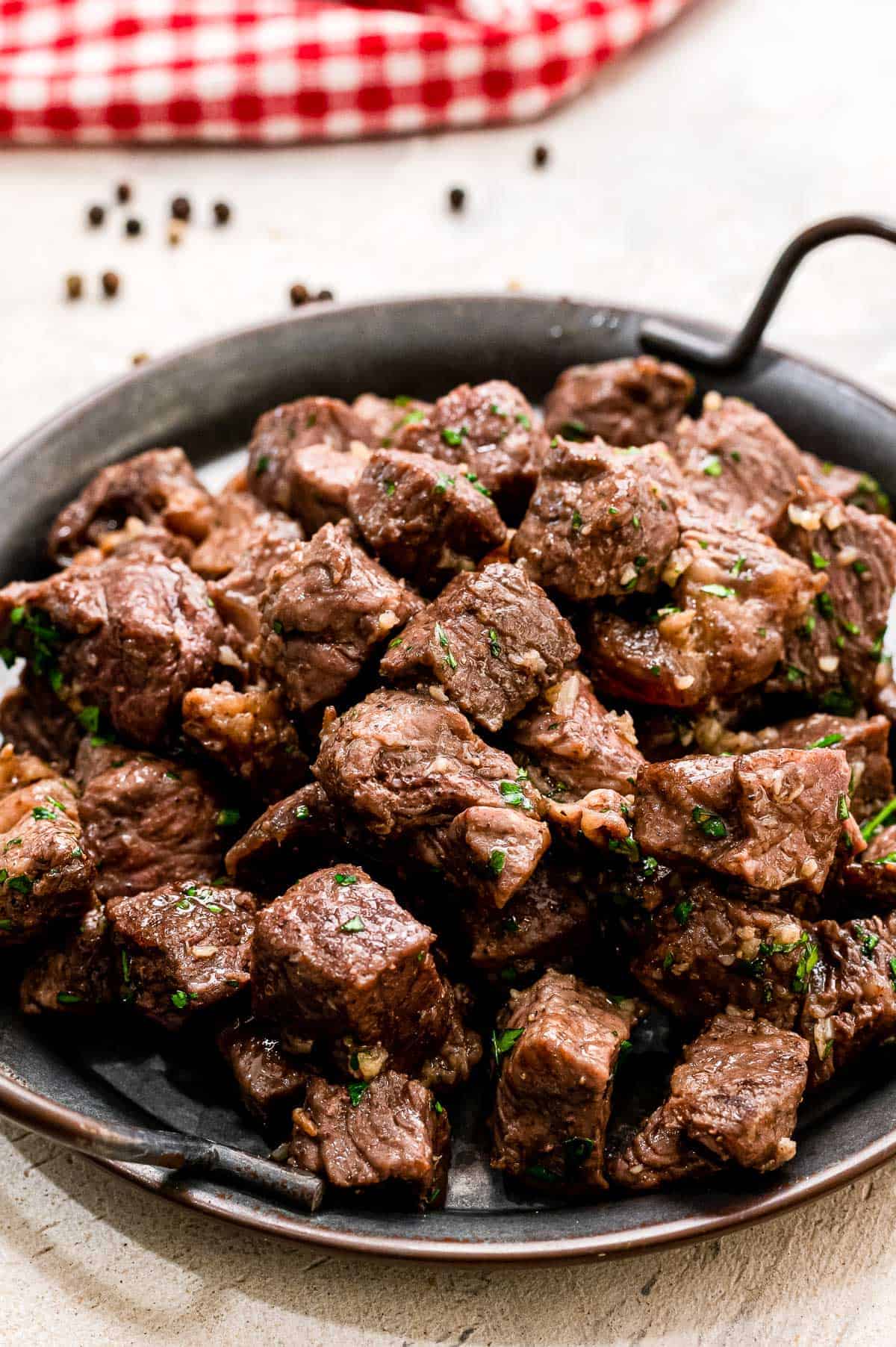 These easy steak bites are just another reason to love your air fryer!
Tender, juicy, and flavorful air fryer steak bites coated in a delicious garlic butter sauce is a quick 15-minute dinner recipe. Add some roasted potatoes or roasted veggies on the side for a complete meal!
Why This Recipe Works
The air fryer is a great way to cook steak because it cooks it fast, and it creates a crust on the outside, locking in all the flavor and juices.
The meat never comes out dry. Because it cooks quickly, it's hard to overcook the meat. It comes out great every time.
You can pair these steak bites with so many side dishes. You can also use them to make sandwiches or wraps! Or make a batch for weekly meal prep.
Don't forget the easy garlic butter sauce – it takes the bites over the top!
Prefer to cook whole steaks? You should try my air fryer steak with a similar sauce!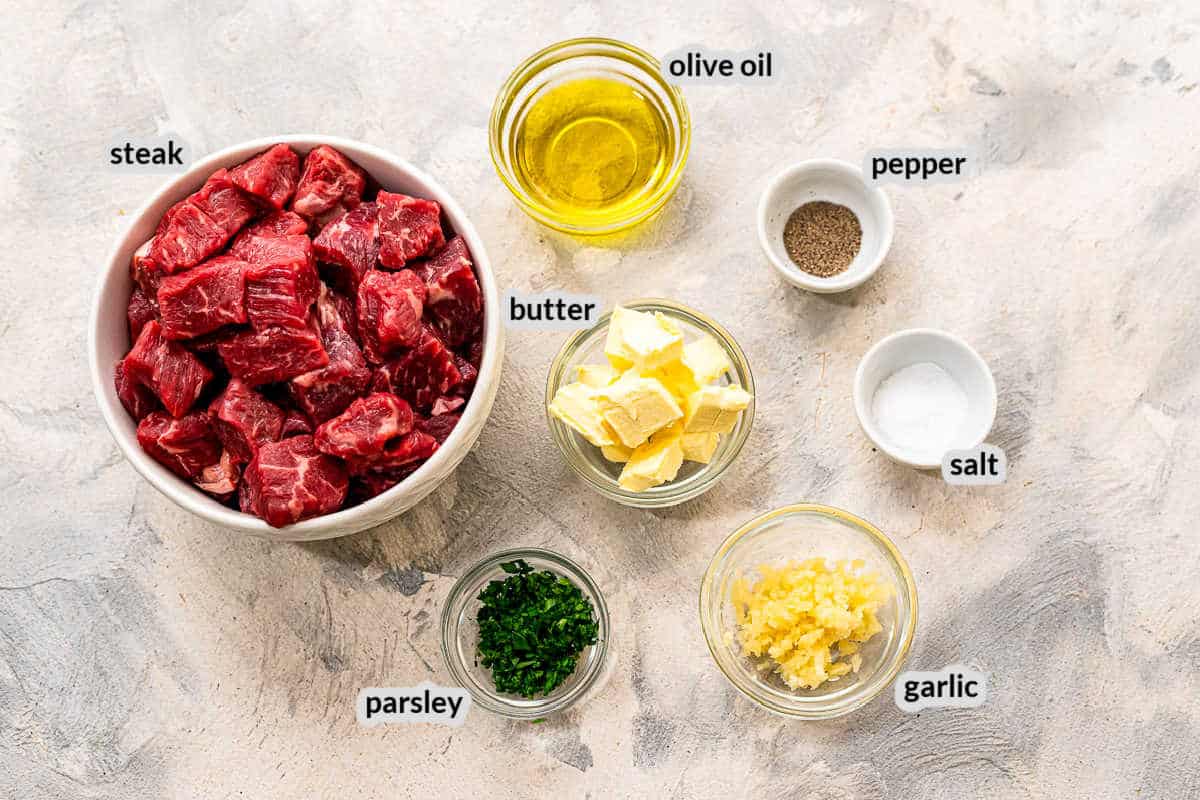 The Best Steak to Use
Also read: Air Fryer Steak Bites – The Roasted Root
The nice thing about this recipe is that there are several different kinds of steak you can use. I don't usually stick to one kind, I look for what's on sale! Here are the ones I like to use:
Sirloin
Strip loin
Tenderloin
Strip steak
Ribeye
You don't need a fancy marinade, either. These cuts are super flavorful, so you only need some olive oil, salt, and pepper to season the meat.
How to Make It
Slice the steak into bite-sized pieces and place them in a bowl. Add the olive oil, salt, and pepper. Toss to coat the pieces evenly.
Place the pieces in the air fryer and cook them for four minutes at 400°F. If you like your more well-done (no pink in the middle) add one minute of cooking time and repeat until yours is cooked to your liking.
How to Make Garlic Butter
Also read: Air Fryer Steak Tips – The Salt and Sweet Kitchen
The butter sauce is so easy you can make it while the steak bites are cooking.
Melt the butter in a skillet and then add the garlic. Cook it in the butter for about 30 seconds while stirring continuously.
As soon as the garlic is fragrant, remove the pan from the heat.
When the steak bites are done cooking, take them out of the air fryer and add them to the skillet with the sauce.
Also read: Air Fryer Juicy Steak Bites
Stir to coat the pieces evenly and then sprinkle the chopped parsley over the top for garnish.
What to Serve with Steak Bites
Pile them on cooked rice and add a veggie like cooked asparagus, broccoli, roasted cauliflower, or corn on the cob.
For a delicious comfort food dinner, pair them with some crockpot mashed potatoes and vegetable casserole.
Recreate a steak house dinner and add a baked potato, creamed peas, and homemade dinner rolls!
Or add some sweet potato fries or tater tots.
Add a pasta side dish like Parmesan orzo or garlic butter noodles.
These are just a few ideas we love! Anything you love with steak will probably pair well with these bites, too.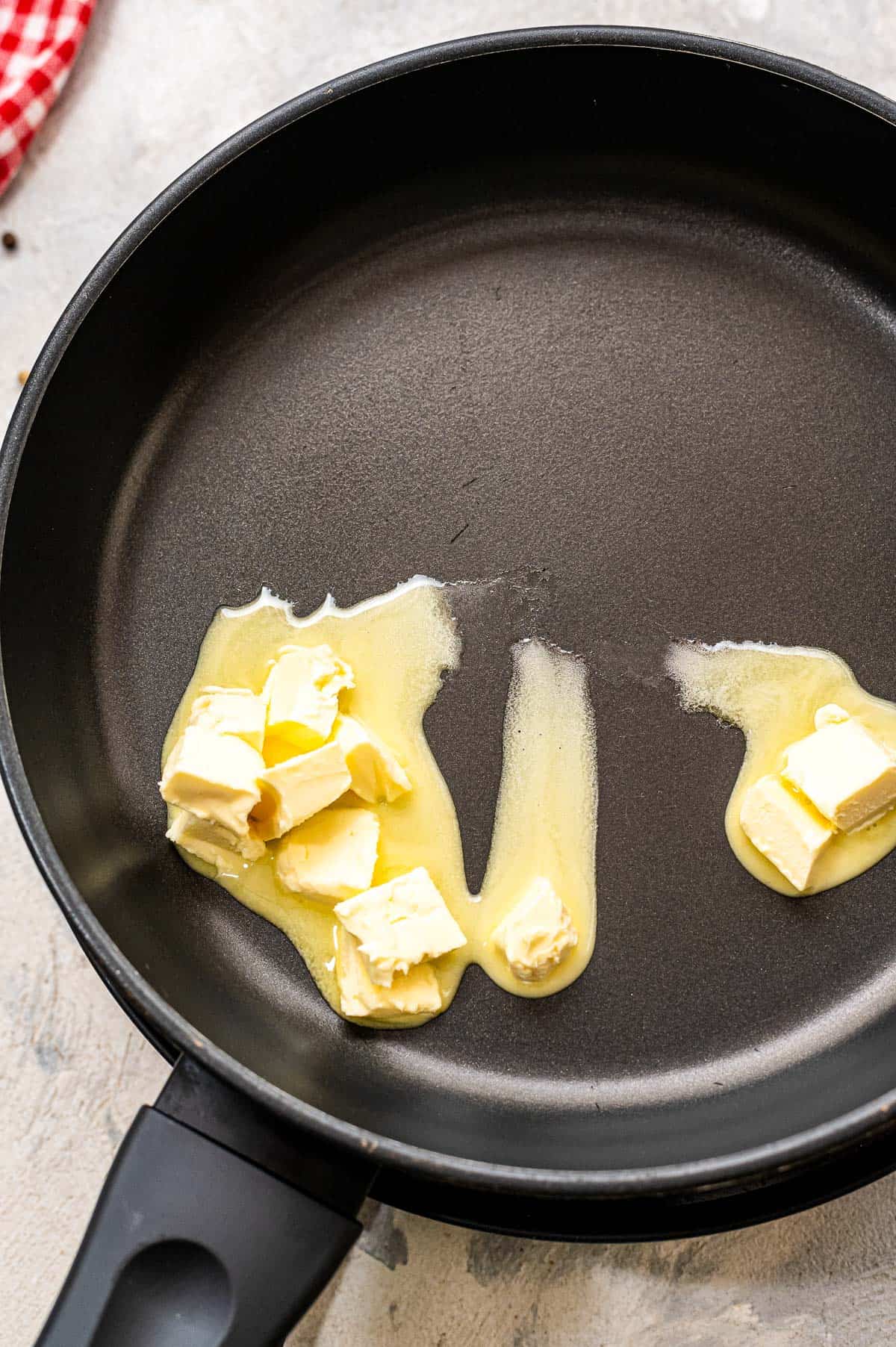 Ready in 15 minutes and so, so, delicious! There is a whole lot to love about this air fryer steak bite recipe. Pick up the ingredients and make them this week!
More Easy Air Fryer Recipes
Air Fryer Chicken Breasts are seasoned with a delicious rub and cooked until juicy and tender. They are great for an easy dinner or meal prep!
Use your air fryer to make amazing Hamburgers! This is a fast dinner for weeknights.
Make crispy breaded Chicken Parmesan in the air fryer, and you will get rave reviews!
You're going to love this recipe! It's so easy and so good! Be sure to leave a comment with your rating – a five-star rating will make my day!
Snap a pic and tag me @julieseatsandtreats or #julieseatsandtreats so I can see your delicious dish!
For more information, please see more information about Cooking stew meat in air fryer