Sunday Supper is an Amazon Associate and may receive compensation for purchases made through affiliate links.
My easy Slow Cooker Beef Short Ribs recipe is melt-in-your-mouth tender and so delicious! With only 15 minutes of prep and simple ingredients, you can set it and forget it while it cooks.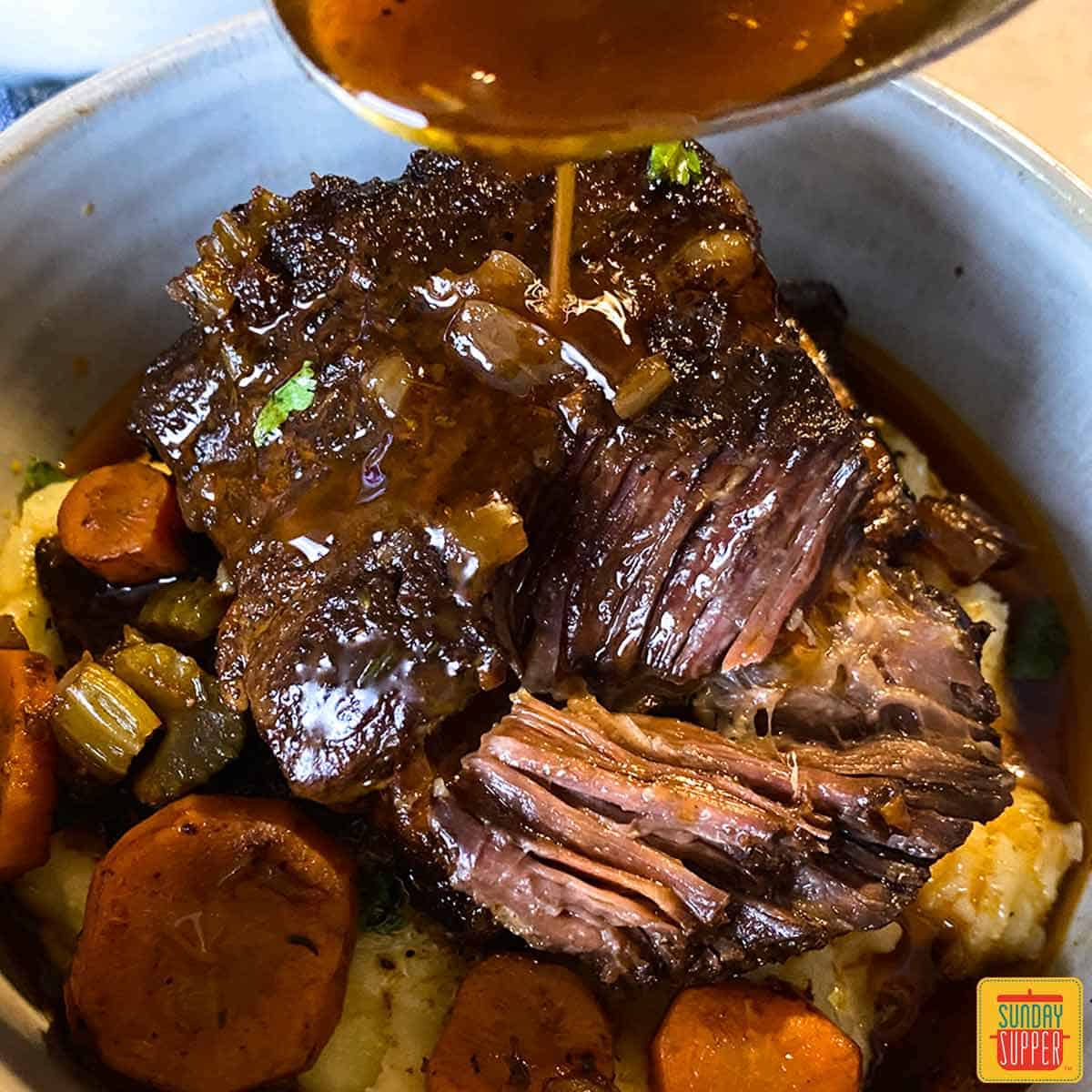 Jump to:
Best Slow Cooker Short Ribs
Crockpot Short Ribs Ingredients
How to Cook Short Ribs in a Crockpot
How to make Short Rib Gravy
Crock Pot Short Ribs Recipe Tips
Beef Short Ribs Recipe FAQs
What to serve with Short Ribs
My Favorite Short Rib Recipes
📌 Pin it for later!
Our readers love this recipe!
📋 Recipe
💬 Reviews
Best Slow Cooker Short Ribs
Beef Shortribs in the crockpot is the ultimate comfort food! They are so juicy and literally melt in your mouth. This is a slow cooker recipe I make again and again for my family, especially as a part of my favorite Sunday dinner ideas. Our other favorite is my slow cooker lasagna. It is so easy to prepare ahead of time for a crowd!
My other top recipe for Sunday supper that is requested again and again is my beef chuck roast recipe. It just melts in your mouth and the potatoes are as good as the beef when they are cooked in the delicious broth.
Such a great recipe! You can taste the build of flavors in the meat. It's not an overpowering punch, but more of a slow progression of flavors, which I feel like makes this dish taste and feel sophisticated.

Rachael on Pinterest
Crockpot Short Ribs Ingredients
beef chuck short ribs
salt approx
pepper
onion
celery
carrots
vegetable oil
garlic crushed
red wine
balsamic vinegar
tomato paste
beef broth
rosemary
bay leaves
How to Cook Short Ribs in a Crockpot
Pat beef short ribs dry if necessary.
Finely dice onion, celery ribs, and carrots.
Season all over with salt and pepper. Pat the seasoning into the meat.
Warm half of your vegetable oil in a skillet over medium-high heat and sear the short ribs on all sides, in two batches so you don't overcrowd the skillet. Make sure to sear until you have a nice mahogany crust.
Add the onion, celery, and carrots to the skillet along with the remaining oil. Reduce the heat slightly so the vegetables don't burn.
Cook the vegetables for a couple minutes, then add 1 clove minced garlic. Cook a minute more, then add red wine to deglaze the pan. Scrape up brown bits from the bottom of the skillet.
As it starts to simmer, add balsamic vinegar, tomato paste, beef broth, rosemary, and bay leaves.
Add the short ribs to the slow cooker.Bring the vegetable mixture to a simmer then pour over the short ribs.
Turn the slow cooker on low and cook for 6 – 8 hours.
Remove the bay leaves when it is done and discard them.
Serve over mashed potatoes, rice, or thick pasta like pappardelle.
Amazing, so much flavor!

Carissa on Pinterest
How to make Short Rib Gravy
You can serve the braised short ribs in its own drippings (which is absolutely amazing) or make it into a gravy. Homemade gravy is easy, delicious, and adds so much flavor to the dish
When done, remove the short ribs to a platter, tent with foil.
Strain the liquid and remove any large chunks of meat and vegetables.
Add the strained liquids back to the pot, then add 3 Tbsp. all-purpose flour and stir to make a gravy. It's that easy!
Crock Pot Short Ribs Recipe Tips
I used bone in short ribs for this recipe but boneless also work well.
Make sure to give the short ribs a good amount of seasoning with salt and pepper to intensify the flavor.
Important step: Heating oil in a skillet and searing the ribs on all sides in batches so you don't overcrowd the pan. This step is key to beautiful and flavorful short ribs.
You can also use large pieces of carrots and serve them as your side dish.
Beef Short Ribs Recipe FAQs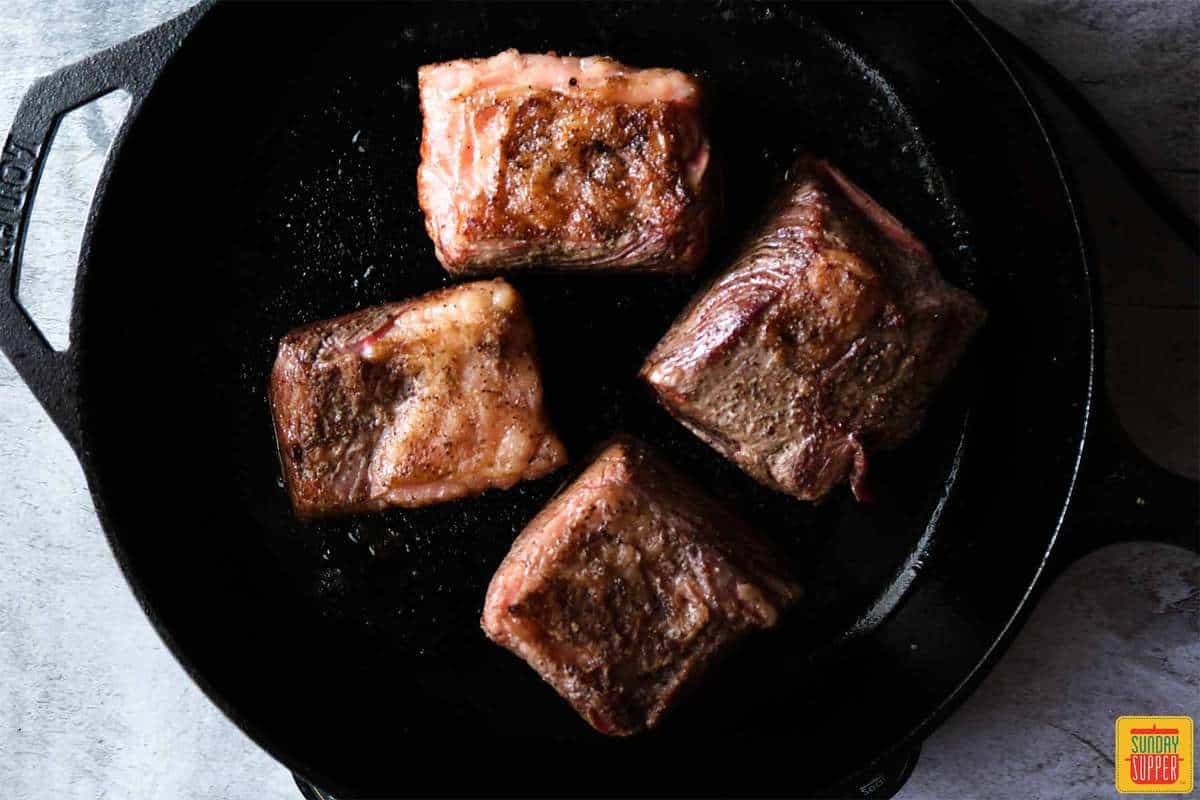 I made this tonight. It was incredibly delicious. The prep work is worth the effort. I served with a red wine, crusty bread and a side salad.

Kay on Pinterest
What to serve with Short Ribs
Creamy Mashed Potatoes or Instant Pot Mashed Potatoes
Perfect White Rice or Instant Pot White Rice
Instant Pot Risotto or Mushroom Risotto
Green Beans Almondine
Glazed Carrots.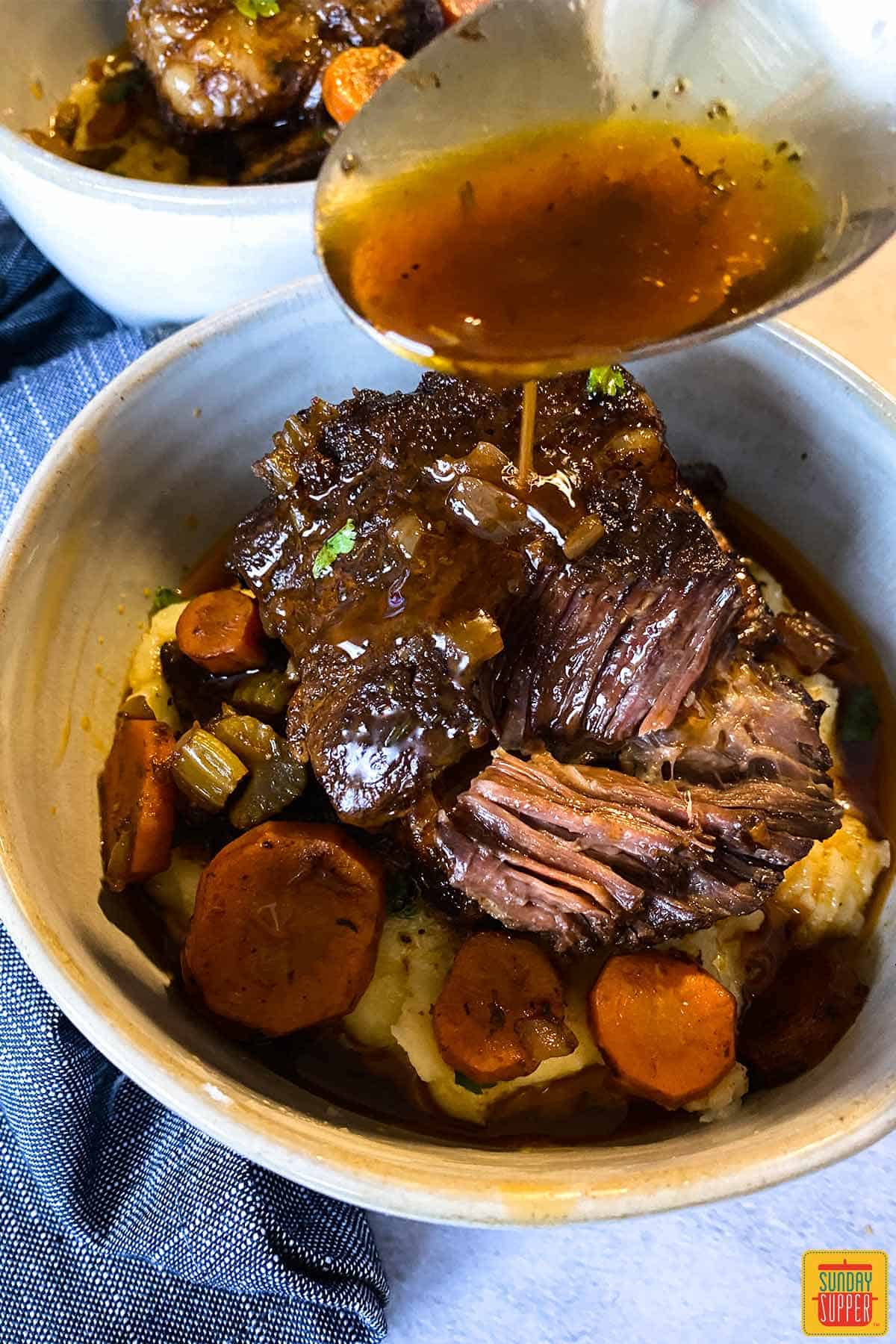 My Favorite Short Rib Recipes
Grilled Beef Short Ribs
Korean Braised Short Ribs
Instant Pot Short Ribs
Smoked Short Ribs
Try my Grilled Pork Ribs and Air Fryer Pork Ribs!
Did you try this recipe? We would love to hear what you think! Leave a comment and a rating below, or email us.
Our readers love this recipe!
I tried it! It came out amazing!!! So good and flavorful. The hubby loved it!

Jessica
Turned out AMAZING. Definitely a keeper!!! 😋😍🥘♥️

Katie
Great recipe! I ended up serving with Mashed Potatoes and Fresh Corn off the Cob. Great for a summer day when you don't want to leave the oven on for a long time!

Lisa
📋 Recipe
For more information please see the list of Crock pot short rib stew
Detail: 🔗