American Greek Salad (with Lettuce) is the salad I make all year long, and Greek Salad is something I'd never get tired of eating!
PIN American Greek Salad to try it later!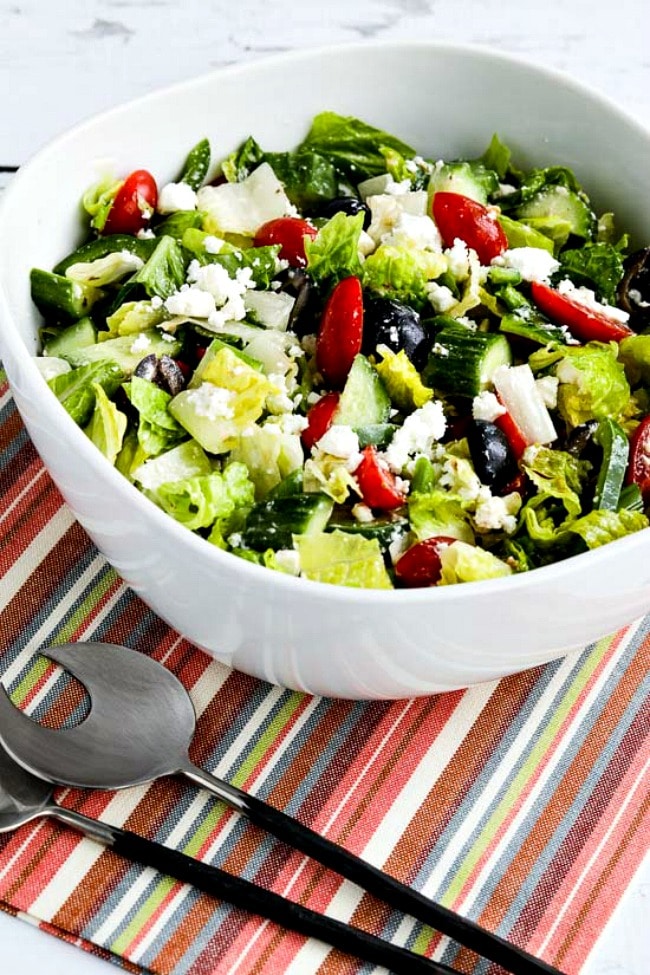 This American Greek Salad is something that's on the menu at my house for every single family party, and I make it quite often just for a quick lunch or dinner as well. Definitely this is one of my signature salads, and I never get tired of it!
I've been making so-called Greek salads like this for years now, but when I went to Greece in 1998, I discovered that what many American restaurants called Greek Salad didn't really exist there! Greek Village Salad has cucumbers, tomatoes, onions, Kalamata olives, green pepper, and Feta and a dressing made from olive oil and vinegar or lemon juice and seasoned with a little dried oregano. But no lettuce. NEVER lettuce! So of course this is not a recipe for traditional Greek Salad!
It was a Mediterranean restaurant in Salt Lake that first gave me the idea to call this American Greek Salad when it included lettuce. I like my Greek salads both with and without the lettuce, but the version with lettuce is the one I make the most. You can add or subtract ingredients based on what you prefer, but don't leave out the handful of lettuce if you're going to call it American Greek Salad.
What ingredients do you need?
Newman's Own Olive Oil and Vinegar Dressing (affiliate link)
extra-virgin olive oil
fresh-squeezed lemon juice, I used my fresh-frozen lemon juice
Capers (affiliate link)
caper brine from the jar
Dried Oregano (affiliate link)
Romaine lettuce
cucumbers
cherry or grape tomatoes
green pepper (optional)
green onion (optional)
Kalamata olives or black olives
Feta cheese
Should you make American Greek Salad in the winter?
I love this salad in the summer when I can use fresh garden tomatoes and fresh cucumbers. But I make this all year, using cherry tomatoes and European cucumbers from Costco when I don't have any garden produce.
What variations do I like for American Greek Salad?
I used to be somewhat unenthusiastic about the green bell pepper, but the last few years I've realized that thin slivers of green pepper and even some sliced green onion add a lot of flavor to a salad like this. I'm also pretty insistent on the addition of some caper juice and capers in the dressing, and I actually like this salad with blue cheese dressing too, which is most definitely not Greek! And occasionally I add things like Peperoncini Pepper, artichoke hearts, or hearts of palm if I have some in the fridge.
My thoughts about Feta Cheese:
I have a strong preference for sheep's milk Feta in a salad like this. To me, the sheep's milk Feta is creamier and a little milder. Whatever Feta you buy, avoid the pre-crumbled type; it simply does not last long. If you're lucky enough to have a FoodSaver machine (affiliate link) which vacuum packs food in plastic bags, it's perfect for sealing those big blocks of Feta from Costco, and sealed packs of Feta is something I always have in my fridge.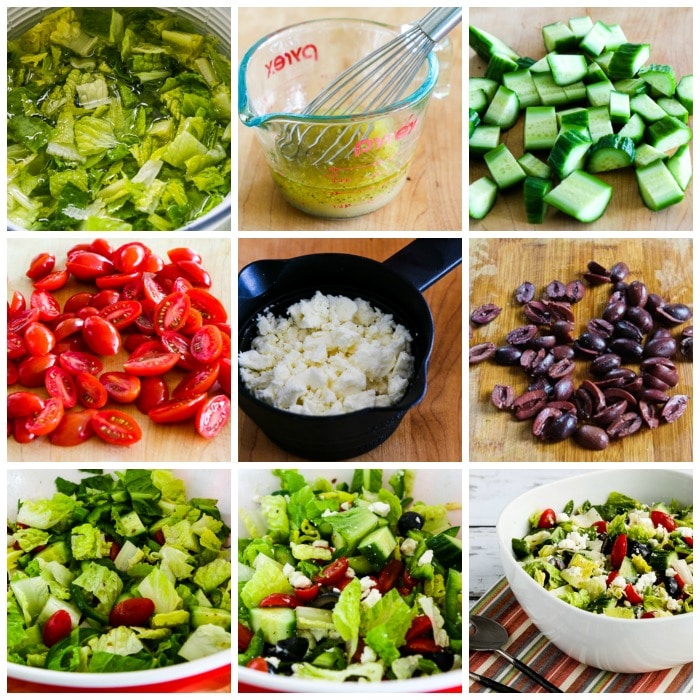 How to make American Greek Salad:
(Scroll down for complete recipe including nutritional information.)
Cut up the Romaine lettuce and if it's even the slightest bit limp let it crisp in a salad spinner with ice cold water for a few minutes.
While the lettuce soaks, whisk together the dressing ingredients.
Cut up cucumbers, and cut cherry tomatoes in half.
You'll also want crumbled Feta cheese (although it's usually served in a block on top of the salad in Greece).
And prepare Kalamata olives cut in half, as well as thin slivers of green bell pepper and some sliced green onion if you're using them.
Spin the lettuce very dry, then toss together the lettuce, cucumbers, tomatoes, green peppers and green onions with enough dressing to moisten the salad to your preference.
Add the crumbled Feta and olives and gently toss to combine. (I like to save some tomatoes, Feta, and olives to garnish the top of the salad.)
Season salad to taste with salt and fresh-ground black pepper and enjoy!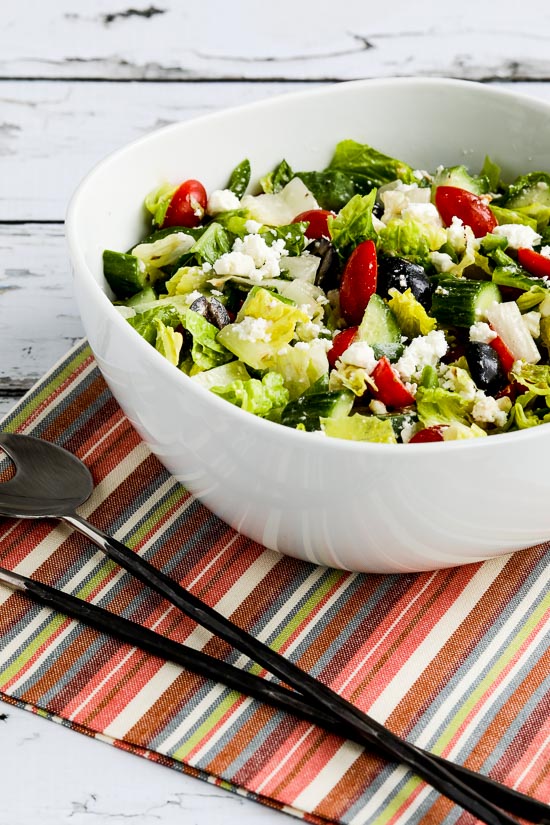 Make it a low-carb Meal:
I served this recently with Low-Carb Steak and Mushroom Kabobs and it would be a good side dish for any of my Low-Carb Grilling Recipes.
More Tasty Salads with Feta Cheese:
Cucumber Avocado Salad
Green Bean Tomato Feta Salad
Spring Mix Salad
Low-Carb Diet / Low-Glycemic Diet / South Beach Diet Suggestions: This would be a great main dish salad for low-carb or low-glycemic diet plans, including the original South Beach Diet, although South Beach would recommend going a bit easy on the Feta. To make this recipe Keto, use less tomatoes and more Feta.
Find More Recipes Like This One: Use Salads to find more recipes like this one. Use the Diet Type Index to find more recipes suitable for a specific eating plan. Or Follow Kalyn's Kitchen on Pinterest to see all the good recipes I'm sharing there.
Historical Notes for this Recipe: This recipe was first posted in 2006. It was last updated in 2022 with more information.
Share This:
Through this article, we hope to help you understand Greek salad recipe with lettuce
Detail: 🔗