Have you ever tried a cinnamon sugar apple cake? It's the kind of dessert that adds a touch of magic to your day. This cake is light, fluffy, and loaded with fresh apples. It strikes the perfect balance between sweet and not overly sweet. And that layer of cinnamon-sugar on top? It creates a crispy, fragrant topping that will have you coming back for more.
Everything You Need for This Apple Cake
In this post, we'll cover everything you need to know about this apple cake. From the ingredients and how to cut the apples to the best apples to use and frequently asked questions. We'll even provide a step-by-step video guide for those who prefer watching instead of reading.
Ingredients for Apple Cake
To make this apple cake, you'll need apples (Honeycrisp or Granny Smith are recommended), dry ingredients (flour, baking soda, brown sugar), wet ingredients (egg, oil, buttermilk, vanilla), cinnamon, sugar, and butter. Chances are, you already have all these ingredients in your pantry, making this the perfect lazy weekend treat.
How to Cut Apples for Apple Cake
When it comes to cutting apples for this cake, you have a few options. You can finely dice them for classic apple cake pockets, thinly slice them for a more evenly distributed apple texture, or shred them for a cake with a delightful apple sweetness throughout. The choice is yours!
The Best Apples for Apple Cake
While any apple will work for this recipe, a few varieties stand out. Honeycrisp apples are juicy, crunchy, and provide the perfect balance of tartness and sweetness. Granny Smith apples, with their tartness, add a little extra zing to the cake. And in a pinch, Fuji or Gala apples will do the job perfectly.
How to Make This Apple Cake
Mix the apples into the batter, spread the mixture into a pan, and top it with a dusting of buttery cinnamon sugar sand. Bake, slice, and indulge in a lot of apple cake! This cake is perfect for a weekend treat, a Monday snack, and even a Tuesday 2nd dinner. In fact, it's so delicious that you might find yourself making another one by Wednesday breakfast.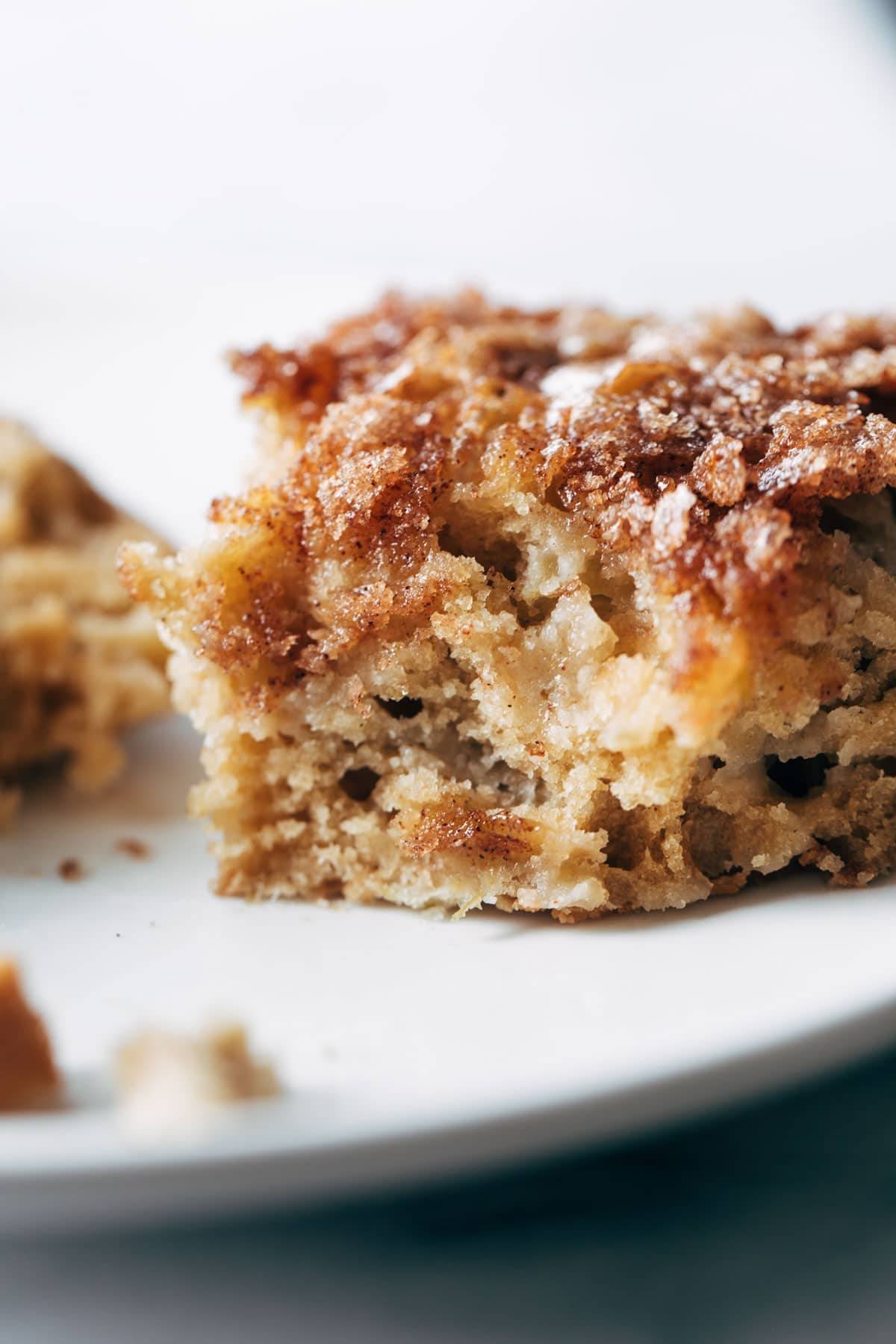 Ways to Serve This Apple Cake
This apple cake is not only a delightful dessert but also a perfect addition to a fall brunch. When serving, you can top it with whipped cream, honey butter, or a delicious glaze. And if you're feeling extra indulgent, a scoop of vanilla ice cream will take this cake to another level of deliciousness.
Apple Cake Variations
While this apple cake is already pretty perfect as it is, there are a few ways you can switch things up. You can bake it in a different size pan, such as a loaf pan or bundt pan, for a beautiful presentation. You can also turn it into muffins for a grab-and-go option. And if you're feeling adventurous, you can experiment with different fruits like pears, peaches, or berries.
More Delicious Fall Baking Recipes to Try
If you're in the mood for more fall treats, we've got you covered. Try our super moist pumpkin bread, favorite pumpkin muffins made in a blender, five-minute single-serving apple crisp, healthy cinnamon sugar apple muffins, or our favorite pumpkin granola.
Time to Show You Off!
If you make this apple cake, be sure to tag @pinchofyum on Instagram for a chance to be featured. We love seeing your delicious creations!
One More Thing!
This recipe is part of our collection of easy baking recipes. Check it out and discover more delightful treats!
Now that you have all the details, it's time to get baking and enjoy the cozy flavors of fall with this mouthwatering apple cinnamon cake. Happy baking, friends!
---
This article was created with Family Cuisine in mind. If you're looking for more delicious recipes and culinary inspiration, visit Family Cuisine.