This nutritious Apple Smoothie is flavorful and refreshing. Packed with fruit and a serving of greens, this is the perfect way to start your day!
If your family loves smoothies as much as mine you have to try some of our other smoothie recipes. We especially love Strawberry Banana Smoothies and Pineapple Smoothies.
Reading: apple juice in smoothies
Apple Smoothie Ingredients
Apple juice – Feel free to choose your favorite brand, but I recommend a low sugar or 100% juice option.
Water
Fresh baby spinach
Apples – You will need about 1 medium-sized apple and you can again use your favorite variety. I like Gala or Honeycrisp, or green apples for something more tart.
Frozen pineapple – Freeze from fresh or buy in the freezer section.
Frozen banana – Chop up some bananas and freeze for smoothies anytime.
Ice cubes – optional, but gives a more slushy texture to your apple smoothie.
Chia seeds – Optional, but has significant health benefits.
Why we love this recipe!
Lots of fruit and veggies make this apple smoothie a healthy snack or breakfast.
It's quick and easy, and uses simple, fresh ingredients.
This smoothie tastes sweet and refreshing – kids absolutely love it, and grown-ups, too!
How To Make An Apple Smoothie
Liquid: The liquid for this Apple Smoothie is a combination of apple juice and water. The apple juice imparts a sweet apple flavor throughout the smoothie.
Fruit: This smoothie contains a combination of apples, frozen pineapple and frozen banana. You can use sweet or tart apples. I've made it both ways and they're equally delicious.
Greens: My favorite leafy green to add to smoothies is fresh baby spinach. The flavor is mild and does not come through at all. Spinach adds a beautiful shade of green and an extra boost of nutrients to this smoothie. You can also swap the spinach for another leafy green of your choice (like kale), just be aware that some greens have a strong flavor.
To make this smoothie: Layer the ingredients in your blender, liquids first, then solids and blend until smooth. If it appears too thick, add a splash of water or apple juice and blend it again.
Expert Tips and Frequently Asked Questions
Smoothie variations: try adding a scoop of peanut butter or almond butter to your smoothie, use Almond milk instead of water or add a scoop of Greek yogurt.
Make it a sweet dessert by adding a scoop of vanilla ice cream.
If it's not sweet enough for you, try adding honey or maple syrup.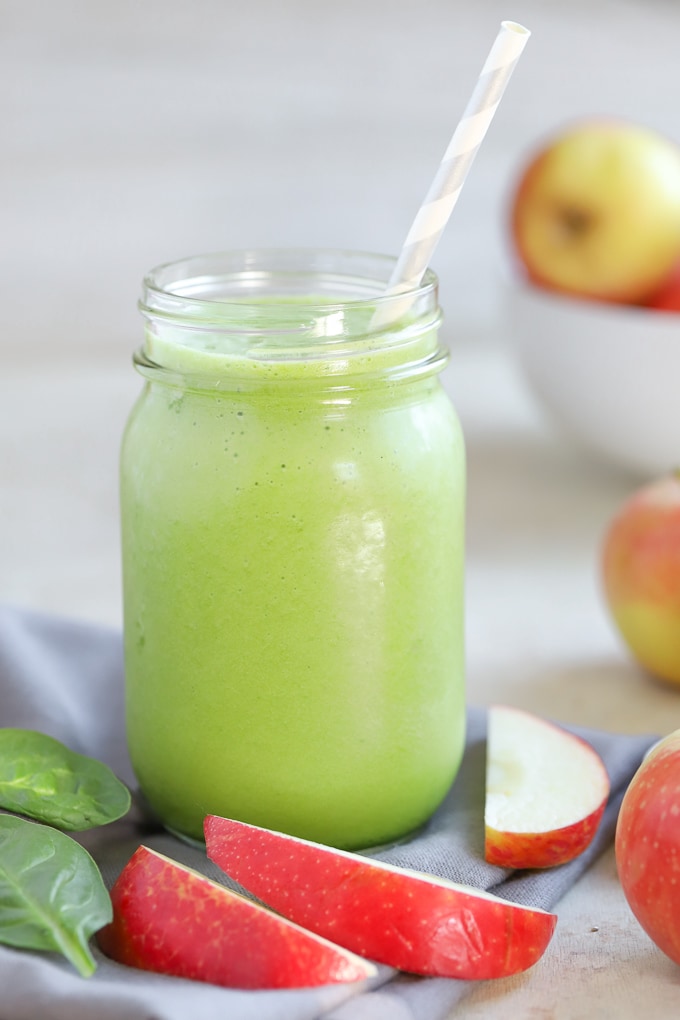 More Smoothie Recipes
Skinny Berry Smoothie
Mango Smoothie
Banana Peach Smoothie
Easy Cherry Smoothie
Eat more apples!
Read more: How to make your coffee less acidic
Apples are a great snack, but there even better in a yummy dessert. Try one of our favorites:
Easy Homemade Apple Butter
Apple Crumble Recipe
Pumpkin Apple Bread
Apple Dumplings
Apple Crisp
Instant Pot Applesauce