This sweet and sour salad is a delicious side dish with crunchy green apples, marshmallows, and Snickers candy bars as the main ingredients. Whether this Apple Snickers Salad Recipe is indeed a salad is up to you. It is, however, delicious and simple to prepare.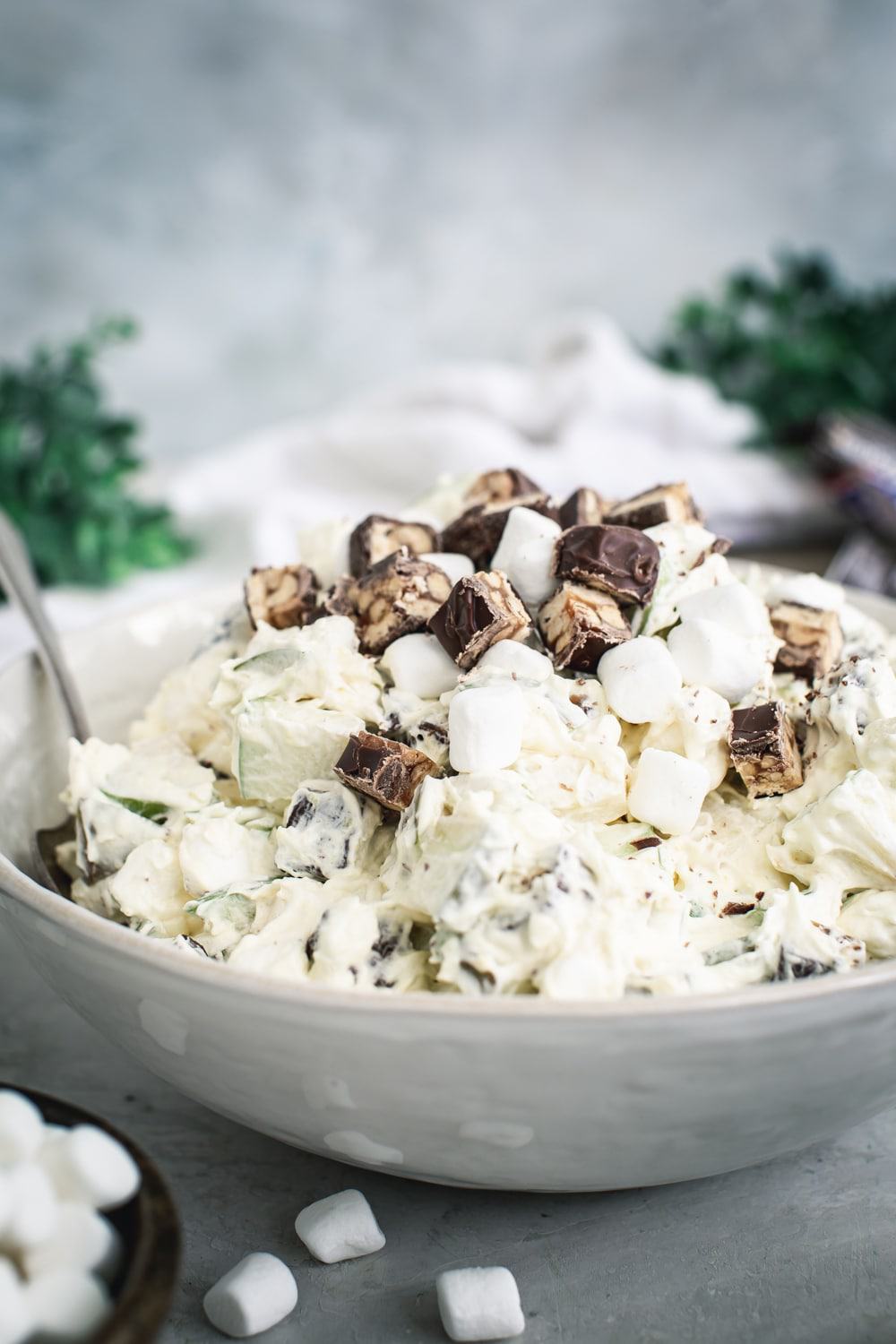 Apple Snickers Salad
Growing up in Alabama I had a slightly skewed idea of what was considered a true salad. Here it seems anything as far as ingredients go is fair game and the more obscure, such as Jell-O, and in this case Snickers, the better. Definitely the more delicious.
Reading: Can you make snicker salad the night before
Healthy is often not a high-level concern either when it comes to southern foods, which is why Snickers are an obvious addition to any salad. For example, this Strawberry Pretzel Salad is a southern staple at most summer barbecues, and you wouldn't dare celebrate Christmas without this Classic Ambrosia.
How to Make Snickers Salad
This delicious snicker apple salad can be made in minutes and is the perfect side dish for any gathering. Just follow the easy steps below the tutorial images or scroll down to the recipe card at the bottom of this post.
Step One. Whisk the instant vanilla pudding mix and milk together in a large bowl and let stand for 5 minutes before moving to the next step.
Step Two. Gently fold in the cool whip until fully incorporated with the pudding mixture.
Step Three. Add the Granny Smith Apples, chopped snickers bars, and mini marshmallows to the mixture and continue to fold the ingredients until fully mixed. Place in the refrigerator until ready to serve.
Ingredients in Apple Snickers Salad Recipe
Read more: Brussels Sprouts Salad with Bacon, Almonds, and Parmesan (Video)
There is very little prep outside of chopping the apples and cutting up the Snickers candy bars. Below is a list of all the ingredients you'll need to make this recipe.
Instant Vanilla Pudding Mix
Whole Milk
Cool Whip
Granny Smith Apples
Snickers Candy Bar
Marshmallows
Can I use a Different Candy Bar?
This recipe is technically a Granny Smith apple snickers salad recipe, though, it doesn't necessarily need to contain snickers. Some other delicious candy bar options are listed below.
PayDay
Caramelo
Milky Way
Baby Ruth
Mars Bar
Whatchamacallit
Twix
Do I Have to Use Granny Smith Apples?
No. The Granny Smith apples add a crispy and sour flavor to this recipe. Therefore they can easily be swapped for your favorite apple variety as long as it's on the crispy side. You can even combine apples.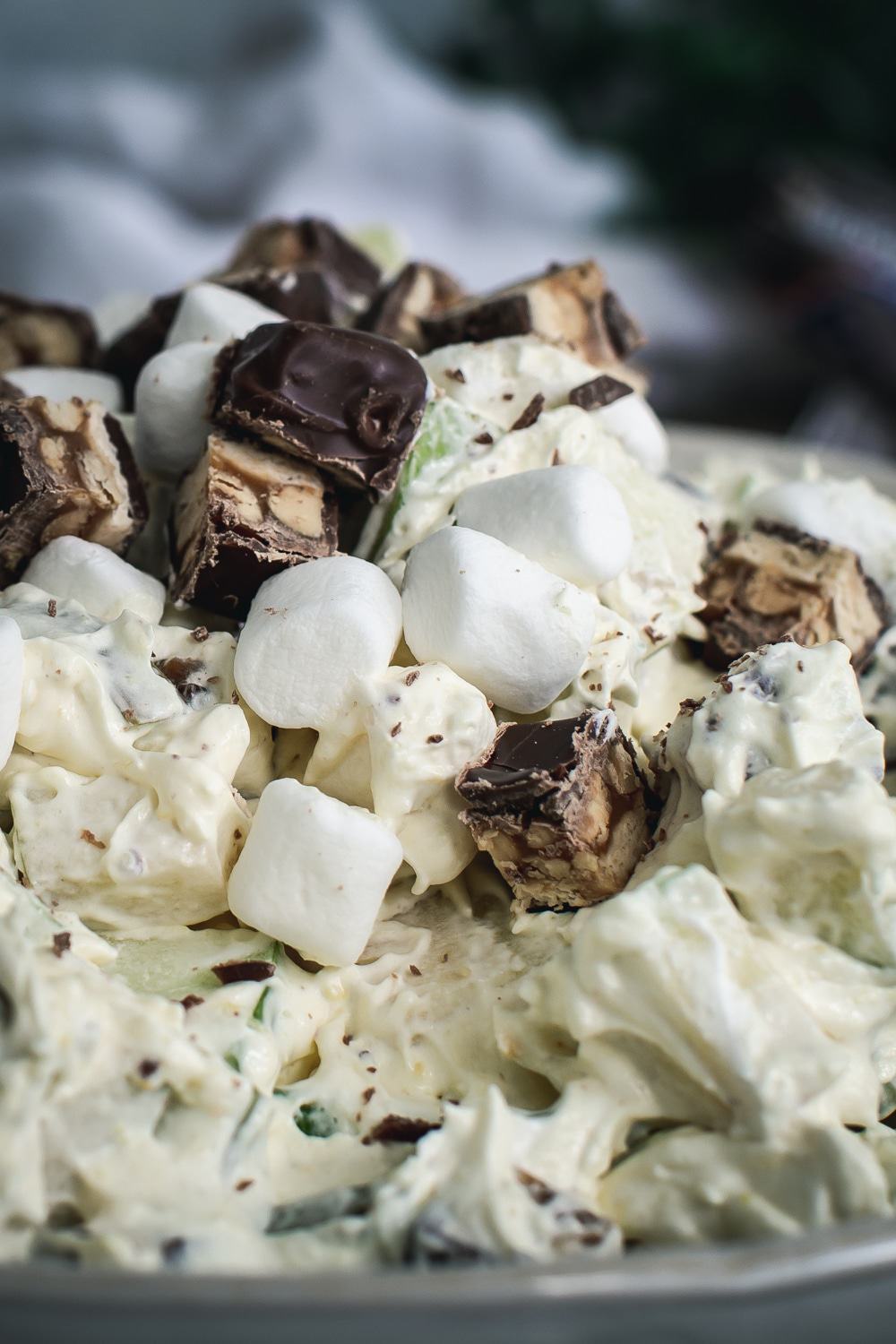 How Long Does Snicker Apple Salad Last?
This salad will last up to a week when refrigerated. It doesn't freeze well and is best served chilled.
Can You Make Snickers Apple Salad the Night Before?
Read more: Everything KETO at Ruby Tuesday in 2022 (Garden Bar Included)
Yes. This salad is best served chilled. The ingredients firm up a bit when placed in the refrigerator after preparing it. For that reason, you can easily prepare this salad the night before your event and it will taste even better the next day.
How to Store this Salad
Place the salad in an air-tight container in the refrigerator for storage. It can be stored for up to a week. Equally important, make sure to keep it chilled before serving. I prefer to use these storage containers because they are absolutely amazing.
Can You Freeze Apple Snickers Salad?
No. Unfortunately, this salad can't be stored in the freezer. Once it thaws out the apples aren't crispy anymore and then the cool whip becomes slightly runny.
More Snickers Salad Combinations
You can get creative with this salad. Try to add in some of your favorite fruits. Similarly, add sweet treats such as caramel sauce. Below are some combinations I'd like to try.
Read more: how to cut oranges for fruit salad
Tropical Fruit Snickers Salad: Remove the Granny Smith apples and add Pineapple, Shredded Coconut, and Fresh Cherries.
Ambrosia Snickers Salad: Remove the apples, vanilla pudding mix, and milk. Add 1/2 cup sour cream, shredded coconut, chopped pineapple, mandarin oranges, fresh cherries, and chopped pecans.
Caramel Apple Snickers Salad: After making the salad drizzle in some caramel sauce on top.
More Easy Side Dishes for Potluck
Cucumber Tomato Salad Recipe
Herbed Potato Salad Recipe
Bacon Ranch Pasta Salad
Through this article, we hope to help you understand Can you make snicker salad the night before
Source: https://www.aimeemars.com/apple-snickers-salad-recipe/