This Apple Snickers Salad is a sweet treat with layers of tart granny smith apples, chopped up Snickers bars, and cool whip. A guaranteed crowd pleaser that is perfect for those hot spring and summer days as well as a treat in the fall!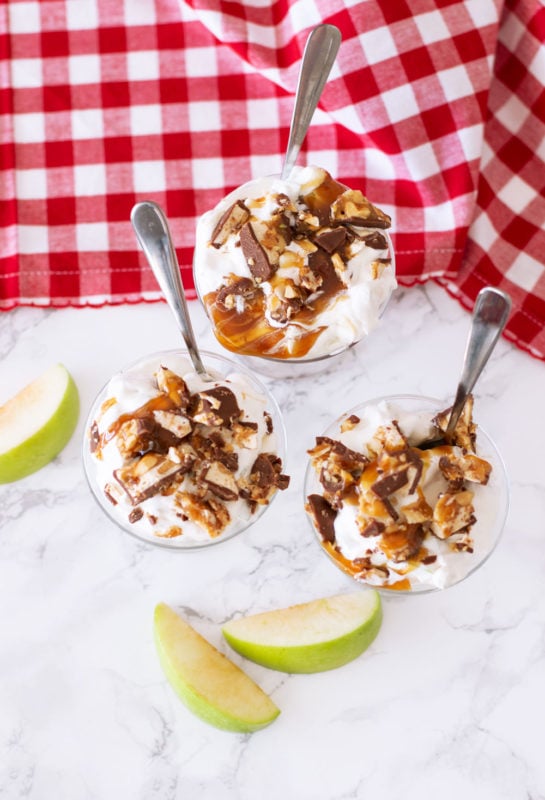 Apple Snickers Salad. It just sounds AMAZING, doesn't it! When we first moved to our neighborhood 10 years ago, we got invited to a neighbor's backyard BBQ. There were 3 other families there and each of us brought a side dish or a dessert. One family brought this ridiculous yummy snicker salad dessert! One bite and I was sold. I asked what this dessert was called and they told me Apple Snickers Salad. They couldn't believe I had never heard of a snicker apple salad before.
What's in Apple Snickers Salad?
It's super simple to make this dessert. This recipe contains the following 3 ingredients:
Snickers Bars
Granny Smith Apples
Cool Whip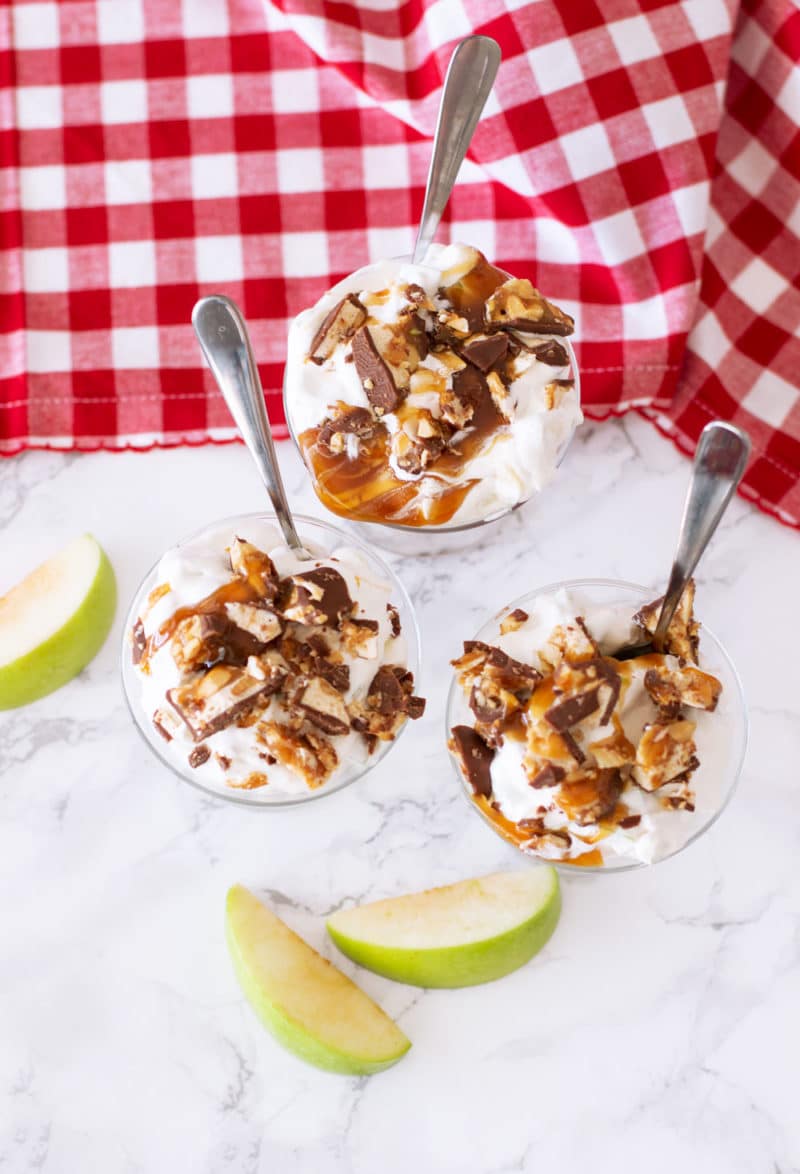 How Do I Make Apple Snickers Salad?
This is going to be one of the easiest desserts you're ever going to make. There is one preliminary step you need to take before making this salad. You need to freeze the snicker bars before you start chopping them. Once the snickers bars are frozen, chop the apples and then chop the Snickers bars into bite size pieces. I recommend leaving the peelings on the apples.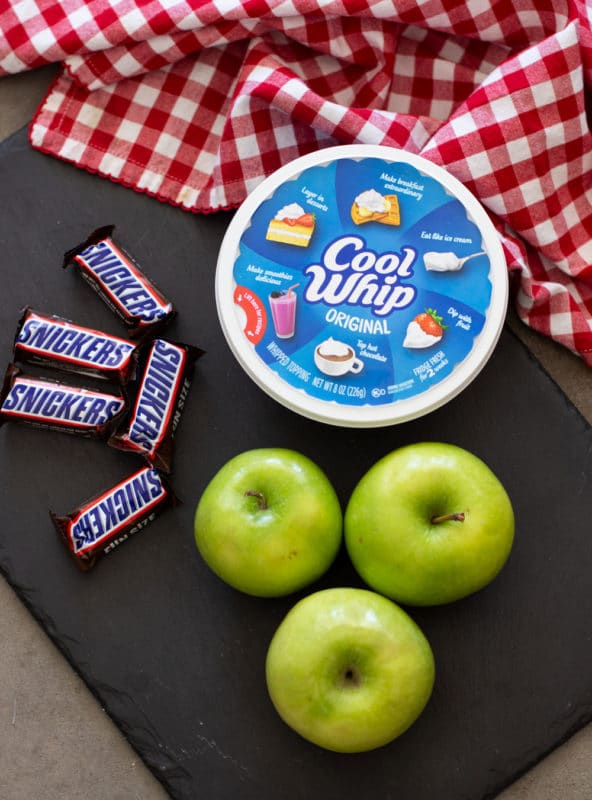 Next, add the chopped apples, Snickers pieces, and the tub of cool whip into a large bowl. Fold together with a spatula until combined.
After the salad is mixed, cover with saran wrap and chill in the refrigerator for 2-3 hours before serving.
And that's it! So simple! The hardest thing about this snicker apple salad recipe is that you have to wait for the Snickers bars to freeze.
Expert Tips
How long does Apple Snicker Salad last? This delicious dessert lasts for about 4 days in the refrigerator. You can store it in an airtight tupperware container or with saran wrap in a bowl.
Can I freeze this salad? I don't recommend freezing this salad. It's not that tasty frozen.
Can you make Apple Snickers Salad the night before? Yes! And I highly recommend you do! The colder this salad, the better!!
Toppings and other ingredients – I love to drizzle caramel over the top of my Apple Snickers Salad. You can also add sliced grapes and fresh chopped nuts.
When do I serve Apple Snickers Salad? This recipe feeds a crowd so I serve it at BBQs and family get togethers. I love serving this in the hot spring and summer months, as well as in the fall months! Caramel apple is perfect for a fall sweet treat!
More Sweet Treats
If you're looking for more cool dessert recipes, check out some of my other favorites:
Hawaiian Banana Flip Dip
Strawberry Popsicles
Raspberry Mocha Pudding Parfait
Pineapple Pistachio Marshmallow Dessert
If you loved this recipe, give this recipe a star review! Also, snap a picture of your finished dish and share it with me on Instagram using the hashtag #recipesworthrepeating and tagging me @recipesworthrepeating.
Update Notes: This post was originally published in April 2012, but was re-published with updated step-by-step instructions, pictures and tips in April of 2019.
Through this article, we hope to help you understand Can you make snicker salad the night before
Detail: 🔗