The greens in this easy arugula salad with Parmesan are lightly dressed in a beautiful lemon vinaigrette. It's the kind of salad you can serve as a side dish with pretty much anything.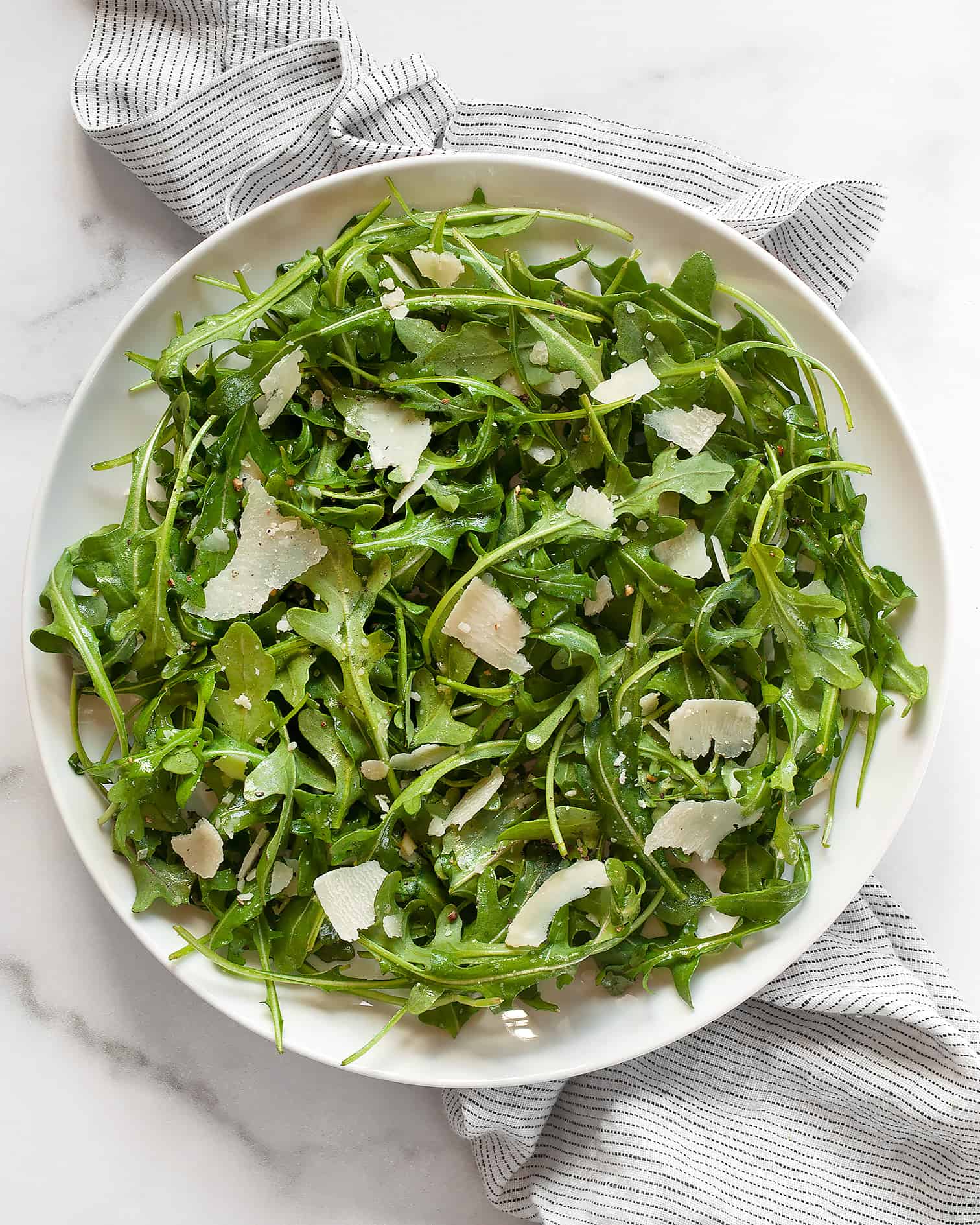 My grocery list always has a variety of greens, and they all have a different purpose. It might be for a specific main dish salad or maybe to sauté kale that I will end up stirring into pasta. But the go-to leafy green in our house for a basic (in a good way) salad is arugula.
Served with the perfect lemon vinaigrette, this simple arugula salad with Parmesan is a side dish that's infinitely versatile. And the best part is that it's just a starting point. You are more than welcome to add other elements to enhance it and transform it into something else.
The dressing is light and citrusy with a touch of sweetness to balance it out the peppery flavor of the arugula leaves. Make it a few times and commit it to memory. This is one reason why I buy at least one lemon every single time I go shopping.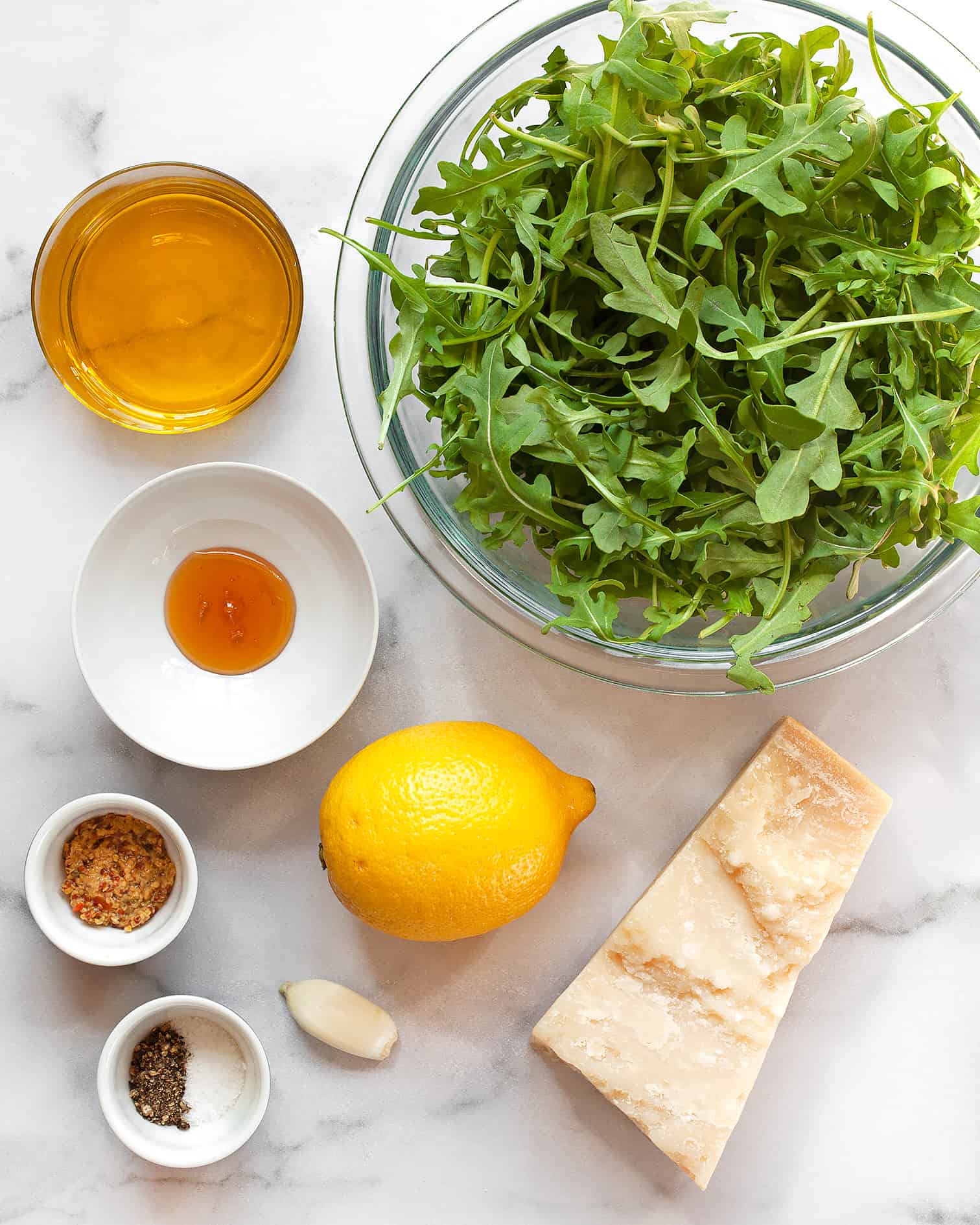 What Is Arugula?
Also known as rocket, arugula comes from the same family as cabbage and mustard greens. It's often described as peppery and spicy. What I love about it is that it packs so much personality and flavor in those lovely leaves.
Yes, arugula is great in salads, but I also like it mixed into grains and even turned into pesto. You can pair it with fruits and vegetables, either raw or roasted. You often see arugula sprinkled on top of a pizza to finish it with something fresh.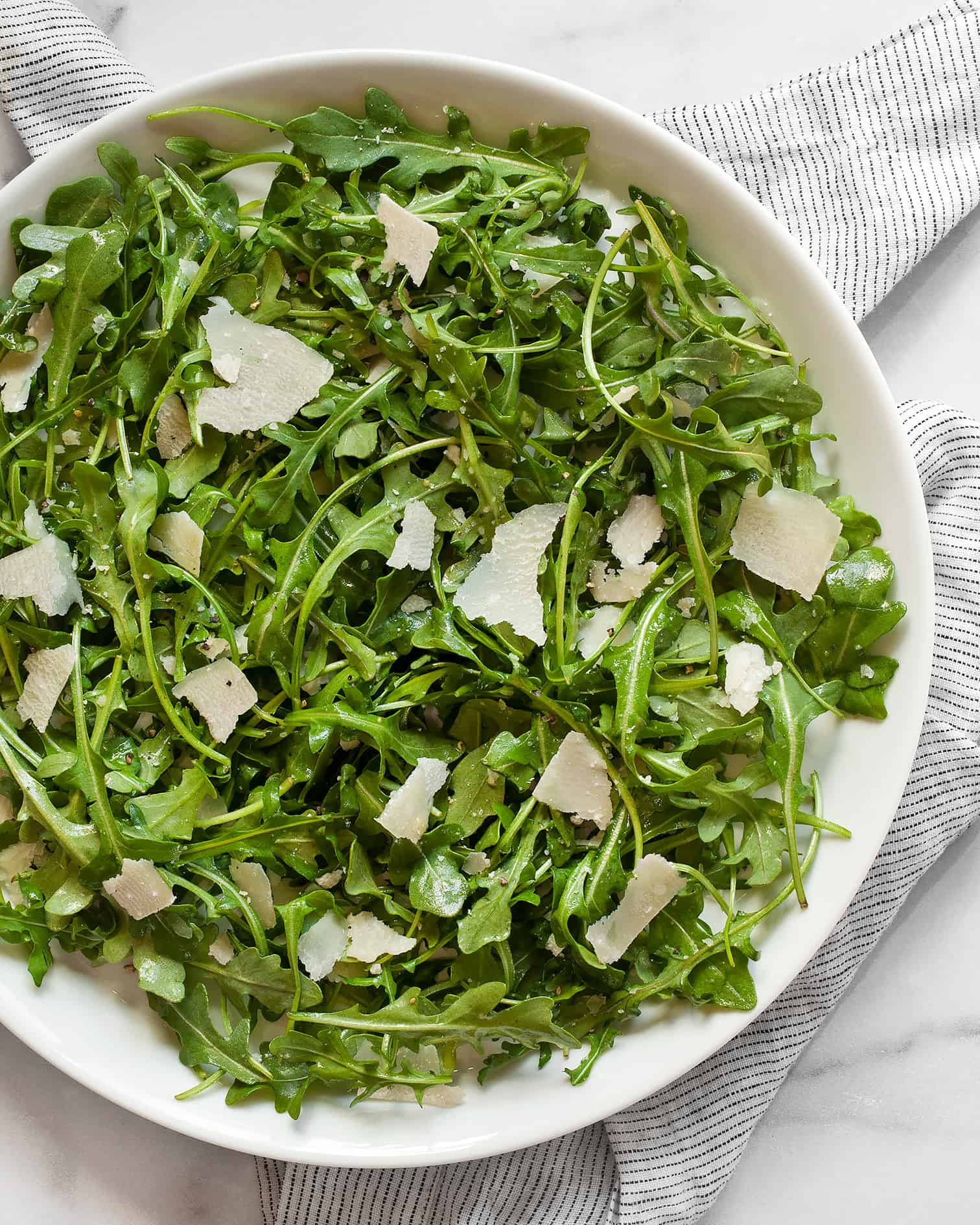 Salad Ingredients & Substitutions
This is what you need:
Arugula is not the only type of lettuce for this vinaigrette. You can also toss it with baby spinach, baby kale or a spring mix.
Parmesan is the classic cheese for this salad, but Pecorino is another hard cheese that will shave well into it. The best way to slice Parmesan into those thin shavings is to use a vegetable peeler.
Lemon: There is no substitute for this citrus. Bright and zippy lemon is what you want.
Garlic: The dressing calls for one minced garlic clove.
Honey takes a little bit of the sharpness off the vinaigrette and adds a hint of something sweet, which goes well with everything savory.
Mustard, specifically whole grain Dijon mustard is in the dressing for two reasons: 1) to add flavor, of course, and 2) to emulsify the ingredients, keeping them together.
Olive oil: With any salad dressing, I always use a good extra virgin olive oil.
Salt & pepper are musts to season the vinaigrette.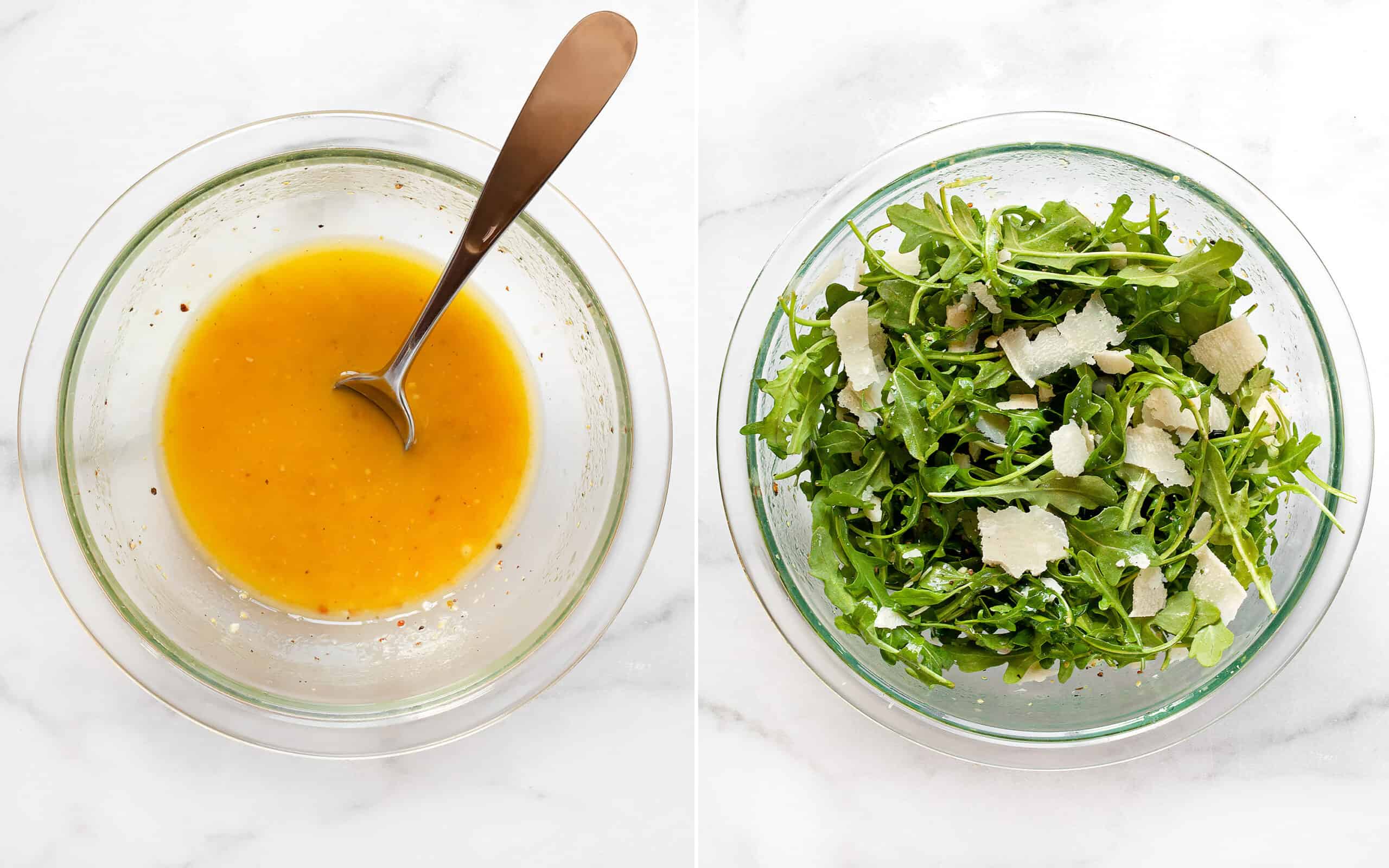 How To Make This Arugula Salad and Lemon Vinaigrette
Make the vinaigrette. In a small bowl, whisk together the dressing ingredients including fresh lemon juice, olive oil, garlic, mustard, honey, salt and pepper. You want to make sure they are well combined.
Assemble the salad. Combine the arugula and the shaved Parmesan cheese in a large salad bowl.
Drizzle in the vinaigrette, tossing to combine.
Serving
Toss the salad in the dressing right before you are planning to serve it. You can make the dressing in advance, so then all you have to do is put it together. Consider it a bonus to whip up a batch of homemade croutons.
You can add a protein like chicken to this classic arugula salad to turn it into a main dish and include other extras.
Seasonal Salad Additions
As mentioned, this arugula salad recipe is really just the beginning. Depending on the season, you can add other ingredients to it to make it more filling and more specific. Here are a few ideas:
Spring: Embrace the start of berry season with strawberries and blackberries plus fresh herbs and pine nuts. If you want, you can even swap out Parmesan and use crumbled goat cheese or feta instead.
Summer: Hello, stone fruit! I love peaches, cherries and nectarines with peppery arugula and chopped walnuts or almonds. Pit them and slice them very thinly. You can also keep it simple and only add ripe cherry tomatoes.
Fall: Crisp apples and pears are my choice for fruit. Or you can use roasted vegetables like sweet potatoes or butternut squash along with chopped pecans and sliced red onion.
Winter: Both roasted cauliflower and roasted broccoli are great in this salad. Also look to jarred ingredients like pitted Kalamata olives.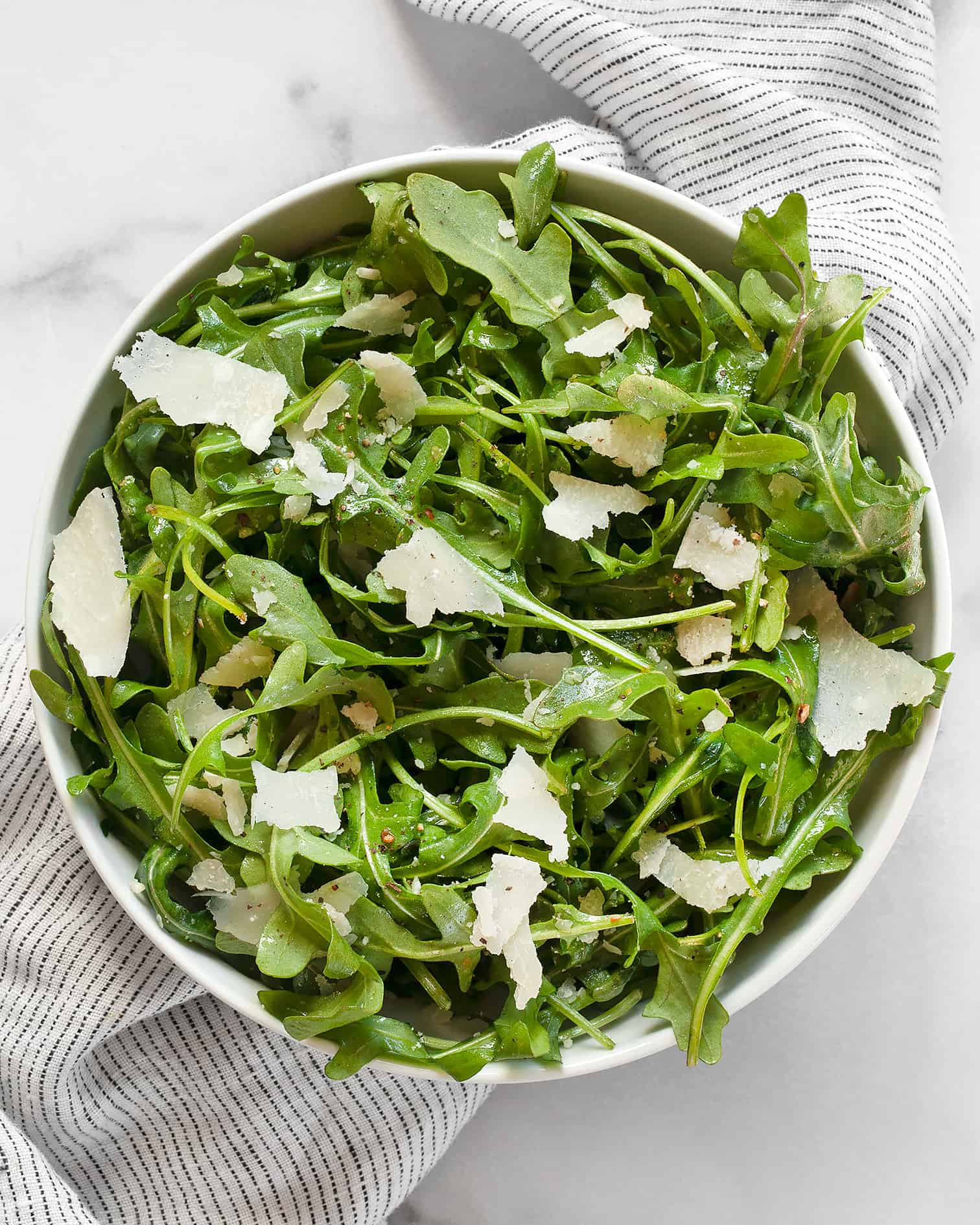 Storing & Leftovers
This recipe makes about 3 ounces of vinaigrette, which is more than what you need for 5 ounces of arugula. A more delicate green like this does better when you start with it lightly dressed and add more as needed to satisfy everyone's tastes.
The extra dressing can be stored in an airtight container in the fridge up to 4 days. It will probably become solid in the chill of the refrigerator. Let it sit out at room temperature to liquefy again or run the container under warm water over the sink and shake it around to do this faster.
Again, only toss the amount of arugula you are planning to eat at that specific meal in the dressing. You don't want to end up with soggy salad leaves.
More Easy Salad Recipes with Arugula
Roasted Golden Beet SaladPear Pomegranate Arugula SaladRoasted Tomato Chickpea Quinoa SaladStrawberry Cucumber Pasta SaladRoasted Broccoli Quinoa Salad
Print
Please see more list about Lemon dressing for arugula salad
Detail: 🔗