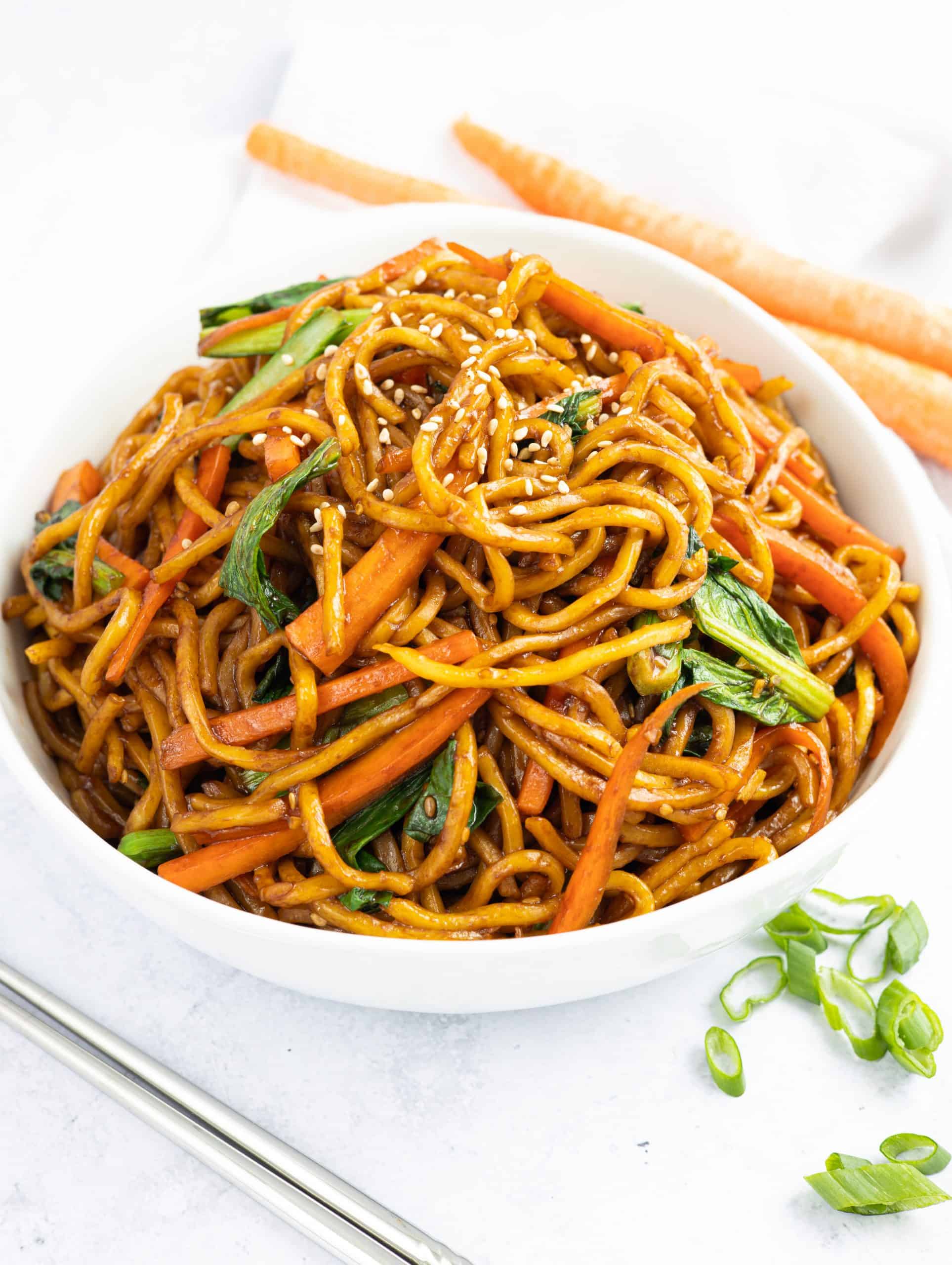 Vegan Asian Sesame Noodles. Thick chewy noodles smothered in a sesame soy sauce with yu choy, carrots, green onions and garlic. A delicious meatless side for dinner or lunch. Very easy to make and comes together in less than 30 minutes! If you're not vegan you can add a protein to this dish like chicken, beef, or pork or feel free to add tofu to make it a complete meal!
These vegan Asian noodles are so good and easy to make! They come together in a pinch and they will keep you coming back for more with at glossy sesame soy sauce that coats the noodles perfectly. This meal is also a great way to add more veggies to your diet.
Reading: asian vegetarian veggie and noodle dish
Since my husband is eating more plant focused foods, I thought I'd share these garlic sesame noodles. They are totally vegan and packed with carrots, leafy greens and alliums. A lot of people have the misconception that eating vegan or meatless foods to be incredibly tasteless or boring but it is actually quite the opposite. Vegan cuisine can be very flavourful because the reliance is not on meat to flavour food but on different ingredients like sauces, alliums, or vegetables to flavour the dish. And these vegan sesame garlic noodles are far from tasteless or boring! They are delicious and they hit the spot satisfying your hungry tastebuds.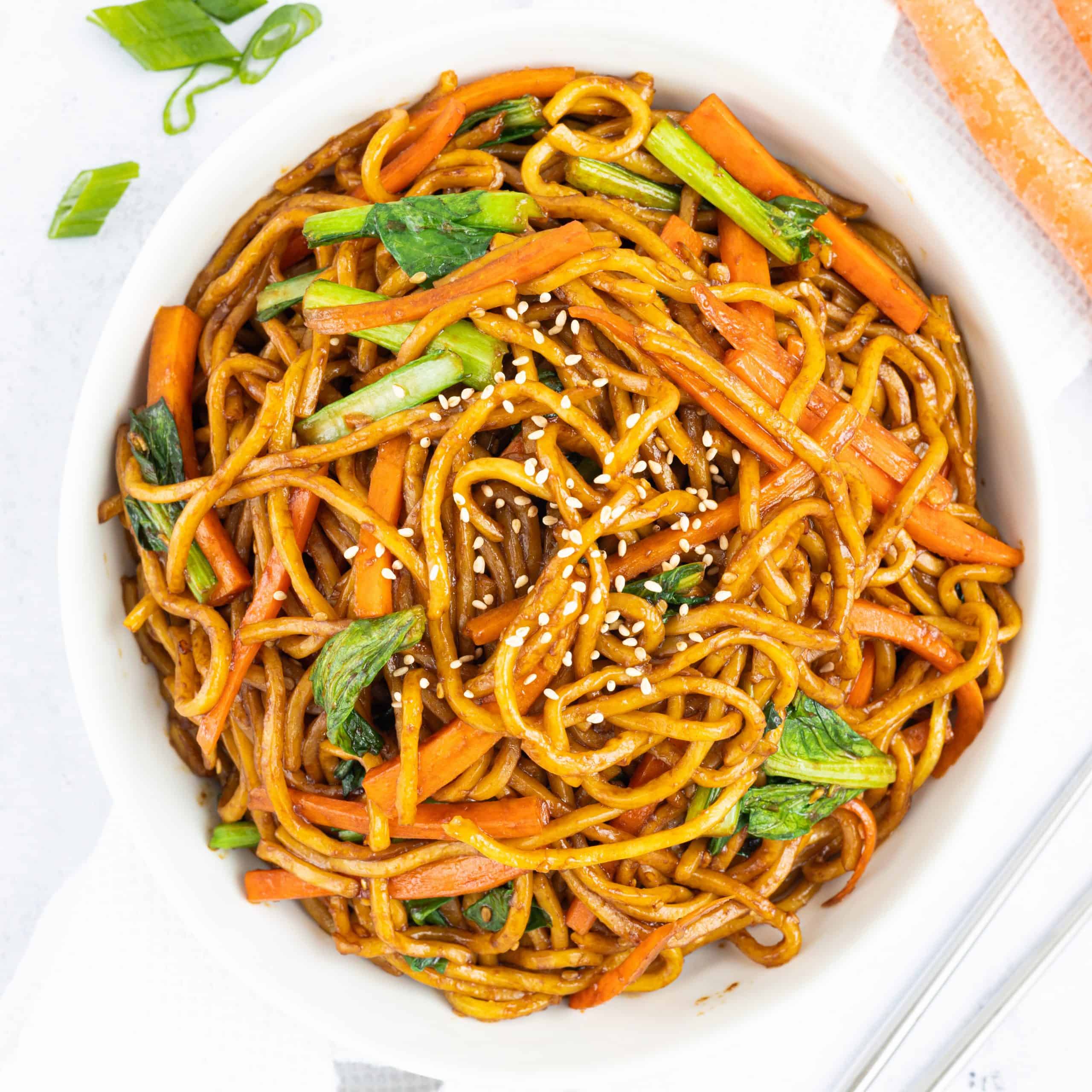 Read more: Coconut Curry Noodle Bowls
For this vegan noodles recipe, it's really all about that sauce combination and the alliums I find. Without a flavourful sauce, those noodles will just sit in your mouth. So I'm going to share this super easy vegan noodle sauce that that you can use for any noodles, not just thick ones.
What Asian noodles are vegan?
Udon noodles, thick yellow miki noodles, rice noodles and soba noodles. For this recipe, I would suggest using miki noodles that are yellow and thick or udon noodles.
Tips for making Vegan Asian Sesame Noodles
Prepare all your ingredients in advance for this sesame noodle stir fry. I know you may be tempted to multitask you go. However, I will warn that when you do this, you can forget that you noodles are still blanching while you're chopping veggies and then your noodles will go soggy. So take this tip from me and prepare each ingredient in advance.
Blanch, not boil, your noodles for your sesame noodle bowl. This is so key to having chewy bouncy noodles after cooking them twice. So you only need to blanch them JUST until loosened and no more. Because don't forget you're also cooking them again in the frying pan.
Fry your vegetables from hardest texture first to softest, except for alliums. This technique prevents your soft veggies, like leafy greens, from overcooking in the pan and your hard veggies, such as carrots, from not cooking long enough.
Use the alliums to flavour that oil! But don't burn them.
Add your noodle sauce along with your noodles at the same time. This prevents your noodles from overcooking as you mix everything together. You are essentially killing two birds with one stone as you mix the noodles, sauce and veggies altogether.
Fry noodles just until it has combined with all your ingredients and remove off heat immediately. Remember you have already cooked/blanched your noodles ahead of time.
I hope these above tips you cook this sesame noodles recipe to the best of your ability!
I also share other recipes like my vegan sesame noodles so don't forget to check them out below!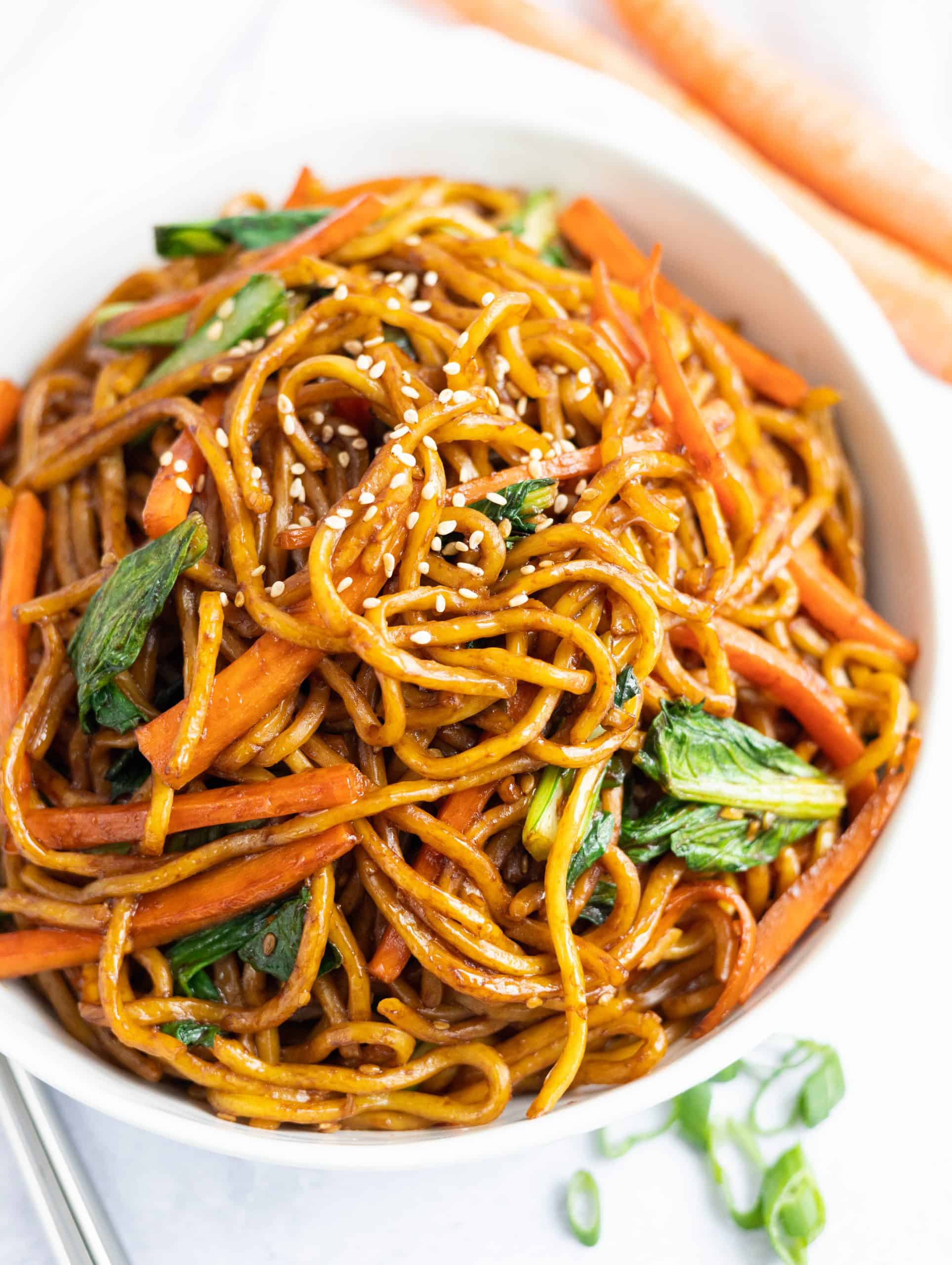 Other recipes you may like!
15 POPULAR ASIAN NOODLE RECIPESCHINESE SCALLION OIL NOODLESJAJANGMYEON BLACK BEAN NOODLESSINGAPORE CURRY VERMICELLI NOODLESSTIR FRIED VEGETABLE TOFU UDON
For this recipe
You will need the following sesame noodle ingredients:
1.5 cups carrots, sliced into matchsticks
3 cups Yu Choy or any Asian leafy green, chopped
2 stalks green onions, finely chopped
1 tbsp garlic minced
800 grams thick yellow noodles, blanched
1 tsp avocado oil
Read more: 24 Easy Vegetable Side Dishes
Noodle sauce:
2 tbsp sweet soy sauce
½ tbsp sesame oil
2 tbsp dark soy sauce
½ tbsp cornstarch
½ tbsp Shao Hsing Wine or Chinese Cooking Wine
1 tbsp sugar
½ tbsp sesame seeds, crushed in palm of hands
½ cup water or vegetable broth
How to make Vegan Sesame Asian Noodles
In a small bowl, whisk together your noodle sauce ingredients. Set aside.
In a large pan filled with hot water, bring to boiling point. Add noodles and loosen them. Once loosened (about 30 seconds), strain immediately. Do not boil them or it'll result in soggy noodles.
In the same pan (make sure it's dry of water) over medium high heat, add avocado oil, followed by minced garlic and green onions. Cook for 20-30 seconds just until fragrant.
Quickly, add carrots and cook for 2 minutes until soft.
Then toss in chopped yu choy and cook for 30 seconds until it's just wilted.
Next quickly add noodles and sauce. Mix everything until combined, a couple minutes, no more and remove off heat.
Serve immediately and enjoy!
Give it a try!
Well I hope you give my Vegan Asian Sesame Noodles a recipe a try! It always excites me when you guys make my recipes and I hope this is one you try.
Thanks for visiting my blog! If you enjoyed this vegan noodle bowl, please share it with your family and friends or on social media! Take a picture if you've made my recipe and tag me on Instagram @ChristieAtHome in your feed or stories so I can share your creation in my stories with credits to you!
Made this recipe and loved it?
If you could leave a star rating for my Vegan Chinese Sesame Noodles, I would greatly appreciate it 🙂 Thanks so much!
Take care,Christie
Read more: vegetarian dish with ricotta cheese and marinara ande vegetables
*This post for my vegan sesame noodle recipe contains affiliate links. As an Amazon Associate I earn from qualifying purchases. I also earn from qualifying purchases through additional affiliate programs
Suggested Products