Looking to add a touch of indulgence to your meal? This recipe for Stovetop Creamed Asparagus with Parmesan takes the natural crispness of asparagus and envelops it in a luscious Parmesan cream sauce, achieving the perfect balance of freshness and creaminess.
The Perfect Side Dish in Just 20 Minutes
What sets this easy asparagus recipe apart is its simplicity. With just one pan and less than ten simple ingredients, you can create a dish bursting with deep flavors. In just about 20 minutes, this creamy asparagus recipe will come together, leaving you with more time to enjoy your meal.
As an environmental scientist, I always endorse seasonal eating. It's not only a delicious way to support local farmers, but it also contributes to reducing your carbon footprint.
Green tip: Seasonal and locally-sourced foods have a smaller environmental impact as they require less transportation, resulting in reduced fuel emissions. You can check when asparagus is in season in your area by using this helpful Seasonal Food Guide.
Creamed Asparagus Ingredients
Here's a rundown of the ingredients you'll need to prepare this delightful dish:
Asparagus: A bunch of fresh or thawed frozen asparagus (approximately 1 pound).
Garlic: Adds a deep umami flavor.
Butter: You can choose to substitute with olive oil, but butter enriches the taste.
Salt & Pepper: To season the asparagus.
Cream: Alternatively, you can use half & half or milk.
Nutmeg: Infuses a warm, nutty flavor that beautifully complements the creaminess.
Grated Parmesan Cheese: Enhances thickness and imparts a savory and slightly tangy note.
Tips and Tricks for Creamed Asparagus
How to Store Your Asparagus Before Use
To keep your asparagus fresh for up to a week, follow these steps:
Place the asparagus in a glass jar with the tips facing up.
Fill the jar with approximately 2-3 inches of water, ensuring the ends are fully submerged.
Cover the jar with a reusable storage bag and store it in the refrigerator. This method works well for white and purple asparagus too.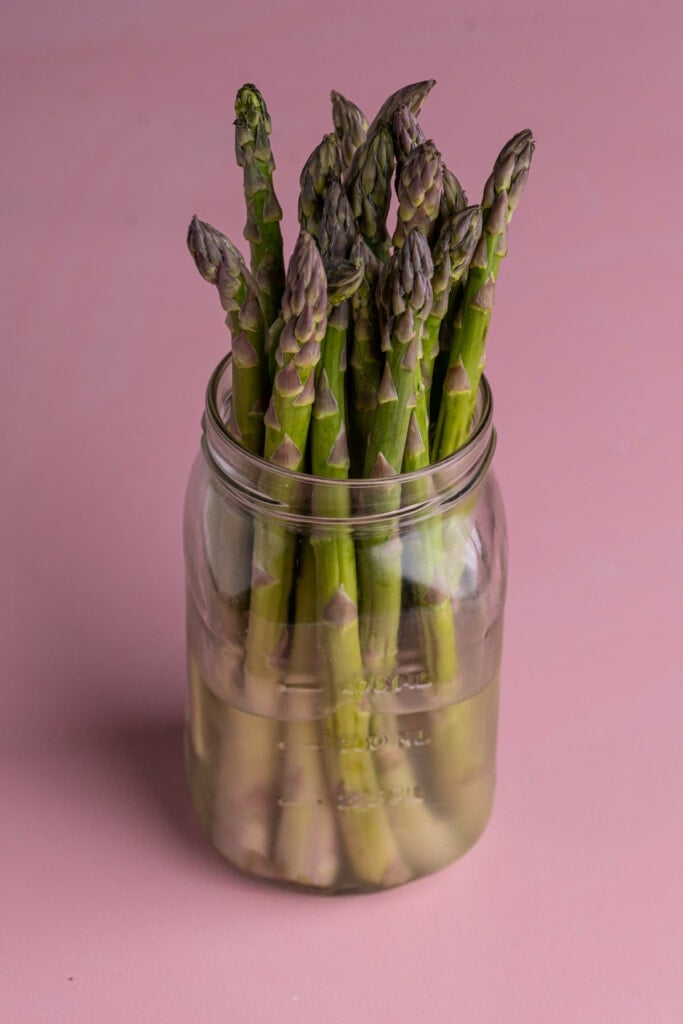 Prepping Asparagus
Before cooking the asparagus, make sure to rinse or soak it to remove any impurities. Asparagus tends to have tough, woody ends that are best removed to enhance the overall texture. However, don't toss those ends away! You can either compost them or store them in the freezer along with other vegetable scraps to make your own flavorful vegetable broth.
The easiest way to remove the tough ends is by snapping them off. Hold the asparagus with both hands and break it into two pieces. It will naturally break at the point where the toughness begins.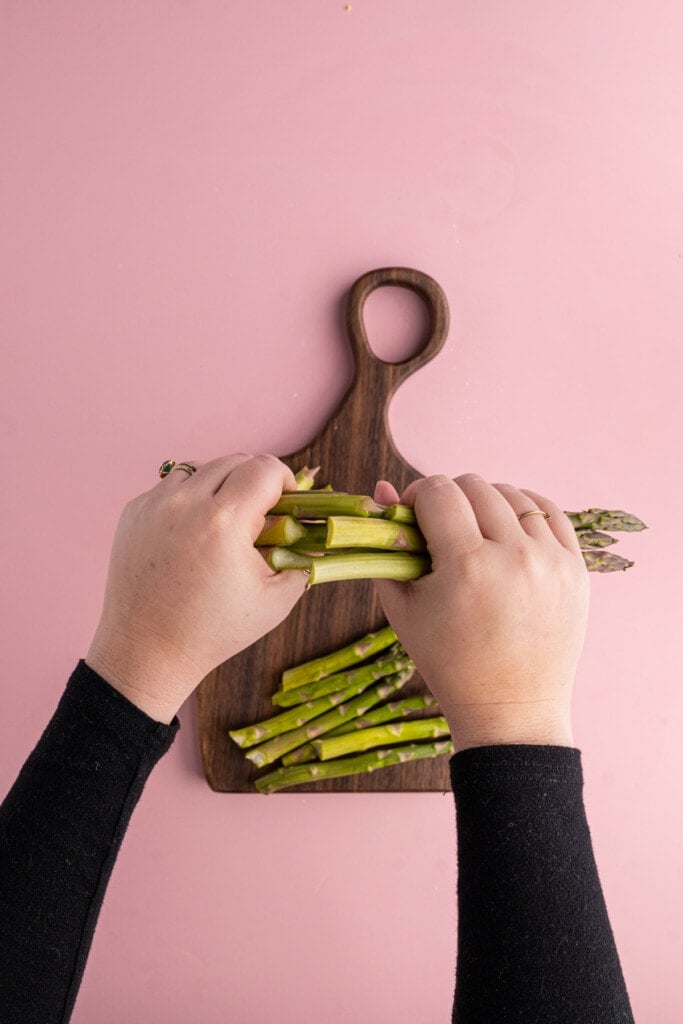 How to Peel Garlic
To easily peel the outer layer of garlic, follow these steps:
Lay the garlic flat on a cutting board.
Use the flat end of a knife to crush the garlic until you hear it crush distinctly.
This will break open the outer layer, making it easier to peel back.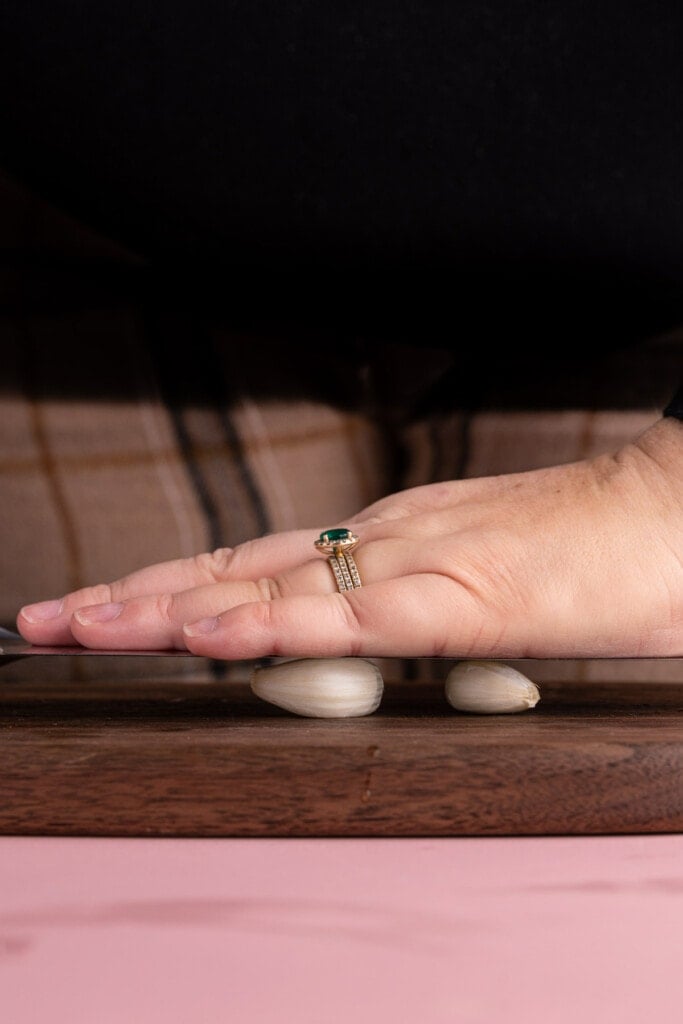 Crushing garlic with the back of the knife to release the outer skin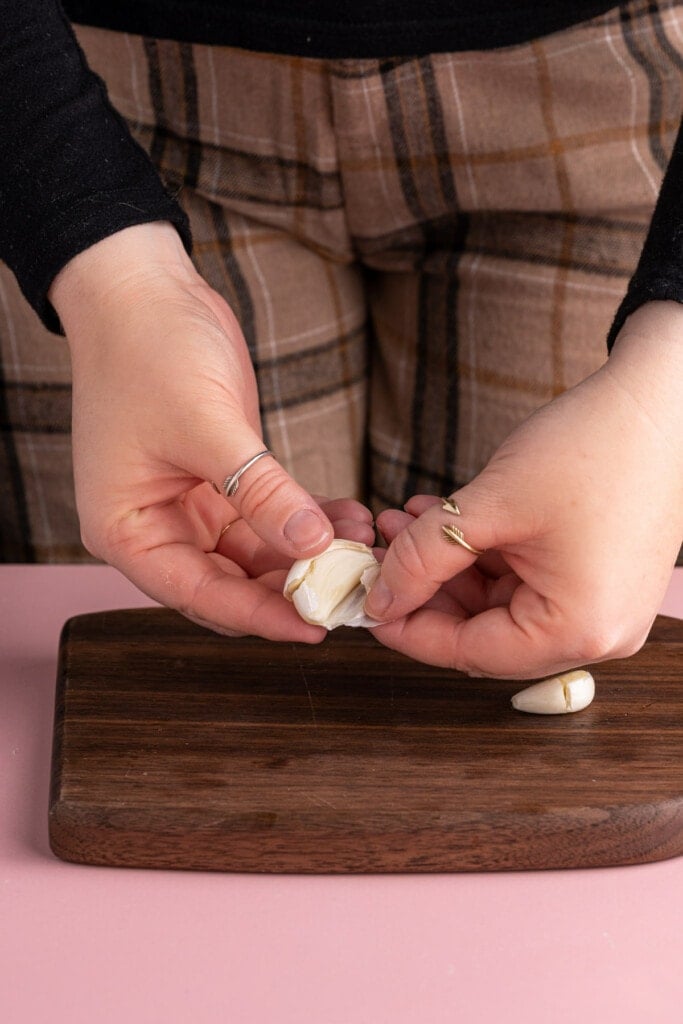 Easily peeling off garlic skin
How to Mince Garlic
Once you have peeled the garlic, you can start mincing it. Use a sharp knife to chop the garlic into smaller pieces until it reaches the desired mince.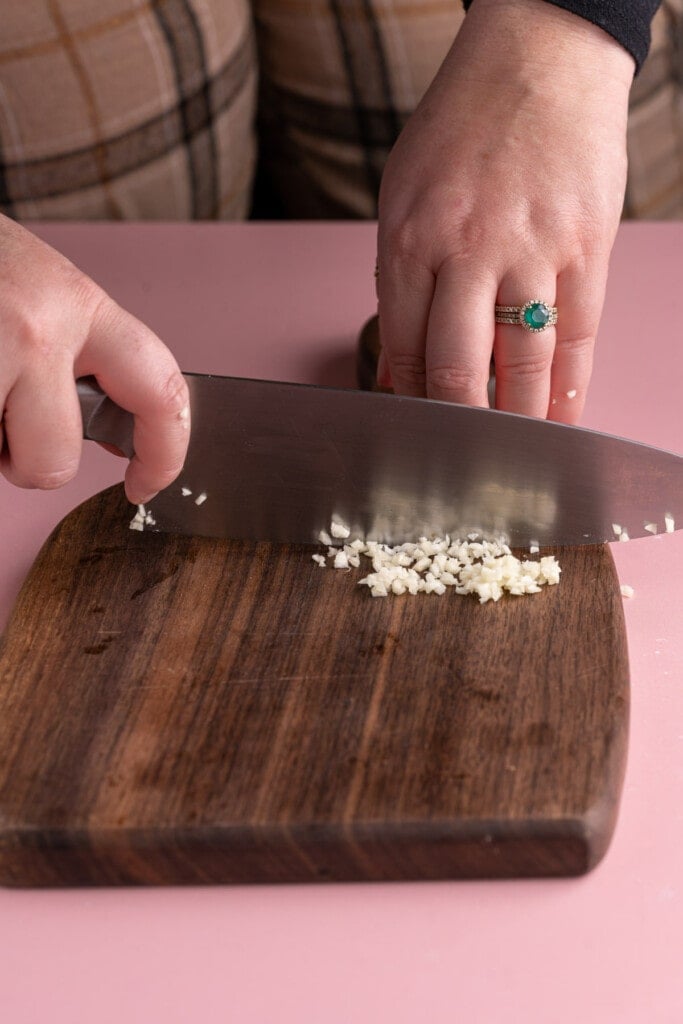 Saute the Asparagus and Garlic First
Begin by adding the asparagus, garlic, butter, salt, and pepper to a large saucepan over medium heat. Arrange the asparagus in a single layer, ensuring they don't overlap. Once the butter has melted completely, toss the asparagus to coat them in the garlicky, buttery goodness. Cook until the asparagus is tender and the garlic starts to brown, making sure to toss occasionally to prevent burning.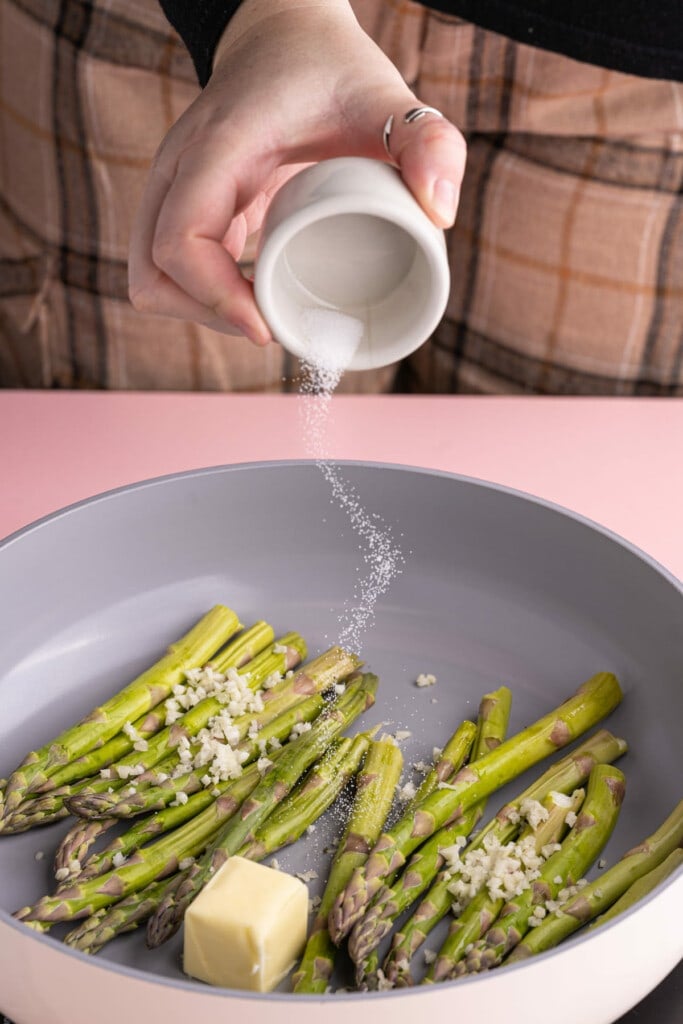 Add the Cream and Nutmeg
Next, pour in the cream and add the nutmeg. Toss the ingredients once more and continue cooking over medium heat until approximately half of the liquid has evaporated.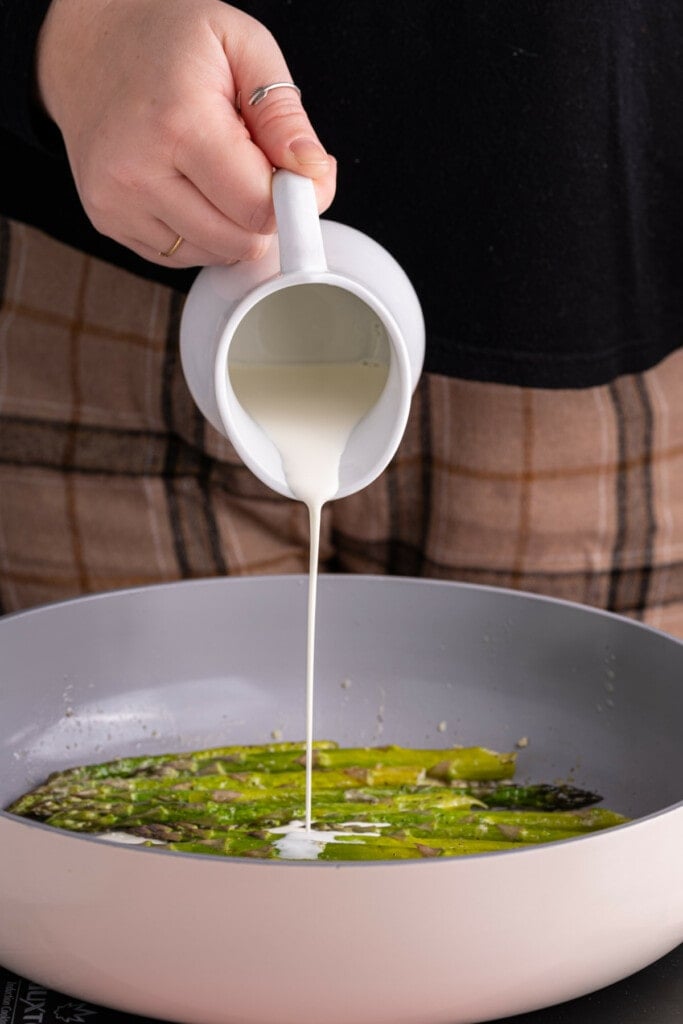 Add the Parmesan Last
Once the cream has thickened, turn off the heat but leave the pan on the burner. Stir in the grated Parmesan cheese until it thickens the sauce and coats the asparagus.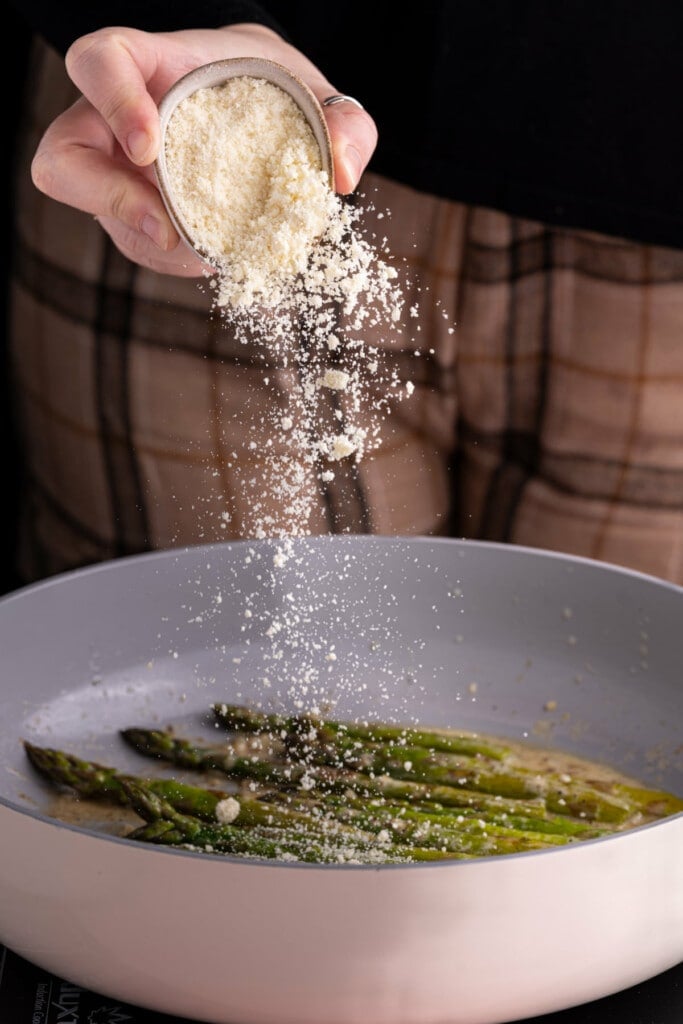 How to Store Leftover Creamed Asparagus
You can store any leftovers in an airtight container in the refrigerator for up to 3 days. To reheat, either use the stovetop or the oven. For stovetop reheating, add the leftovers back to the pan, cover it, and heat over medium heat for approximately 8-10 minutes, tossing occasionally until heated through. If using the oven, preheat it to 350°F, place the asparagus in a covered baking dish, and bake for 15-20 minutes until hot.
I don't recommend freezing the leftovers as the sauce may separate.
Green tip: Did you know that approximately half of the billions of pounds of food wasted annually occur in our homes? Reduce your contribution to food waste by properly storing, reheating, and enjoying leftovers.
Serving Your Creamed Asparagus
While this Creamed Asparagus is incredibly flavorful on its own, it pairs well with almost any main course. Serve it alongside Crispy Blackened Mahi-Mahi or Almond Crusted Salmon for a delectable combination. For a decadent vegetarian meal, try serving the asparagus over Creamy Boursin Mashed Potatoes.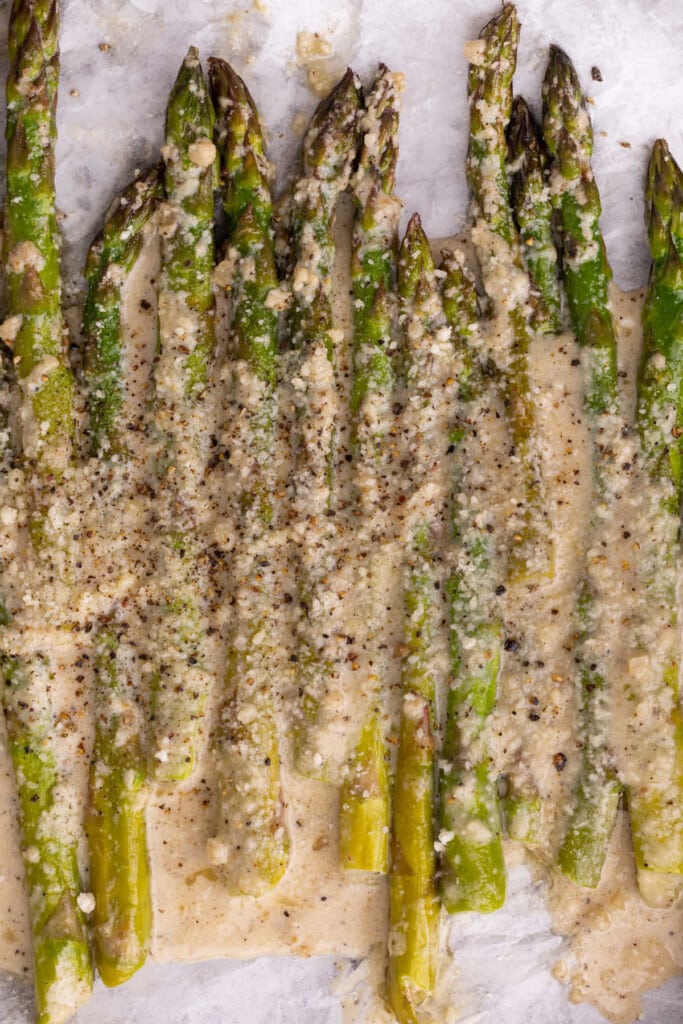 Frequently Asked Questions about Stovetop Creamed Asparagus
Why do you soak asparagus in water?
The nooks and crannies in asparagus tips can be difficult to clean with a simple rinse. Soaking the asparagus is the most effective way to ensure thorough cleaning.
Why You Should Make Stovetop Creamed Asparagus with Parmesan
Here are a few compelling reasons to give this recipe a try:
It's decadent: Indulge in the creamy and luscious flavors of this dish.
It's fresh: The natural taste of the asparagus remains vibrant and pairs perfectly with the creamy sauce.
It's quick: With just one pan and around 20 minutes, you can create a delightful side dish.
If you're a fan of this Creamed Asparagus, be sure to check out these other decadent side dishes: Creamy Boursin Mashed Potatoes and Pesto Butter Garlic Bread.
Remember, Family Cuisine is here to bring you delicious recipes like this one. Try it out and let us know what you think!