Immune-boosting Avocado Oil Salad Dressing (also referred to as Turmeric Salad Dressing) is a healthy salad dressing made with avocado oil, lemon, garlic, turmeric, Dijon mustard and honey. Not only is this avocado oil dressing delicious, it's rich with antioxidants and anti-inflammatory benefits.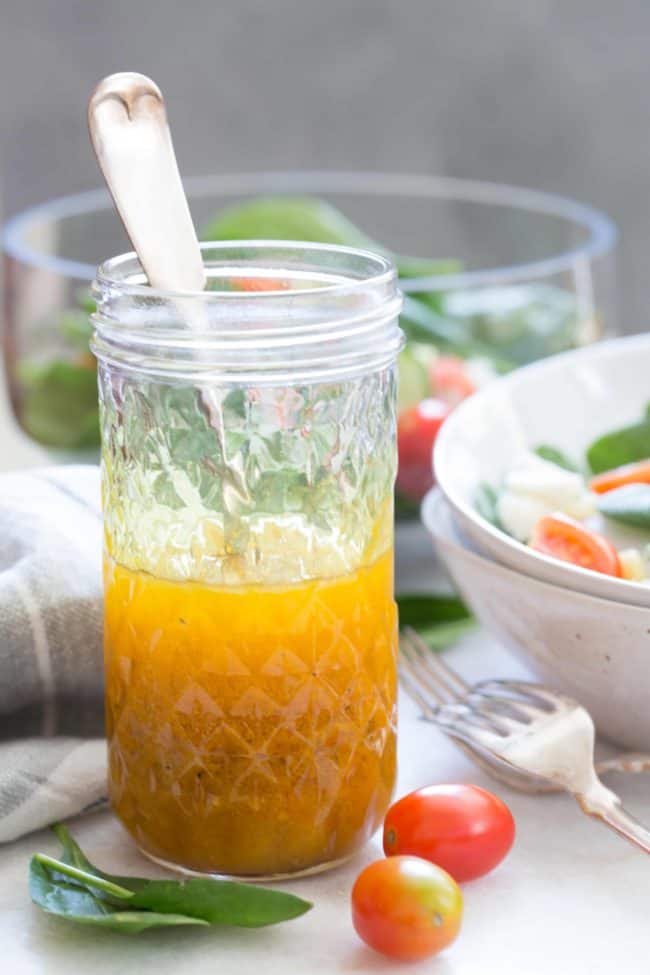 This healthy salad dressing is quick and easy to make and it goes well with a bowl of simple fresh crisp greens and on main salads loaded to the brim with fresh colorful organic produce..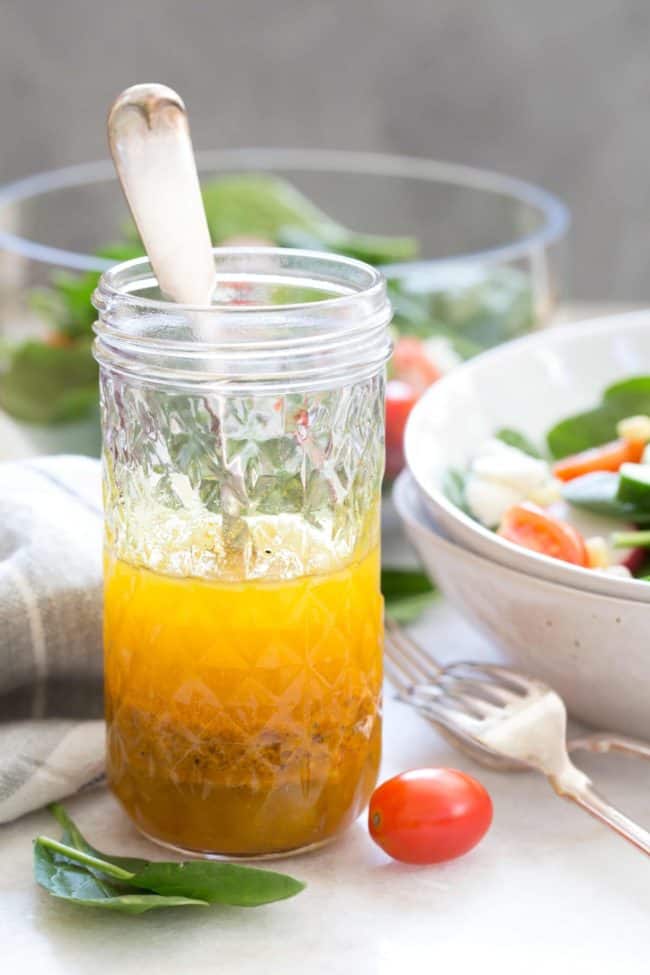 Avocado Oil vs Olive Oil
When comparing the flavor of avocado oil and olive oil (avocado oil vs olive oil) – avocado oil tends to be more mild and neutral tasting, making it more versatile oil to use for salad dressings and baking, whereas olive oil, with its mild peppery and fruity flavor, is best used for cooking savory dishes and bolder tasting salad dressings. The peppery flavor found in a good quality extra-virgin olive oil comes from a polyphenol antioxidant called oleocanthal.
Avocado Oil Benefits
When comparing health benefits of avocado oil and olive oil – when comparing avocado oil vs olive oil – they are both rich with antioxidants and monounsaturated fats (the good kind). Diets like the Mediterranean diet which is rich with monounsaturated fats are associated with a lower risk of heart disease, lower levels of cholesterol and blood pressure. Both oils are also rich with vitamin E, which supports eye health. The monounsaturated fats found in avocado oil and olive oil may potentially help our bodies to better absorb nutrients, especially carotenoids (an antioxidant found in colorful fruits and vegetables). One study suggest that eating salads dressed with avocado oil increased absorption of the nutrients from the vegetables. (1)
So if you're wondering… is avocado oil is good for you, the short answer to that is "yes".
Avocado Oil for Cooking
Avocado oil has a high smoke point (it doesn't burn quickly) compared to olive oil, so it's a perfect oil to use when you saute, grill or bake foods.
How to Make Homemade Salad Dressing
This turmeric salad dressing is a new favorite of mine. I love the added turmeric in this recipe for the extra nutritional, antioxidant and anti-inflammatory benefits. Sometimes I get a little more generous with the turmeric when making this dressing.
4 cloves garlic
1/4 cup avocado oil
3-4 tablespoons lemon juice
2 teaspoons honey
2 teaspoons ground turmeric
1/2 teaspoon Dijon mustard
Add the ingredients to a mason jar, seal the lid tightly and vigorously shake to blend well. You can also add the ingredients to a bowl and whisk to blend, or add the ingredients to a blender and give it a good pulse a few times to blend.
Variations
Add in fresh herbs like chopped parsley, cilantro or basil
Sprinkle in dried herbs like oregano and Italian herbs
Add a 1/2 teaspoon of powdered curry or cumin
Use orange juice instead of lemon juice
Add grated lemon zest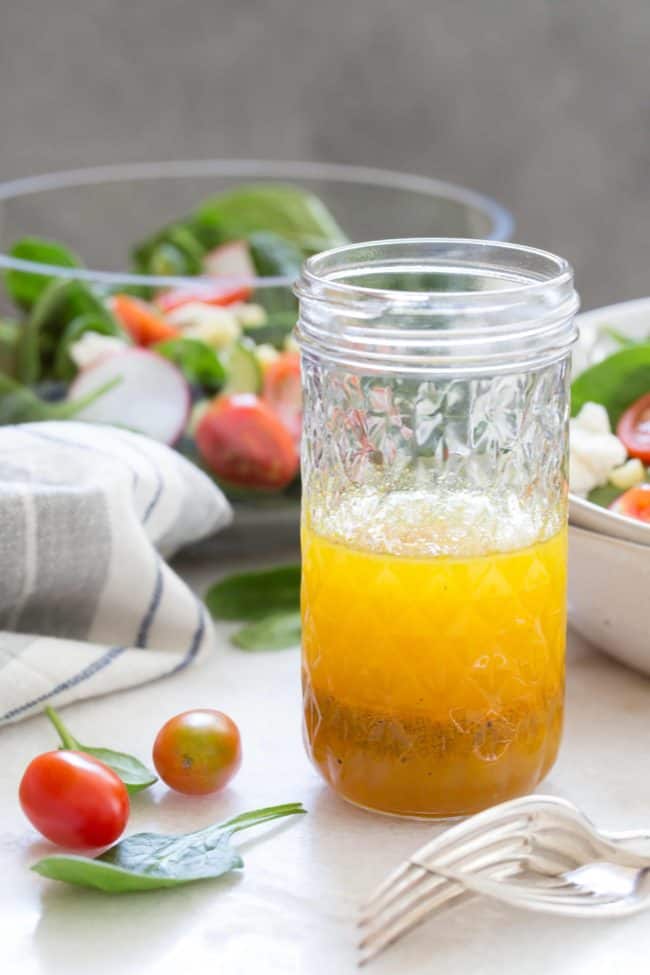 Benefits of Turmeric
Turmeric is the spice that gives curry its yellow color (that's why this olive oil salad dressing has a vibrant yellow color).
Powerful anti-inflammatory benefits (2) (3)
Rich with antioxidants that neutralizes free radicals
It increases activity of our body's antioxidant enzymes
Increases level of a brain hormone known as BDNF, which may increase the production of new neurons and combats degenerative disease in the brain
Powerful anti-inflammatory that is more effective to some with rheumatoid arthritis than anti-inflammatory drugs
May help combat depression
How to Incorporate More Avocado Oil into Your Diet
Here are a few ways to add more avocado oil to your diet:
Use it when making vinaigrettes/salad dressings (like this avocado salad dressing)
Add it to batter when baking (instead of canola or vegetable oil)
Toss vegetables with it before roasting
Use it to make pesto
Saute vegetables with it for when making soups and stews
Healthy Salad Dressing Recipes
Greek Salad Dressing
Lime Vinaigrette
Cleansing Lemon Herb Vinaigrette
Cilantro Lime Vinaigrette
Lemon Mustard Vinaigrette
Avocado Salad Dressing
Lemon Basil Vinaigrette
Italian Salad Dressing
For more information please see the list of Anti inflammatory salad dressing recipes
Detail: 🔗