Baked Boneless Chicken Thighs are the perfect go-to recipe for any night of the week. With this easy method, your chicken thighs bake up tender and juicy every time with hardly any prep.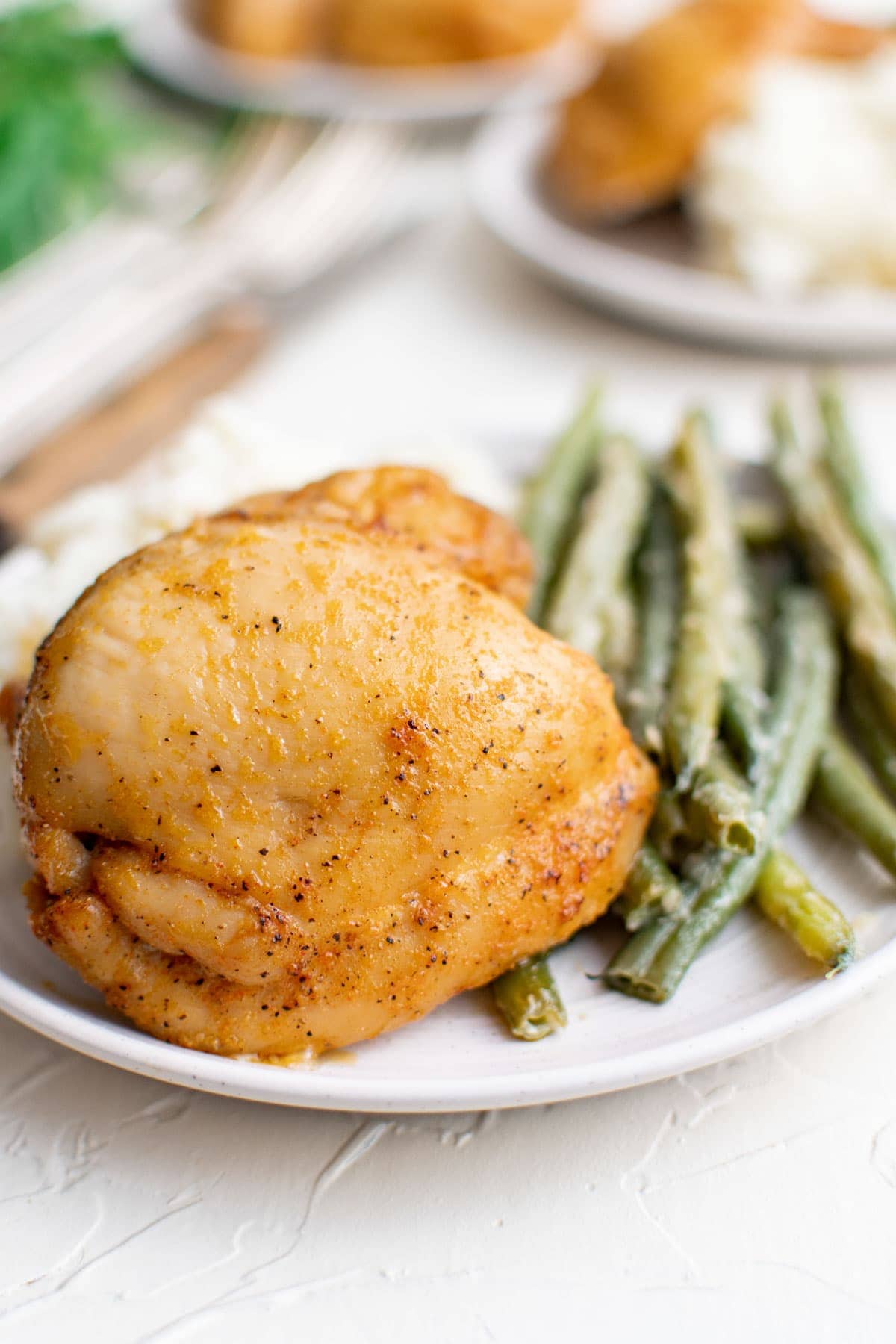 Chicken is on my menu weekly, and these boneless baked chicken thighs are served at least twice a month. They are flavorful, juicy, and healthy and my family loves them. Other chicken recipes in my rotation include Slow Cooker Crack Chicken Sandwiches, Sheet Pan Chicken Fajitas, and Chicken with Mustard Sauce.
The Best Baked Chicken Thighs
I used to be a white meat girl. Wouldn't touch a thigh or a drumstick with a 10-foot pole; they were always so greasy. I finally realized that when properly seasoned and properly cooked, oven baked boneless chicken thighs are tender, juicy, and not at all greasy.
After that, all bets were off and it was dark meat for days! I use my all-purpose seasoning blend (recipe below) and it adds a ton of flavor without overpowering the flavor of the meat. A little bit of olive oil keeps the chicken from drying out and helps the seasoning adhere to the meat.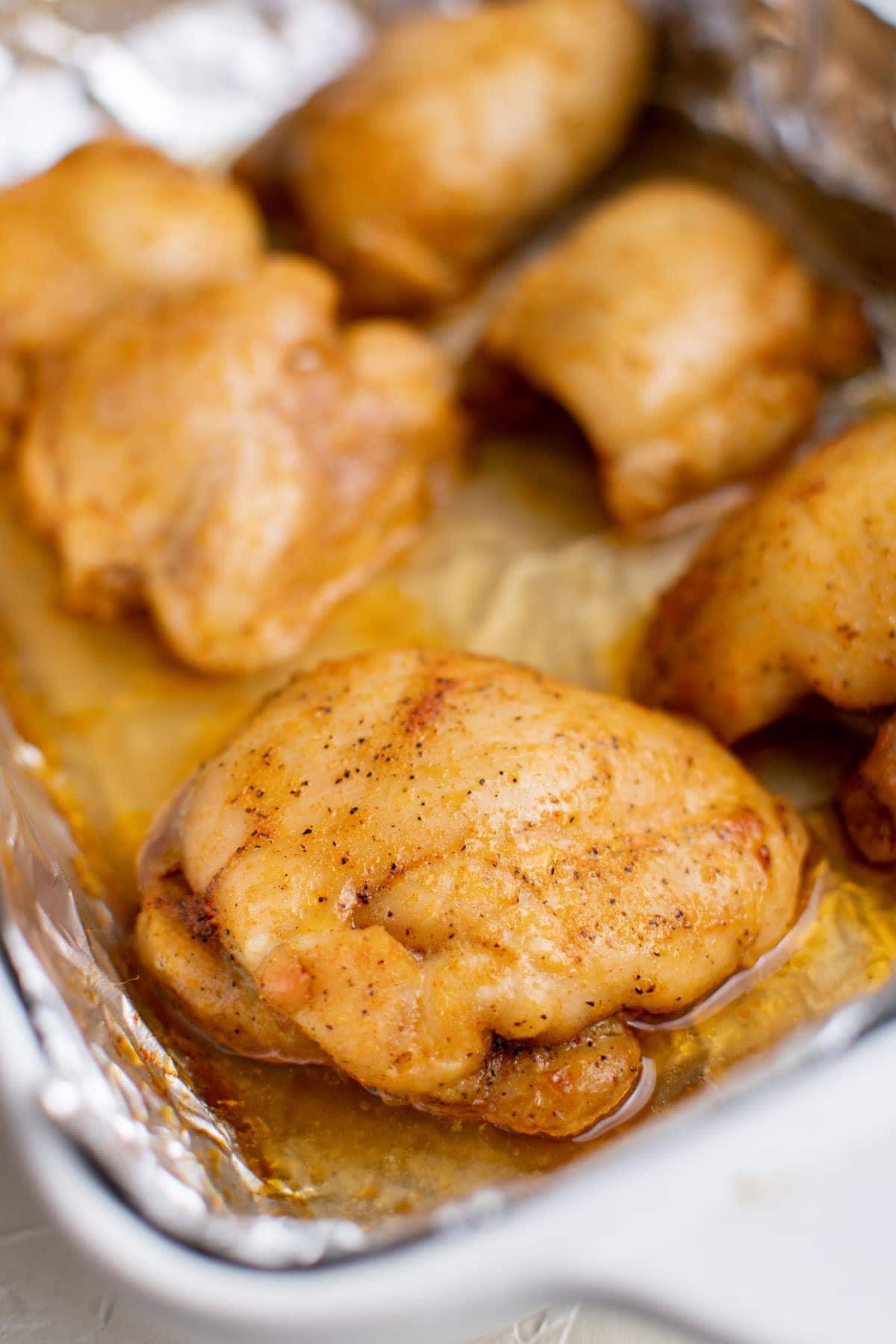 I prefer roasting chicken thighs in the oven, but you can cook them on the stovetop if you want. It takes about 7-9 minutes per side, but it's a lot messier with more grease splatter than baking.
How to Bake Boneless Chicken Thighs
All-Purpose Seasoning: The seasoning I used for this easy recipe is the same I use for my Oven Baked Chicken Breasts, Chicken Wings, and even Pork Chops. It's a super simple all-purpose seasoning blend that I make in bulk and keep on hand. It's just equal amounts of garlic powder, onion powder, chili powder or smoked paprika, salt, and pepper.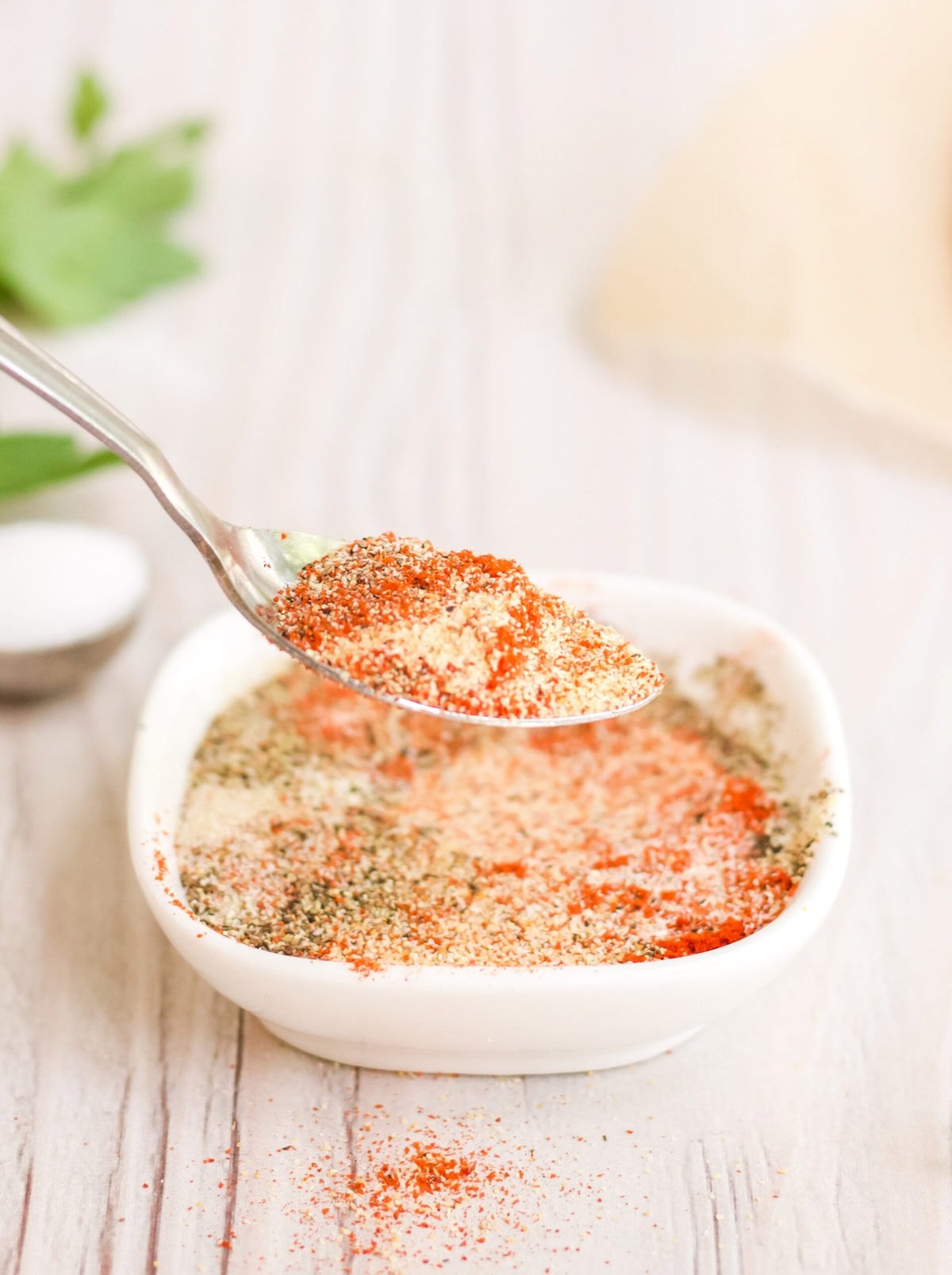 Chicken Thighs: We are using skinless, boneless chicken thighs for this recipe. Depending on how you buy them, they might all be the same size or you might have a few small pieces mixed in. It's ok – they will still cook just fine. Pat them dry with a paper towel – do not rinse – and place them in a bowl. To season, drizzle with olive oil and toss, then sprinkle the chicken thighs with salt and the all-purpose seasoning and rub it in a little.
Bake: Preheat your oven to 425 degrees F and line a large, rimmed baking sheet or a 13×9-inch baking dish with foil. Arrange the seasoned chicken thighs on the pan and bake in the preheat oven for about 25-30 minutes.
What Temperature do Chicken Thighs need to be cooked to?
Chicken thighs should reach an internal temperature of 165 degrees F. All chicken is safe to eat at this temperature. You can usually remove chicken from the oven at 160 degrees and it will rise in temperature as it rests.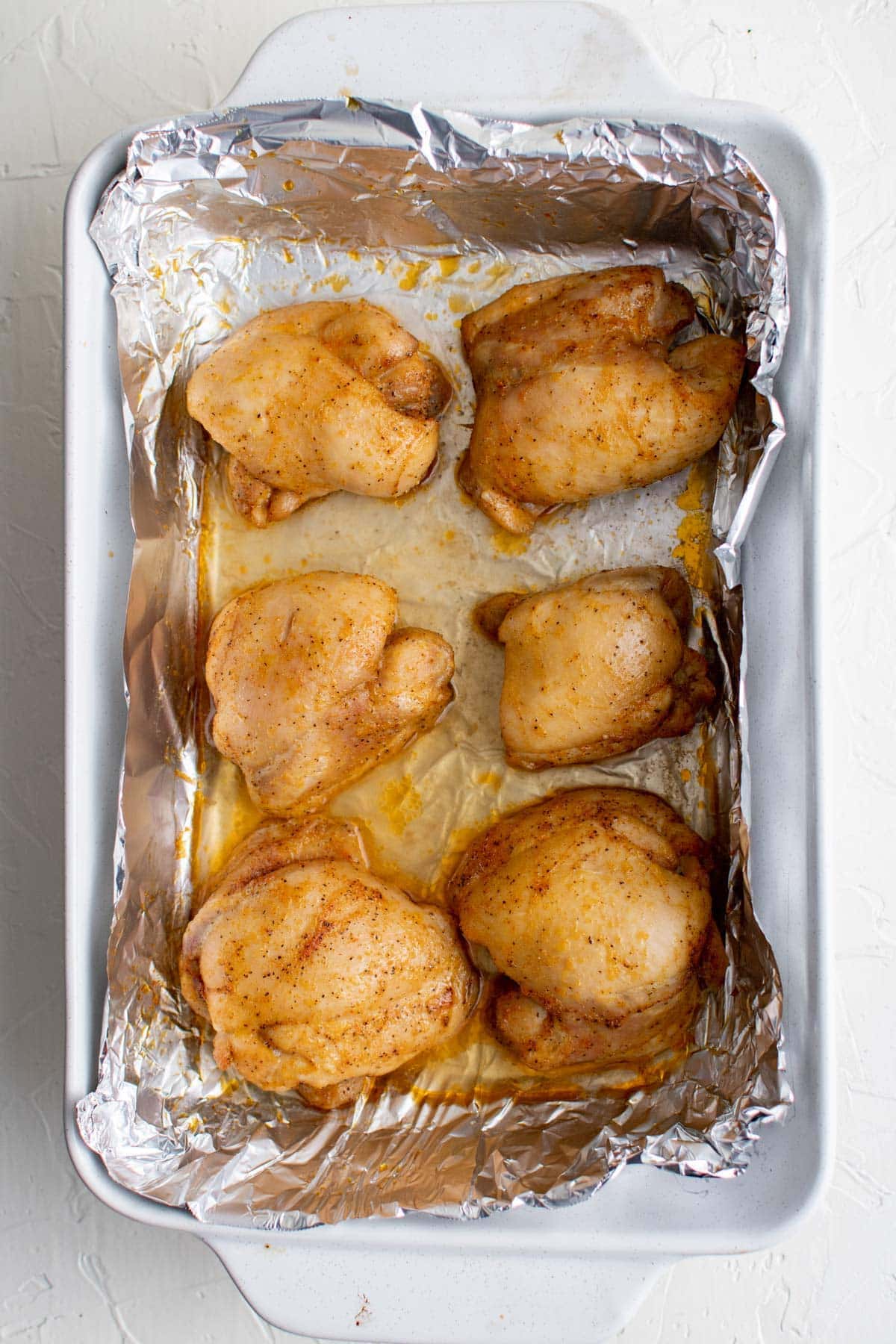 High heat equals browned and juicy chicken thighs
I always recommend high heat for chicken, whether you're cooking it in the slow cooker or in the oven. If your oven temperature is too low, like in the 350-400 degree F range, your chicken is going to overcook and dry out before it is brown. At 425 degrees F, the boneless chicken thighs are browned, tender and juicy in less than 30 minutes.
Recipe Notes and Tips
I do a drizzle of olive oil, but that's really optional. It does help the chicken be extra juicy, and just keeps the exterior from drying out since there isn't any skin. You don't have to use it.
Towards the end of the cooking time, you might hear a lot of sizzling. This is normal but freaked me out the first time. Using a deeper pan helps with this, or omitting the olive oil.
Feel free to use any type of dry rub you like. I like to switch it up sometimes and use a lemon pepper or taco seasoning.
My family really loves boneless chicken thighs, but you could use bone-in as well, just cook for an extra 20 minutes.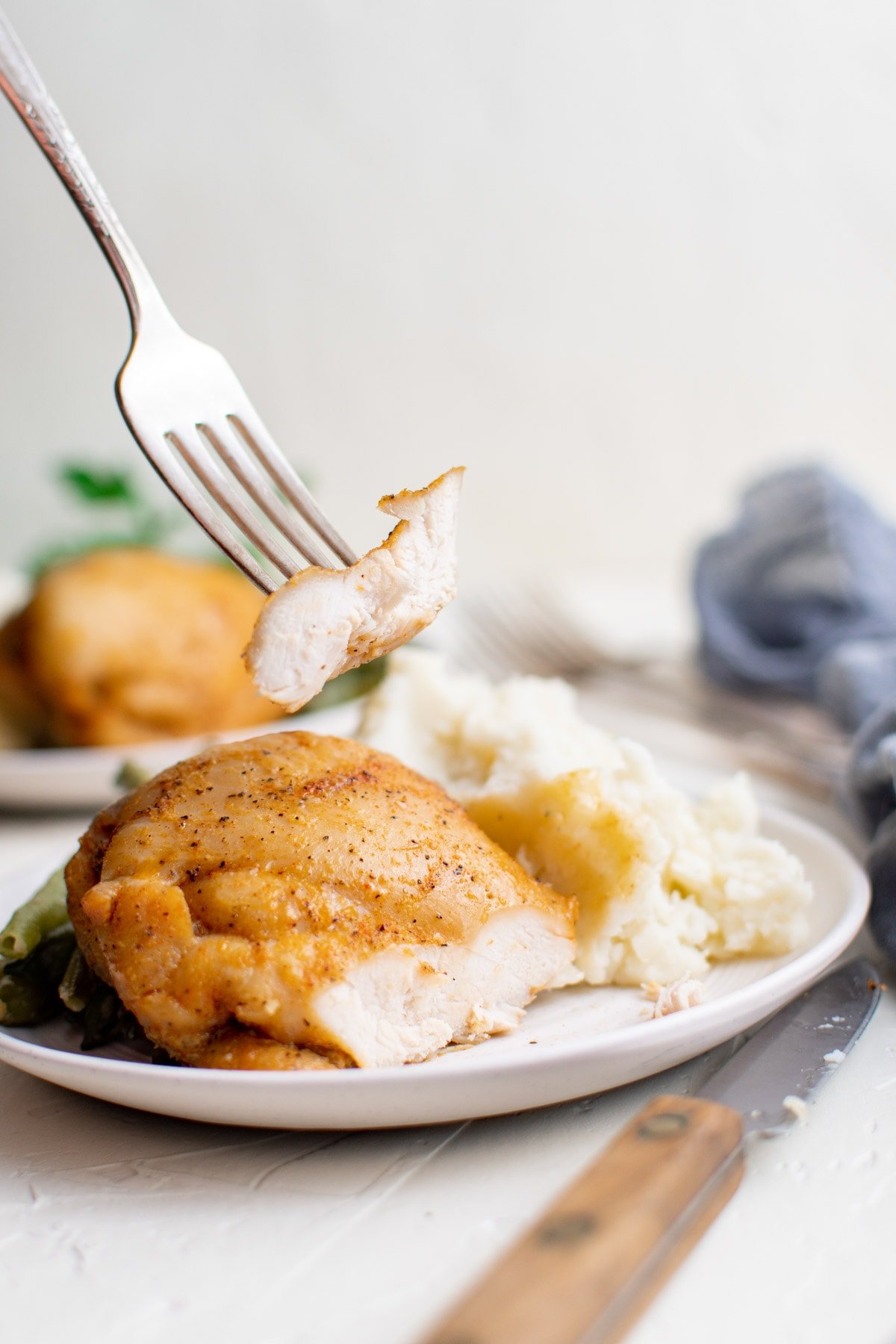 My go-to sides for Baked Boneless Chicken Thighs are steamed rice or Roasted Red Potatoes. The potatoes roast at the same temperature for about 10 minutes longer than the chicken, so I just put them in first on the top rack, then slide the chicken in on the bottom rack. The potatoes need to be flipped about halfway through, so at that point, I rotate the pans (not a necessity, but that's what I do).
I love my air fryer because I can make Air Fryer Broccoli or Air Fryer Tater Tots while the chicken is roasting in the oven.
Other side dishes I often serve with this recipe include Cheesy Mashed Potatoes, Sauteed Mushrooms, Wedge Salad with Thousand Island Dressing, and Garlic Green Beans.
Storage and Reheating
Refrigerator: Store leftovers once cooled in an airtight container in the fridge for up to 4 days.
Freezer: Cool completely and place in freezer bags. Freeze for up to 6 months.
Reheating: Boneless chicken thighs are delicious straight from the fridge in salads, sandwiches, and wraps. Or you can reheat in the microwave and serve as desired. If frozen, thaw completely in the refrigerator before reheating.
More of our favorite Chicken recipes
One Pot Bacon Chicken Ranch Pasta
Sheet Pan Chicken and Potatoes
Chicken and Rice Bake
Honey Lemon Roast Chicken
Through this article, we hope to help you understand How to roast boneless skinless chicken thighs
Detail: 🔗