Baked Chicken Leg Quarters are simple to prepare and clean up. Win-win! Outrageously delicious and economical together make the perfect weeknight meal for the rotation. When you don't even have time to think, this recipe is a life-saver.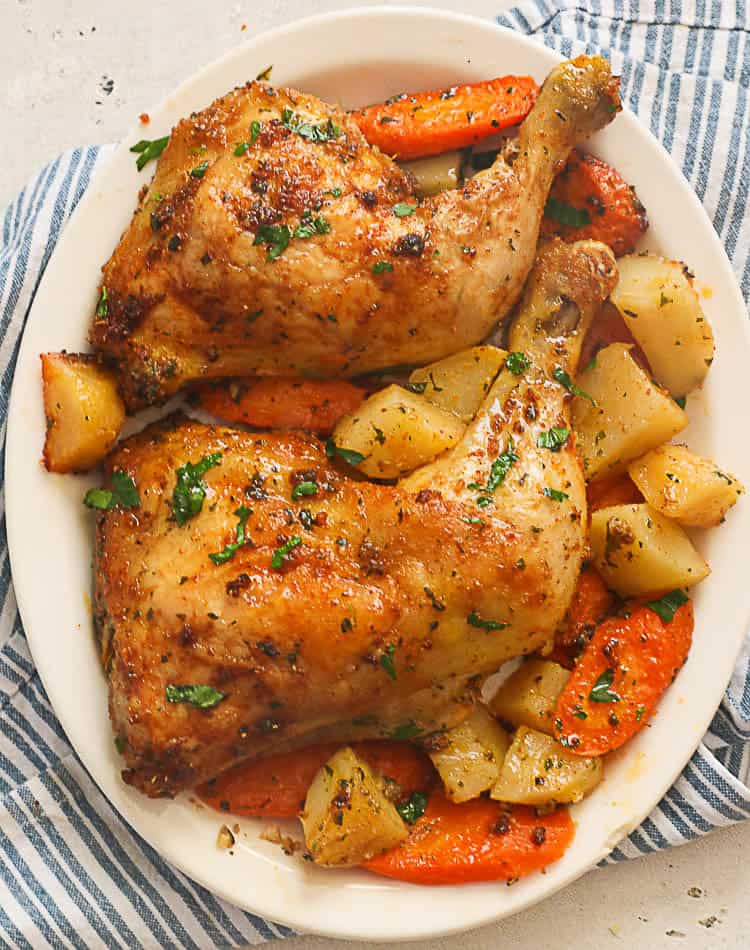 A few ingredients and a few minutes will have this fantastic recipe in the oven for a mouthwatering dinner that will please the family.
And you don't have to stress if someone is on a special diet because this Baked Chicken Leg Quarters is compliant with about every healthy diet out there (Paleo and Whole30 included) except vegetarian.
What makes this even easier is to make up a batch of the spice mix ahead of time for your own bake and shake. Add melted butter or oil, and you're good to go. With some potatoes and carrots in the bottom of the pan, you have the perfect one-pot meal.
I prefer dark meat over white, not that I don't have my favorite chicken breast recipes. But when I want juicy and flavorful, I go for the legs and thighs, baby. For a switch out, I love these Smoked Chicken Legs recipe that, of course, can use leg quarters, too.
And they're much more forgiving than the breast. If you accidentally overcook the breast, you have a tough, dry piece of meat. However, if you overcook legs and thighs, they just get better.
The internal temperature on the thighs should be around 180-190℉/82-88℃. Everyone has their own preferences.
You can bake these delicacies low and slow or hot and fast.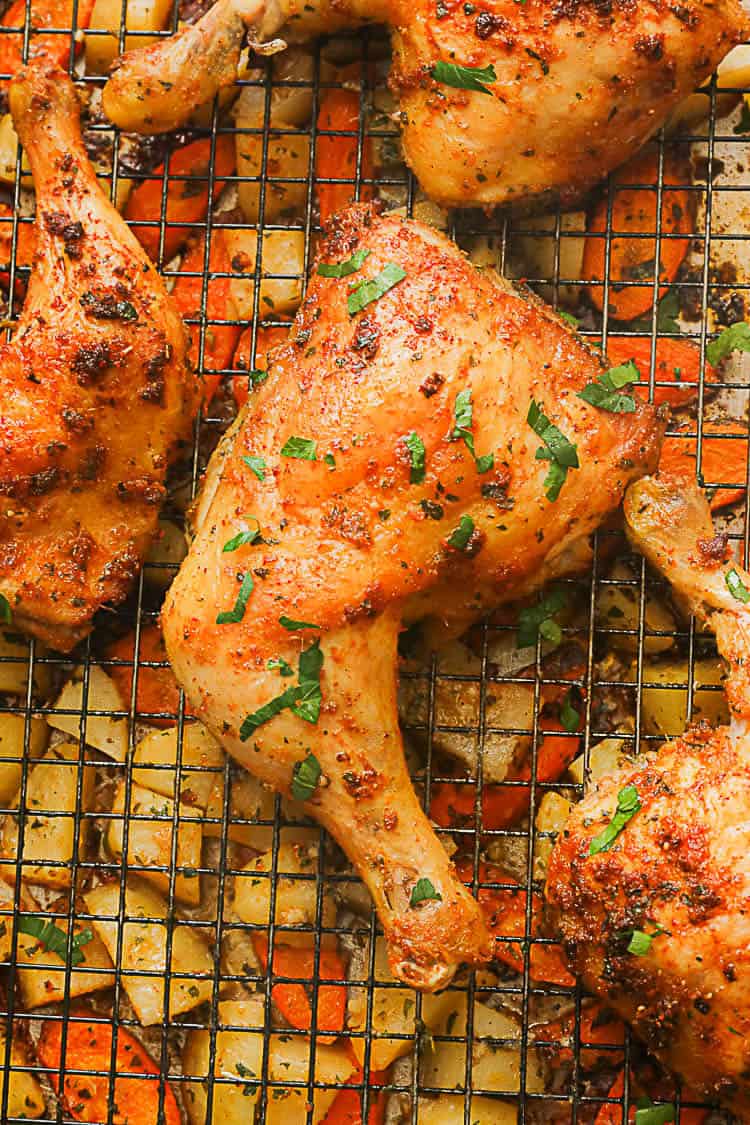 Chicken Leg Quarters
When a thigh, drumstick, and part of the back are attached, this cut is called a chicken leg quarter.
It's called a quarter because it's about a quarter of the chicken.
Unlike the white meat part of the breast, this is dark meat. It has a higher fat content, which makes it juicier and more flavorful.
It's just as healthy as white meat and is actually higher in nutrition.
This is my go-to cut of chicken because it's the cheapest. Why? Labor is expensive, and a boneless skinless chicken breast takes more time to process. Therefore it's more costly.
Leg quarters are easier to process, making them more economical. So, not only are they better tasting, they are more budget-friendly.
Did you know that you can usually get a whole chicken cheaper than a boneless, skinless chicken breast?
Recipe Ingredients
Garlic – While I really love fresh minced garlic, powdered will work if that's what you have. It adds an incredible pungent flavor to anything it goes in.
Onion Powder – Fresh onion will work, too. However, onions are quite juicy and may thin the marinade once it's in the oven. Not a problem; just be aware that fresh onion doesn't stick quite as well as dried, and basting it once or twice while baing will fix that.
Thyme – Fresh thyme is one of my favorite herbs to season chicken with. But don't sweat it if all you have is dried. I love having a thyme plant on my window sill for a truly fresh herb.
Parsley – This is another herb that works fresh or dried. The delicious herby flavor it adds isn't just delicious. It's healthy, too.
Paprika – Red pepper without the heat and all the flavor. Yum! However, if you want to add extra heat, a dash of cayenne will spice it up for you.
Black Pepper – Spicy with just the right amount of heat for even the most delicate of palates.
Butter or oil – Fat is not just a flavor-enhancer that is satisfying to the tastebuds. It actually helps people feel fuller and more satisfied. Butter is the best!
Chicken Leg Quarters – The main attraction of this awesome recipe is economical and delicious.
Salt – The pantry-staple flavor-enhancer that we wouldn't know how to live without. Adjustable to personal tastes.
Potatoes and Carrots – These soul-satisfying veggies are the perfect way to multipurpose the oven's heat. And the drippings from the chicken make them extra tasty.
Alternative Ingredients
Chicken Leg Quarters – Turkey thighs are great for this recipe, but they will take a little longer to bake. Other than that, you can make them the same way.
Butter or Olive Oil – Fat helps crisp up the skin and keeps it from drying out. It also adds a ton of flavor. That said, you can leave it out and turn the marinade into a rub.
Potatoes & Carrots – Any of your favorite veggies will go great roasting in the bottom of the pan. Eggplant, squash, cabbage, you name it. Stir evenly chopped vegetables in a little olive oil and arrange them under the chicken.
Spices – Spice mixes can be mixed and matched. Fresh herbs finely chopped worked too, but I find that powdered spices stick to the chicken better. Feel free to play around with flavors, like Homemade Poultry Seasoning, Jamaican-style Seasoning, Creole Seasoning, or your own favorite creation.
Tips & Tricks
Don't waste the juice that collects at the bottom of the pan. These drippings are what make an incredibly flavored gravy.
Check to see if they're done by inserting an instant-read thermometer (165-180℉/74-82℃) in the meatiest part of the thigh, being mindful not to touch the bone.
Cover the baking chicken leg quarters with aluminum foil if they start getting too brown before the inside is done.
Brining chicken is another good way to ensure juicy, tender chicken, whether thighs or breast. My multipurpose brine for pork works for chicken, too.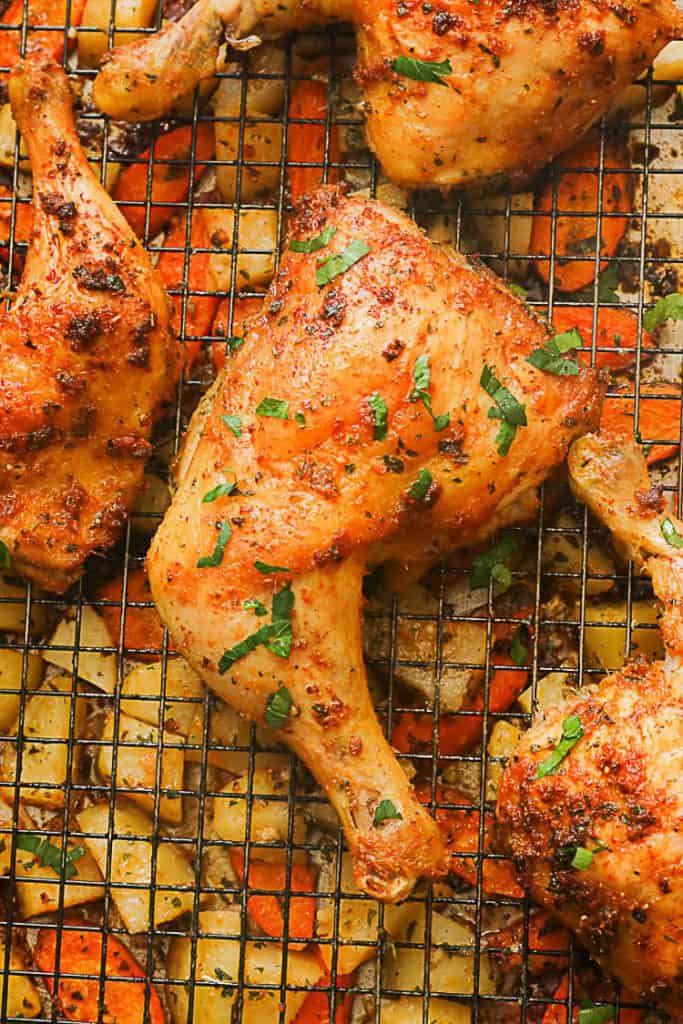 FAQs
Storage Instructions
These are even better if you can marinate them the night before and keep them in the fridge overnight. Then, they're already ready to put in the oven.
They will last cooked in the fridge for three or four days. Reheat them in the oven for crispier skin.
Serving Suggestions
A time-saver is to cube potatoes and carrots and put them in the bottom of the pan. Arrange the chicken on top and bake.
It's great with mashed potatoes and a salad, too. And don't forget how yummy fresh baked bread is with this amazing dish.
More Homemade Chicken Recipes
Jamaican-Style Chicken – Spicy Jamaican food is one of my go-to comfort foods. Grilled chicken with a Jamaican-style marinade that has the perfect balance of heat and sweetness.
Instant Pot Chicken – Super easy, spicy, and mouthwatering Instant Pot Chicken Curry warms the soul on a chilly day. Enjoy your evening while your Instant Pot does all the work.
Homemade Chicken Pot Pie – Nothing says Southern comfort like a homemade chicken pot pie. This hearty and tasty pie is filled with creamy chunks of diced chicken, carrots, and peas.
Peri-Peri Chicken – This mildly spicy and drool-worthy chicken dish boasts intense flavors from Peri-Peri Sauce, Creole Seasoning, lemon, and herbs. Fire up the grill or turn on the oven for thismouthwatering chicken recipe.
Cajun Chicken Alfredo – The perfect one-pot meal with pasta, creamy cheese sauce, and spicy chicken is so easy you'll want it in your rotation.
How to Oven-Bake Chicken Leg Quarters
Preheat the oven to 375℉ (190℃).
Making the Marinade
Combine Marinade Ingredients – Combine garlic, onion powder, thyme, parsley, paprika, and pepper in a small bowl. Pour in melted butter or oil and mix. Set aside. (Photo 1 & 2)
Prepare the Chicken – Wash chicken leg quarters and thoroughly dry with paper towels.
Marinate the Chicken – Place the chicken in a large bowl, salt to taste, then thoroughly marinade with garlic mixture. Repeat with potato and vegetables. (Photos 3 & 4)
Allow marinating – Refrigerate until ready to cook. The chicken will keep for about 24 hours in the fridge.
Baking the Chicken Leg Quarters
Ready the Baking Pan – Line a baking pan with foil and insert a wire rack. Lightly coat the baking pan with non-stick spray. You can also bake it in a large 9×13 baking pan with potatoes next to it.
Load everything up – Arrange the chicken legs quarters in a single layer. Place potatoes and carrots underneath the chicken. The drippings from the chicken will slowly drip onto the vegetables, making them extra flavorful.
The Final Stretch – Bake in a preheated oven until cooked through and the skin is crispy, for about 45-60 minutes or until the meat thermometer inserted into the thickest part reaches at least 165℉/74℃ when checked with an instant-read thermometer. (Chicken legs and thighs can handle a higher temperature than the breast, so don't worry if it gets to 180℉/82℃.)
Check on them – Rotate chicken legs quarters halfway through-roughly 25 minutes. If it starts to over-brown, cover it with aluminum foil.
Remove from Oven. Serve with potatoes and carrots. Enjoy!
Watch How To Make It
Please see more list about Roast chicken quarters in oven
Detail: 🔗