Our baked chicken quarters recipe is easy to make, economical, and sure to be a hit with your family. The chicken is juicy, tender, and practically falls off the bone. These chicken quarter legs get slathered in a honey mustard glaze that turns into a delicious sauce to spoon over the chicken.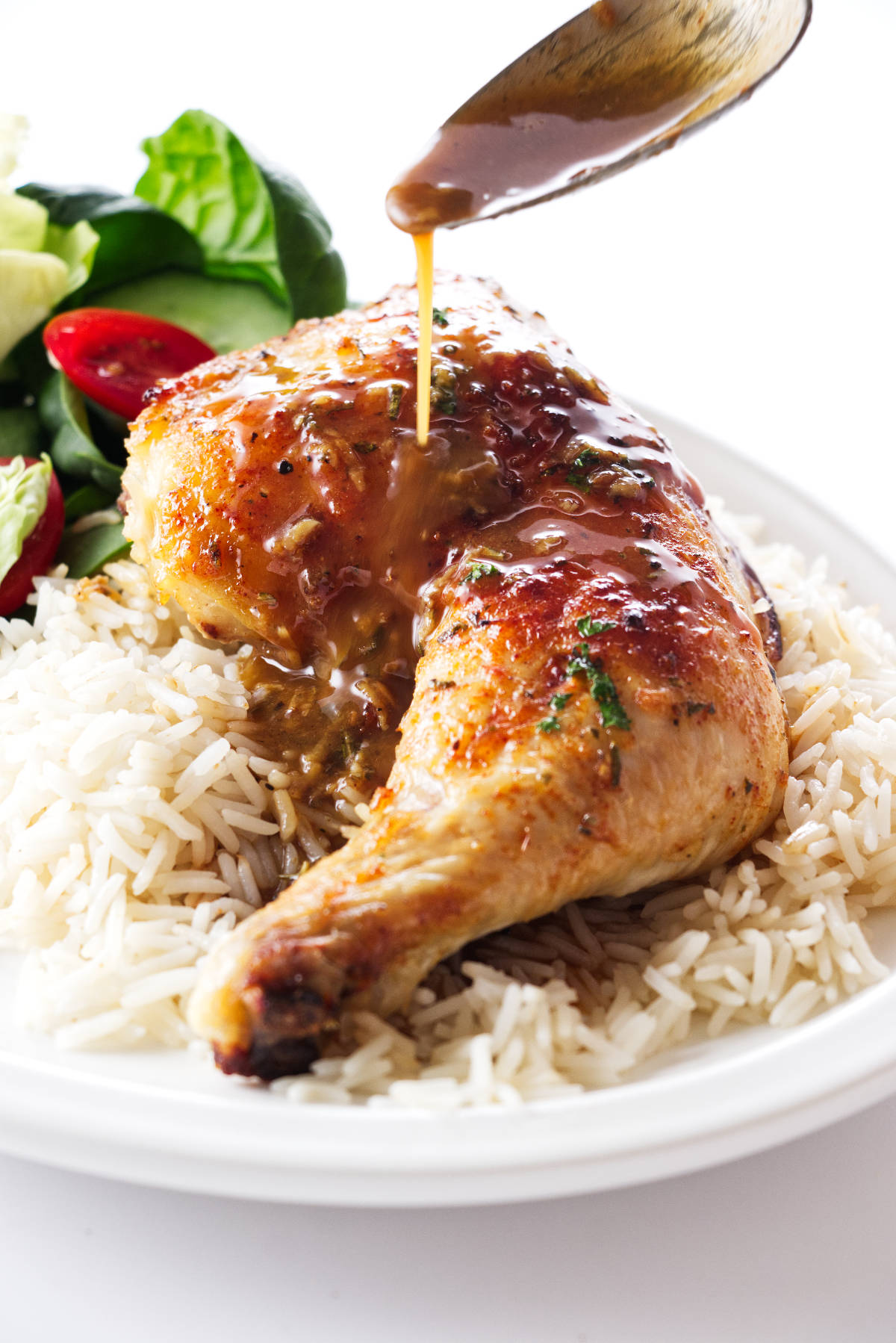 The sweet and savory honey-mustard sauce was adapted from our turkey wings recipe. It gives the chicken a tangy, sticky glaze that doubles as a sauce. It's perfect served over rice or mashed potatoes. Give this recipe a try for an easy weeknight dinner that your whole family will enjoy.
Here is Why This Recipe Works
The recipe has optional variations which give you a different flavor profile each time you bake chicken quarters.
Since chicken quarters have dark meat, they are more flavorful and forgiving to bake than chicken breasts, which can overcook easily.
Cooking the chicken leg quarters until the internal temperature reaches 175°F lets the connective tissue break down and makes the chicken tender.
Chicken leg quarters are the most economical cut of the chicken. Feed the family (or a crowd) without breaking the bank.
If you want more economical chicken recipes, try our cast iron chicken quarters, oven roasted chicken thighs, or skillet chicken with beans and rice.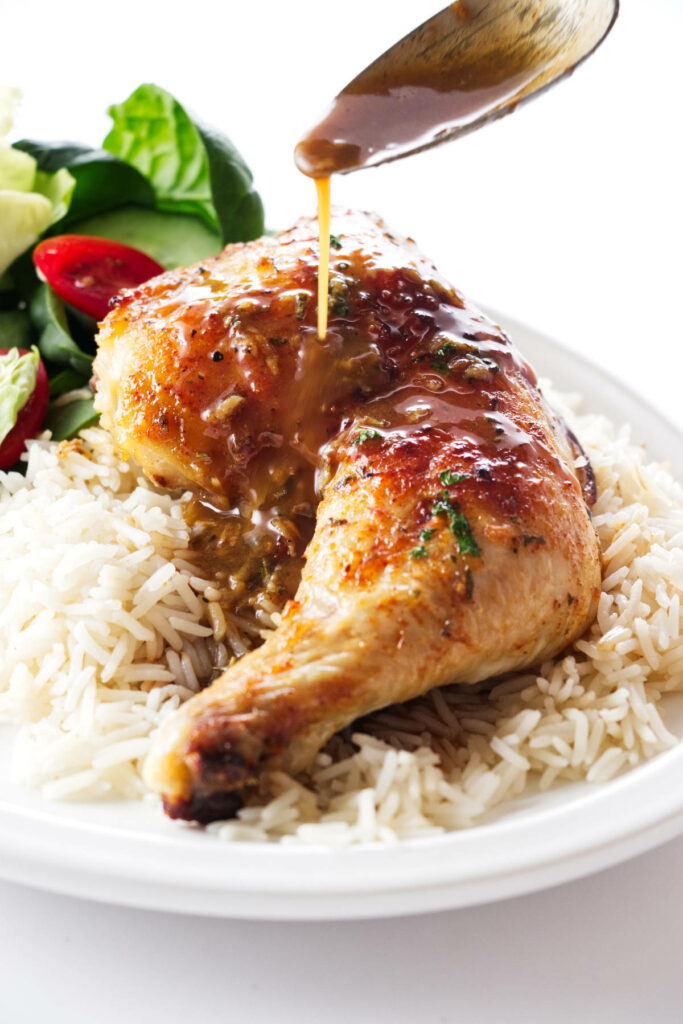 The Ingredients
Here is a list of the ingredients you will need for this recipe. Scroll down to the printable recipe card for all the details.
For the Honey Mustard Sauce
Olive oil
Dijon mustard
Honey
Garlic cloves, grated or finely minced
Fresh rosemary
Apple cider vinegar
Chicken broth
Worcestershire sauce
Salt
Black pepper
For the Chicken Quarters
Chicken quarters (leg and thigh)
Smokey paprika
How to Make Baked Chicken Quarters
Here is a brief overview to get an idea of what to expect with the recipe. Scroll down to the printable recipe card for all the details.
Combine the ingredients for the honey mustard sauce.
Brush the sauce over the chicken leg quarters. Pour the chicken broth in the bottom of the
Bake until the internal temperature reaches 175°F.
Let the chicken quarters rest for 5-10 minutes before serving.
As the chicken quarters bake, they will release juices into the bottom of the pan and blend with the chicken broth and the honey mustard sauce. By the time they finish baking, you will have a delicious, tangy sauce to spoon over the chicken or a side of basil lime rice.
Tip: If you line the baking pan with aluminum foil, cleanup will be a breeze.
Tip: Use a large enough pan to give the chicken space and spread the broth out in a shallow layer. If the chicken is crowded and the broth is deep, they won't get a nice brown exterior.
Tip: Chicken quarters have a lot of connective tissue that needs to cook to between 170°F to 175°F in order to break down and make the meat tender. Use an instant-read thermometer for the best results.
Variations to the Recipe
There are endless possibilities when it comes to creating different flavors for this baked chicken quarters recipe. You can make an entirely new dish by simply changing the sauce or adding a unique seasoning.
We have a few suggestions to get you started, but don't be afraid to experiment in your own kitchen.
Glaze the chicken in our raspberry chipotle sauce.
Drizzle a simple garlic butter sauce over the chicken quarters.
Coat them in barbecue sauce as we did in our chicken legs recipe
Marinate the chicken in our Japanese marinade before you bake them.
You can also change things up by keeping a variety of flavorful seasonings on hand. Spiceology's blends are inventive, fun, and so flavorful. Here are a few highlights.
Maui Wowee Hawaiian Teriyaki Rub: Bring the tropics home for dinner. Made with real pineapple, soy, sesame, Asian spices, and chilies, this is rub will add a sweet and savory Hawaiian flavor to your chicken quarters recipe.
Korean BBQ Rub: This rub will add an Asian flair to the chicken. It is packed with delicious flavors like soy, sesame, and orange, and has a kick of chili flakes.
Beer Infused Rubs: With flavors like Jalapeño Lime Pilsner, Cherry Chipotle Ale, and Honey Mustard IPA, you will add new dimensions to your chicken.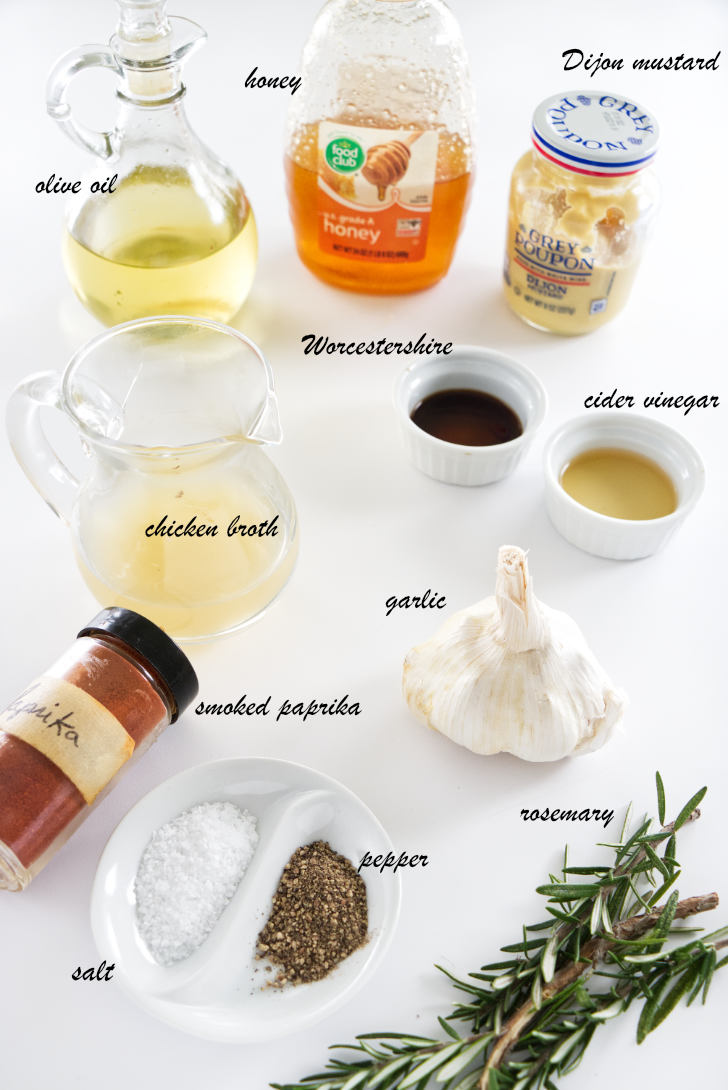 Tips for Success
Trim away any excess fat globs with scissors or a sharp knife.
Sometimes chicken quarters still have a few pin feathers. You can pull them out with your fingers or tweezers.
Dry the chicken quarters before you coat them in the sauce. This will ensure the sauce sticks to the chicken.
Cover them with aluminum foil if the chicken quarters start to get too dark before they finish baking.
Use the baking time as a flexible guide and bake the chicken quarters according to the target temperature. Since ovens vary, you may need to adjust the cooking time.
Use a meat thermometer for best results. If you use a leave-in probe thermometer, you won't have to open the oven door to check the temperature.
The amount of sauce you end up with will vary depending on how much juice gets released from the chicken quarters.
Frequently Asked Questions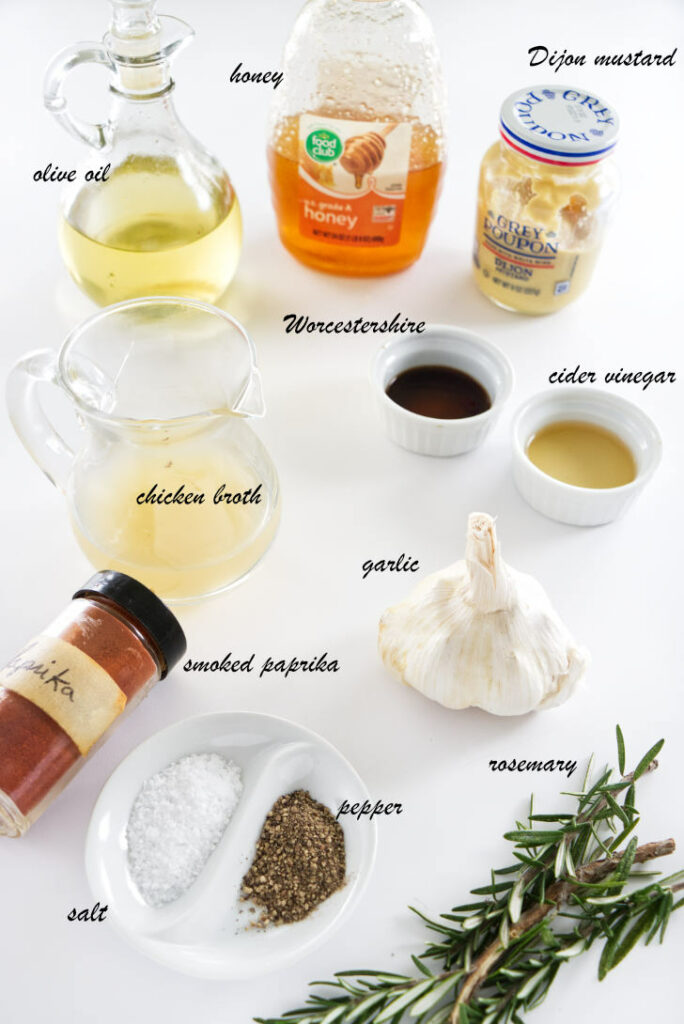 What to Serve with This Chicken Dinner
This is such an easy and fast meal. For an easy side dish, you can cook a baked potato at the same time that you bake the chicken quarters.
Throw in some homemade sourdough bread, roasted romanesco, and a side salad for a complete meal. If you want to go all-out and serve dessert, toss together an easy peach crisp with oatmeal crumble.
Some other options for side dishes include:
Roasted baby potatoes
Instant Pot mashed potatoes
Instant Pot wild blend rice
Asparagus with curry sauce
Steamed broccoli
Roasted Brussels and carrots
More Recipes to Drool Over:
The stuffing for our Roast Chicken has all the flavors of bread stuffing but we substituted cracked freekeh which adds a smokey flavor.
Lemongrass Chicken Satay skewers are a fun, healthy way to enjoy dinner. The chicken is marinated in a lemongrass, ginger and garlic sauce, then grilled until charred and juicy. Serve with a peanut dipping sauce for a delicious and healthy appetizer or main course.
These Lemon Chicken Piccata cutlets are tender, juicy, and delicious! The piccata sauce is light and refreshing, with a bright lemon flavor that pairs perfectly with the chicken. This easy weeknight meal is sure to become a family favorite!
You will love our roasted duck legs with orange sauce. The sweet and savory orange sauce compliments the succulent duck leg meat and tastes fabulous over wild rice.
Our baked salmon with mustard sauce is quick and easy yet it packs a ton of flavor. Whole grain mustard adds a tangy flavor and a touch of heat to the salmon.
Connect With Savor the Best:
Please follow us on our social media accounts
Facebook * Instagram * Pinterest * Youtube * Twitter
Did you make this recipe? We would love to hear from you. Drop us a comment below.
This recipe was first published on June 30, 2016. We updated the post with fresh photos and added some helpful tips for perfectly baked chicken quarters. We left one of the original photos below.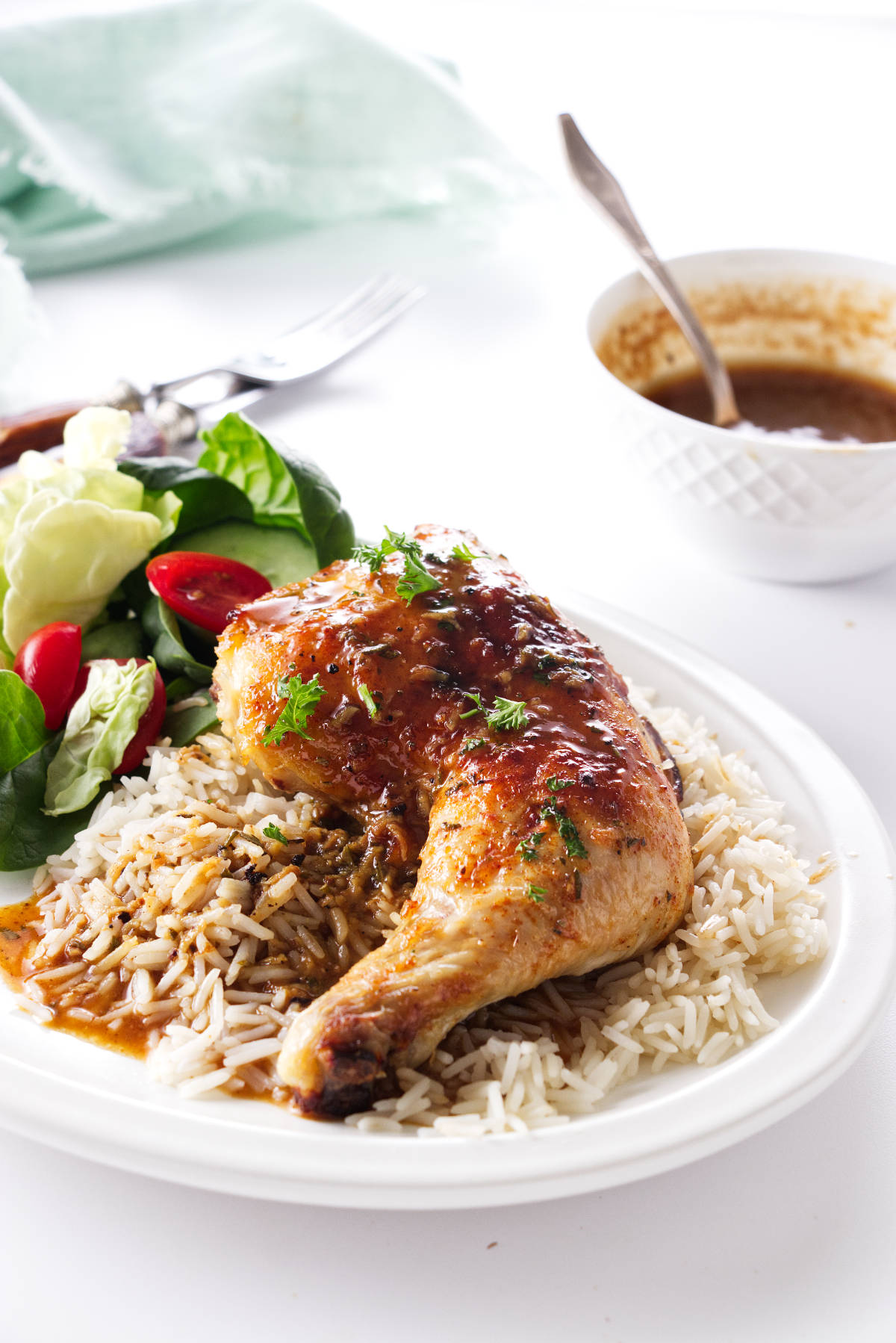 View the Web Story here.
For more information please see the list of Roast chicken quarters in oven
Detail: 🔗