Baked Crispy Chicken Legs – just a few simple tricks make this chicken legs crispy on the outside, tender and juicy on the inside, and ridiculously flavorful. It's quick, easy, paleo, gluten-free and only requires 10 mins prep!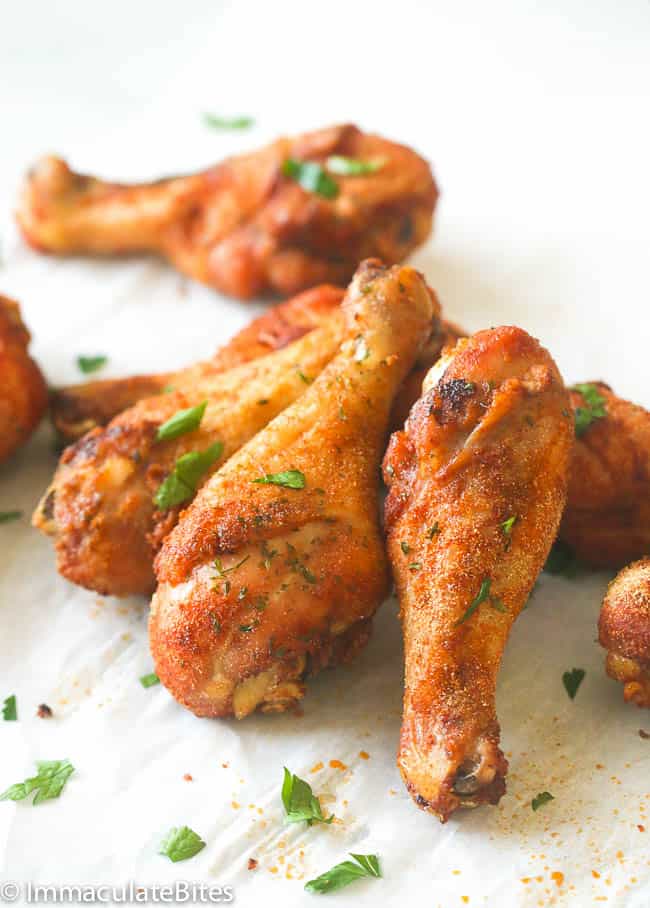 Inspired by the success with this crispy baked chicken wing recipe that I made HERE, I decided to give it a spin with chicken legs- same flavorful bite and crispy crunchy coating without the aid of breadcrumbs or flour.
How to Bake Chicken Legs?
The most important thing about these baked chicken drumsticks is ensuring that they are dry. The chicken legs need to be as dry as possible to crisp up the skin.
Furthermore, since chicken Legs s are larger than wings, I included a generous amount of onion, garlic to compensate for its size – to fully permeate the chicken. I switched out the thyme for Italian herbs or you can use any other dried herbs that you have on hand.
Other than that, you have nothing else to worry about 'cause making this Baked Crispy Chicken Legs is waaay easier than you think it is.
First, carefully wash the chicken with running tap water, place them on a baking sheet pan in a single layer and let them dry in the fridge, uncovered, for a minimum of 3 hours.
Next, season the chicken when ready to bake.
Then arrange them in a wire rack in a single layer and pop it in the oven.
Rotate the chicken legs half way through to ensure all sides are cooked.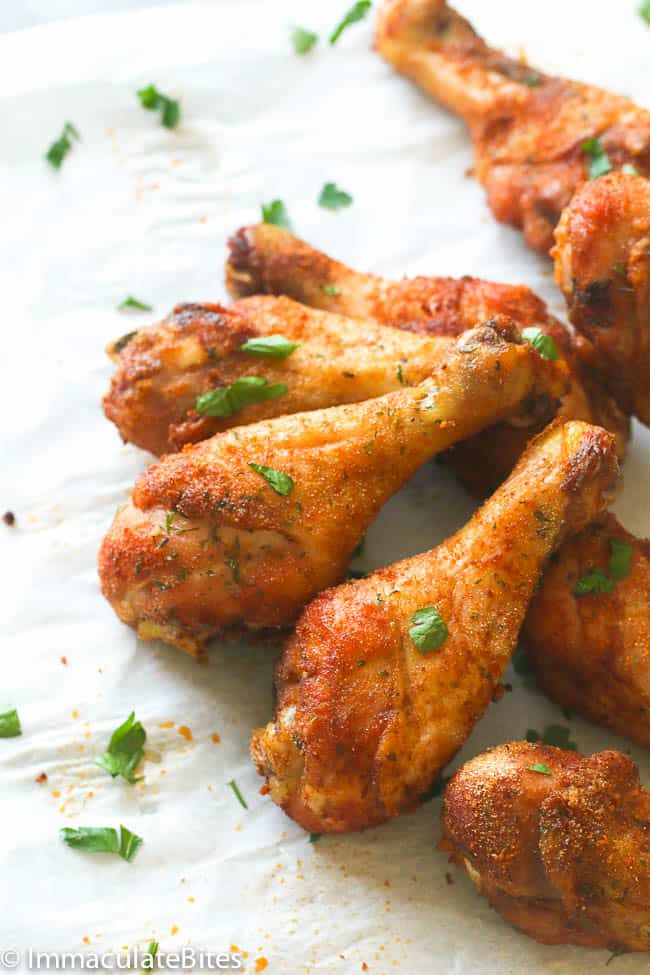 How Long to Bake Chicken Legs?
Cooking times for baked chicken legs definitely vary, depending on the oven temperature, heating capability of your oven and whether the chicken comes straight out of the fridge or at room temperature. But what works perfectly for me is when I bake bone-in chicken legs at 425°F (218°C) for about 40-45 minutes while rotating the chicken legs halfway through – roughly after 20 minutes of cooking. Just remember, the higher the temperature, the crispier the chicken gets.
Tip: If cooking at 375°F, cook chicken legs at about 45-55 minutes while if at 350°F, bake the chicken for about 50- 60 minutes.
What Temperature are Chicken Legs Done?
But with all those being said above, you still want a 100% guarantee cooked chicken meat, using a meat thermometer would be a big help. According to the USDA, the safe internal temperature of a cooked chicken should be at 165 °F (74°C). Make sure though that you don't hit a bone when checking the temp or you'll get an off reading.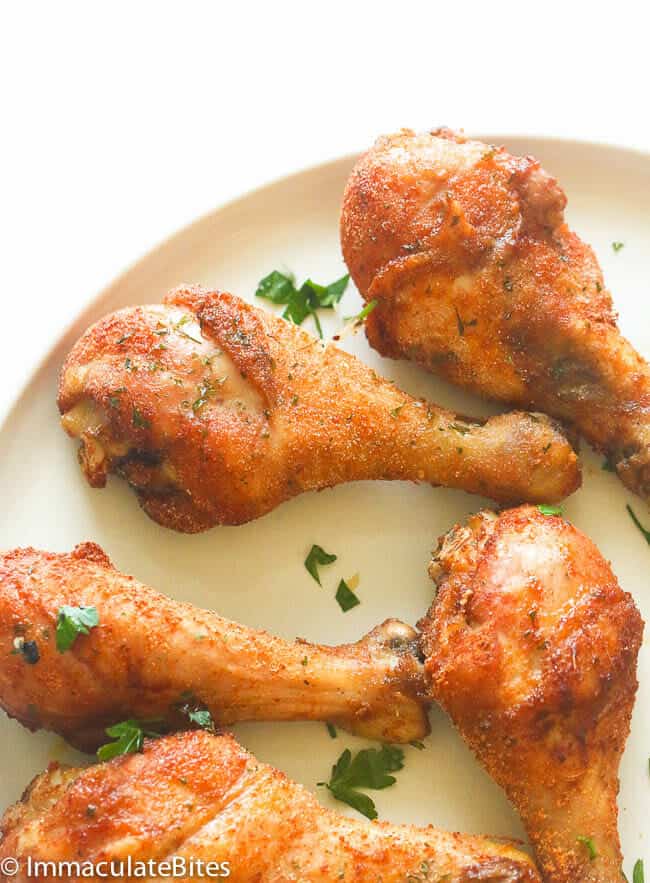 What Should I Serve with Chicken Legs?
Oh there are countless of ways to serve up this chicken. Our go-to when entertaining or during picnics is with this African Pepper Sauce. For dinner, we usually serve it with either of the following:
Steamed or roasted veggies (like this Roasted Red Potatoes)
Scalloped Potatoes
Twice-baked Potatoes
Black Beans and Rice
Easy Pasta Salad
Southern Baked Beans
More Easy Chicken Recipes
Paprika Chicken Legs (with video)
Yassa Chicken (with video)
Baked Crispy Chicken Wings
Oven Baked BBQ Chicken (with video)
Oven Baked Chicken Breast
Don't forget to drizzle them with a little bit of canola oil and bake rotating the chicken legs halfway through. For easy clean up, line the baking pan with foil paper.
Serve them up with this pepper sauce or any hot or dipping sauce of your choice.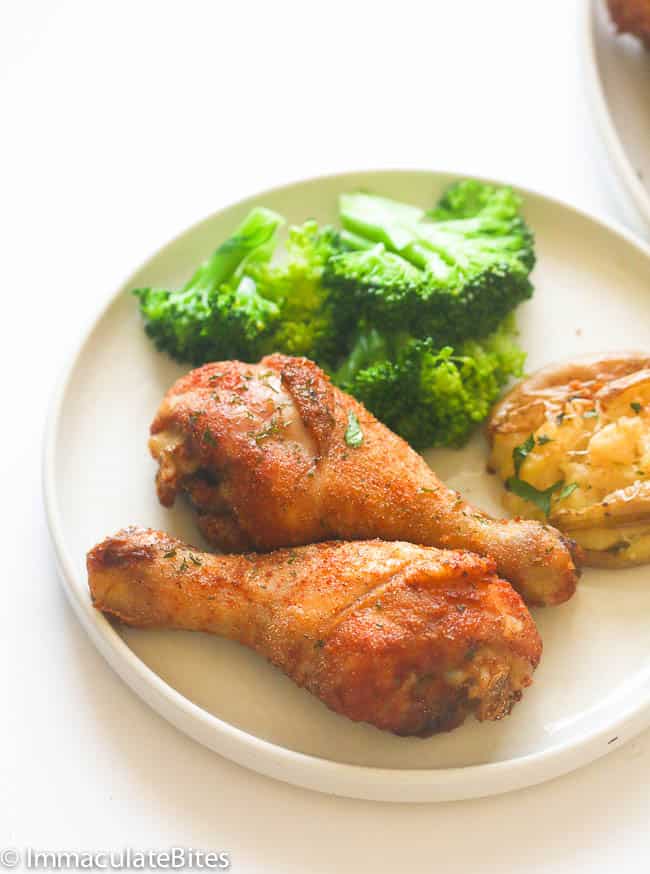 How To Make Baked Crispy Chicken Legs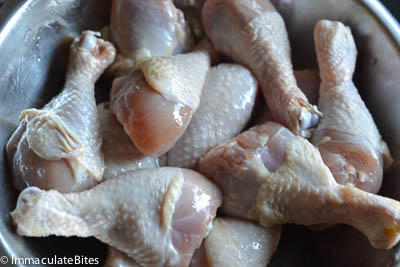 Wash chicken legs and place them on a cookie sheet in a single layer, then let them sit in the fridge for a minimum of 3 hours or preferable overnight. Do not cover them; let them dry out. You can omit this part and proceed with the spices.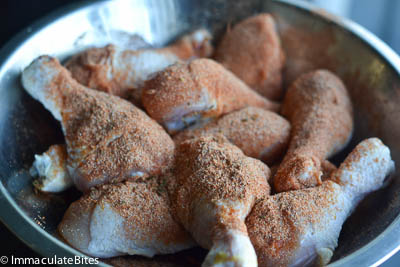 When ready to bake, preheat oven to 425°F. Place the chicken in a large bowl, with all the spices.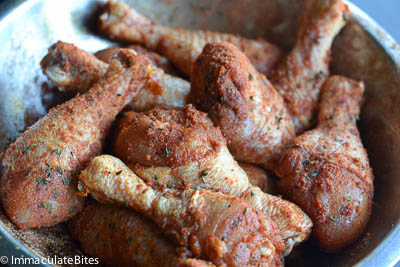 Then drizzle with oil.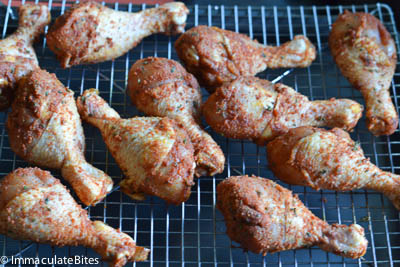 Line a baking sheet with foil; top with a wire rack. Arrange chicken legs out in a single layer. While the chicken legs are baking oil will slowly drip to the bottom of the baking pan. Bake chicken legs until cooked through and skin is crispy, about 45-50 minutes-rotate chicken legs half way through-roughly 20 minutes. Remove and serve with your favorite chicken sauce or african pepper sauce
Watch How to Make It
Through this article, we hope to help you understand How to roast chicken legs
Detail: 🔗