History
The German chocolate cake has undergone numerous variations throughout its history. However, the original recipe, known as Baker's German's Chocolate Cake, remains a perennial favorite. It's interesting to note that this cake isn't actually German in origin. It is named after Samuel German, an employee of Baker's Chocolate Company.
Why You'll Love This
This cake is a delightful combination of light and fluffy chocolate layers, topped with a scrumptious coconut frosting. It's a crowd-pleaser that's perfect for any occasion, be it a holiday gathering or a birthday celebration. And the best part? It's incredibly easy to make!
Recipe Ingredients
Boiling water – Melts the Baker's chocolate.
Baker's German's Sweet Baking Chocolate (Bakers Sweet German Chocolate) – This baking chocolate has a cacao content of only 46%, resulting in a subtly chocolate-flavored cake.
All-purpose flour, baking soda, and salt – These ingredients contribute to the cake's light and fluffy texture.
Unsalted butter – The original recipe calls for either butter or margarine.
Granulated sugar and vanilla extract – Essential for adding flavor to the cake.
Eggs and buttermilk – It's important to use eggs and buttermilk at room temperature. In this recipe, we won't be separating the egg yolks from the whites; they will be incorporated into the cake batter as a whole.
How to Make the Original Baker's German Chocolate Cake Recipe
Preheat the oven to 350 degrees F. Line and grease 3 (8-inch) round cake pans or 2 (9-inch) pans. Set aside.
In a glass measuring cup, heat the water in the microwave until it boils. Stir in the chocolate until completely melted and smooth. Set aside.
In a medium-sized bowl, whisk together the flour, baking soda, and salt. Set aside.
In a large mixing bowl, cream together the butter and sugar with an electric mixer on medium speed until light and fluffy (approximately 3-4 minutes). Add the eggs one at a time, beating well after each addition.
Stir in the melted chocolate mixture and vanilla extract.
Beat in the flour mixture in three parts, alternating with the buttermilk, until the batter is smooth.
Divide the batter evenly among the prepared cake pans, pouring approximately 2 1/2 cups of batter into each pan.
Bake for 30 minutes, or until the cakes spring back when lightly pressed in the center.
Transfer the cakes to a wire rack and allow them to cool in the pans for at least 15 minutes. Then, remove the cakes from the pans and let them cool completely before frosting.
How to Make Baker's German Chocolate Cake Frosting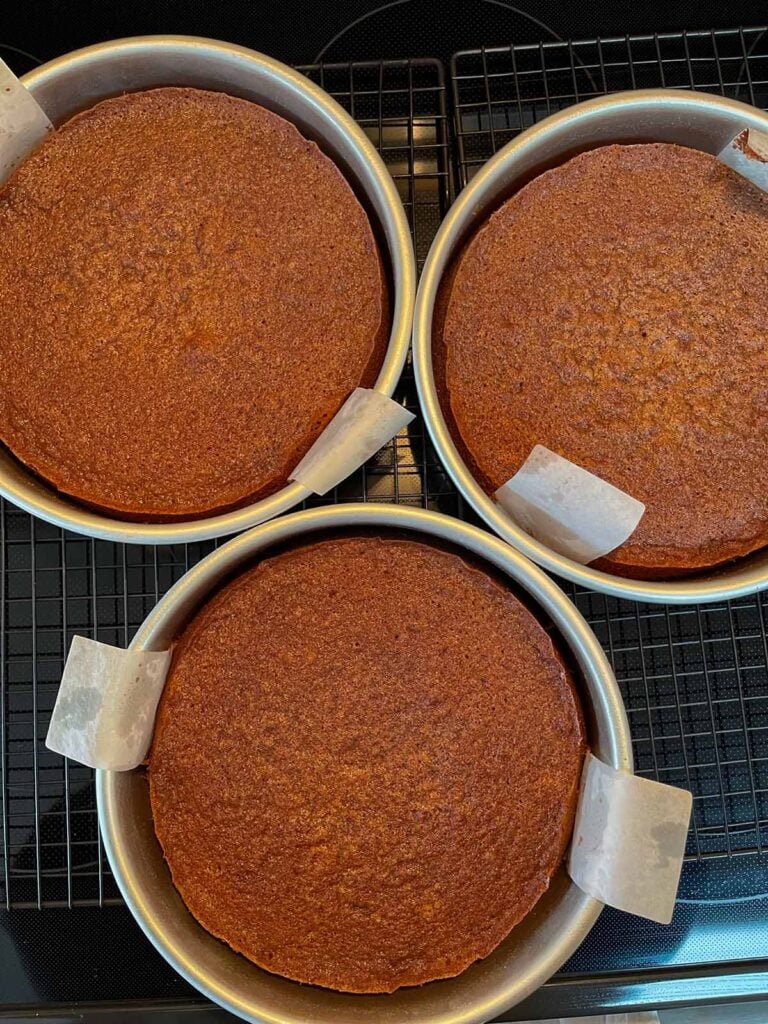 In a large saucepan over medium heat, combine the evaporated milk, sugar, butter, egg yolks, and salt. Cook, stirring constantly, for approximately 12 minutes, or until the mixture thickens and turns golden brown.
Remove the saucepan from the heat and stir in the coconut, pecans, and vanilla. Allow the frosting to cool to room temperature.
How to Assemble
Place one cake layer on a cake plate. Spread one-third of the coconut pecan frosting over the top of the cake, leaving a 1/4-inch border.
Top with the second layer and spread half of the remaining frosting over it.
Place the third layer on top and evenly spread the remaining frosting over the cake's surface, leaving the sides exposed.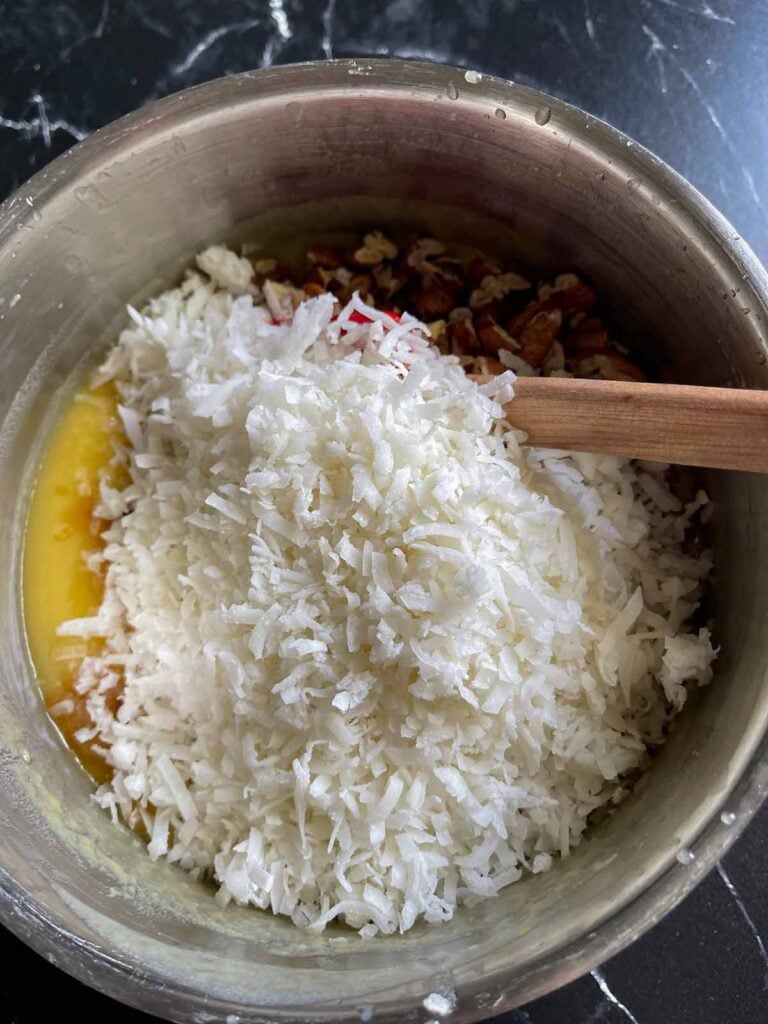 Tips
When measuring flour, make sure to aerate, spoon, and level it accurately.
Using room-temperature eggs and buttermilk ensures better incorporation into the batter.
If you don't have buttermilk, you can make your own by adding 1 tablespoon of vinegar or lemon juice to 1 cup of milk.
If you can't find Baker's German chocolate bars, you can substitute semi-sweet chocolate and add 1 1/2 teaspoons of sugar for every ounce of chocolate.
When adding the chocolate to boiling water, be cautious as it may bubble up momentarily.
Consider using cake strips to achieve flat layers, and trim the tops if necessary.
If the coconut frosting becomes too thick for spreading, microwave it briefly to soften it up.
FAQ
More Dessert Recipes
Share the joy of baking with your friends and family!