Balsamic and Onion Pot Roast is a delicious low-carb dinner from the Crockpot, and this post has tips for Making Pot Roast in a Slow Cooker.
PIN Balsamic and Onion Pot Roast to make it later!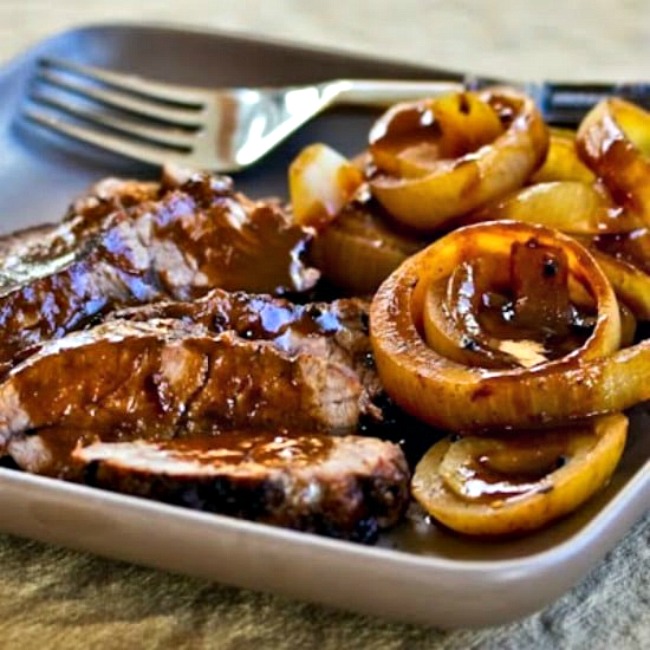 When my friend Bonnie told me she had made this Balsamic and Onion Pot Roast and liked it, I immediately realized I wanted to make it again just so I could take better photos! Bonnie was kind enough to say that she didn't think the old photos were that bad, but trust me, these updated photos give you a much better idea of what a tasty recipe this is!
This pot roast is just the thing to cook on low all day in the slow cooker while you're doing something else, and dinner will be ready when you want it. Check out Ten Low-Carb and Keto Slow Cooker Recipes with Beef for more ideas for more delicious slow cooker dinners!
What ingredients do you need for this recipe?
boneless chuck roast, fat trimmed
Szeged Steak Rub (affiliate link) or your favorite steak rub
black pepper to taste
olive oil
onions
beef stock or canned beer broth
balsamic vinegar
tomato sauce
More Beef in the Slow Cooker:
If you're a slow cooker fan, check out Low-Carb and Keto Slow Cooker Recipes with Beef to find more tasty beef recipes like this one.
Tips for Making Pot Roast in the Slow Cooker:
I'm not a pot roast expert, but I've made pot roast in the Crockpot enough times to have strong opinions about how it should be done. There are three things I think are important to remember. I'm using all those tricks in this pot roast recipe. If you use a slow cooker to make pot roast, chime in with comments about your own tips for making pot roast in the Crockpot.
First, Brown the meat well before you put it in the Crockpot because browning creates flavor.
Second, don't use too much liquid for any crockpot cooking, but especially for pot roast.
Third, be sure there is plenty of flavor in the liquids you're using. All day cooking can make foods bland if there isn't a flavorful liquid.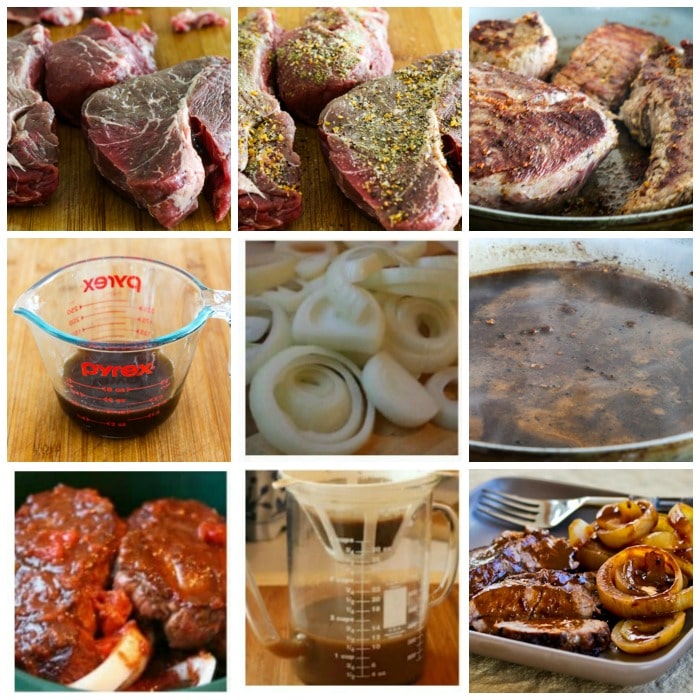 How to make this recipe:
(Scroll down for complete recipe including nutritional information.)
I used a very thick chuck roast from Costco; here's how my roast looked after I trimmed it. (I had to cut it to get the pockets of fat and get it to fit in my Crockpot.) I save all the scraps in a container which goes in the freezer, and then use them to make beef stock.
Rub meat on both sides with steak seasoning and black pepper, then brown the roast well.
In a small saucepan, reduce 1 cup beef stock to 1/2 cup.
While the meat browns, cut the onions and put them in the Crockpot.
When the meat is brown put it in slow cooker on top of the onions, then deglaze the pan with 1/4 cup water, scraping off all browned bits, and add to reduced beef stock. Add balsamic vinegar and tomato sauce to beef stock and pour over pot roast.
Cook on low 6-8 hours, until meat is tender.
I drained all the liquid from the Crockpot and used a fat separator to remove the fat. After the fat is removed, reduce the liquid by about 1/3 by simmer it on the stove to make a sauce. You could thicken it, but I didn't think it needed it.
You might think they'd be too done from being in the Crockpot all that time, but the onions were delicious as well as the meat.
Make it a Low-Carb Meal:
This would taste great with Pureed Cauliflower with Garlic, Parmesan, and Goat Cheese for a low-carb meal.
More Tasty Beef Recipes for the Slow Cooker or Instant Pot:
Instant Pot Barbacoa Beef ~ Taste and TellLow-Carb Stuffed Peppers with Beef, Sausage, and Cabbage ~ Kalyn's KitchenInstant Pot Beef Short Ribs ~ That Skinny Chick Can BakeGreen Chile Shredded Beef Cabbage Bowl ~ Kalyn's Kitchen
Weekend Food Prep:
This recipe has been added to a new category called Weekend Food Prep to help you find recipes you can prep or cook on the weekend and eat during the week!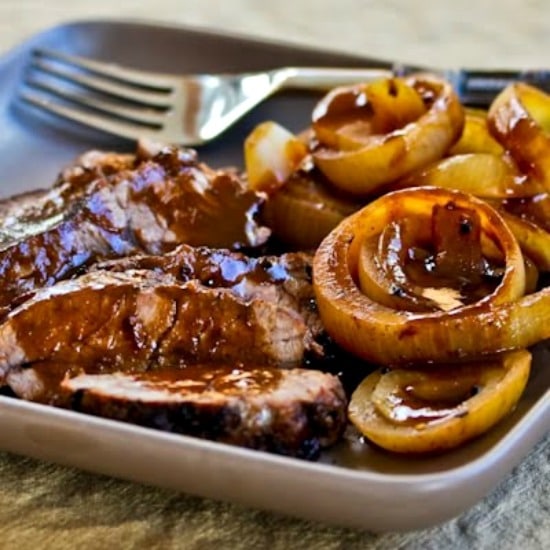 Low-Carb Diet / Low-Glycemic Diet / South Beach Diet Suggestions: With the fat trimmed well and served with the onions, this Low-Carb Balsamic and Onion Pot Roast is suitable for any phase of the original South Beach Diet, and it would also be suitable for most other low-carb eating plans, which may not care about trimming the fat! Balsamic vinegar and onions both have some carbs, so concentrate on the meat and go easy on the sauce if you're making this for a low-carb diet.
Find More Recipes Like This One: Use Slow Cooker Recipes to find more recipes like this one. Use the Diet Type photo index pages to find more recipes suitable for a specific eating plan. You can also Follow Kalyn's Kitchen on Pinterest to see all the good recipes I'm sharing there. Click for Slow Cooker / Pressure Cooker Recipes on my other site!
Share This:
For more information, please see more information about Pot roast with balsamic vinegar
Detail: 🔗