This post may contain affiliate links. See my privacy policy for details.
A deep, dark confession: Mr Magpie hates barley and I made this beef & barley stew despite his protestations. I was convinced that this was similar to many other things that he had eaten before and hated – the problem was simply that it wasn't MY beef and barley stew. That sounds like my ego talking but it's true in a lot of cases when it comes to Mike trying out food that he's disliked since childhood.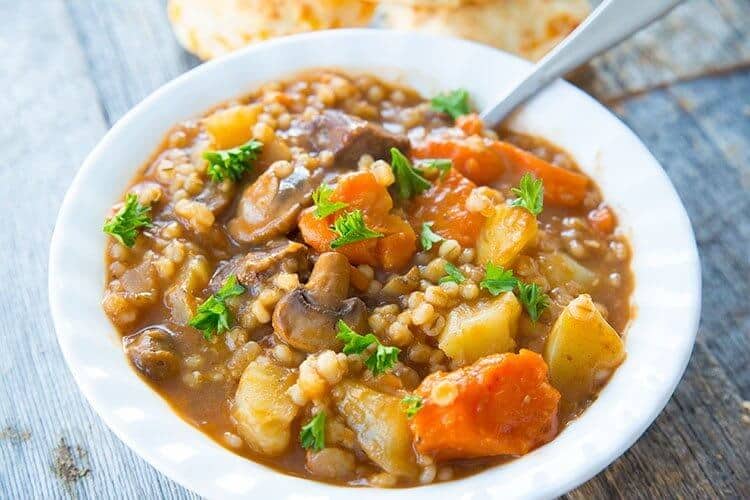 I swore that if he only would try MY Beef & Barley Stew that he'd love barley.
Since I started this blog and started really learning how to cook I have won Mike over to the dark side of many foods. He hated Brussels Sprouts – until I make him crispy, oven baked ones like my Roasted Garlic Parmesan Brussels Sprouts. He hated turnip and loves my Roasted Olive Oil Turnips. I have a pretty solid track record when it comes to changing Mike's mind about certain foods that he swears he doesn't like.
Also read: Crock Pot Beef Barley Soup
Not this time my friends, not this time.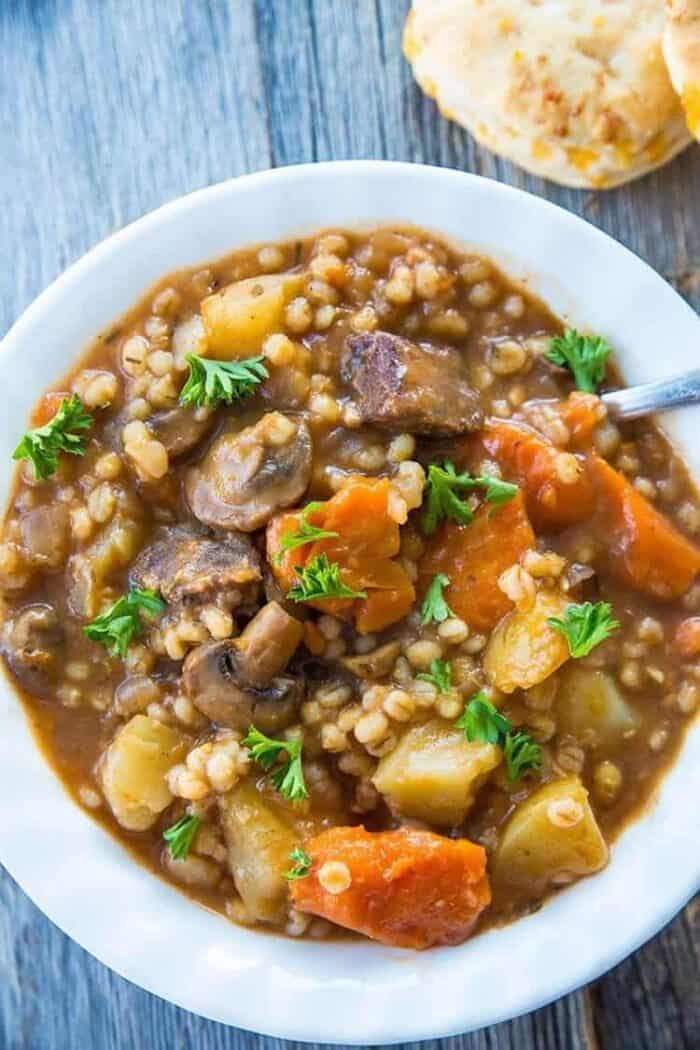 What Exactly IS barley?
Barley is a cereal grain that belongs in the family of grasses. It is one of the most cultivated crops in the world, along with flour, corn and rice of course. To learn more you can head to GoBarley for more information and recipes!
Is Barley Good For Me?
Heck yes! Barley is full of heart healthy goodness such as fiber, protein, magnesium, potassium, folate, and vitamin B6. The high fiber help to lower cholesterol as well. When coupled with iron rich beef and vegetables it's a power meal for people like me that can't get enough iron and magnesium in their diets. (I am always very low in iron and supplements make me sick, so I try to couple red meat with healthy grains and vegetables to balance it out.)
Also read: Slow-Cooker Beef and Barley
It's something that I just can't comprehend, this not liking barley thing. That just sounds made up to me. Barley is amazing in soups and stews, it's my favourite thing to add- and I've missed it for many years. You all know that now I have a half bag of barley sitting in my cupboard to use up – and I will be using it up. I'm planning on making an oxtail soup soon and it has barley written allllll over it. I guess that my son and I will eat it as my daughter has also inherited this crazy non-barley loving gene.
Beef & Barley Stew Tips & Tricks
Since barley takes quite a while to cook make sure that you chop your vegetables quite large, otherwise they can get too soft.
You can omit the red wine and replace with a splash of red wine vinegar – which should be a staple in your pantry if you don't always have red wine on hand for recipes. Basically if you are like me and drink the wine instead of cooking with it. Red wine vinegar is very good for you as well.
You can add celery to this recipe but make sure to chop it large!
To make this more of a soup, add 2-3 cups of additional beef broth.
So here's a recipe for the barley lovers. I chose to make a beef and barley stew instead of soup because I wanted this to be a real winter meal, the full meal deal for supper in the middle of this cold weather. We didn't even really need the biscuits with the stew as a bowl of this was seriously hearty enough to be dinner.
So who's a fellow barley lover? Anyone else have a spouse like mine?
Also read: Slow Cooker Beef Barley Stew
Happy cooking!
Love,
Karlynn

Pin This To Your Soups/Stews or Supper Ideas Board!
Please see more list about Beef stew with barley crock pot