This homemade beef stew features tender chuck roast paired with hearty veggies and is made extra fast and easy in the Instant Pot or Slow Cooker.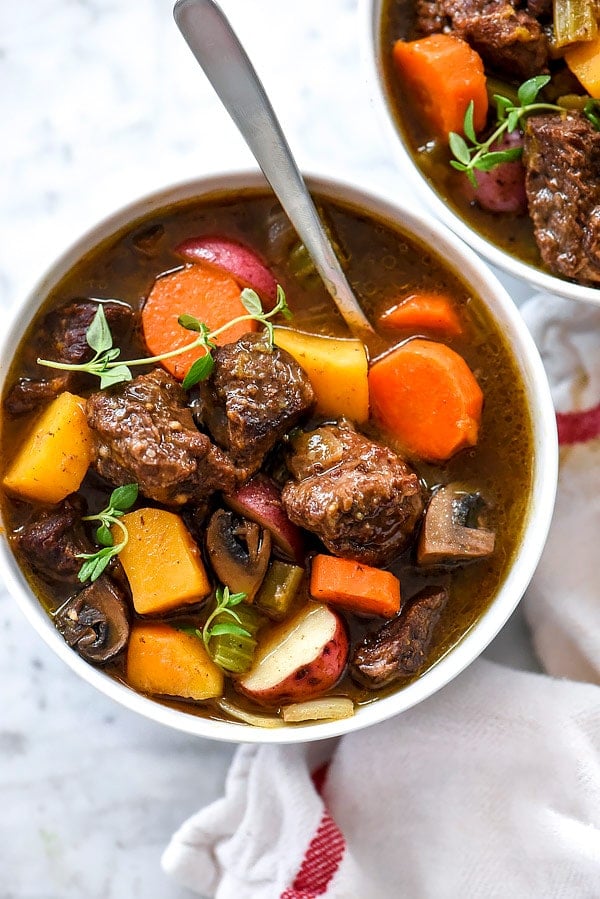 The hype around the Instant Pot may have subsided, but my love for this appliance is still strong. I've got several Instant Pot recipes, like my Instant Pot oatmeal, my creamy chicken and wild rice soup, and my fettuccine alfredo. Plus, it cooks hard boiled eggs that peel like a dream every.single.time. It saves me valuable time in the kitchen, helped minimize my collection of duplicate appliances, and its capabilities know no bounds. And, it's even made meal planning a habit I'm actually becoming a fan of. What can't this workhorse of an appliance do?
I made this traditional beef stew with a slew of nutritious veggies in my cooker on the pressure cooking setting, and the whole stew was cooked and ready to eat in just 40 minutes. Compare that to 2 hours or more on the stove top and you'll know why I'm such a fan. BUT! If you don't have an Instant Pot, this beef stew is just as easily prepared on the stovetop, or in the slow cooker, with directions for both below.
The game changer for me is the ability to sauté and brown right in the cooker. That means if you're slow cooking or pressure cooking, there's no need for dirtying up extra pans in the cooking process, and all of the browned flavor tidbits stay in the pan to add more flavor and depth to whatever you're cooking.
What's in Beef Stew
The classic beef stew combination of carrots, potatoes, celery, and onion are all represented here but I chose to add mushrooms—because we love 'em—and butternut squash because beef and butternut squash together simply make magic. It doesn't matter if you're making Instant Pot beef stew or using your slow cooker, the ingredients list doesn't change.
Here's what you'll need:
Flour
Kosher salt and pepper
Garlic salt
Beef chuck
Vegetable oil
Garlic
Onion
Celery
Red wine—if wine isn't your thing, I recommend red wine vinegar which will still impart the flavor that red wine brings. But if you don't have any, you can just use extra beef broth
Beef broth
Beef base
Carrots
Mushrooms
Butternut squash
New red potatoes
Bay leaves
Thyme
How to Make Instant Pot Stew
The steps for making Instant Pot stew and slow cooker beef stew are very similar. I walk you through both in the recipe card below, but here's an overview of the cooking process if you're making Instant Pot beef stew:
Place the beef cubes, flour, kosher salt, garlic salt and black pepper in a freezer bag and toss to coat.
Brown the beef in the Instant Pot along with the garlic. Transfer to a separate bowl.
Add more oil to the Instant Pot and sauté the onion and celery until softened. Add to bowl of beef.
Add red wine to the Instant Pot and bring to a boil.
Add everything into the Instant Pot, set to the stew setting, and let cook for 30 minutes.
Use natural release, then serve.
How to Make Slow Cooker Beef Stew
Making slow cooker beef stew is very similar to making Instant Pot beef stew. The main difference is that you brown the beef and sauté the veggies in a dutch oven, then transfer everything to the slow cooker insert and cook.
Slow cooker beef stew needs to cook on low for 8 hours or on high for 4 hours.
How to Make This Stew On the Stovetop
Brown the beef and sauté the veggies in a dutch oven, add the rest of the ingredients and cover tightly with a lid. Simmer for 2 hours or until the beef is tender and vegetables are cooked.
How Do you Make Beef Stew Tender?
It's all about the cut of meat. Please don't use stew beef here. Beef chuck roast is just the right cut for this type of stew thanks to its marbling that adds flavor and tenderness in a shorter amount of cooking time. Better flavor, better texture, better stew. Bam.
What Gives Beef Stew its Flavor?
There are so many flavor carriers here, and they all play together so nicely. Browning the beef is number one here. That's essential for giving this stew the wonderful umami flavor it's known for. Beef broth and beef base are supporting cast members in this department, followed by a healthy dose of garlic, thyme, bay leaves, and veggies. Deglazing the pan with the red wine also adds incredible depth to the stew.
Should Beef Stew Be Soupy?
Beef stew can be as thick as you would like it to be. In addition to flour, the starch from the potatoes naturally thicken the stew. Mine is a touch on the thicker side, but it's not a gravy. If you want it even thinner, you can omit the flour, and if you want it thicker, you can make a slurry, but this would be more conducive to the stovetop cooking method. You can also just use less liquid.
Tips for Making the Best Beef Stew
Save even more time by chopping up all of your veggies in advance, and storing them in Tupperware containers in the fridge.
Choose a bottle of wine for this Instant Pot stew that you'd enjoy drinking on its own. You don't want to skimp on flavor with a cheap bottle that adds skunk instead of spunk. Again, you can always sub red wine vinegar if you don't have wine or would rather omit it.
If you don't have butternut squash on hand, swap in cubed sweet potatoes instead. Both are quite sweet, so I think this pairing would be delicious too.
We love eating this beef stew with some crusty bread, but sometimes serve it over egg noodles or creamy polenta. If you want to serve it over mashed potatoes, that would definitely not be a bad idea (you can never have too many potatoes).
More Beef Dinners Recipes to Try
Beef Bourguignon
Mom's Pot Roast
Tuscan Beef Stew
Roasted Mushroom Beef Stroganoff
Red Wine Braised Short Ribs
If you make this recipe, please let me know! Leave a ⭐️⭐️⭐️⭐️⭐️ rating on this recipe below and leave a comment, take a photo and tag me on Instagram with #foodiecrusheats.
More Instant Pot Dinners to Try
Instant Pot Chicken and Wild Rice Soup
Baby Back Ribs in the Instant Pot
Instant Pot Chicken Fettuccine Alfredo
Instant Pot Orange Chicken Lettuce Wraps
Corned Beef and Cabbage In the Instant Pot
We send good emails. Subscribe to FoodieCrush and have each post plus exclusive content only for our subscribers delivered straight to your e-mail box.
Follow me on Instagram, Facebook, Pinterest and Twitter for more FoodieCrush inspiration.
As always, thank you for reading and supporting companies I partner with, which allows me to create more unique content and recipes for you. There are affiliate links in this post of which I receive a small commission. All opinions are always my own.
For more information, please see more information about Instant pot slow cooker beef stew
Detail: 🔗