Beef Stew with Red Wine is a slow simmered stew that has tender chunks of beef and vegetables in a savory red wine and beef sauce. This recipe calls for an entire 750 ml bottle of red wine that cooks down and concentrates into the most delicious flavor!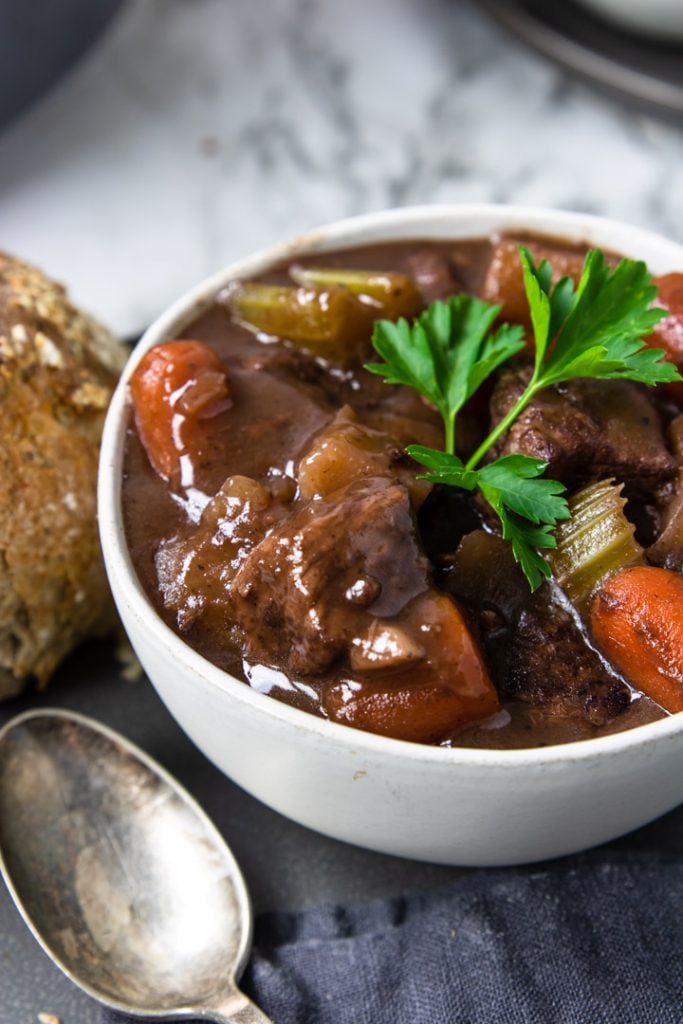 This beef stew recipe is written for 2 hours on your stove top, however I have also included instructions for making it a little quicker in your Instant Pot!
I know not everyone loves wine in their food, so if that is you check out my Dutch Oven Beef Stew and Instant Pot Beef & Barley, both recipes do not include wine.
BUT, if you do love cooking with wine, check out my recipes for Goat Cheese Chicken or Instant Pot Risotto!
Red Wine
Now is not the time to grab a bottle of 2 buck chuck, but you also don't need a $50 bottle of wine for this beef stew recipe. The flavor of the red wine will be concentrated so you want something that you would enjoy drinking.
I like to choose something in the $8-10 range.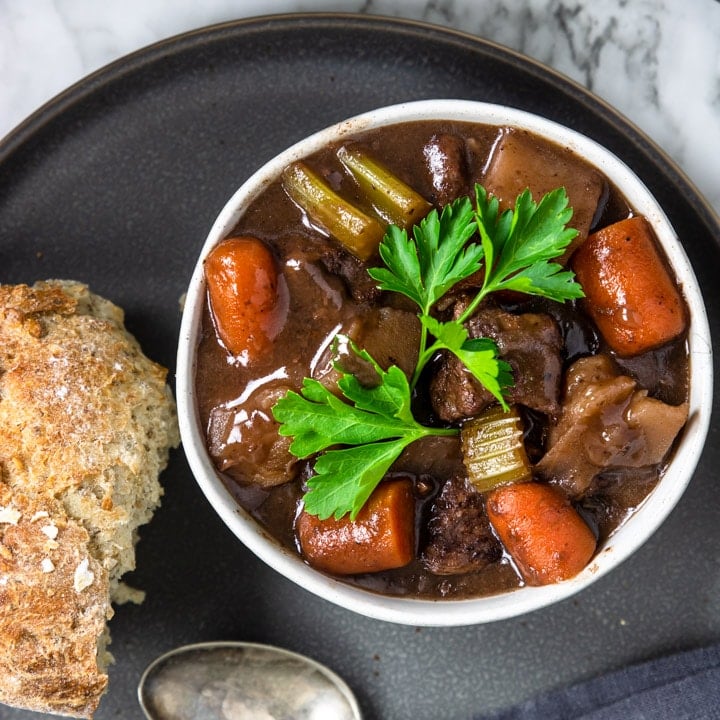 You also don't want a delicate wine like Pinot Noir for this stew. Grab a bottle of hearty red wine; cabernet, merlot, zinfandel, shiraz, or malbec work great!
Stew Meat
This recipe calls for stew meat, which is a cheap cut of beef, generally chuck or round, that is cut into 1 or 2 inch cubes. Stew meat is super tough meat that requires low and slow cooking to become it's best.
After the 2 hour cook time of this recipe the beef stew meat becomes fall apart tender and super flavorful!
How to Make Beef Stew with Red Wine
For this Red Wine Beef Stew recipe you will want to use a dutch oven or similar heavy duty pot that has a tight fitting lid. If you are planning on making it in your Instant Pot, refer to the recipe card below for instructions.
Start by making sure your beef stew meat is cut into 1 inch chunks.
Mix together the ¾ cup all purpose flour, 1 teaspoon salt, and ½ teaspoon black pepper. Toss the beef chunks in the flour so they are coated on all sides. Set aside.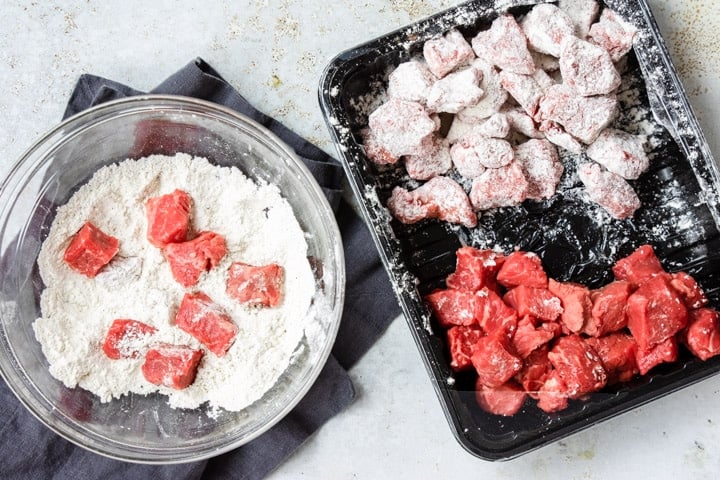 Heat the 2 tablespoon olive oil in the dutch oven or large pot, over medium heat. Brown the floured beef, in batches to not overcrowd the pot. Remove each batch to a plate.
In the now empty pot add 1 tablespoon of olive oil and 1 chopped onion and 4 chopped garlic cloves. Stir them constantly so they do not burn for 1-2 minutes.
Deglaze the pot with 3 cups of red wine, scraping up all the browned bits from the bottom. Stir in 2 tablespoon worcestershire sauce, 1 tablespoon beef base, 1 tablespoon + 1 teaspoon sugar, 1 teaspoon salt, ½ teaspoon pepper, 1 bay leaf, and the browned beef. Let that simmer together for 5 minutes.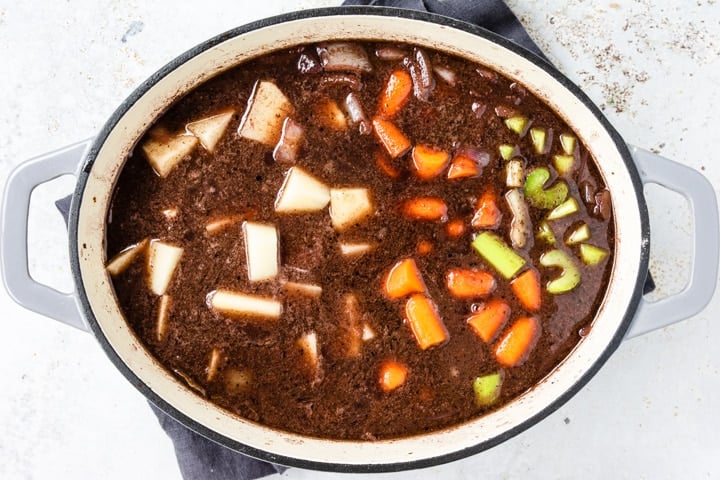 Stir in 2 cups beef broth, 2 ½ cups carrots, 1 ½ cups celery, 3 cups peeled and cubed russet potatoes.
Bring the pot to a boil. Then lower the heat to low and cover. Cook the stew, occasionally stirring, for 2 hours.
Thicken the Broth
Once the stew is cooked the broth will still be pretty thin. You want to make it a silky thick gravy for your stew.
You are going to make a cornstarch slurry which is a mixture of cornstarch and cold liquid used as a thickening agent.
Mix together the remaining wine, about ¼ cup, with 3 tablespoon of cornstarch. Stir it until the cornstarch is completely incorporated into the wine. Stir it into the stew and bring the pot back up to a simmer over medium heat.
Finish & Serve
Once the Red Wine Beef Stew is thickened how you like it, turn the pot off and remove the bay leaf.
Let the stew cool for 5-10 minutes and then serve! It goes great with warm crusty bread and a glass of red wine.
Make Ahead
You can absolutely make this Beef Stew with Red Wine ahead and reheat when you are ready to eat.
Make the recipe completely and let it cool before storing it in the fridge. Refrigerate for up to 4 days.
To reheat simply place on the stovetop over medium low heat and let it warm through for about 20 minutes, stirring it occasionally.
Beef Stew with Red Wine Recipe
Please see more list about Best red wine for cooking beef stew
Detail: 🔗