This creamy beet greens smoothie only uses 5 easy to find ingredients and is sweetened naturally with tropical banana and mango flavors with 5 grams of protein and just 250 calories.
Reading: beet leaves in smoothies
With a surplus of beets lately and a post on beet hummus earlier this week, its only natural that I had to use those beet greens somehow. We're swimming in beets round here! So a beet greens smoothie it is.
Its not just any green smoothie though. It only has five ingredients. Yup, just five.
With five grams of plant based protein in this tasty, easy to make drink and only 275 calories, this is a great detox to start your morning with.
Move awaaaay from the bagel. Grab a smoothie. Drink and feel awesome. And no, its not even that kind of drink. The awesome feels come later in the form of energy, health, and flat tummies.
I started following Simple Green Smoothies on Instagram recently and they've got me questioning my morning routine. Although I'm not a smoothie every day kinda girl, I'm working on becoming a smoothie every other day kind of lady. That, I can commit to.
Read more: How to make toothpaste with coconut oil and baking soda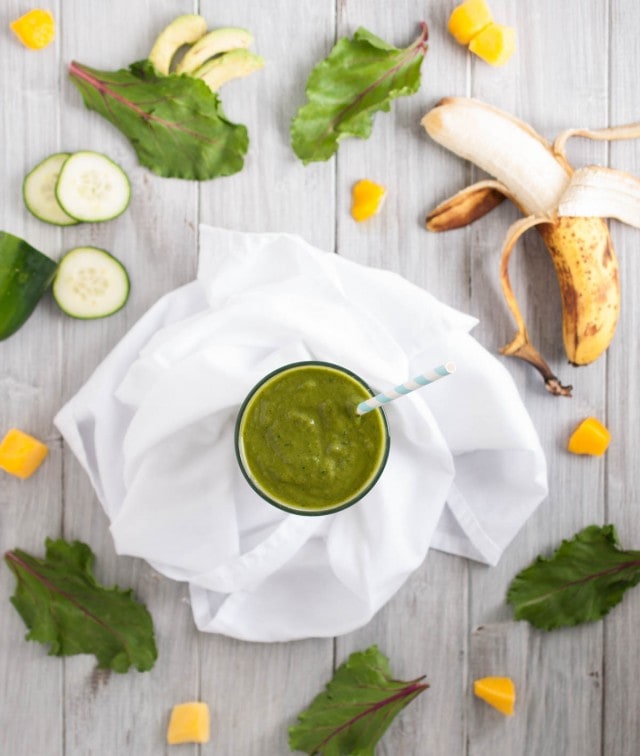 One bonus with this green smoothie is that it uses pretty basic stuff. No weird hard to find ingredients here (although you're welcome to add a few in), just five basic, easy to find, produce goodies. I use frozen mango because "fresh" mangos are rarely fresh by the time they make it to Oregon. The choice is yours to make, but frozen mango is typically sweeter than the mangos we get up here. And easier since its already diced and you don't have to carve around a pit.
I'll take frozen over chemically ripened grainy mangos any day, thank you very much.
I know I say this all the time, but this recipe truly is flexible. You can follow it to a T or you can use it as a basic starting place and tweak to fit whatever you have in the fridge and freezer.
For example, no beet greens? No problem, use spinach or kale. Similarly, mango can be replaced with frozen pineapple, an apple, or whatever fruit you've got on hand. The avocado adds creaminess and healthy fats, but can be left out if you don't have any.
Banana is a staple though and I wouldn't recommend leaving it out. It's what saves the day in sweetening this green smoothie up enough to make it taste like a treat. Plus, you can freeze banana in chunks for easy access.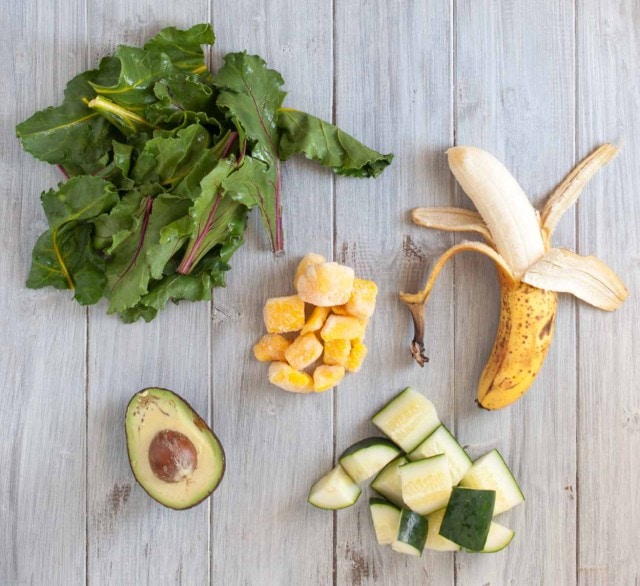 Read more: The Absolute Best Berries For Smoothies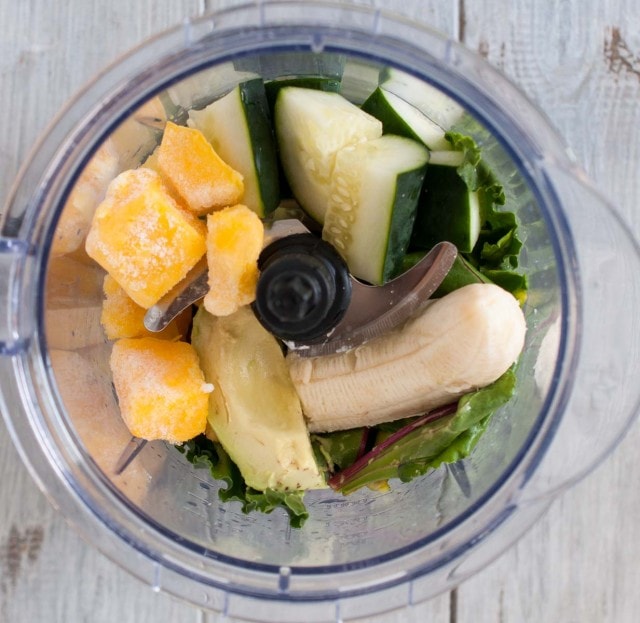 You shouldn't have to plug your nose to get your green smoothie down, but adding a bunch of sugar defeats the purpose of a simple detox breakfast replacement. Fruit acts as natural sweetener.
That being said, if you're a green smoothie newbie, you might prefer this to be a little sweeter than the recipe turns out as written. A small amount of stevia can help you ease into drinking your veggies. I don't use it in this recipe but for ones where I do, I prefer the liquid kind. It blends in better and has better flavor. Be careful though because adding too much can give your smoothie a weird flavor (in my opinion).
Spinach and beet greens are pretty mild, but if you sub in more bitter greens like kale or mustard greens, you'll probably want a touch more fruit or some sweetener. Although beet greens are delicious in this, I use this blend pretty often too. Its the same one I used in that green smoothie bowl I shared a while back.
I'm curious – do any of you drink green smoothies every day? Got any tips or pointers you can share?
Read more: make chai tea latte with steamed milk