This Beetroot and Goat Cheese Salad is a dish that will delight. Goat cheese and beetroot have long been a popular pairing and this salad demonstrates how well they work together. Although easily prepared from readily available ingredients, it is elegant, with a beautiful combination of textures, flavours and colours. As well, it is versatile; serve it as a starter, a side dish or a light lunch. It will be a great addition to your table.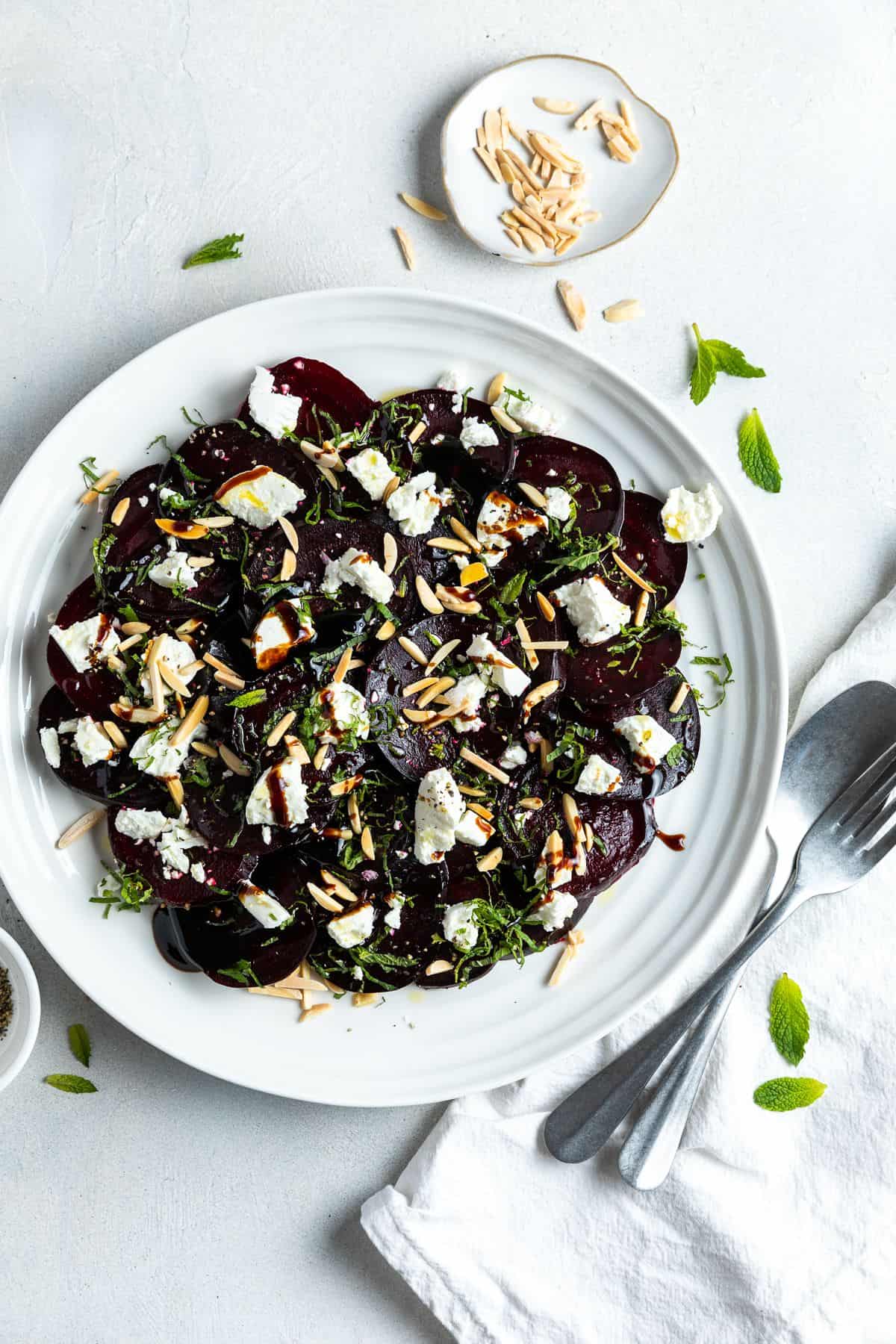 Jump to:
Why we love this recipe:
Ingredients in this recipe:
Step by step instructions:
Tips for success and FAQS:
Serving suggestions:
More delicious recipes for you to try:
Beetroot and Goat Cheese Salad
Why we love this recipe:
My Beetroot and Goat Cheese Salad is a beautiful combination of textures, flavours and colours. There is creamy goat cheese, complementing and contrasting with deep purple, sweet beetroot, the crunch of almonds and the vibrancy of the fresh green mint leaves, all dressed with extra virgin olive oil and sweet yet tangy balsamic glaze.
You will love this salad because:
Ingredients in this recipe: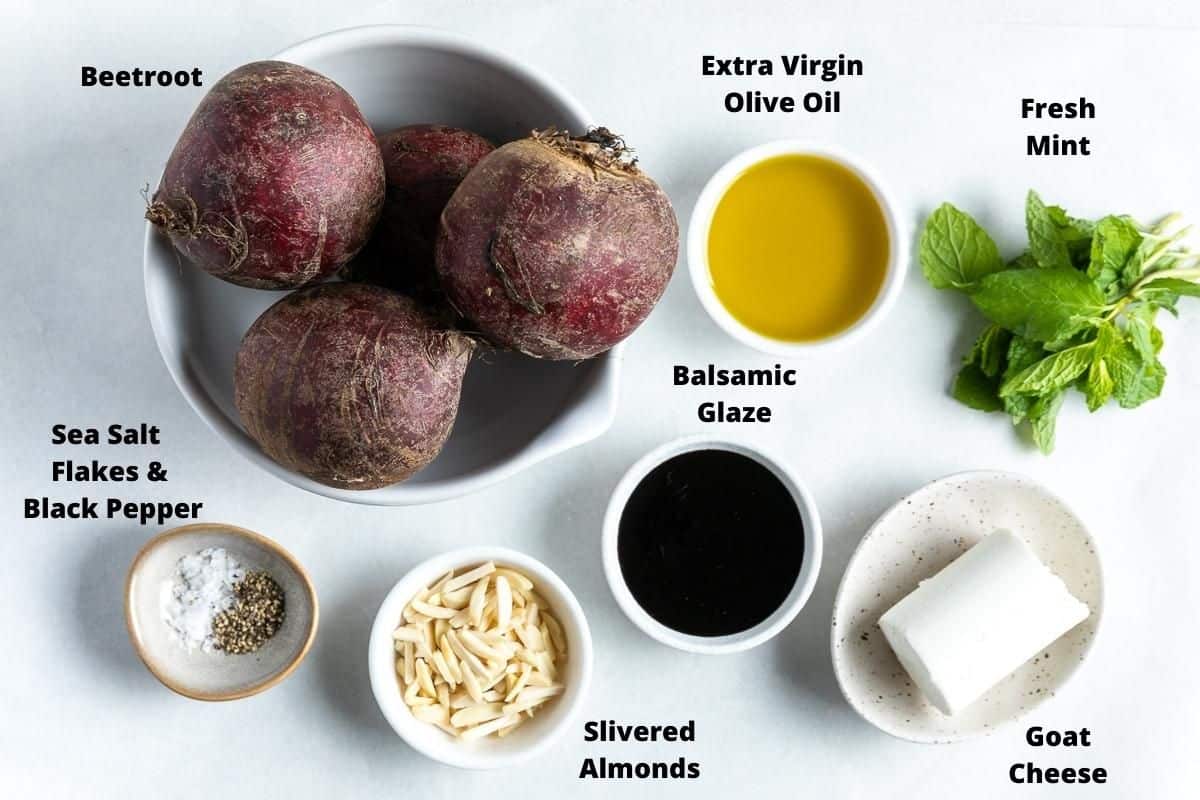 Please see the recipe card further along in the post for exact quantities of ingredients and the full method.
Beetroot – a root vegetable also known as beets, they are available in several colours.
Slivered almonds – add crunch. Substitute with any nut of your preference or some pumpkin or sunflower seeds.
Fresh goat cheese – adds creaminess and a slightly tangy flavour. You could also crumble some feta cheese over the salad.
Fresh mint leaves – for fresh flavour and vibrant colour.
Extra virgin olive oil – this is from the first pressing of the olives. It is naturally extracted from the fruit without the use of heat, and the flavour is fresher and more intense. Being naturally extracted, it retains its health benefitting antioxidants and heart-healthy fats.
Balsamic glaze – adds a sweet, yet tangy note.
Sea salt flakes and freshly ground black pepper – sea salt is a great flavour booster; it accentuates the natural flavours of the dish. I prefer to use freshly ground black pepper as the flavour is much brighter. Pre-ground black pepper tends to taste dull and "dusty." If you like spice, you could add some dried chilli flakes.
Step by step instructions: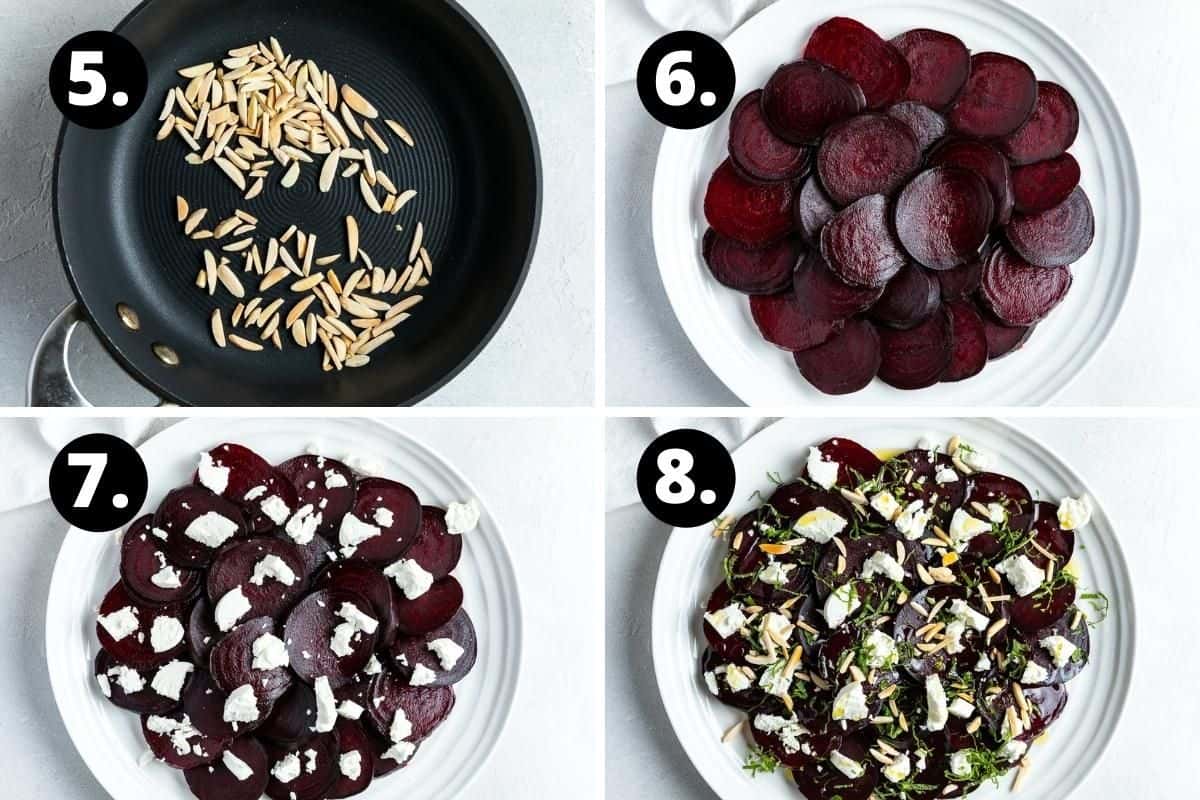 To cook the beetroot, heat your oven to 200 degrees C (400 F).
If the beets still have their leaves, use a sharp knife and cut them off. Set them aside for another use.
Wash the beetroots under cold running water. You don't need to dry them.
Wrap them loosely in aluminium foil.
Place in a large baking dish or on a rimmed baking tray to catch any juices which may leak.
Roast in the preheated oven for 45-60 minutes, depending on size, until the beets are cooked. Set them aside until they are cool enough to handle. Trim the stem and root end.
Rub the skin away with a paper towel or peel it away with your fingers. It should peel away easily. If there are any tough pieces of skin, use a sharp paring knife to remove them.
Toast the almonds.
Slice the prepared beetroot into slices about 1 cm (⅓ inch) thick and arrange on a serving platter.
Crumble the goat cheese over the beetroot.
Finely shred the mint leaves and scatter on top. Sprinkle the toasted slivered almonds on the salad. Drizzle with olive oil and balsamic glaze and season to taste.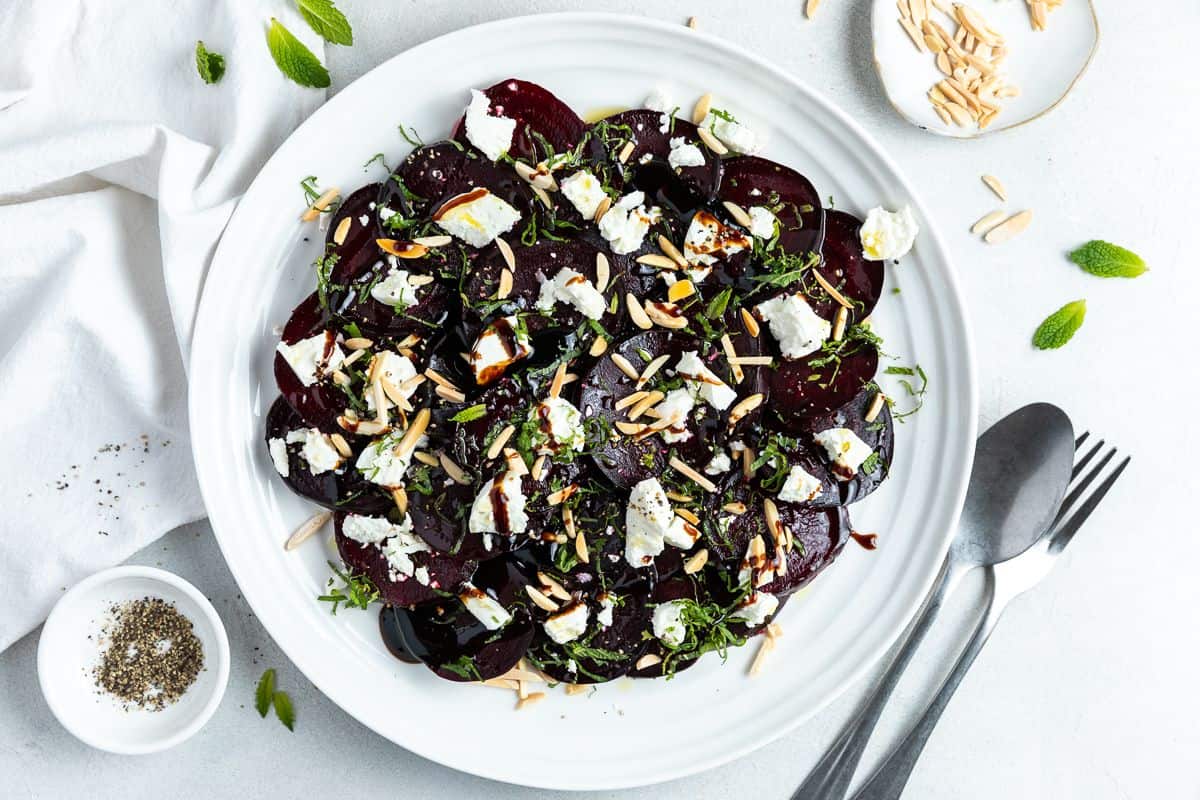 Tips for success and FAQS:
When a salad is as simple as this one, to obtain the best result, it is essential to use good quality, fresh ingredients.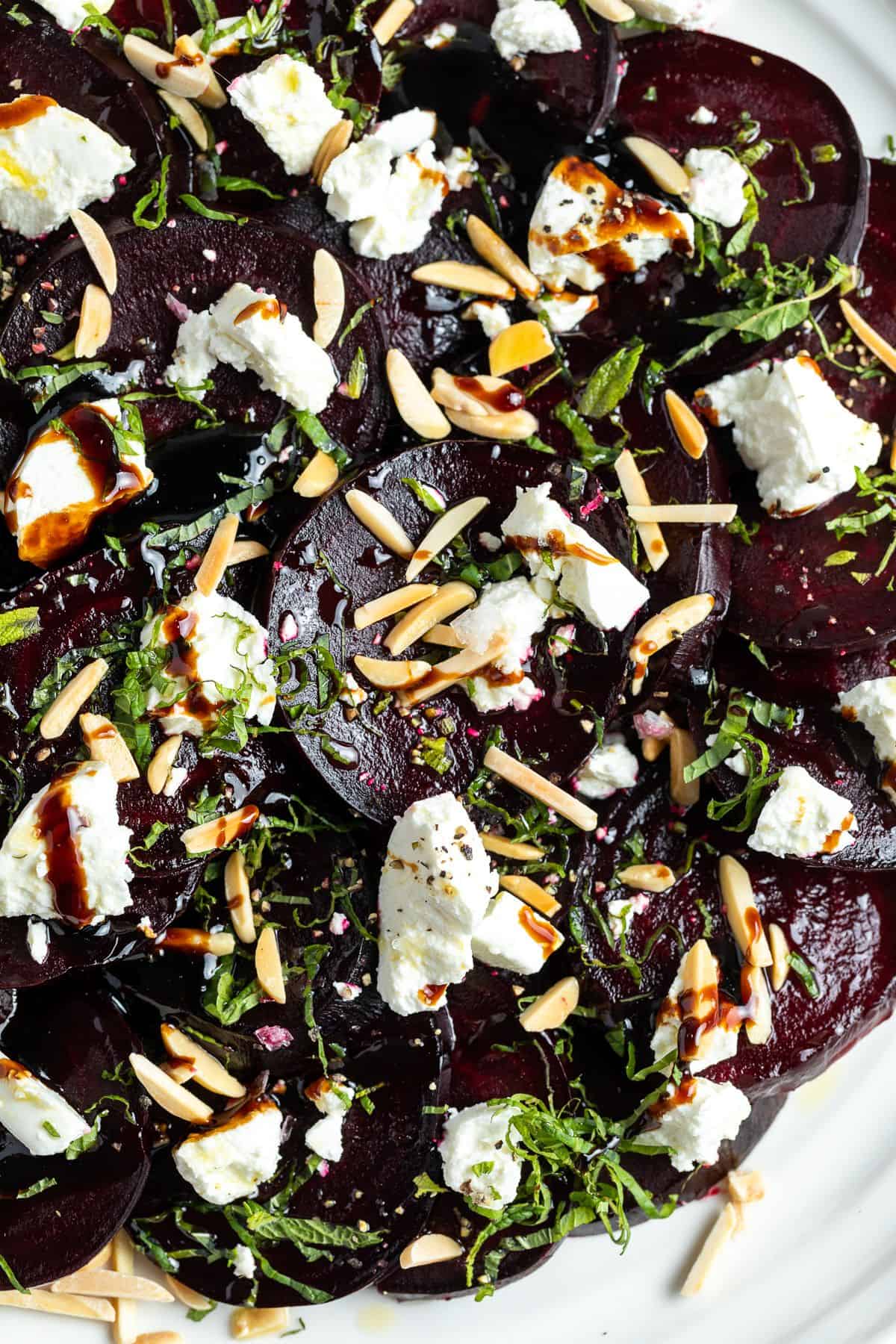 Serving suggestions:
Serve the Beetroot and Goat Cheese Salad with:
Roast Chicken
Chicken Patties
Tuna and Potato Patties
Cheese and Herb Filo Pie
Or, add some chickpeas for added protein, for a delicious meatless meal.
More delicious recipes for you to try:
Try some more of our favourite salad recipes which are full of flavour and simple to prepare:
Roasted Cherry Tomato Caprese Salad
Turmeric Roasted Cauliflower Salad
Sweet Potato and Quinoa Salad
Kale and Sweet Potato Salad
Pumpkin, Cranberry and Almond Salad
Sweet and Sour Carrot Salad
Kale and Apple Slaw
Or, view our complete collection of Salad Recipes.
This Roasted Beetroot and Goat Cheese Salad is a favourite of mine and I hope it will become one of yours also. It is a delicious side dish to many things and so simple to prepare. Be sure to let me know in the comments when you have given it a try!
Alex xx
Please see more list about Recipe beet salad with goat cheese
Detail: 🔗