This easy recipe is all you need to make the juiciest, meltingly tender roast beef tenderloin with the perfect crust! Serve it with my garlicky, herby chermoula sauce (optional) for a pop of color and flavor. I've included expert tips and video for how to cook beef tenderloin perfectly every single time!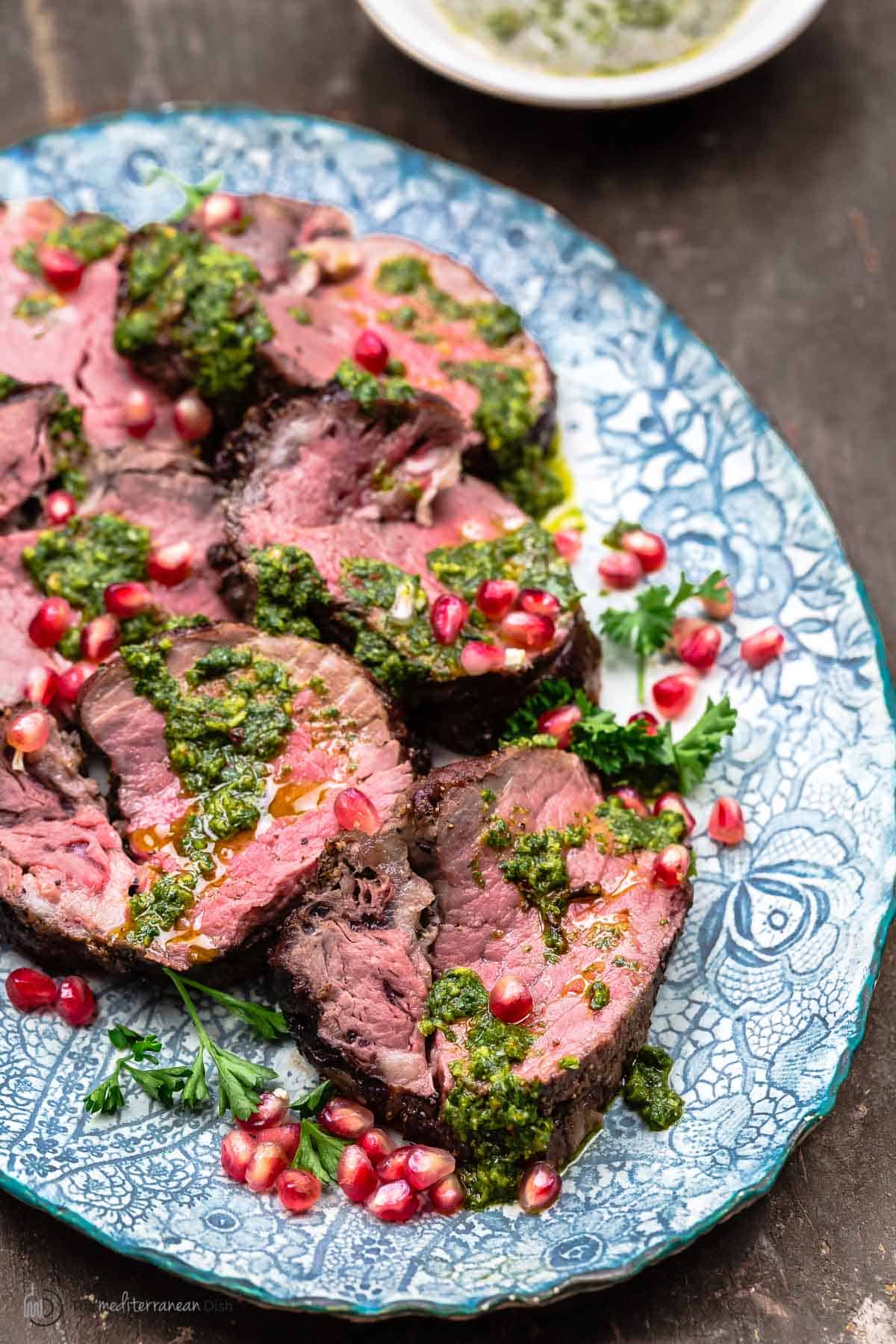 Beef tenderloin makes a delicious and elegant centerpiece for a special dinner to impress company. But because of its hefty price tag, it is important to cook your tenderloin properly so it won't dry out or lose its "wow" factor.
The good news is, with the right technique—which is what this easy slow-roasted beef tenderloin recipe gives you—you will have a succulent, meltingly tender roast every single time.
And if you choose to dress it up with my herby Chermoula and a few pomegranate seeds, you've got yourself a show-stopping centerpiece for the holidays or your next special dinner.
Let's cover some important basics and tips…
Choose center-cut beef tenderloin
Beef tenderloin is a lean cut of meat that comes from the animal's loin (the muscle that extends from the hip bone to the ribs of the animal). Because this muscle (the psoas major) does not get much exercise, tenderloin meat is the most tender, buttery cut with little fat.
For my roast, I love using the center-cut of the tenderloin, also known as chateaubriand (the cut from which fillet mignon steaks come). This is typically somewhere between 2 and 3 pounds, and because of its uniform, cylindrical shape, center-cut beef tenderloin cooks evenly and is easy to carve into beautiful slices-no special skills needed, just a good knife (this is the one I use and get questions about all the time). If you don't want to trim a whole tenderloin to get to the center, you can ask your butcher to do it for you.
Two secrets for the best beef tenderloin roast
Now, how to best cook beef tenderloin? Roasting your tenderloin low and slow is key here, but two secrets make all the difference:
Salt and air-chill your beef tenderloin in the fridge for a few hours or overnight before you roast it! Salting the tenderloin well on all sides will infuse the meat with flavor (remember, this cut has little fat and therefore needs flavor). Do this one night ahead and allow the tenderloin to sit in the fridge, uncovered overnight. By generously salting the meat and then chilling it for several hours, you allow the surface of the meat to dry out. This might seem counter-productive to producing a juicy beef tenderloin but removing the surface moisture helps the meat to brown quickly, and slow-roasting lets the meat cook steadily, retaining its juiciness. (BTW, this trick works well on turkey breast and roast chicken as well.)
Reverse sear your roast beef tenderloin. Reverse searing is a technique where instead of searing the meat at the beginning, you roast it low and slow for a few hours, then at the very end, you finish it under the direct heat of your broiler to get the perfect sear on the outside. By roasting the meat on low heat for a few hours, you allow it to cook to the same temperature all the way through, instead of having it be more done on the outside than in the middle. Searing the tenderloin at the end adds beautiful color and the most delicious crispy crust.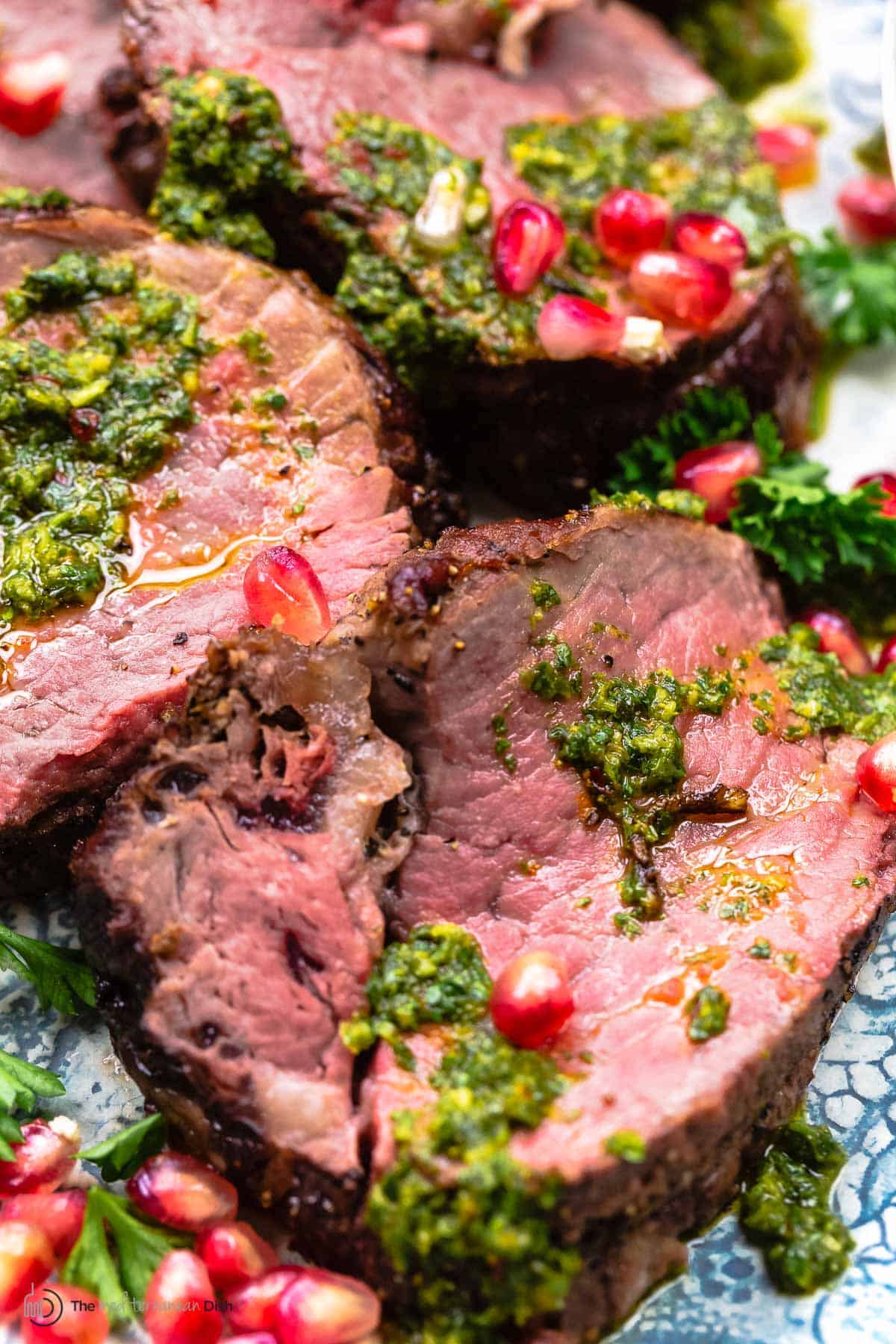 How long should you cook it?
Slow-roasted tenderloin in a 225 degrees F heated oven will take 50 minutes per pound for a medium-rare roast (internal temperature at 135 degrees F after the meat has rested).
To roast a 3-pound tenderloin to medium-rare, it will take about 2 ½ hours to roast in a low-heated oven at 225 degrees. Roasting time will vary depending on your oven, and the degree of doneness you're trying to achieve.
Beef tenderloin temperatures guide
Beef tenderloin roast is best served rare or medium-rare with an internal temperature at around 135 degrees . Use a meat thermometer to determine if the roast is done, and remember that the temperature of the meat will rise as it rests for 15 minutes or so before serving. Here is a quick guide:
Rare: 125°F after the meat has rested. Remove the roast from your oven when its internal temperature reaches 115°F.
Medium-Rare: 135°F after the meat has rested. Remove the roast from the oven when its internal temperature reaches 125°F.
Medium: 145°F after the meat has rested. Remove the roast from the oven when its internal temperature reaches 135°F.
Medium-Well: 155°F after the meat has rested. Remove the roast from the oven when its internal temperature reaches 145°F.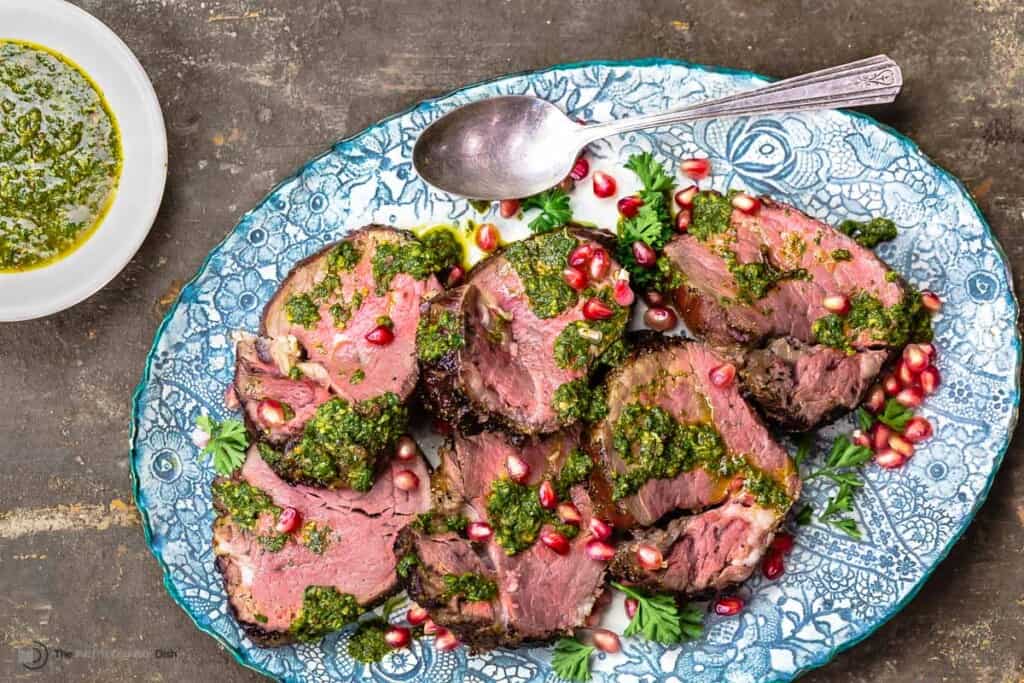 Ingredients you'll need for this slow-roasted beef tenderloin recipe
The key ingredients to this recipe could not be more simple. Here is what you need to make it:
Center-cut beef tenderloin – 2 to 3 pounds
Kosher salt and black pepper – To season the beef before it is air-chilled overnight
Extra virgin olive oil – Brush the tenderloin on all sides with good EVOO after it has slow-roasted, and put it under the broiler to sear.
Optional Chermoula sauce and pomegranate seeds to serve. The fresh, herby chermoula sauce adds a Mediterranean twist to the tenderloin, while pomegranate seeds lend the dish a festive air as well as a nice crunch. Feel free to finish with your choice of sauce and garnish instead!
How to cook beef tenderloin in the oven: step-by-step
Slow-roasting beef tenderloin takes a bit of preparation and time, but it is well worth it! Follow my step-by-step guide for the best way to cook beef tenderloin. (Printer-friendly version below.)
Season and chill the beef tenderloin. The night before (if possible), season it with kosher salt and black pepper on all sides. Be very generous with the salt, this is key to flavor. (If you forget, just do this as soon as you remember).
Truss the tenderloin. Grab some kitchen twine and cut it into pieces. Tie the tenderloin in roughly one-inch increments. (This is trussing.) I like to truss the meat to help it hold its shape. Trussing the tenderloin also helps to make slicing easier once the roast is ready, since you already have a guide for how to cut even pieces. Don't have kitchen twine? Don't worry! Simply leave your seasoned beef tenderloin as is and jump to the next step.
Air-chill the beef. Top a large sheet pan with a wire rack and place the tenderloin on the rack. Refrigerate, uncovered, overnight. Leaving the beef tenderloin uncovered in the fridge helps to dry out the surface moisture, which helps with browning later. Placing the meat on a wire rack instead of directly on a sheet pan allows air to circulate all around the beef (including underneath), ensuring all sides become dry in the fridge. (Even 30 minutes or 1 hour in the fridge will help)
Slow-roast the tenderloin. On the center rack of a 225 degrees F-heated oven, slow roast the beef tenderloin. Roast for 2 to 3 hours, or until a meat thermometer inserted into the beef reads 125 degrees F. Remove from the oven and set aside to rest. (The temperature will continue to rise while resting.) Note: If you are serving this with my delicious chermoula sauce, you can make it according to this recipe while the beef is roasting.
Sear under the broiler. Place a rack 6 inches away from the broiler and turn it on. Brush the tenderloin on all sides with some extra virgin olive oil, and place it under the broiler. Broil for about 2 minutes, turning every few seconds until browned on all sides. A meat thermometer should read somewhere between 125 and 130 degrees F for medium-rare (If you like your meat more cooked, you can allow it more time in the oven).
Allow the meat to rest. Remove the tenderloin from the oven and let it rest for a few minutes (15 to 20 or so). Cut off and discard the twine.
Slice and serve. Slice the tenderloin into 1-inch-thick rounds. (The twine marks will help guide you.) Arrange the slices on a platter and drizzle with chermoula. Garnish with pomegranate seeds
The sauce!
While many recipes will have you serving this roast with a creamy horseradish sauce, mushroom sauce, or rich wine-based gravy (all delicious options!), I love to use something bright and herby to give a quick pop of flavor and color! I chose chermoula , which is a simple sauce made with parsley, cilantro, garlic, lemon, and warm spices. It takes just five minutes to blitz together, so you can easily do it while the roast is in the oven. Chermoula instantly brightens and elevates beef tenderloin.
If you'd like to try something with a similar flavor, but with a lot more heat, make a quick batch of zhoug, which is similar to pesto – only spicier and with cilantro. For something milder, you could make some basil pesto, if basil is in season.
For an option that is not herby, but still packs a punch, toum would be an excellent choice! Toum is a creamy Middle Eastern garlic sauce that comes together in minutes in a food processor.
What to serve with slow-roasted tenderloin
Nothing beats roasted vegetables alongside a beautiful tenderloin. Your favorite roasted veggies would work perfectly, but I have some ideas for you: Italian Roasted Vegetables (colorful and bright), Simple Roasted Butternut Squash, Crispy Broccoli, or Smashed Potatoes.
Leftovers and storage
Leftovers will keep in an airtight container for up to 4 days. Enjoy your roast at room temperature or reheat it briefly in a medium-heated oven until just warmed through (or in a skillet with a little bit of extra virgin olive oil)
Other special roast recipes you may enjoy
Hungry for more? Here are all our Mediterranean Recipes!
Visit Our Shop
Please see more list about How to roast a beef tenderloin in the oven
Detail: 🔗