Protein shakes continue to be all the rage among health fanatics. They are synonymous with boosting metabolism, reducing appetite, and gaining muscle and you can achieve this and much more by using the best blender for protein shakes to create healthy concoctions that you can enjoy at home or take along with you.
That said, your protein shake will only do you good if you blend it right. This implies having chunk-free beverages that taste good, yield positive results, and are easy to make. Since many will involve using protein powder of some sort, you need to ensure that everything gets blended well with no residue left behind.
So, when looking for the best blenders for protein shakes, you should look for something that's easy to use, has the right power to pulverize ingredients, and in most cases, should come with easy-to-carry cups. Here are my top recommendations to consider.
Top Rated Blenders for Protein Shakes
Name Image Learn More Best Overall Vitamix 5200 C-Series Professional Blender
Best Overall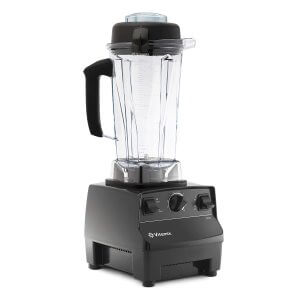 view prices
Read Review
Best Budget Oster MyBlend
Best Budget
view prices
Read Review
Best Personal NutriBullet Rx N17-1001 Blender
Best Personal
view prices
Read Review
Nutri Ninja BL642 Personal Countertop Blender view prices
Read Review
NutriBullet Pro 900
view prices
Read Review
Magic Bullet view prices
Read Review
Ninja BL480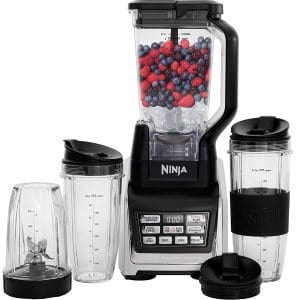 view prices
Read Review
Best Blender for Protein Shakes: A Complete Buying Guide
As you can probably imagine, most blenders offer a lot more than just making shakes. Most blenders are designed to blend anything (but maybe don't try blending batteries), from frothy milkshakes to green spinach smoothies, grinding a whole bag of coffee beans, or reheating yesterday's soup.
If all you want to do is blend up a protein shake or a smoothie with your blender, then you can easily go the path of least resistance and get a smaller, more basic model with no bells and whistles attached. But if you want to do more, then look for something that gives higher power, capacity, and convenience.
When deciding on the best blender for protein shakes, take a second to think about what else you might be doing. If all you want is to make shakes, you don't need to spend a fortune on a big complicated machine. Here are some tips when shopping for the best shake blender.
How Big Do You Want It?
Maybe a better question to ask would be 'how dedicated are you?' If you are just getting into the shake game, you may find yourself neglecting your giant machine a month down the line. For a newbie, you definitely want to keep it simple, buying something like a Nutri Ninja that doesn't cost too much money and can easily be used as something other than a shake maker.
If you are already in love with making shakes, the size of your blender will depend on how much shake you make. They generally range from around 60 ounces all the way to almost 80 ounces. Then there are personal units that don't take up much room on the counter and are handy for making personal drinks.
Read More: Best Personal Blender – 4 Top Rated Models
It really depends how often you will use your machine, how much space you want it taking up on your counter, and how dedicated you are to living a healthy lifestyle with quality shakes.
Portable Unit
If you only take your protein shakes at home, then portability may not be such an issue. But if you're one to take your drink along with you then portability of the blender definitely factors in.
Compact blenders, especially those styled like a sports bottle are ideal for carrying along as you head out for a jog or to the gym. Others that may not be practical to take along should still come with plenty of options for to-go cups and lids so that your protein shake can accompany you wherever you go.
Power
Even low powered models will yield enough torque if all you plan on doing is preparing protein shakes. But when you add ice into that equation, things change quite a bit. Ice demands a steady supply of power, so look for models with 700 or more watts.
Blenders with weaker motor power than that will struggle with ice, although you may facilitate the process by breaking cubes into smaller pieces and then placing them in the blending jar.
Related Articles:
Best blender for frozen fruit
3 top-rated vacuum blenders
Important Features
There are almost too many possible features to go over at one time. When looking for the best blender for protein shakes, there are tons of things to look out for. We can start with variable speed control.
Blending Speed
To have more control over the texture and consistency of your blend, it's important to look at models that offer a variety of blending speeds. Having a choice between variable speeds can surely make the blending process easier and give you exactly what you want.
You want the ability to adjust the speed of the blend to get your desired texture. Maybe it comes as a dial, or maybe a button on the unit itself. However it comes, variable speed control is the most important feature if you want the ability to adjust the overall substance of your shakes.
On the other hand, one-speed blenders will also give you decent protein shakes, but you may have to compromise somewhat on the texture and consistency aspects of the drink.
Blade
A lower-quality blade can easily cancel out a higher power output as it will struggle to blend ingredients smoothly. Stainless-steel blades are more resistant to dulling with the potential to hold the edges well.
On a side note, the blade connection to the unit is also important. Some blades are mounted so that it becomes hard to get to ingredients that settle at the base of the blending container. Getting something that doesn't present this issue will blend better and be much simpler to clean.
Read More: Do you need a blender for Shakeology?
Self-Cleaning
Then you have self-cleaning. Do you want to waste time cleaning the machine, or do you want the machine to clean itself for you? What about blades? Does your blender come with aircraft-grade steel blades or "hardened" blades? The blender's blades will determine how well it blends, grinds, and chops – and also how easily it clogs. You definitely want super hard blades that are built to last.
Pulse
Finally, a pulse feature. This feature is key if you want to make something that is chunky. I'm talking about salsa, thick potato soup, or a really thick shake with bits of fruit still in it. Always check that your blender comes with a pulse feature.
Best Small Blender for Protein Shakes
Small blenders for protein shakes are getting more and more popular. And because of this, you can find dozens and dozens of personal blenders for sale online, all promising to be the best. But what makes a small blender the best blender for protein shakes?
I'm going to breakdown a few key components that you should always look for when purchasing a new blender to help you live a healthy lifestyle. Things like convenience, power, and portability all come into play when looking for a quality blender.
Read More: How to Eat 100 Grams of Protein a Day: Simple Diet Tips
Convenience is Key
The most important thing to have in a small blender is convenience. This is especially true if you are only using it to make protein shakes and smoothies. You want a quick shake with no cleanup and no hassle. You should be able to add your ingredients and press a single button to blend your shake.
For this reason, you don't want a small blender with lots of fancy options. Variable speed controls are not important when you are only blending a single shake. This is especially true when you're blending the same shake frequently and know exactly how long to do it for.
This is why twist-to-activate blenders like the NutriBullet and Magic Bullet are so popular.
Minimal Cleanup
Chances are you live a pretty hectic life. This means you don't want to be wasting your time cleaning up your gross smoothie container. For this reason, you want to have minimal cleanup. Before you purchase a blender, check the reviews! Make sure there are no angry reviews about leakage, spillage, or faulty lids.
You should be able to pour your ingredients into your container, attach the container to the motor base, then blend your drink without a single spill. If you get the right blender, you will only ever need to rinse the blades and clean out your travel cup when you're finished.
Power is Important
Even in a small blender, power is important. The difference between a motor that outputs 250 watts and a motor that outputs 900 watts is like the difference between a car that drives 25 mph or 90 mph. It is a serious difference.
Yes, 250 watts is enough to effectively blend soft ingredients. But if you're making a cold protein shake using ice and frozen fruits or vegetables, or even adding nuts like almonds or walnuts, you need more power. Always check the wattage of your blender before making the final purchase.
Read More: Best Blender for Frozen Drinks – 3 Powerful Models
Smoothie Vs Shake: What's The Difference?
One of the most popular ways of losing weight is through a liquid diet. The concept behind it is simple – eat less and drink more fluids to supplement your nutritional needs. This is where the matter of healthy beverages like juices, shakes, and smoothies come in. Surprisingly, however, there is still a lot of confusion when it comes to the smoothie vs. shake debate. A lot of people still use these terms interchangeably as they fail to realize that these are two wholly different drinks.
Here I will explore the different aspects of the drink so you can better understand what sets them apart. I'll also provide a breakdown of the things you need to remember when making your drink. Hopefully, this should help you down the road.
Smoothie Vs Shake: Overview
Smoothies and shakes bear a lot of similarities. They may even look identical to the untrained eye. After all, they are both thick and colorful drinks. In some cases, they even have the same consistency. Of course, a major source of confusion stems from the similar process used to make these drinks – as both smoothies and shakes are made by blending their ingredients. However, this is where the similarities end.
One of the crucial, and most important, differences between these two drinks lie in the ingredients themselves. Smoothies, for instance, are typically made with blended fruits. Additional ingredients like grain, seeds, oatmeal, and vegetables can also be added to increase the nutritional value. Some even go so far as to use protein powders to create interesting taste combinations.
On the other hand, most shakes make full use of a dairy base. They are typically made from milk or ice cream – hence the name milkshake. Added to this base is an assortment of syrups, powders and artificial sweeteners to get their flavor. Some shakes also make use of whipped cream and candy to add more garnish.
As you have probably noticed, the purpose of these drinks is completely different. Shakes are more of a snack to give you more fuel in the middle of the day. Smoothies, on the other hand, are usually consumed as a meal replacement. The latest fitness trends dictate that the most common of time to drink smoothies is in the morning as the number of nutrients it packs makes it suitable as a breakfast replacement.
Read More: Smoothie Vs Shake: What's the Difference?
Smoothie Vs Shake – Which is Healthier?
Now, the question you are probably asking is: which of these is the healthier option? Of course, the answer to that isn't so straightforward. After all, it is the specific ingredients and their combination that ultimately decides the food's nutritional value. Needless to say, the same principle applies to shakes and smoothies.
It is worth stating, however, that smoothies typically have a lower calorie content. This is why most people think that smoothies are a healthy alternative to shakes. Real fruit, after all, is packed with protein and all sorts of nutrients. Though smoothies are usually rich in carbs, they make up for it by having lower fat content. It should go without saying that this does not apply to smoothies that make use of high-fat ingredients like peanut butter, sherbets, and syrups.
Conversely, shakes, usually contain large amounts of saturated fat. They are also known to have a higher calorie content compared to most smoothies. However, because of their dairy base, most shakes also contain great amounts of calcium and protein.
Now, it should come as no surprise that both of these drinks can be seamlessly integrated into your health and fitness routine. For instance, other than being great meal replacements, smoothies can work as great pre-workout snacks. The fact that they are rich in carbs makes them an effective source of fuel for your body. For this purpose, I highly recommend that you make use of a smoothie that contains lots of fruit and vegetables.
Meanwhile, you can also use shakes as post-workout snacks. Just be sure to go easy on the fatty elements and focus on using ingredients rich in protein. Keep in mind that muscle recovery depends primarily on the amounts of protein in your diet. That said, adding things like chia seeds would be great. Also, you can never go wrong with having some protein powder into the mix.
Read More: How to Add Protein to Smoothies: 18 Protein Powder Alternatives
Making Healthy And Tasty Drinks
Needless to say, both smoothies and shakes make for tasty drinks. However, as explained above, their nutritional value depends on the specific recipe being used. That said, I've come up with a handy guide on how you can consistently make healthy and tasty beverages at home. All you need is to keep these principles in mind.
Always Go For The Healthy Option – Whether you are making shakes or smoothies, you must take a good look at your list of ingredients and check if you are using the healthiest options. For instance, instead of using full-cream milk for your shake, why not try making use of low-fat or almond milk instead?
Cut Down the Sugar Levels – If you are looking to make healthier shakes, then you should consider cutting down on the sugar content. It would certainly help if you left out the whipped cream, sprinkles, and candy garnish.
Liquid Options – Feel free to explore and broaden your horizons when making smoothies. While the most common liquid used is cold water, you can experiment and play around using different liquids for its base. For instance, you can try using lemon or orange juice if you want some tanginess in your smoothie. You can also even use non-conventional materials like coconut water and coconut milk.
No Ice for Smoothies – Using ice for smoothies is inadvisable as it will dilute the flavor of your drink. Instead, make sure to use frozen fruit to ensure the best results.
Remember the Golden Ratio – Remember, making the perfect smoothies is all about finding that best fruit to liquid ratio. That said, we highly recommend that you follow the 2-1 rule. That's 2 cups of frozen fruit per 1 cup of liquid.
Smoothies and shakes may appear similar and they're both made in a blender, yet the subtle differences set them apart. However, they can both be turned into healthy snacks with the right recipe. So, be sure to keep that in mind as you follow your fitness journey.
Read More: How to Make Protein Shakes Taste Better: 10 Simple Tips
Best Blender for Protein Shakes: Final Thoughts
If you want a high-powered blender that can make awesome shakes, blend perfect smoothies, and clean itself, the Vitamix 5200 Professional Grade Blender is the best blender for protein shakes. The Nutri Ninja is still a great option, and if you cannot afford the price of the Vitamix, I highly suggest the Nutri Ninja BL642.
As for the NutriBullet Rx, it is a great personal model. For someone who only needs to make shakes for themselves, maybe once or twice a day, and doesn't require 64 ounces of a strawberry milkshake or 72 ounces of a protein shake, the NutriBullet is for you.
The NutriBullet Pro 900 Blender has everything you need to complete your kitchen. Can this make the best protein shakes? Absolutely, yes! It has 900 watts of devastating power to crush ice and blend frozen ingredients. It's super small and stores easily out of the way. And finally, it can be cleaned in just a few seconds.
The Magic Bullet Blender is a fantastic blender at a ridiculously low price. It's great for single people who don't demand much from their blender. The Oster MyBlend yields personal blending at a budget-friendly price letting you blend your protein shake straight into the sports bottle and go. Designed for convenience and portability, this is the ideal one-serve to-go blender.
The Ninja BL480 is a super powerful blender that you can blend into, put on a travel lid, and head out the door. This is an excellent choice for people who want a heavy-duty protein shake blender equipped to handle the thickest powder and heaviest additional ingredients.
Get Further Details And Buy Now On Amazon
Please see more list about Best blender for protein shakes
Detail: 🔗