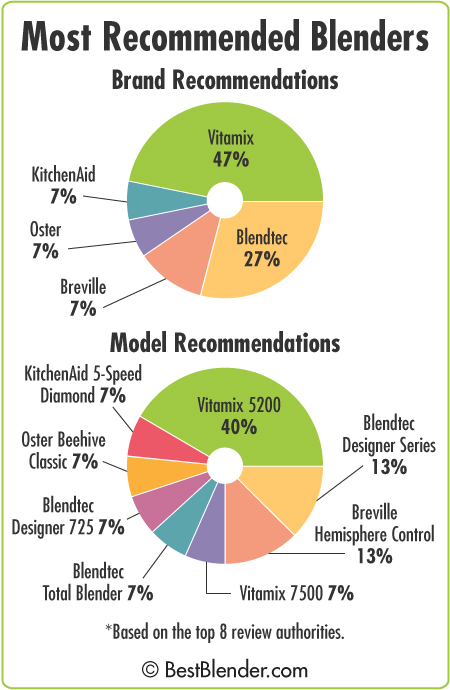 If you're researching online to find the best blenders look no further. We've combed through every data point and compiled the most authoritative resource.
All relevant data is below. The short answer is this:
Reading: best blenders for smoothies 2017
1. The top review authorities prefer the Vitamix 5200 as the overall pick and the Breville Hemisphere as the lower priced pick.
2. Surprisingly, many of the top review authorities missed what we consider to be the #1 most important feature…
Particularly if your goal is to improve your health and increase your consumption of healthy fruits and vegetables.
To discover this feature and see which blender we recommend simply keep reading…
Researcher's Tip: Not sure which features you need? Our Ultimate Buyer's FAQ guides you step by step to find the right blender according to what you want to make.
Which blender do the Top 8 Review Authorities recommend?
Many blender companies are great at marketing their products, but which blenders do the people with the most experience recommend? This is the most powerful proof as to which blenders are the most effective while being used every day to improve and transform your health.
Below is a table showing the top 8 online blender review authorities along with both a summary of their review methodology and their best blender reviews for 2017.
Review Authority Top Pick Second Pick 2017 Summary
1. Consumer Reports
Vitamix 5200Blendtec Designer 725
Consumer Reports tested 91 top selling models across 7 different criteria. The complete details of their testing requires a paid subscription to access, but this is a summary of how they tested and the top blenders they recommend:
1. Icy drinks (Smoothies) – they tested the smoothness of non-alcoholic frozen drink by weighing the yield through specific-sized sieves. 2. Ice Crushing – ability to crush 7 standard sized ice cubes (without water) in a specified period of time. 3. Weight Rating – they factored in the combined weight of the jar, lid, and base. 4. Convenience – an estimation ranging from poor, fair, good, very good, or excellent was assigned to the blender's ease of use regarding cleaning, blade removal, clarity of controls, jar markings, pouring ease, and jar balance. 5. Noise – they measured the noise levels emitted from the blender while running at maximum speed. 6. Puree – they tested how well the blender could puree soup. 7. Durability – they determined if the blender still functioned normally after 45 cycles of their ice crushing test.
Their top 2 picks were the Vitamix 5200 and the Blendtec Designer 725 model.
Our Thoughts: Smoothies are just one of many things that can be made with a blender. We didn't see any mention of tests distinguishing between fruit smoothies and green smoothies, which constitute entirely different tasks.
Furthermore, the ability to make drier and more solid items like hummus, batters, and sorbet (items that typically require manual interaction and agitation on behalf of the user) weren't mentioned or likely tested during their process. However, the Vitamix 5200 does excel at these tasks and thus we agree with their overall conclusion.
Sources:
1. familycuisine.net/cro/news/2014/10/what-s-the-best-blender-depends-what-you-blend/familycuisine.net 2. familycuisine.net/cro/blenders.htm
2. Good Housekeeping
Breville Hemisphere ControlOster Classic Beehive Blender
The Good Housekeeping's Research Institute (GHRI) tested 25 different blender models in their most recent review. One very interesting thing to note about their testing process is that it was almost exclusively limited to less expensive models as their testing focused on very basic tasks like Fruit Smoothies and grinding coffee beans. What they tested:
1. Bending Ability : the ability to grind coffee beans, chop onions, prepare a smoothie, and prepare a frozen margarita. 2. Ease of Use: Ease of using the controls, positioning the jar on the base, assembling blade parts, putting on and removing the jar lid, reading the measurement markings on the jar, using the pulse feature. 3. Misc: They additionally tested for: How easy they were to clean, results of dishwasher cleaning, loudness, stain resistance, whether they have the potential to cause injury, and helpfulness of owner's manual and customer service options.
Their Top Picks: They chose the Breville Hemisphere Control blender as their top "state of the art" pick and the Oster Osterizer Classic Blender as their "value pick".
They praised the Breville blender for having "every feature a blender needs and being easy to clean". Furthermore, they liked the simplicity of the Oster blender for having just one switch.
Our Thoughts: While their testing protocols form a good starting point, most people looking for a high performance blender will take these features as an assumption. The most important features for a blender should be its ability to make a fruit smoothie, green smoothie, and more advanced things like hummus, sorbet, and nut butters. Additionally a blender should provide both a professional blend quality with minimal work on the user's part as well as an easy clean-up.
Sources:
1. familycuisine.net/appliances/blender-reviews/a18522/best-blenders/ (2013 Testing Results) 2. familycuisine.net/appliances/blender-reviews/a18908/best-blenders-reviews-testing/ (2010 Testing Results)
3. America's Test Kitchen
Vitamix 5200Breville Hemisphere Control
America's Test Kitchen tested 10 top-rated blenders and chose the Vitamix 5200 to be the best. For their latest test they compared the previous winner to 8 newer blenders ranging in price from $40 to $200.
Their tests included blending Hummus, Thick Milk Shakes, Ice Crushing, Frozen Fruit Smoothies (including 4 fibrous leaves of fresh kale & hard frozen cubes of tropical fruit), and Margaritas.
They additionally performed tests by adding food dies to the container to test how quickly a blender could achieve proper circulation of ingredients and the decibel noise level of each unit (to check which units least likely to wake up people in the morning).
Their Conclusion: They found that all the lower priced blenders they tested weren't able to blend frozen fruit or fibrous greens without significant stopping and starting of the blender and manual agitation to push ingredients into the blade.
They claim that good blender performance has to do with 4 specifics factors:
1. Width of the Jar: Wider jars that let the food fall down into the blades performed better. Narrowed containers tended to trap food and require significant manual intervention. 2. Base of the Jar: Jars with rounded or semi-circular bottoms allowed for better circulation of ingredients, while flatter bottoms tended to slow down and inhibit circulation. 3. Size & Position of Blades: The better performing models have larger blades that are angled in multiple directions and extend out closer to the side and bottom of the jar. 4. Power: The more successful blenders had more power to circulate the ingredients with a full container.
Their Picks: They chose the Vitamix 5200 as the best blender on the market for 2015, which according to them excelled at every task in their tests. They additionally claimed that the lower priced Breville Hemisphere had very similar performance to the Vitamix and at about half the cost. They also liked the fact that these two blenders have overheat/overload protection causing them to shut off if they get to hot.
Our Thoughts: We agree that the Vitamix blender excels at the tests they defined. However, we don't agree that the Breville blender provides the same functionality at a lower price. Based on our tests the Breville Hemisphere Control requires significant stopping, starting, and manual agitation for making any items such as Hummus, Sorbet, Nut Butters, and any other drier and more solid recipes. The Breville Hemisphere blender also doesn't allow for the addition of hot liquids to its container. Next to smoothies we believe that hot soups are one of the best features for a blender, allowing you to more easily more nutrient dense non-smoothie friendly foods like garlic, lentils, beans, and green onions.
Source: 1. familycuisine.net/watch?v=QZArusuuQrc
4. CNET
Vitamix 7500Blendtec Designer Series
CNET tested 13 different blenders ranging in price from $50 to $600. They tested each blender's ability to make ice, smoothies, pesto, almond butter, whipped cream, pancake batter, and shredded cheese.
Based on performance they assigned a value for each blender ranging between 0 and 100.
Their Picks: Their top picks included the Vitamix 7500 (98.46 points), Blendtec Designer Series (98.46), Breville Hemisphere Control (98.46), and Ninja Ultimate Blender (97.95).
They claim to have experienced great results with the Vitamix 7500 on every test. They noted that the Blendtec blender sometimes had difficulties making pesto with smaller serving sizes, which required manual intervention with a spatula. Finally, they conclude that the Breville Hemisphere Control yielded impressive results and was one of the quietest blenders, but didn't perform like the Vitamix or Blendtec in all situations.
Our Thoughts: In our opinion one of the most important test factors is ease of clean-up, due to the fact that this correlates strongly to successful long term daily usage. We didn't see any weighting given to this factor. Out of their top 4 picks we've found the Ninja blenders to be extremely difficult to clean by hand (and potentially unsafe). If you are planning to make smoothies or blend daily running the dishwasher every day for clean-up is an absolute "no go" in our book.
Source: 1. familycuisine.net/news/blender-roundup/ 2. familycuisine.net/products/blendtec-designer-series-wildside-blender/2/
5. Real Simple
Vitamix 5200KitchenAid 5-Speed Diamond
Real Simple tested 52 different blenders with the tasks for blending smoothies, making margaritas, pureeing soups, and juicing, They additionally tested the blenders for noise level, ease of storage, and cleanup.
Their Picks: Their top two picks were the KitchenAid Diamond 5-Speed and the Vitamix 5200. They like the KitchenAid blender due to its quiet motor and compact size, which they claim is easier to store.
They praised the Vitamix 5200 for having the best overall blend quality, particularly for fibrous greens such as kale. They also preferred the Vitamix blender as being the easiest to clean.
Read more: how to make buttermilk with milk and lemon juice
Our Thoughts: Although loudness and ease of storage may be important factors for the occasional users we find that people who are blending on a regularly basis typically leave their blenders on the counter in a designated blending station. Therefore, we think that ease of clean-up and blending quality are much more important rating criteria, and thus concur with their pick of the Vitamix 5200 for these factors. All things considered, if one wants to blend on a daily basis we consider the Vitamix 5200 to be a better value as it comes with a 7 year warranty as opposed to just 1 year for the KitchenAid blender.
Sources: 1. familycuisine.net/food-recipes/tools-products/appliances/best-blender-0 2. familycuisine.net/food-recipes/tools-products/appliances/best-blender-0/superpower-blender
6. The Sweet Home
Vitamix 5200Oster Versa
The Sweet Home tested 9 top-rated models from 3 different price categories in their abilities at several different tasks. These included:
1. Green Smoothies: They tested green smoothie recipes with large seeds from frozen berries together with kale, spinach, and celery, a great test covering the most demanding elements from within this recipe category. Further, they used sieves to compare amounts of left over roughage as an accurate gauge of blend quality. 2. Mayonnaise: They made mayonnaise with each blender to test it's strength's at emulsification. 3. Margaritas: They tested how well the blenders could crush ice to achieve a good margarita consistency. 4. Raw Peanuts: They tested how well the blenders could process raw peanuts to achieve a smoothie consistency, in a reasonable amount of time, and without leftover chunks.
Finally, they tested additional features such as ease of cleaning, noise levels, and checked for any burning smells coming from the motors to indicate possible overheating.
Their Picks: The found that the Vitamix 5200 was the only blender that excelled in every task, and according to them has the best track-record out of all the models they tested. They also claimed that the tamper device which comes with all Vitamix blenders was what seemed to separate the good blenders from the great ones.
Their runner up picks included the KitchenAid 5 Speed Diamond which they said was able to perform every task in their testing regime, although not at the same quality as the Vitamix. They claim that at less than half the price the KitchenAid blender could be a viable alternative for someone who is less concerned about blending quality.
Finally, they also liked the Oster Versa 1400-Watt blender as something that could make smoothies to a similar blend quality as the Vitamix, but at a much lower price.
Our Thoughts: Overall The Sweet Home performed quality tests. They even covered their bases by interviewing Lisa McManus from America's Test Kitchen to supplement their conclusions. To us this underscores the importance of doing one's own tests and putting this together with the overall context and conclusions of what other review authorities also have to say.
Source: 1. familycuisine.net/reviews/best-blender/
7. Serious Eats
Vitamix 5200Blendtec Designer Series
Serious Eats' Managing Culinary Director J. Kenji López-Alt tested a range of high-powered blenders by putting them through a series of 13 different tasks.
1. Crushing one tray of ice. 2. Puréeing one quart of hot carrot soup. 3. Blending one cup of peanut butter from roasted peanuts. 4. Blending enough blackberry, strawberry, kale, and yogurt smoothies to feed four. 5. Blending an extra-large, extra-thick milkshake. 6. Making one pint of hummus. 7. Making one cup of mayonnaise. 8. Making two frozen margaritas. 9. Milling a cup and a half of corn four. 10. Grinding half a pound of raw carrots. 11. Making a batch of pizza dough. 12. Grinding a half a pound of beef. 13. Whipping a half pound of heavy cream.
Their Words: "Once you've had your first taste of a hot soup that's as smooth as silk or a truly velvety, seed- and fiber-free smoothie, you'll have a heck of a hard time going back.."
"There is really no comparison between a high-powered blender and a standard, sub-two-horsepower blender. "
Their Picks: He chose the Vitamix 5200, Blendtec Designer Series as his top two picks. He additionally had positive things to say about the Breville Boss, but noted that it "didn't quite tack up to the Vitamix or BlendTec blender in terms of pure blending r crushing power…"
Our Thoughts: Because of J. Kenji López-Alt's culinary experience and the fact that he focused his testing on a limited amount of blenders he did a great job a teasing out the important features and performance issues.
Source: familycuisine.net/2014/12/high-end-blender-test-equipment-breville-vitamix-blendtec-review.html
8. Perfect Smoothie
Vitamix 5200Blendtec Total Blender
familycuisine.net applied their unique nutrition focused review methodology to the 50 top selling and highest-rated models. Their focus was specifically on the best blenders for smoothies and finding which blenders allowed for the maximum nutritional yield per serving, as this is what they claim has the biggest impact on the efficacy of the blender to be used as a tool to improve health.
According to their research the optimal or recommended minimum serving amount is 700 ml, which is the amount needed to obtain at least 100% of the RDA of vitamins and minerals based on using nutrient-dense super-foods like spinach and blueberries.
Based on that serving size they created 3 must-have requirements that any blender should have: 1. A minimum container size of 40 oz 2. A minimum wattage of 750 Watts, and 3. a Minimum warranty of 5 years.
Based on this methodology, their top five best smoothie blenders are the Vitamix 5200, Blendtec Total Blender, Vitamix 7500, Blendtec Designer Series 625, and the Vitamix Professional 750. Out of these they believe that the Vitamix 5200 is the best overall value, with the Blendtec Total Blender a close second.
Sources: 1. familycuisine.net/smoothie-blenders 2. familycuisine.net/spreadsheets/d/1Iyk1IFKPmTcY3kTeZw9QjGFcKU2S1uqwe8u_oeMgSEQ
Which blender do we recommend and why?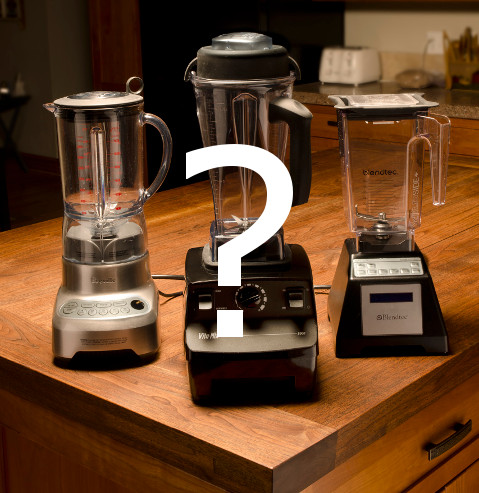 Our research discovered 3 key factors that determine whether someone is successful in using a blender to achieve their goals.
These are:
1. Blend Quality
2. Cleanup Time
3. Versatility & Ease of Use
Blend Quality
Why is blend quality so important?
Simple, it determines the quality of taste.
A blender with low blend quality creates a poor texture and taste you will not want to consume.
To demonstrate this concept we created a special test recipe that contains the most difficult food to blend.
We then tested this on the top 6 selling models.
Our graphic shows the percent of unblended mass left in each sieve after 24 hours of drying.
The Test Recipe: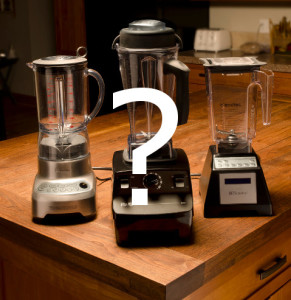 Fresh Blackberries: 1/2 cup (84 grams)
Fresh Celery: 1/2 cup (54 grams)
Fresh Kale: 1/2 cup (20 grams)
Frozen Mangos: 1/2 cup (79 grams)
Water: 1 cup (236 grams)
Why did we choose these ingredients?
Fresh blackberries have the largest and most difficult to blend seeds of any fruit.
Celery & Kale are among the most difficult to blend fibrous vegetables.
Frozen mangoes add in the challenge of blending semi-large frozen chunks.
There's no better test for a blender.
We blended this recipe in each blender on high for 40 seconds.
We then filtered the results through a medical grade sieve with a diameter of 850 microns.
The slideshow shows visually what was left for each blender.
The Breville blender, Ninja blender, and KitchenAid blender all struggled to completely blend the fibrous parts of the greens. The blend quality resulting from these blenders will leave noticeable chunky bits in a green smoothie resulting in poor texture and taste.
While the NutriBullet and Blendtec Total Blender did a great job and blended practically all the greens, they both failed to completely pulverize the seeds.
Read more: Cold Buster Smoothie (and Popsicles) for Toddler Kids
The clear winner for blend quality across all brands was the Vitamix 5200. It pulverized the seeds and left practically nothing left unblended. The resulting quality is thus a professional rating.
Cleanup Time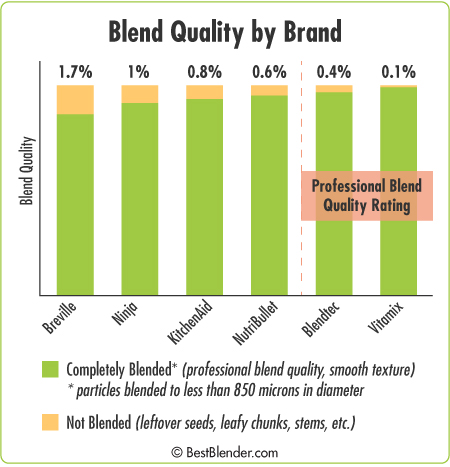 Why is cleanup time important?
Simple: The longer it takes you to clean the blender, the more of a hassle it is, the less likely you are to use it.
All blenders fall into 3 different categories.
1. Dishwasher Required
Ninja's blenders come with extremely sharp detachable blades.
Here's a quote from the Ninja their owner's manual
CAUTION: The top blades are not affixed to the pitcher, they are removable and extremely sharp. When handling the top blades do not hold blades, but rather always hold by the shaft. Blades are sharp. Handle carefully!
It's not practical to hand wash their blades. Their blades also get food particles trapped int the underside of the blade attachment piece. From our testing the only way to safely and completely clean their blade attachment is to use the dishwasher.
We've found that if you can't quickly clean a container by hand you aren't likely to use it frequently.
Thus, if you want to blend frequently and easily we don't recommend any brand or blender that requires dishwasher cleaning.
2. Normal Cleanup Time (2-3 Minutes)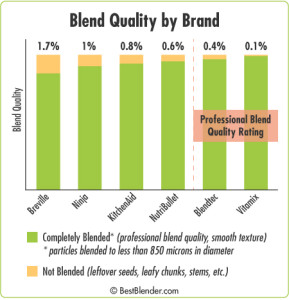 Most lower priced blenders (under $80) like the Oster Beehive require you to unscrew, remove, and clean all the parts of the blade housing after each use.
There are typically four standard parts. The blades, plastic housing, container, and the rubber ring that creates the seal.
To get it clean you'll need to individually scrub each part separately. This can take a couple minutes as you'll need to scrub each piece and every crevice, angle, and length of the blades.
The plastic rubber seal rings also tend to warp over time, gradually allowing more and more liquid through into the housing.
We've found the extra work for this type of container means people won't regularly use their blender.
3. Fast & Easy Cleanup (60 Seconds or Less)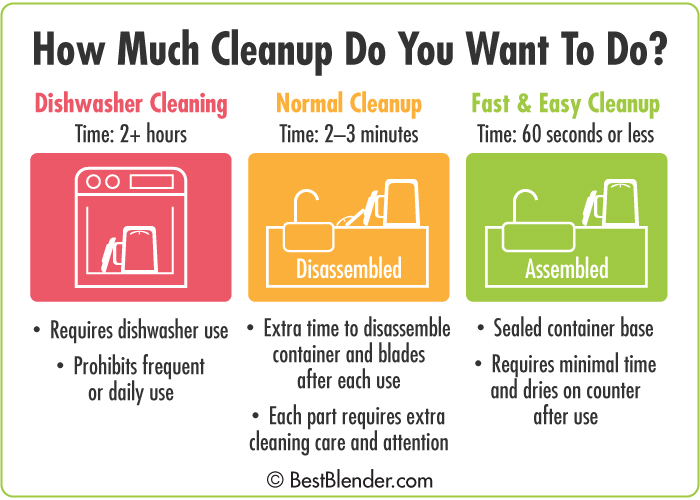 If you want to be successful using your blender every day fast and easy cleanup is a must have.
The main factor creating easy cleanup is a sealed blade container assembly.
Why is this so important?
A sealed container means just two things to clean, the container and the lid. This can be accomplished in less than 60 seconds.
After a quick rinse these containers can be left to air dry upside down on the counter. This allows for easy repeat usage.
If you want to blend frequently this is a must have.
Why don't all blenders have a sealed container blade assembly?
Simple. It costs more to manufacture.
Blender manufacturer's offer this feature starting at a price point of $130 or higher.
If you want to blend regularly we strongly recommend a blender with fast and easy cleanup.
Buyer's Tip: Our comparison tool allows you to see the top blenders with fast & easy cleanup and any other additional features.
Recipe Versatility & Ease of Use
This is the most important and neglected feature for a blender.
This is why our Compare Tool distinguishes between being able to make something per the manufacturer's marketing materials vs really being recommended for making something.
We tested all the top blenders and most make it very cumbersome to make certain recipe categories, and they will never tell you this.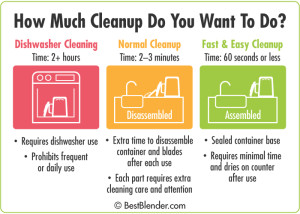 What does this mean?
Here are 3 simple examples.
1. Green Smoothies
Ninja's blenders can "blend greens" – they just produce a very poor blend quality. Even though they may have green smoothie recipes in their owner's guide we don't recommend them for making green smoothies.
2. Hummus
Most blenders can make hummus, but for lower-priced blenders the process is laborious and creates a very poor quality result.
Using a blender without a tamper device requires repeated stopping, manually pushing the ingredients back down towards the blade (or shaking the container for Nutribullet), and restarting the machine. You'll often also need to add extra water which produces a runnier than desired hummus.
3. Sorbet
Most blenders can make sorbet, but again this requires manually stopping the blender, removing the container, pushing the ingredients into the blade, and re-blending, often up to 10 times.
You may be asking:
So which recipe types are important, and which should I make?
Our Ultimate Blender Buyer's FAQ lists all the hidden extra steps the manufacturers won't tell you. Check out the "What you need to know" section for each of the 9 main recipe categories and you'll be sure to get the blender best for you based on what you want to make.
As part of our research and testing we classified every top selling model as to whether it could easily make each recipe category. Our Compare Tool has a "Recommended For" column which allows you to see which blenders can easily make each type of recipe.
What's the bottom line?
If you want to be successful using a blender to transform your health you need to make more than just fruit smoothies, and it has to be easy!
A versatile blender will allow you to transform your eating habits almost instantaneously to a nutrient-dense and whole-food diet.
Per our Ultimate Blender Buyer's FAQ, if you want to improve your health we think that hot soup and green smoothies should just be the starting point for what you make.
Conclusion: What's the best blender?
Our pick for 2017 "Blender of the Year" is the Vitamix 5200.
It's the only top selling blender that easily makes every recipe category with both professional blend quality and fast/easy cleanup for under $500.
It is clear and away the best blender on the market for 2017 and best overall blender for the money based on our 3 criteria.
Bonus Tip: You can save up to $150 off a Vitamix 5200 by checking their Certified Reconditioned 5200 Inventory for availability. These include all new containers and accessories. In most cases they were returned without being used, but can't be sold as new. If you are lucky enough to find one in stock we suggest going for it!