A tasty and filling cold chicken bacon ranch pasta salad recipe perfect for BBQs, summer picnics, or an easy al fresco lunch!
It's creamy, herby, and bursting with cooked chicken, crispy bacon pieces, grated cheddar cheese, salad veggies, and best of all a delicious homemade ranch dressing made with mayonnaise and sour cream.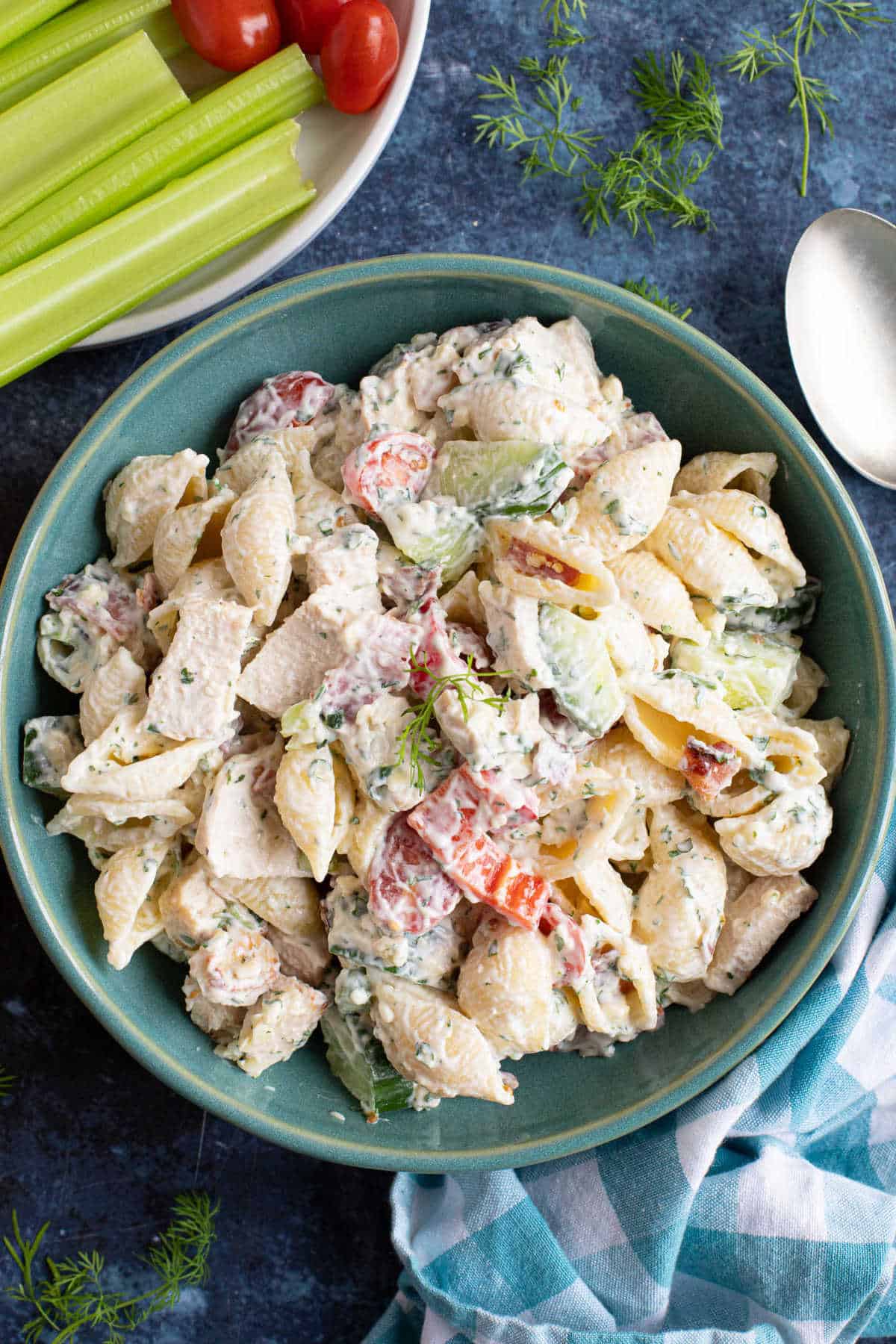 This is a real crowd-pleaser of a pasta salad and is loved by both kids and adults alike. Best of all the chicken and bacon pasta salad can be made ahead of time and stored in the fridge until needed. It really is just perfect for lazy summer days!
👩‍🍳 Have you seen my creamy tuna pasta salad? Another delicious summer salad recipe to try!
Jump to:
✔️ Why should you try it?
🥘 Ingredients
🔪 How to make cold chicken bacon pasta salad
💭 Top tips
🍴 Serving suggestions
📖 Variations
🥡 Storage
❓ FAQs
😋Related recipes
Recipe
💬 Comments
✔️ Why should you try it?
Easy to make chicken pasta salad recipe.
A great way of using up leftover cooked chicken.
Creamy and filling.
Make-ahead up to 2 days.
Perfect for summer BBQs and picnics.
🥘 Ingredients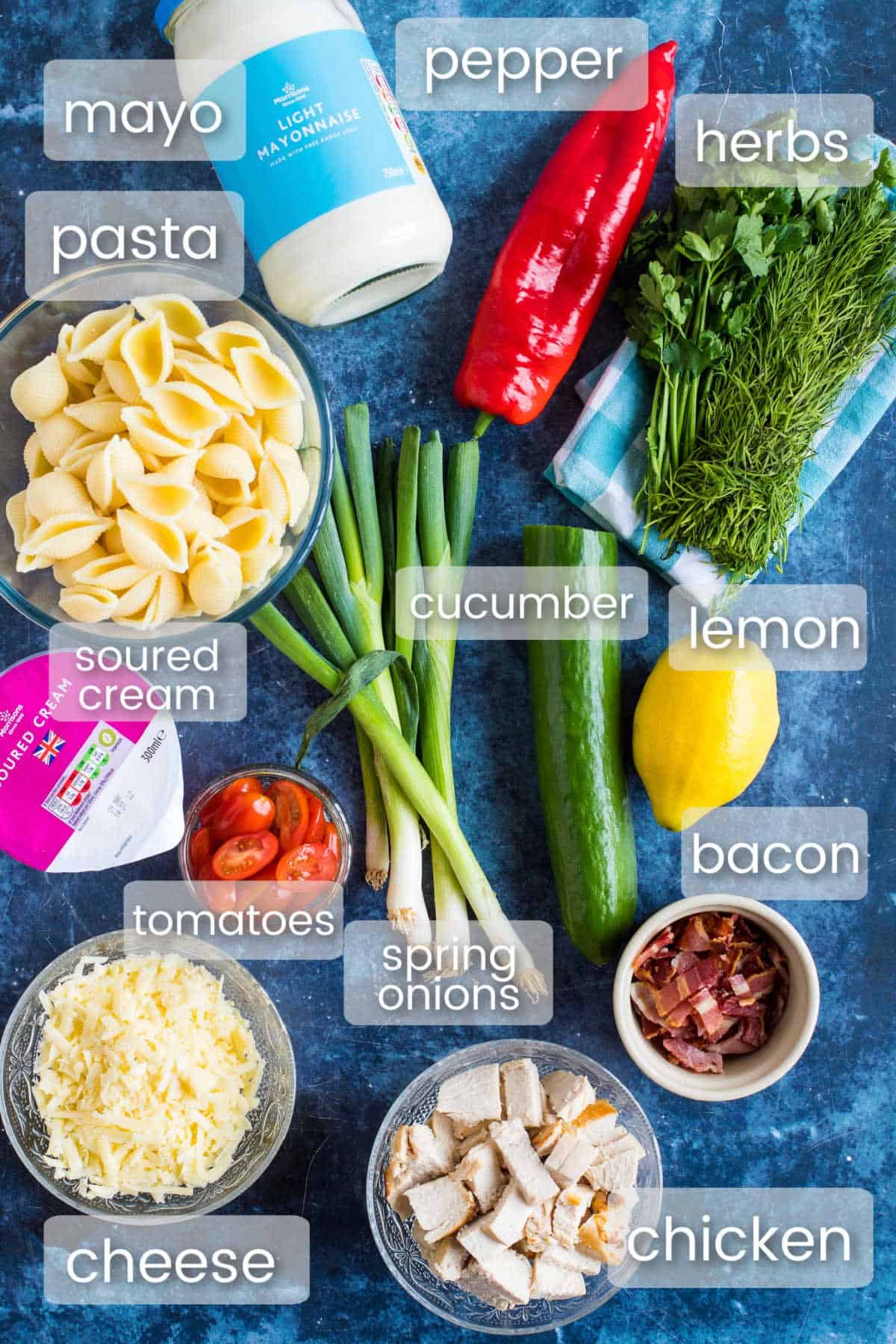 Pasta – any short pasta would work well. I used conchiglie but penne or fusilli could also be used.
Cooked Chicken Breasts – cut into chunks. Buy them ready-cooked to save time or why not try this quick air fryer chicken recipe!
Smoked Streaky Bacon – grilled and chopped. You could use back bacon if you prefer.
Spring Onions – outer layer removed and chopped finely. You could use red onion instead.
Cherry Tomatoes – halved, or use 2 large vine tomatoes cut into chunks.
Red Pepper – chopped into chunks (or use a yellow or orange pepper).
Cucumber – halved and diced. I keep the skin on but feel free to peel it if you want to.
Grated Cheddar – an extra mature cheddar gives the best flavour.
For the homemade ranch dressing;
Mayonnaise
Soured Cream
Parsley
Dill
Lemon Juice
Garlic
Salt & Pepper
🔪 How to make cold chicken bacon pasta salad
The recipe card with ingredient quantities and detailed instructions can be found at the bottom of the post
Mix together the ranch dressing ingredients in a bowl.
Place the cooked pasta, cooked chicken chunks, grilled bacon pieces, salad vegetables, and grated cheddar in a large mixing bowl.
Pour over the ranch dressing.
Mix gently to coat the pasta and salad vegetables. Store in the fridge until needed.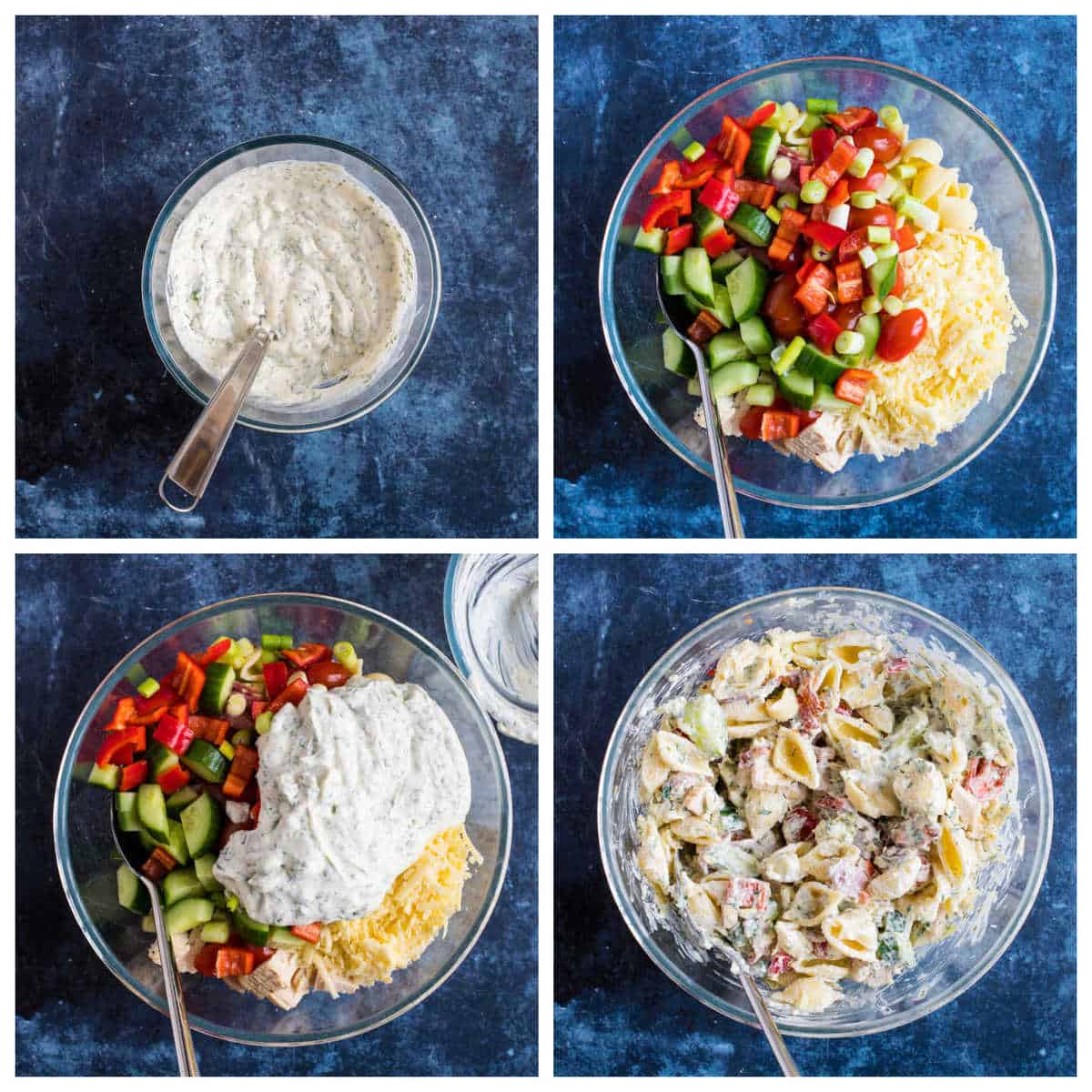 💭 Top tips
Use store-bought ranch dressing to save time. Add a squeeze of lemon juice to store-bought dressing and check the seasoning is OK.
Use leftover roast chicken in the pasta salad, instead of cooked chicken breasts.
If you're not serving this pasta salad straight away, save a dollop of the dressing to spoon through it when you are ready to eat!
🍴 Serving suggestions
This chicken and bacon ranch pasta salad is perfect for BBQs, picnics, and alfresco summer lunches. I often serve it alongside my curried rice salad, 5 bean salad, and prawn and avocado salad.
My kids love it with these cheesy courgette fritters or carrot fritters for an easy meal. I think it has to be their favourite summer dinner!
📖 Variations
Use different salad vegetables such as celery, radishes or fennel. You could also add cooked peas or sweetcorn.
Add a sliced ripe avocado to make a chicken bacon avocado pasta salad.
Lower the fat content by using low-fat mayonnaise.
Make a healthy chicken bacon pasta salad and use wholewheat pasta and a lighter vinaigrette dressing.
Add a sprinkling of dried cranberries for a chewy sweetness or some toasted nuts for crunch.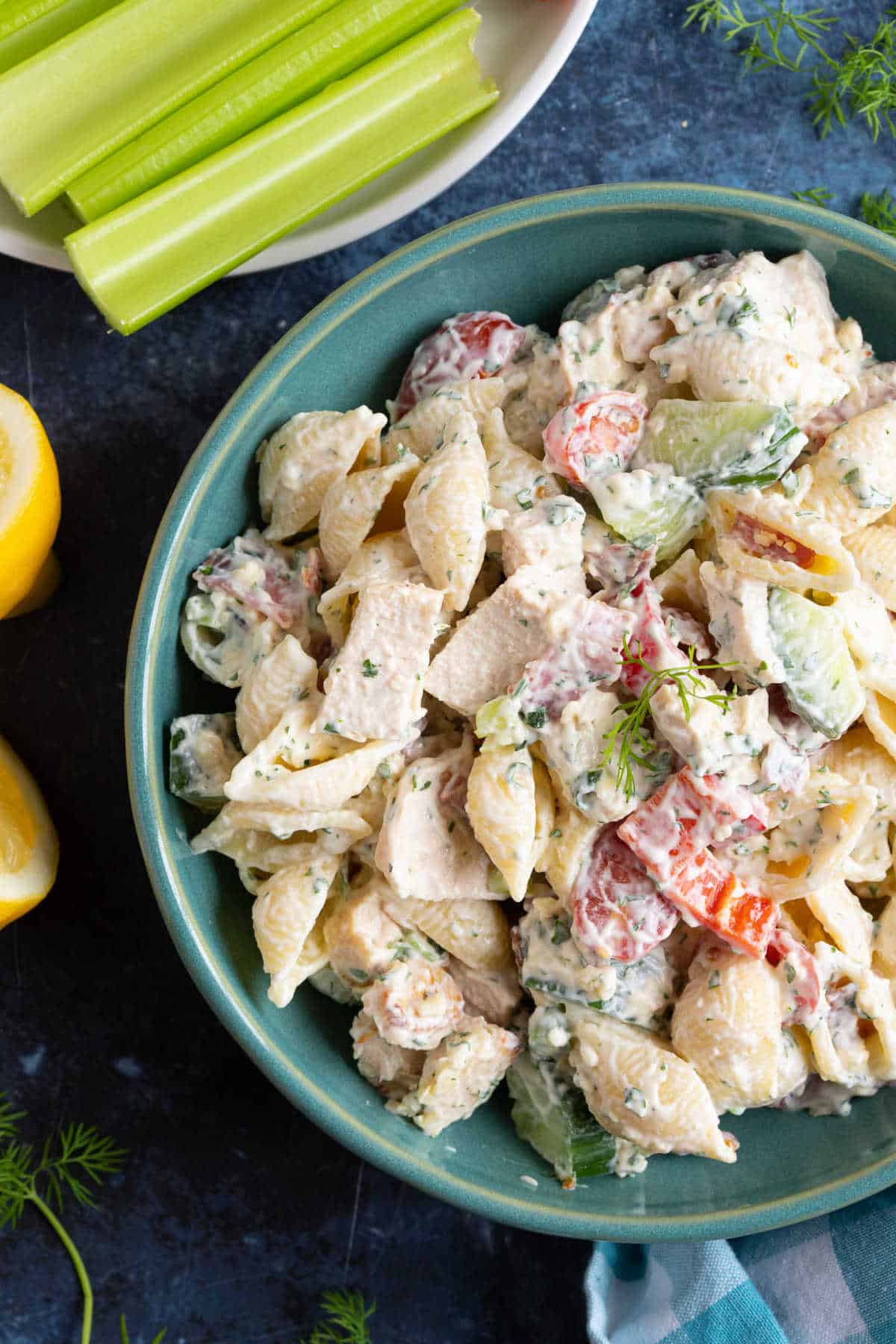 🥡 Storage
The pasta salad will keep in an airtight container in the fridge for up to 3 days. Unfortunately, this recipe is not suitable for freezing.
❓ FAQs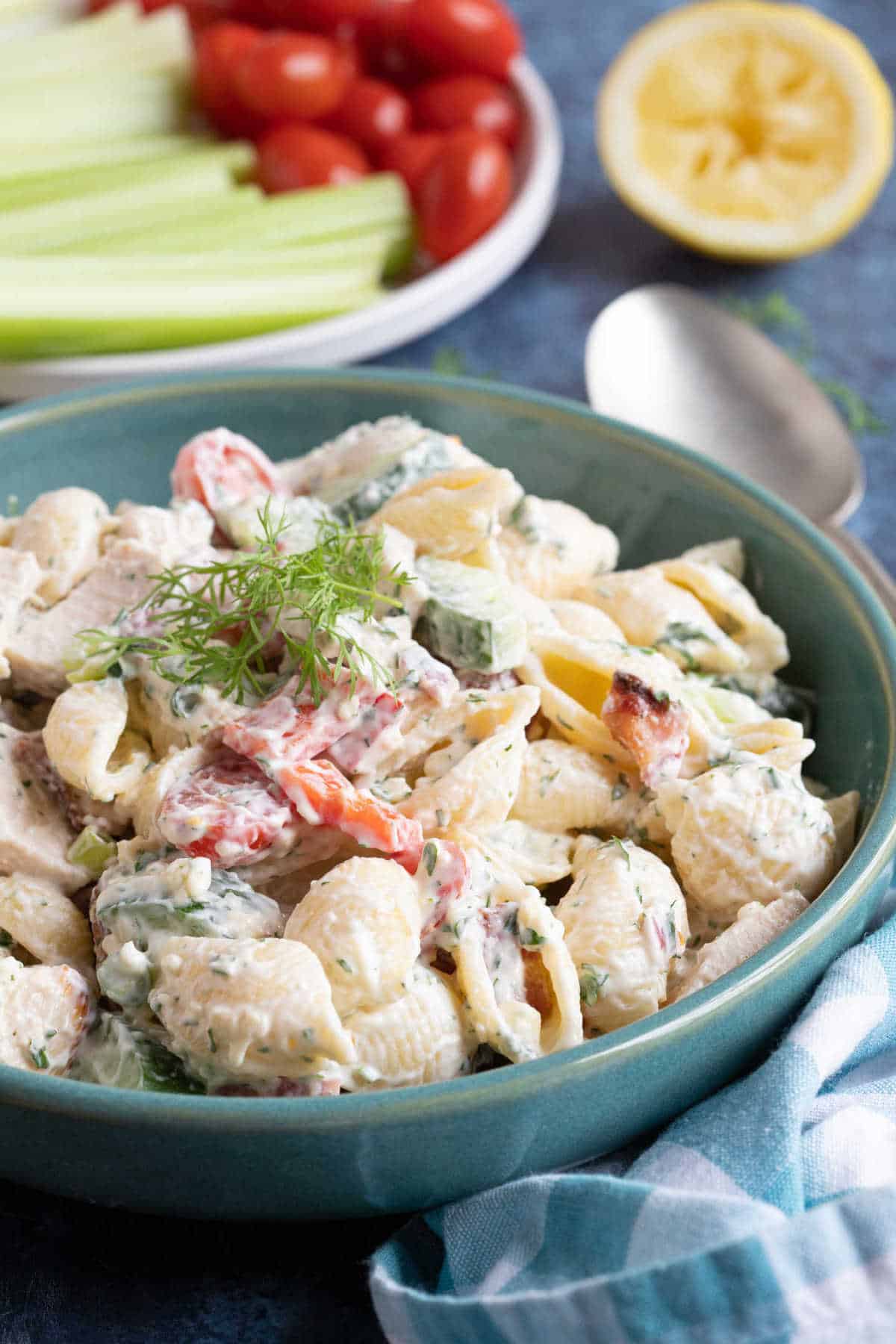 😋Related recipes
More summer recipes to enjoy!
You might also like my easy coronation chicken pasta salad recipe!
Tried this recipe? Leave a ⭐⭐⭐⭐⭐ star rating in the comments!
Recipe
Don't forget to subscribe to the newsletter to stay up to date with what's cooking in the Effortless Foodie kitchen! You can also follow me on Facebook, Twitter, and Instagram too!
Please see more list about Cold pasta chicken salad recipes
Detail: 🔗