I have a confession to make: I am absolutely obsessed with sweet potato fries. There's just something about their crispy exterior and soft, creamy interior that makes them irresistible. But here's the thing – as much as I adore the fries themselves, I'm equally passionate about the dipping sauces that accompany them. While the classic smoky chipotle sauce is undeniably delicious, there are so many other flavor combinations waiting to be explored. In this article, we'll not only walk through the process of creating the perfect dipping sauce for sweet potato fries, but we'll also discuss a variety of flavor combinations that will take your fry-dipping experience to a whole new level. So get ready to tantalize your taste buds and elevate your fries to a whole new level of culinary delight.
Make the Base Aioli for Your Sweet Potato Fries
Before we dive into the world of flavor combinations, let's start with the foundation – the aioli. This creamy and versatile sauce will serve as the base for most of our dipping sauces. And believe me, once you taste it, you may never go back to plain old mayo again.
What is Aioli?
Aioli is essentially a fancy gourmet word for mayonnaise. While store-bought mayonnaise will work in a pinch, there's something truly special about making your own aioli from scratch. It's a homemade version of mayo that allows for an array of flavor possibilities. The key to aioli lies in the emulsification process, which involves slowly incorporating oil into the egg mixture to create a thick, creamy texture. You can use a neutral-flavored oil or experiment with olive oil for a distinct flavor profile. Plus, aioli is the perfect canvas for adding various flavors, giving you the freedom to create a unique dipping sauce that suits your taste preferences.
What Makes it the Best Dipping Sauce for Sweet Potato Fries?
The beauty of aioli as a dipping sauce for sweet potato fries lies in two factors: its delicious base flavor and its incredible versatility. By starting with aioli, you'll have the perfect foundation for creating a wide range of dipping sauces. Whether you prefer gourmet flavors, sweet combinations, or spicy kicks, the aioli can be transformed into any dip your heart desires. The possibilities are endless, and you'll have the freedom to unleash your creativity and customize your sauces to perfection.
Creating Your Dipping Sauce Masterpiece
Now that we have our aioli base, let's explore some delectable flavor combinations that will take your sweet potato fry experience to the next level. Here are a few of my favorite combinations, categorized into gourmet, sweet, and spicy sauces:
Gourmet Sauces
Roasted Garlic & Parmesan: 1 cup of basic aioli + 1 bulb roasted garlic + ½ cup grated parmesan
Truffle & Black Pepper: 1 cup basic aioli + 2 teaspoons truffle oil + 2 teaspoons freshly cracked black pepper
Lemon and Dill: 1 cup basic aioli + juice of half a lemon + zest of one lemon + ¼ cup fresh dill
Rosemary: 1 cup basic aioli + 3 tablespoons roughly chopped fresh rosemary + 1 teaspoon black pepper
Sweet Sauces
Cranberry: 1 cup basic aioli + ½ cup burst cranberries (or ¼ cup cranberry sauce)
Toasted Marshmallow: ¼ cup heavy whipping cream + 10 toasted marshmallows + a blow torch for the top (must be eaten warm)
Maple Cinnamon: 1 cup basic aioli + 3 tablespoons maple syrup + 1 teaspoon ground cinnamon
Spicy Sauces
Smoky Chipotle: 1 cup basic aioli + 1 chili pepper in adobo sauce (finely chopped) + 1 teaspoon chipotle chili powder + juice of half a lime
Wasabi: 1 cup basic aioli + 1 tablespoon wasabi paste + 1 teaspoon white wine vinegar
And there you have it – a variety of dipping sauces that will make your taste buds dance with joy. Feel free to experiment with the ratios and adjust the flavors to suit your preferences. Remember, these are just guidelines to inspire your culinary creativity.
The Art of Making Multiple Sauces from One Aioli Recipe
Here's a handy tip for maximizing your dipping sauce options: with the basic aioli recipe, you can easily create multiple sauces. I recommend dividing the aioli into three equal portions, allowing for approximately ⅓ cup for each sauce. Simply adjust the other ingredients accordingly, dividing them by three. This way, you can have a variety of sauces to cater to different flavor preferences.
The Hack for Any Sweet Potato Dipping Sauce
If you're short on time or prefer a shortcut version, you can replace the cup of aioli with a cup of your favorite mayo. Keep the remaining ingredients the same, and voila! You have a delicious dipping sauce ready in no time.
Make Ahead and Enjoy
Yes, you can definitely make the sweet potato dipping sauces ahead of time. In fact, the flavors tend to meld together beautifully when given a chance to rest. You can also prepare the aioli in advance, ensuring it stays fresh in the refrigerator for up to a week.
Perfecting Your Sweet Potato Fries
Now that we've covered the dipping sauces, let's focus on the star of the show – the sweet potato fries themselves. Follow these tips to achieve irresistibly crispy, crunchy exteriors with soft and creamy interiors:
Cutting the Sweet Potatoes
To ensure optimal crispiness, cut the sweet potato fries as thin and skinny as possible. This allows for quick cooking at high heat, resulting in the perfect texture. Avoid thick cuts, as they may result in undercooked interiors and burnt exteriors.
Soaking
Soaking the raw sweet potato fries in cold water for at least an hour before baking is a crucial step. This process draws out the starch, preventing the fries from becoming soggy. The result is light and creamy interiors with crispy, crunchy exteriors. Don't skip this step, even if you're tempted to cut corners.
Coating
For our coating, we'll keep it simple. Use olive oil for the fat content and cornstarch to create a light crust. Season with salt to enhance the flavor. That's all you need to achieve perfectly coated sweet potato fries.
Baking
To achieve the desired texture, bake the fries at a high heat of 450°F (230°C) for approximately 15 minutes. It's crucial to spread the fries evenly in a single layer on a large baking sheet to avoid overcrowding. If the fries are too close together, they will steam instead of crisping up.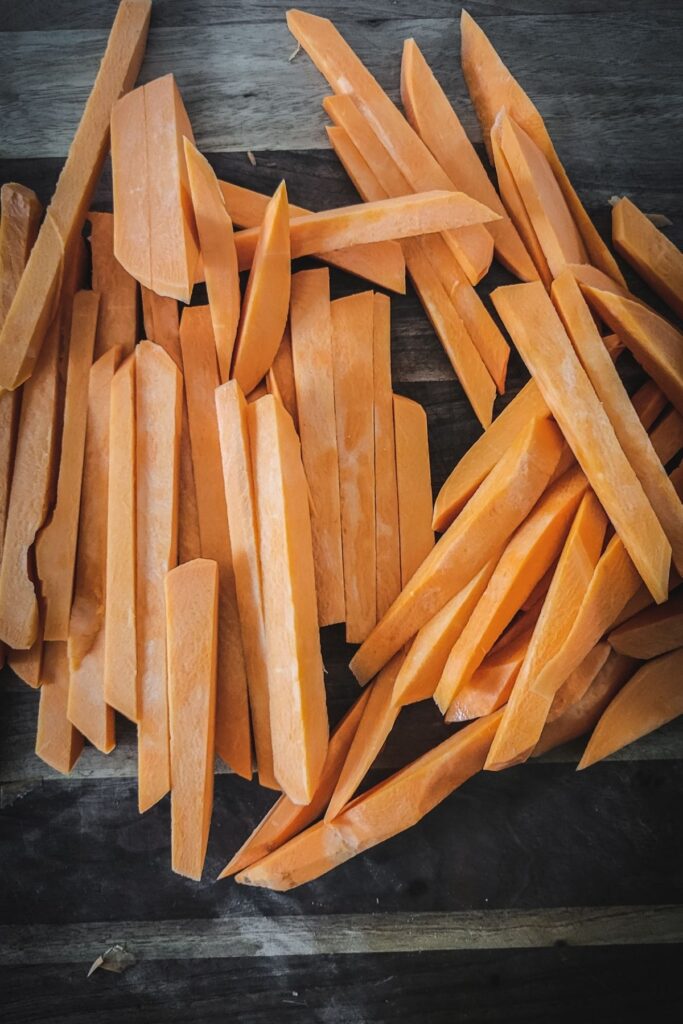 What to Serve
Sweet potato fries are incredibly versatile and can be enjoyed as a side dish or a standalone appetizer. They pair well with a variety of main courses and can elevate any meal. Here are a few suggestions for dishes to enjoy alongside your sweet potato fries:
Bison Short Ribs
Simple and Flavorful Cilantro Chicken Soup with Lime
Classic Fish Sandwiches with Tartar Sauce
Chicken Bacon Ranch Burgers
Cast Iron Rib-Eye Steak with Blistered Grapes
Now that you're armed with the ultimate guide to perfect sweet potato fries and dipping sauces, it's time to get cooking! Grab your favorite sweet potatoes, whip up some aioli, and let your culinary creativity run wild. Enjoy the crispy, flavorful fries accompanied by a delicious array of dipping sauces that will take your taste buds on an unforgettable journey. And remember, every fry is better when shared with loved ones. Happy cooking!