As summer arrives in Chicago, there's no better way to beat the heat than by treating yourself to some delectable frozen delights. Luckily, our city is home to a vibrant selection of ice cream shops, catering to all kinds of preferences and cravings. Whether you're a vegan in search of dairy-free options, a die-hard chocolate lover yearning for decadence, or an Instagram enthusiast seeking picture-perfect scoops, Chicago has got you covered. Join us as we explore the premier ice cream destinations in the city, where irresistible flavors and unforgettable experiences await.
For Instagram-Worthy Treats

Caption: Original Rainbow Cone
The Original Rainbow Cone holds a special place in the hearts of Chicagoans. This local institution is renowned for its signature five-flavor cone, featuring layers of chocolate, strawberry, Palmer House (New York vanilla with cherries and walnuts), pistachio, and orange sherbet beautifully stacked together. Each bite delivers an enchanting blend of flavors that will leave you wanting more.
Drawing inspiration from nostalgic childhood treats, Pretty Cool Ice Cream specializes in artisanal ice creams and popsicles that are as pleasing to the eye as they are delicious. With a focus on high-quality ingredients and innovative techniques, this shop offers a variety of visually captivating treats in a myriad of creative flavors.
For an Old-School Experience

Caption: Margie's Candies
For a taste of nostalgia, head to Margie's Candy, a beloved Chicago institution that has been satisfying sweet cravings since 1921. With locations in Logan Square and Ravenswood, this charming spot is known for its homemade ice cream, shakes, hand-dipped candies, and famous hot fudge sundaes. Indulge in a truly decadent treat that will transport you back to the good old days.
Lickity Split, an enchanting ice cream shop in Edgewater, will transport you to a bygone era with its whimsical atmosphere reminiscent of an old-fashioned candy store. This delightful haven offers an array of frozen custard flavors and an abundance of toppings for sundaes, banana splits, and concretes. Don't forget to check out their selection of retro candy for an extra dose of nostalgia.
Renowned as the oldest frozen custard shop in Chicago, Scooter's Frozen Custard in Lakeview is known for its luscious and velvety custard, made fresh daily in-store. With a different featured flavor available every day, there's always something new to tempt your taste buds at this local favorite.
In Lincoln Park, Annette's Italian Ice reigns supreme as the premier destination for Italian ice and ice cream. Savor their refreshing Italian ice, meticulously crafted daily using the freshest fruits, pure cane sugar, and water. And if you're craving ice cream, fear not! Annette's offers over 30 mouthwatering flavors to tantalize your taste buds.
For Chocolate Lovers

Caption: Kilwins at Navy Pier Chicago
Step into Kilwins at Navy Pier Chicago, and you'll find yourself in a haven for ice cream enthusiasts. This shop offers a nostalgic experience with its handmade ice cream and handcrafted chocolate treats. Choose from classic favorites like vanilla and chocolate or explore creative combinations such as sea salt caramel and mint chocolate chip. To top it off, enjoy your ice cream while taking in the picturesque waterfront views.
If you're a true chocolate aficionado, Ghirardelli Ice Cream and Chocolate Shop on The Magnificent Mile is a must-visit. The irresistible aroma of chocolate greets you as you enter this chocolate lover's paradise. Indulge in ice cream made with real Ghirardelli chocolate and explore their wide selection of delectable sweets.
For an Asian-Inspired Treat
Craving something with an Asian twist? Look no further than Kurimu. With locations in Wicker Park and Little Italy, this shop churns out Japanese-inspired flavored ice cream fresh every day. Prepare your taste buds for an adventure with constantly changing unique flavors like matcha green tea, creamy avocado, and black sesame.
In the heart of Chinatown, Legend Tasty House brings the vibrant flavors of Thailand to Chicago. Their rolled ice cream, a local favorite, comes in an assortment of enticing flavors such as passion fruit, taro, coffee, banana and nutella, and more. Don't miss out on their milk tea and smoothies for a truly refreshing experience.
For Non-Dairy Options
Looking for non-dairy alternatives that don't compromise on flavor? Ida's Artisan Ice Cream and Treats is the place to be. This shop takes a creative and artisanal approach to vegan ice cream, offering a variety of unique and exciting flavors that will tantalize your taste buds. Be sure to try their seasonal specials and homemade treats that perfectly complement their delicious ice cream. Keep an eye out for their brand new storefront opening soon.
Vaca's Creamery in Wicker Park and Lincoln Square is the result of one owner's passion for crafting exceptional vegan ice cream using high-quality oat milk. From their ice cream to their sauces and toppings, everything is made in-house with love. Treat yourself to a taste of their delightful creations.
For Creative Flavors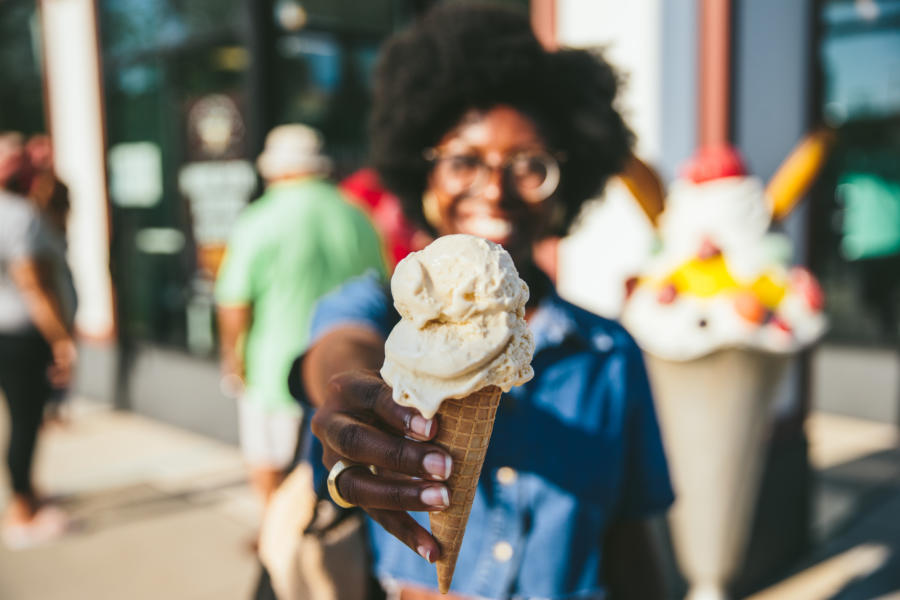 Caption: Shawn Michelle's
At Shawn Michelle's, a family-owned establishment in Bronzeville, you'll find a true celebration of exceptional ice cream. This shop takes pride in using premium ingredients and time-honored techniques to create innovative and sophisticated flavors like Bourbon Butter Pecan and Salted Caramel Pretzel. Indulge in a dessert experience that will elevate your taste buds to new heights.
Black Dog Gelato is known for its distinctive flavors and velvety texture. Crafting their gelato fresh every morning, this shop offers a wide range of inventive creations. Don't miss out on the absolute favorite: goat cheese caramel cashew. And if you're looking for dairy-free options, fear not! They have a splendid selection to choose from.
Jeni's Splendid Ice Creams presents an extensive and ever-evolving assortment of premium ice creams. Immerse yourself in a world of imaginative flavors like everything bagel, sweet cream, biscuits and peach jam, or pineapple upside-down cake. With multiple locations throughout Chicago, you have plenty of opportunities to explore the scrumptious offerings of Jeni's.
Bonus! Visit Chicago's Museum of Ice Cream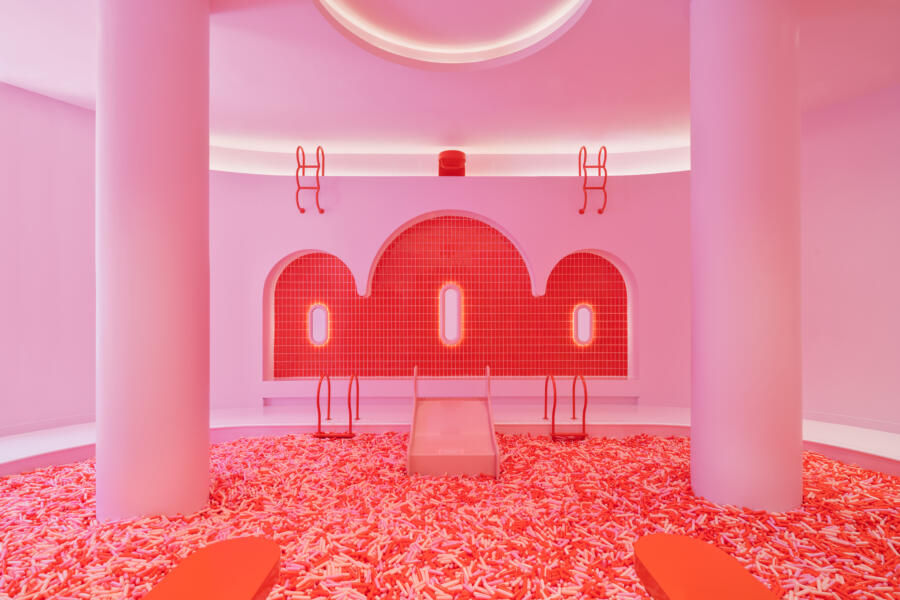 Caption: Museum of Ice Cream Chicago; photo credit Will Ellis
Make sure to pay a visit to the Museum of Ice Cream, an interactive pop-up museum that celebrates the joy and wonder of everyone's favorite frozen treat. As you venture through various themed rooms, you'll embark on a fun-filled journey exploring different facets of ice cream culture. Every space offers unique opportunities for photos and interactive experiences, engaging all your senses. Throughout the museum tour, indulge in delicious ice cream samples, including some exclusive and imaginative creations only available at the museum.
So, whether you're a local or just passing through, don't miss out on the opportunity to indulge in Chicago's finest ice cream delights. Your taste buds will thank you. And for more delightful culinary experiences, make sure to visit Family Cuisine, your go-to destination for family-friendly recipes and food inspiration.