Share:
Best Roast Turkey is flavor packed, juicy on the inside with a buttery skin! Learn how to easily make a turkey with this simple recipe for Thanksgiving or any time of year!
Let's dive right in! Everything you need to make the perfect roast turkey is in this post! I polled you guys on Instagram and you pretty much unanimously said YES you want my turkey recipe! So, here it is and I'm detailing this post with step by steps, tips, and a couple of photo collages to ensure the best roast turkey you've ever had! Be sure to serve this with our Perfect Mashed Potatoes and my favorite Stuffing Recipe and the Best Easy Turkey Gravy! If you're looking for the perfect green bean casserole, try out our Green Bean Casserole from Scratch and our Easy Slow Cooker Green Bean Casserole!
How To Thaw a Turkey:
The best way to thaw a turkey is to plan in advance. You are going to need to plan for 1 pound of turkey per person that you are serving. So, purchase your turkey accordingly and then follow this timeline. I can tell you that in my refrigerator, it took a full 5 days to thaw a 20 pound turkey.
4-12 Pound Turkey: 2-3 Days
12-16 Pound Turkey: 3-4 Days
16-20 Pound Turkey: 4-5 Days
20-25 Pound Turkey: 5-6 Days
How Long Do you Cook a Turkey for?
The general guideline is to cook a turkey at 15-20 minutes per pound. This can vary depending on whether or not your turkey is stuffed, or the temperature of your oven, because they do vary. The main thing to remember is that you will need a meat thermometer handy, and you can find these at any grocery store. Do NOT trust the the thermometer that "pops up" in the turkey and was added by the manufacturer. For my recipe testing, I did a 20 pound turkey and it took exactly 4 hours in my oven. Below is a handy chart on cooking times, based on recommendations from the USDA on turkey safety. **Turkey MUST reach an internal temperature of 165 degrees Fahrenheit before consuming.
Timetables for Turkey Roasting (325°F)
Unstuffed Stuffed 8 to 12 lbs 2¾ to 3 hours 8 to 12 lbs 3 to 3½ hours 12 to 14 lbs 3 to 3¾ hours 12 to 14 lbs 3½ to 4 hours 14 to 18 lbs 3¾ to 4¼ hours 14 to 18 lbs 4 to 4¼ hours 18 to 20 lbs 4¼ to 4½ hours 18 to 20 lbs 4¼ to 4¾ hours 20 to 24 lbs 4½ to 5 hours 20 to 24 lbs 4¾ to 5¼ hours
How Do I Keep My Turkey Moist?
The first secret to a super moist and juicy turkey is BUTTER! We use two and a half sticks of butter for this recipe (based on a 14-22 pound turkey). The butter is filled with herbs, stuffed under the skin of the bird, and rubbed all over the top as well. This keeps everything incredibly flavorful as well. The next step is slow roasting at 325 degrees, if you cook your turkey too fast, it will be dry. Also, cover with foil! This does help keep a moist turkey, and it keeps the skin from getting cooked too quickly and drying out. The other important trick is to allow your turkey to come to room temp! One hour before cooking, you will remove the turkey from the fridge, leave in it's packaging and allow it to sit for one hour (yes, this is perfectly safe).
How to Make Roast Turkey:
I've included two sets of process shots here, they are below each set of numbered steps so you can get a visual and follow along. Before I start, I always gather my turkey, removed from the package as well as all of the herb butter and ingredients to stuff in the cavity, this makes everything go nice and fast.
First things first, make your herb butter. You'll want your butter very soft. It's totally ok to even pop it in the microwave to soften, as long as it isn't completely melted. To the butter we add a combo of garlic, salt, pepper, lemon juice, thyme, rosemary, and sage. I like to use fresh herbs, but dried are ok as well.
You want to make sure to mix this very well so that the herbs are evenly distributed. You can use a spatula, fork, or sometimes I actually find it easiest to just mix it up with my hands.
Now, place your turkey on a large rimmed baking dish. This will help collect any juices that run out. Pat it dry! Pat it completely dry all over, and inside the cavity using paper towels. We pat off the excess moisture because we want to get a sear on the skin, if you don't pat dry, you will basically be steaming your turkey and the skin will be soggy.
Salt & Pepper the turkey liberally! Yes, we will use the herb butter, but go ahead and salt and pepper the outside and inside of the turkey well. We do this for an extra layer of seasoning because turkey doesn't naturally have a whole lot of flavor.
Roasting a Turkey Continued:
Now, gently use your fingers to lift the skin of the turkey away from the breast meat. I start with one hand, and then as the skin loosens, I can get both hands in there to continue separating all the way back. Be careful and patient so that you don't rip the skin. As long as your turkey is thawed properly, this is a super easy and pretty quick process!
Stuff in the herb butter! You will use about ⅓ of the mixture for the inside of the cavity, so keep that reserved. Then use half of the mix under the skin by lifting the skin up and stuffing in small handfuls.
Once the butter is under the skin, use your hands to massage the butter around under the skin so that it's as even as you can get it.
Now, rub the remaining butter (besides the reserved for the cavity) all over the entire turkey, the breasts, wings, and legs. Rub the reserved butter inside the cavity and stuff with the sliced lemon, garlic heads, quartered onion, and herbs. This flavors the turkey from the inside out, so don't skip it!
Let The Roast Turkey Rest!
It's good to plan ahead here as well. Once the turkey is out of the oven, cover loosely with foil and allow it to rest for a good 20-30 minutes before slicing into it. This is a good time to make your gravy, or throw any last minute dishes into the oven. If you cut into your turkey right away, your turkey will be incredibly dry because all of the juices will spill out. So, don't skip this resting step, it's just as important!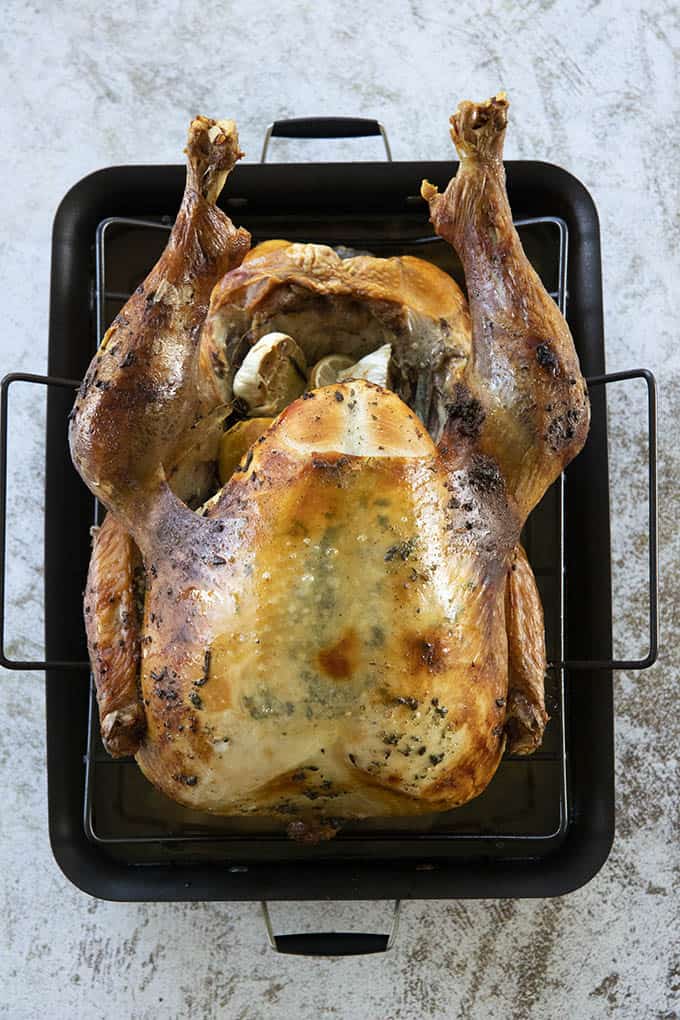 Extra Roast Turkey Cooking Tips:
The amount of butter and herbs here are for a pretty large turkey (14-22 pounds) if your turkey is much smaller, then you can cut the herb butter as well as herbs and seasonings inside of the turkey in half.
DO NOT add any liquid like water or broth to the bottom of your roasting pan under the rack. This will "steam burn" your turkey. The turkey will create its own delicious juices in the bottom of the pan.
There is really no need to baste your turkey. We have added enough flavor inside and out that you shouldn't need to do this at all. If you absolutely want to, you can but keep in mind that when you open the oven door you lose heat, and it may take your turkey longer to reach temperature.
Always loosely tent/cover the turkey with foil before going in the oven. Now, when about 20-30 minutes away from being done, you can remove the foil if you feel like your turkey isn't getting enough color on the skin.
You don't have to tie the turkey legs together. I never do, and I find that everything cooks more evenly when I don't. Some people like to do this because it looks attractive to the eye, and you can do so with kitchen twine if you wish.
Enjoy!
~Nichole
Share:
Please see more list about Best roast turkey recipe ever
Detail: 🔗