This tender, juicy smoked tri tip Traeger recipe will have you smoking meat like a pro in no time. It's fast, packed with flavor from a simple BBQ dry rub, and a staple for get-togethers and game day food. Let's light up the pellet grill and smoke some meat.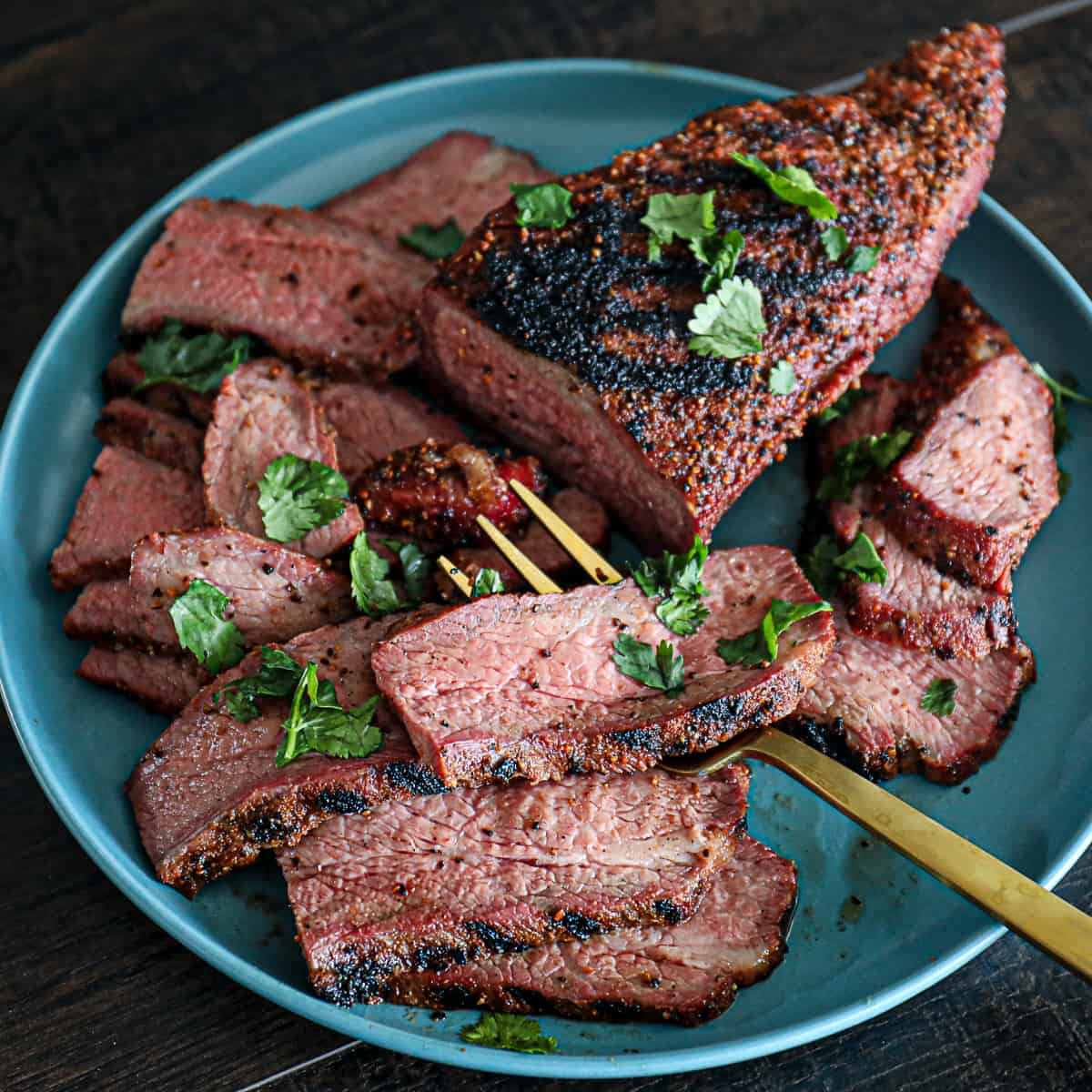 Why this smoked tri tip recipe is so good…
So tasty – perfect for entertaining or making smoked tri tip sandwiches.
You just need a few ingredients.
This is a faster way to smoke tri tip than most recipes.
NO NEED to wrap it in butcher paper.
Hey beginners to smoking meats… you can see the full step by step video at the bottom of this post.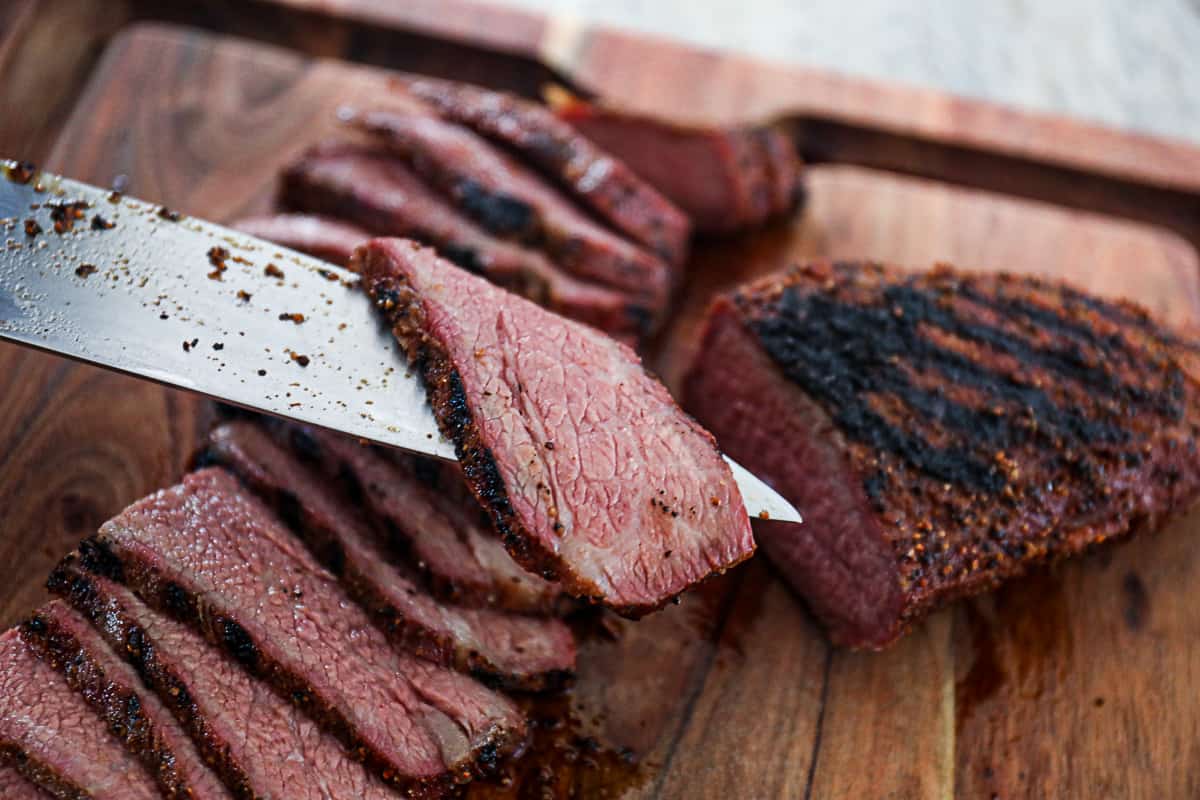 How long to smoke tri tip
If you're wondering exactly ​​how long does it take to smoke a tri tip, the deal is that it varies by temp setting of your pellet grill and the size of the tri tip. This particular Traeger tri tip demo took about 2 hours to smoke, then it was seared on high heat in a cast iron grill pan, which isn't required but adds a beautiful brown bark crust.
You can find recipes for smoking tri tip low and slow at 180 or 200 degrees F, but I recommend cooking it at a higher tri tip smoking temperature of 225 degrees F. It is a bit faster to make it this way, yet still remarkably juicy and tender.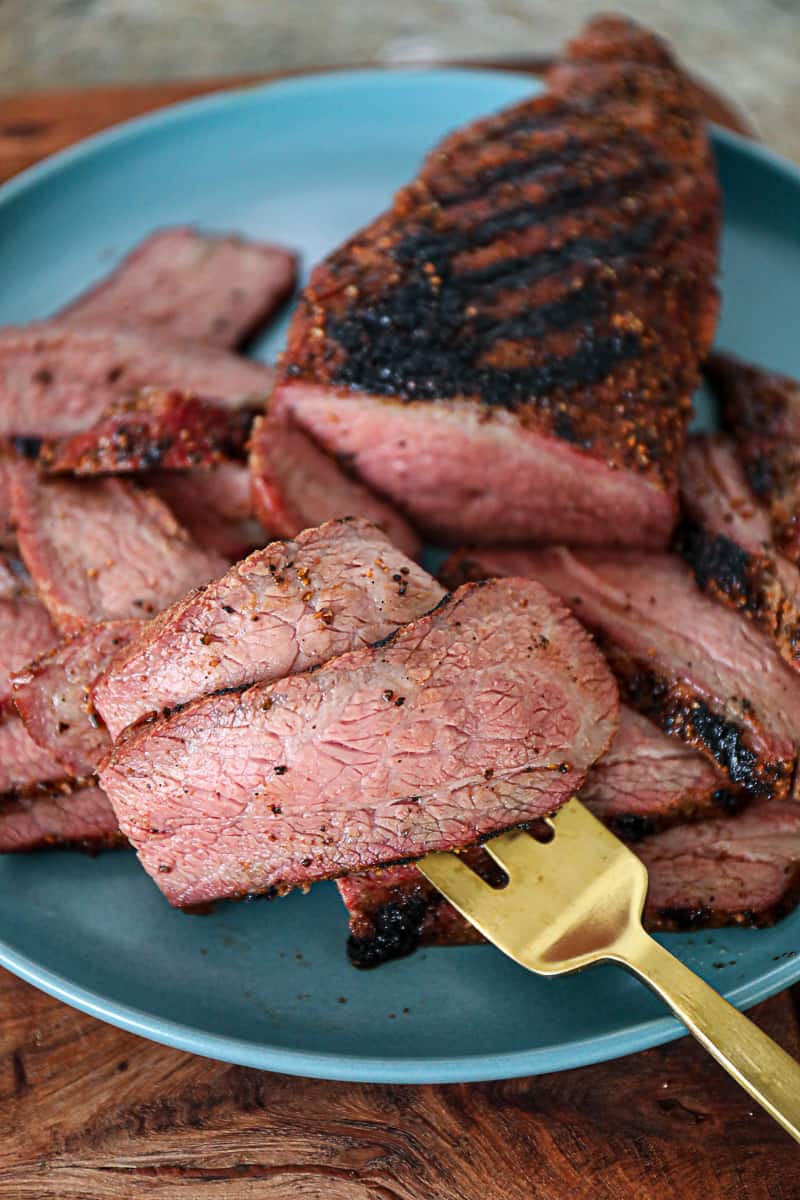 Ingredients
Here's what you need to smoke a tri tip.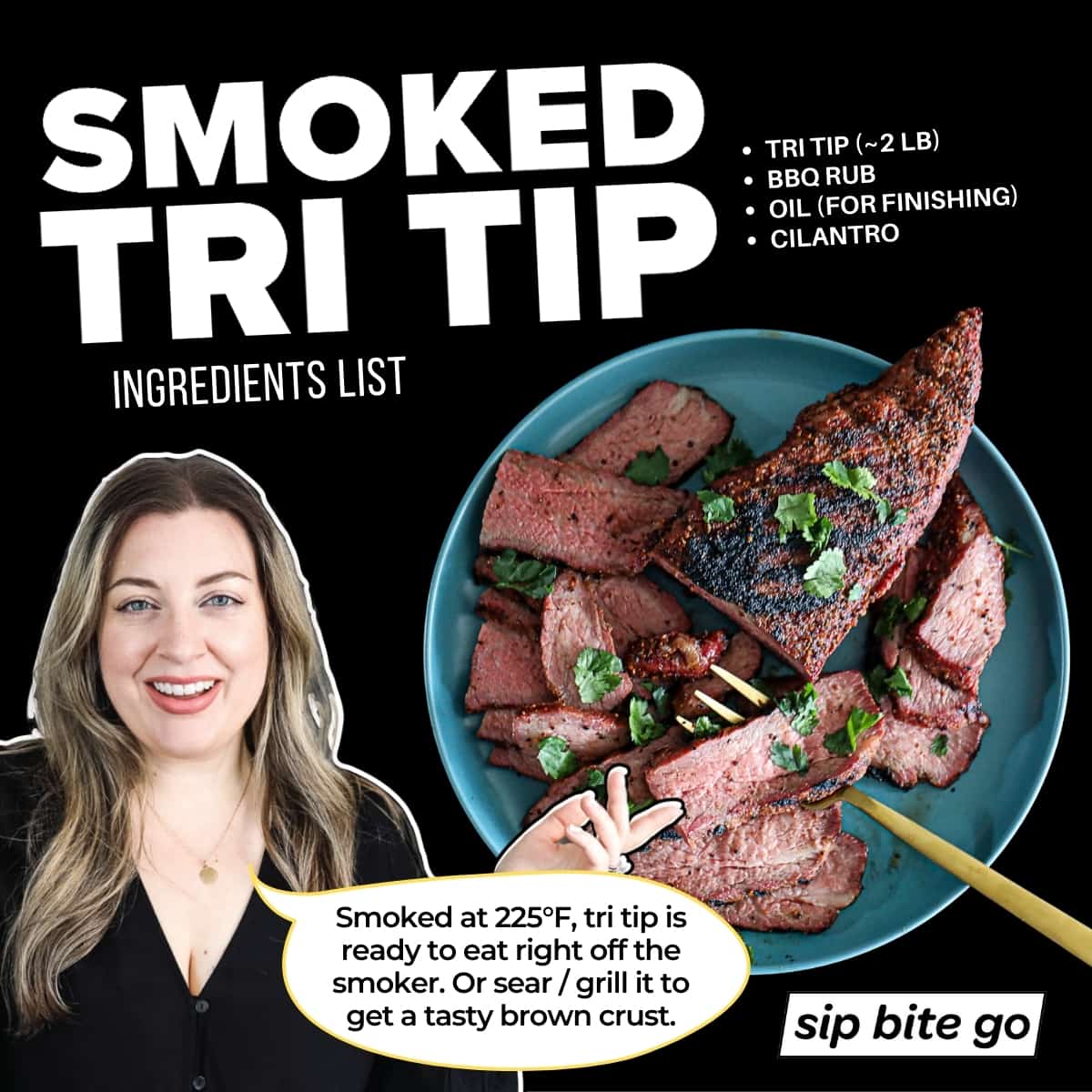 Tri tip beef steak (about 1.5 – 2 lb)
BBQ rub (I used Meat Church Holy Cow BBQ Rub)
Oil (olive oil / avocado oil for finishing tri tip after smoking it, to get a brown crust – optional)
Cilantro (optional)
Pellets to use for tri tip: Traeger pellet blend, pecan, or hickory are good choices
How to smoke a tri tip
Now I'll walk you through the smoked tri tip traeger grill recipe demo, step by step…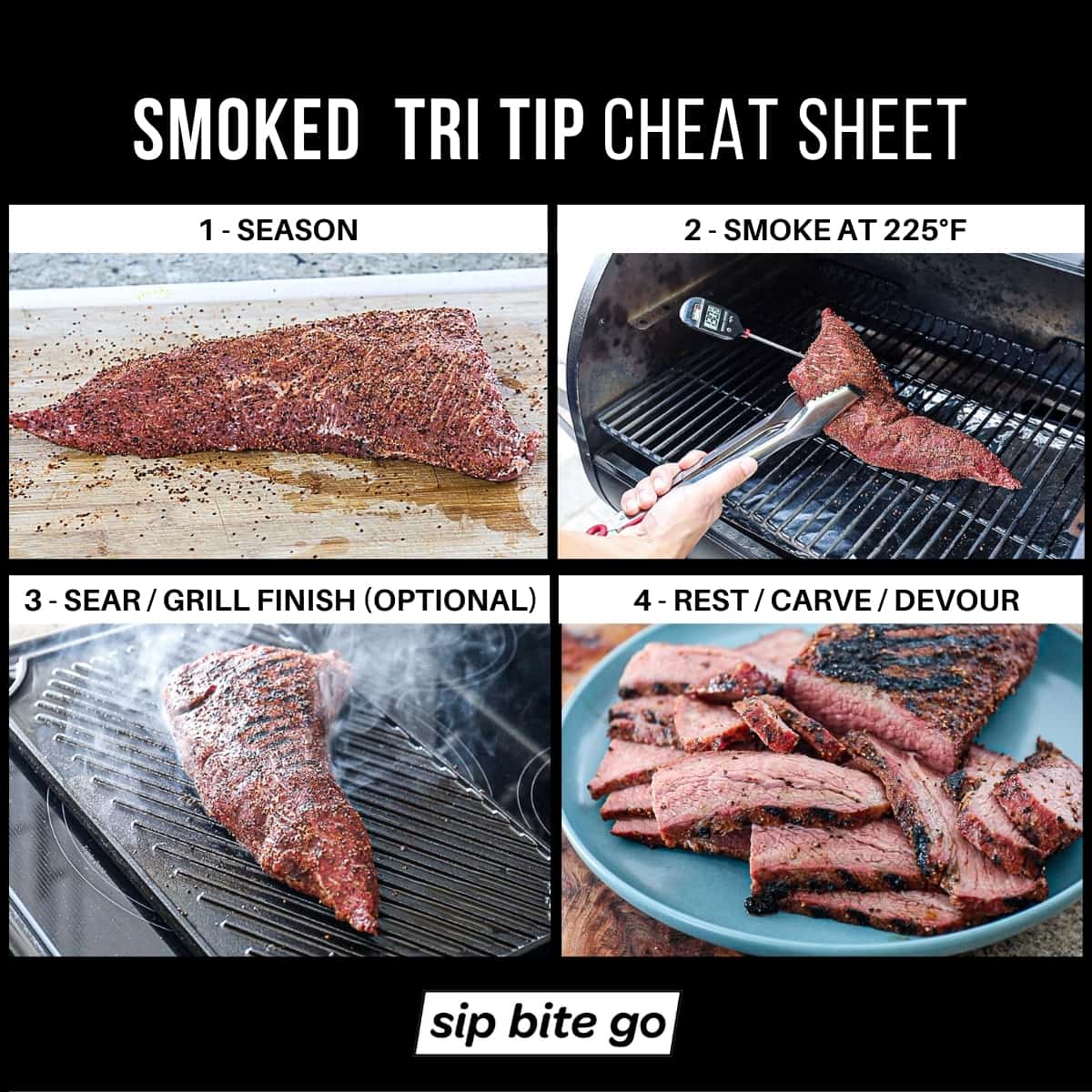 Preheat smoker grill temperature to 225°F.
Season tri tip all over with BBQ rub.
Add seasoned tri tip to Traeger grill grates and cook about 30 minutes a pound. Or until smoked tri tip reaches your desired internal temperature when measured in the thickest part of the meat. Remove the meat from the smoker when done and transfer it to a cutting board.
Want to finish it? Decide whether you want to grill finish or cast iron finish smoked try tip. You can also just slice it up now (after letting it rest) if you don't want to sear or grill the outside.
Cast Iron Finish – Preheat a cast iron skillet or grill pan on the stove to medium-high. Brush oil on a grill pan or drizzle it into a flat cast iron pan. Once the pan is hot, sear smoked tri tip on each side for about 1 minute. Remember to sear the large edges, too, until all sides are browned. There will be a lot of flavor in that try tip bark!
Grill Finish – Brush tri tip with oil. Preheat the grill to 500 degrees F and once hot, add tri tip steak. Sear for about 1 minute on each side, including edges, until browned.
Rest tri tip on a cutting board, covered with tin foil, for about 15 minutes to let the juices settle.
Slice thin.
Sprinkle with cilantro and enjoy.
FAQs
More Tasty Grill + Smoker Recipes
Smoked mac and cheese
Smoked brisket flat
321 ribs
Smoked wings
Traeger tri tip
Smoked turkey breast
Whole smoked turkey
Smoked Traeger pizza
Smoked onion rings
Traeger smoked ham
Smoked whole chicken
Smoked jalapeno poppers
Smoked corn on the cob
Traeger beef ribs
Smoked leg of lamb
Smoked shrimp
Grilled chicken wings
Grilled skirt steak
Flank steak marinade
Grilled potato wedges
Smoked pulled pork
Want more? See my lineup of easy smoker recipes
See my favorite smoker tools and seasonings in my Amazon Storefront.
Meat thermometer recommendations
Every home chef needs a reliable meat thermometer to cook food perfectly.
On Sip Bite Go, you'll often see me using:
Meater thermometer – a fancy wireless thermometer that connects to a phone app – gifted to me from a Traeger partnership.
ThermoPro digital thermometer – which has a wire that connects the thermometer to a display box outside the oven/grill.
It's like being psychic! The great thing about either of the thermometers above is that I don't have to take the food out of the oven to know the temperature.
How to use 'em… What I do is stick the digital thermometer in steak, pork, chicken, whatever… Then put the food in the oven, on the smoker, or grill.
While the meat cooks, it reads the temperature so I know exactly what temp meat is as it's cooking. Without having to take it out and check. It's really difficult to overcook food when you know exactly what temp it is inside!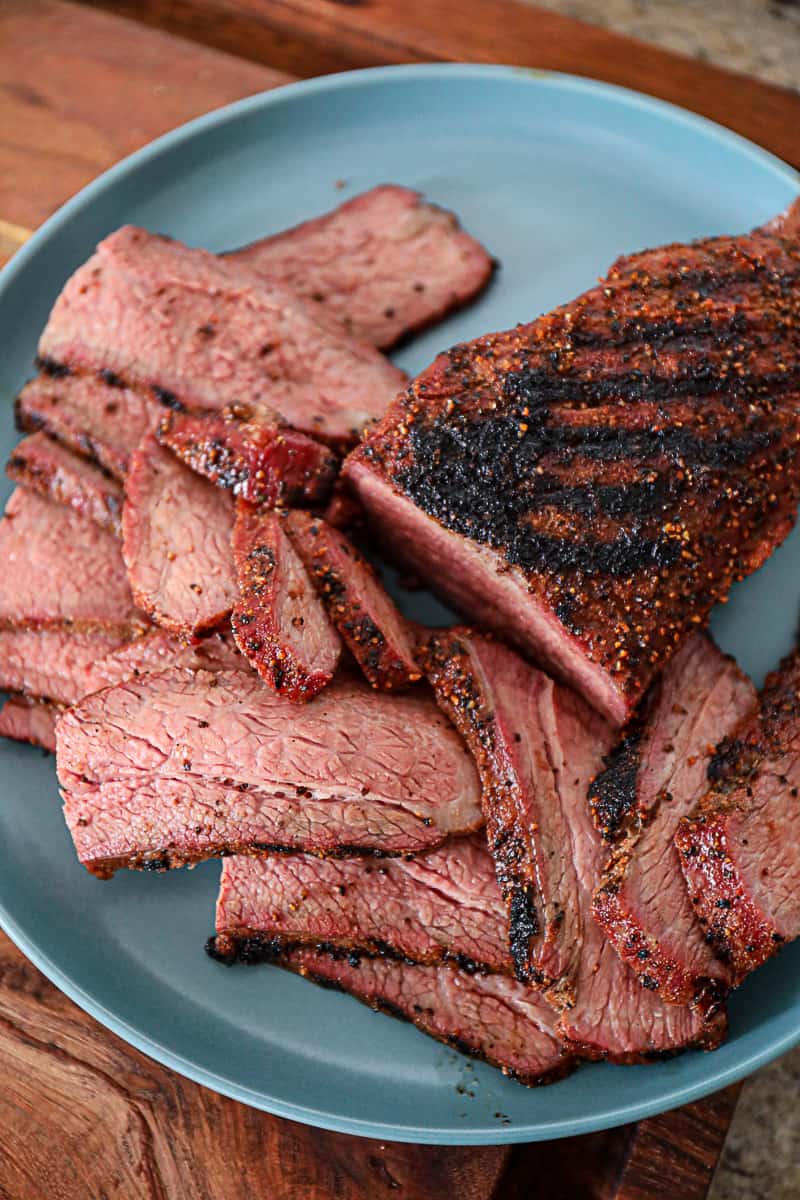 Are you a foodie, too?
Hey home chefs, hope that answers all your questions about pellet smoker tri tip. I know we will be making this and versions of it, all football season long, to cook up with grilled wings and other game day favorites.
See this recipe for smoked baked potatoes…
Check back soon as I'll have a tasty smoker sausage recipe and smoked brisket flat recipes coming in the near future.
If you don't follow me on instagram you totally should @sipbitego. And for more deliciousness, subscribe to the Sip Bite Go channel and see the Sip Bite Go recipe collection.
For more information, please see more information about Smoked tri tip pellet grill
Detail: 🔗