Warning: ADDICTIVE!! See how to smoke St Louis style ribs that have layer upon layer of sweet, salty flavors. This Traeger pork rack recipe uses my easy low and slow method, wrapped in foil, at the perfect temperature. Light up that pellet grill and let's smoke 'em!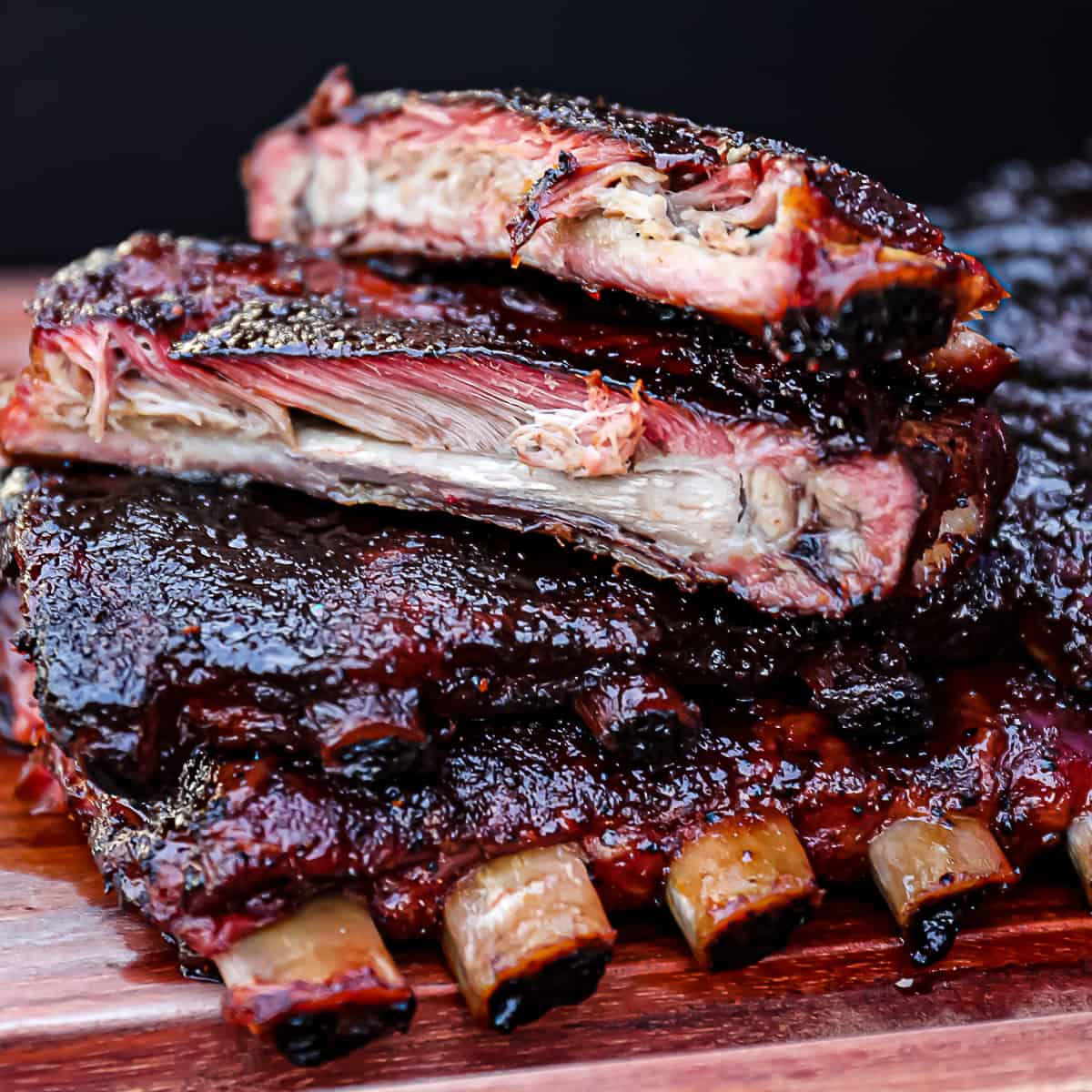 HEY THERE — Get inspired with new, super easy smoker recipes on instagram @sipbitego.
Why this recipe for smoked ribs st louis style is so good…
Only a handful of ingredients – including your favorite beer (substitutions available).
Learn exactly HOW to intensify the tenderness of the pork ribs with my foil-wrap method.
Use any wood pellets you'd like for smoking meats like pork (try Hickory chips).
Learn exactly how long to smoke St Louis ribs at 275 degrees F.
Thank me later – I know once I hit post, and you cook the ribs for yourself, the recipe will have lots of fan mail pouring in!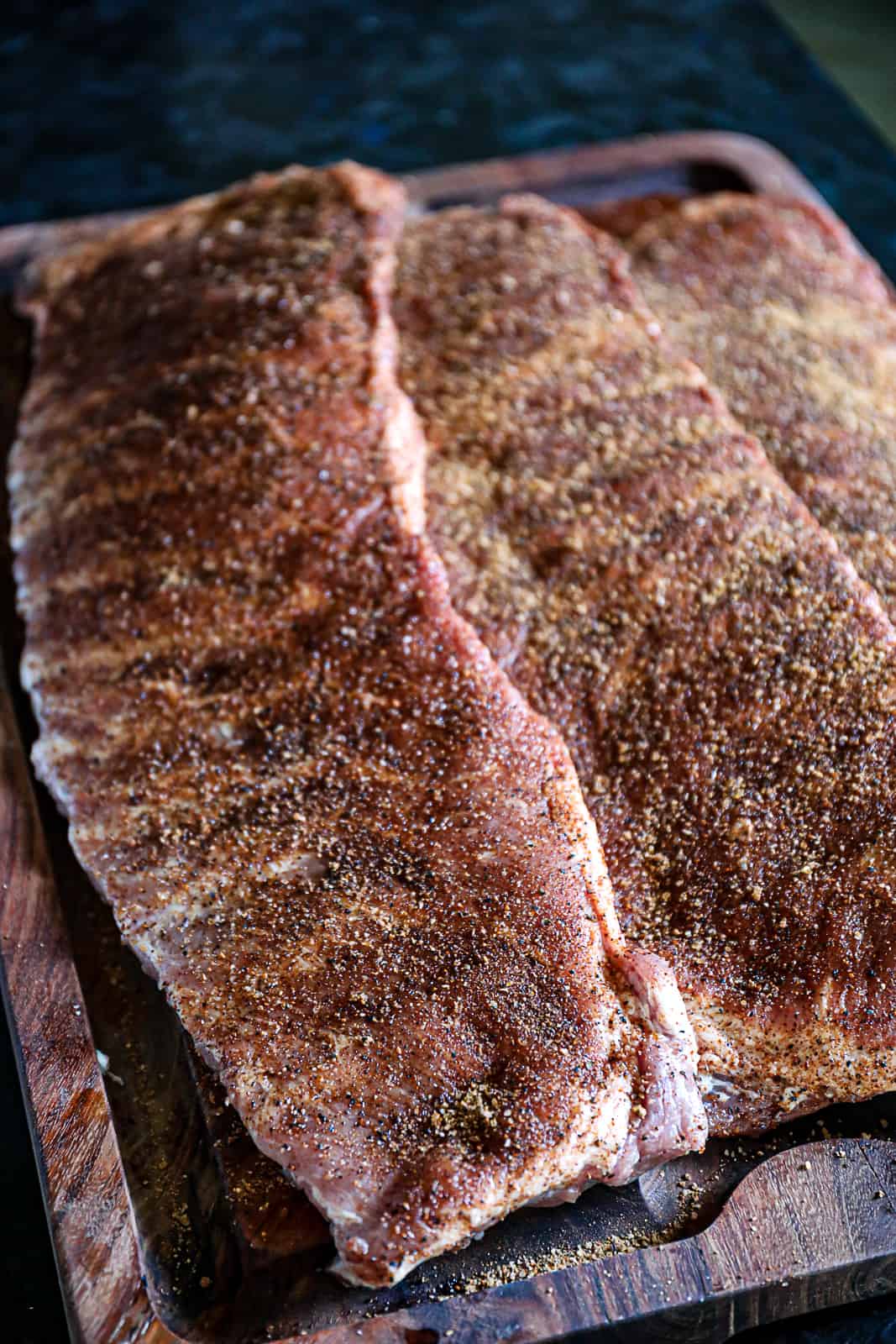 New to smoking ribs?
No need to feel intimidated when it comes to smoking St Louis style ribs on pellet smokers because I'm here to help.
See my step-by-step video for beginners (scroll to bottom of page) – it includes a whole demonstration on wrapping the ribs in foil for moist, tender pork.
How long does it take to smoke St Louis style ribs?
Plan to smoke St. Louis ribs for about 6 hours, which includes wrapping them in foil and finishing them with a BBQ glaze.
Ingredients
Here's what you need to make St Louis style ribs on a Traeger.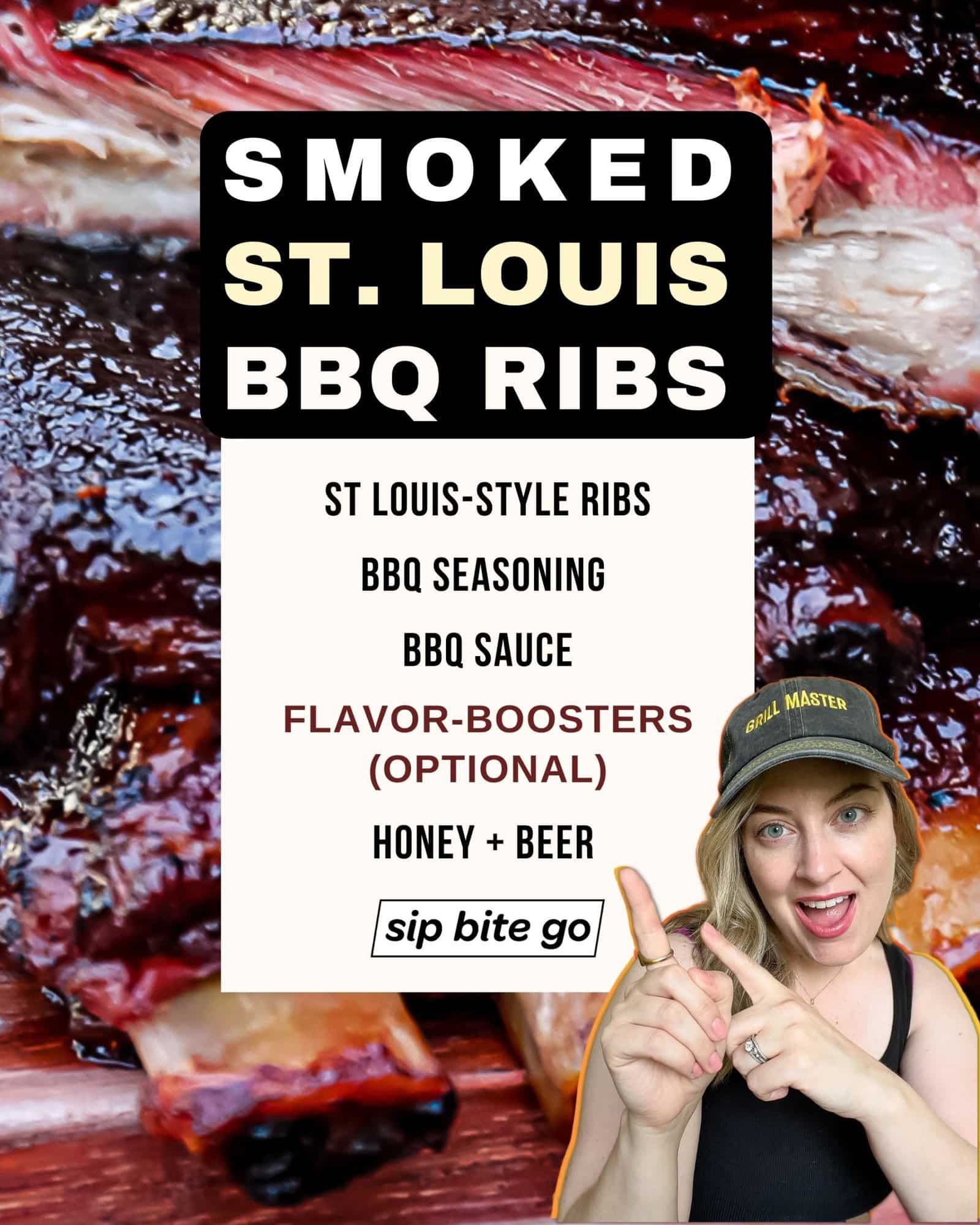 For preparing basic St Louis style smoker ribs
3 racks St Louis style ribs
BBQ seasoning or dry BBQ Pork Rub with salt in it
For the smoked ribs beer and honey sauce (or use BBQ sauce)
Can of beer
Honey (substitute brown sugar)
For the BBQ beer sauce (optional finisher sauce / BBQ glaze)
BBQ sauce
A splash of beer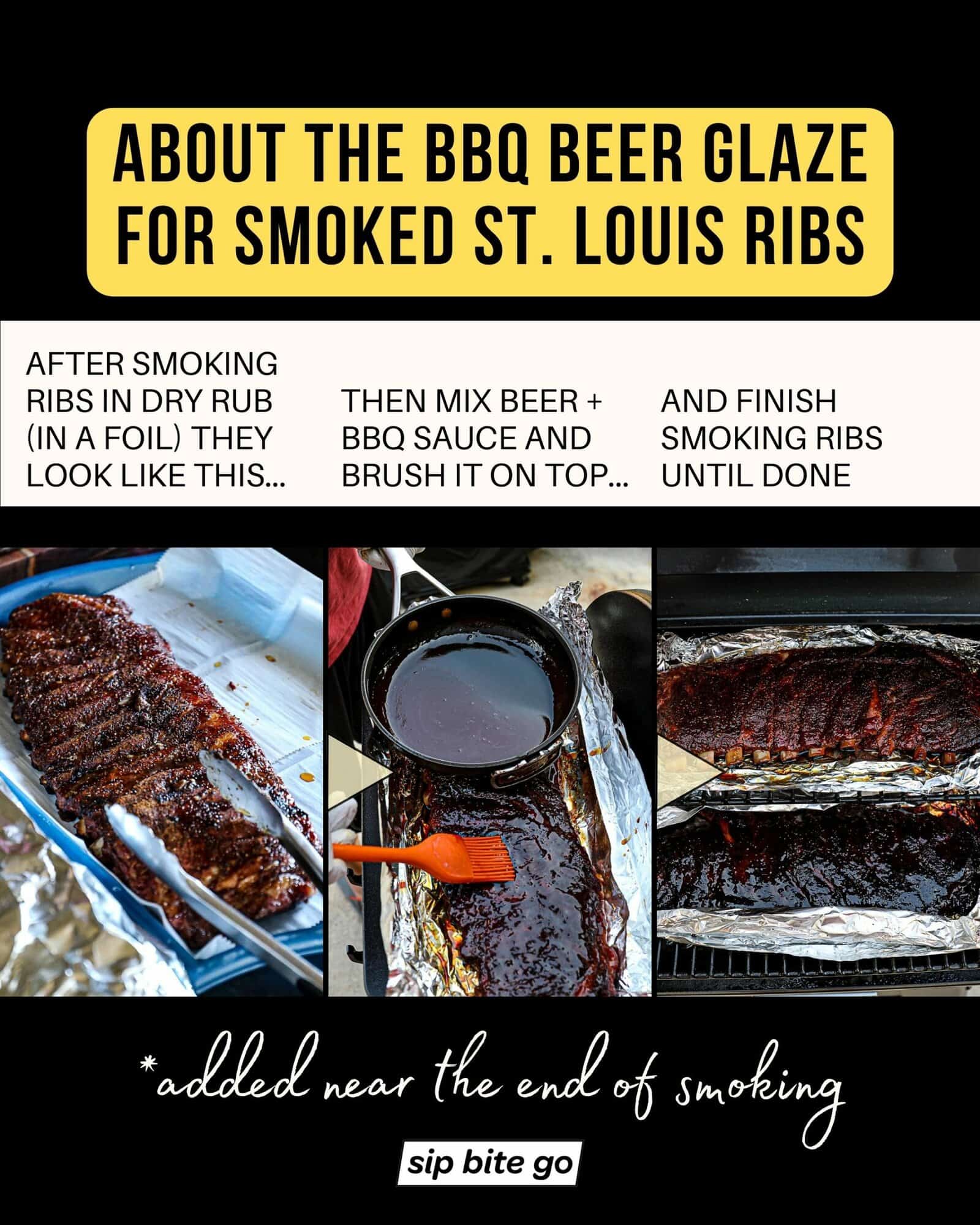 Do you have to remove the membrane from St Louis ribs before smoking?
Yes, I always recommend removing the membrane (aka silverskin or white peritoneum tissue) before smoking St. Louis style ribs, so the flavors of the dry rub and sauces can better penetrate the meat.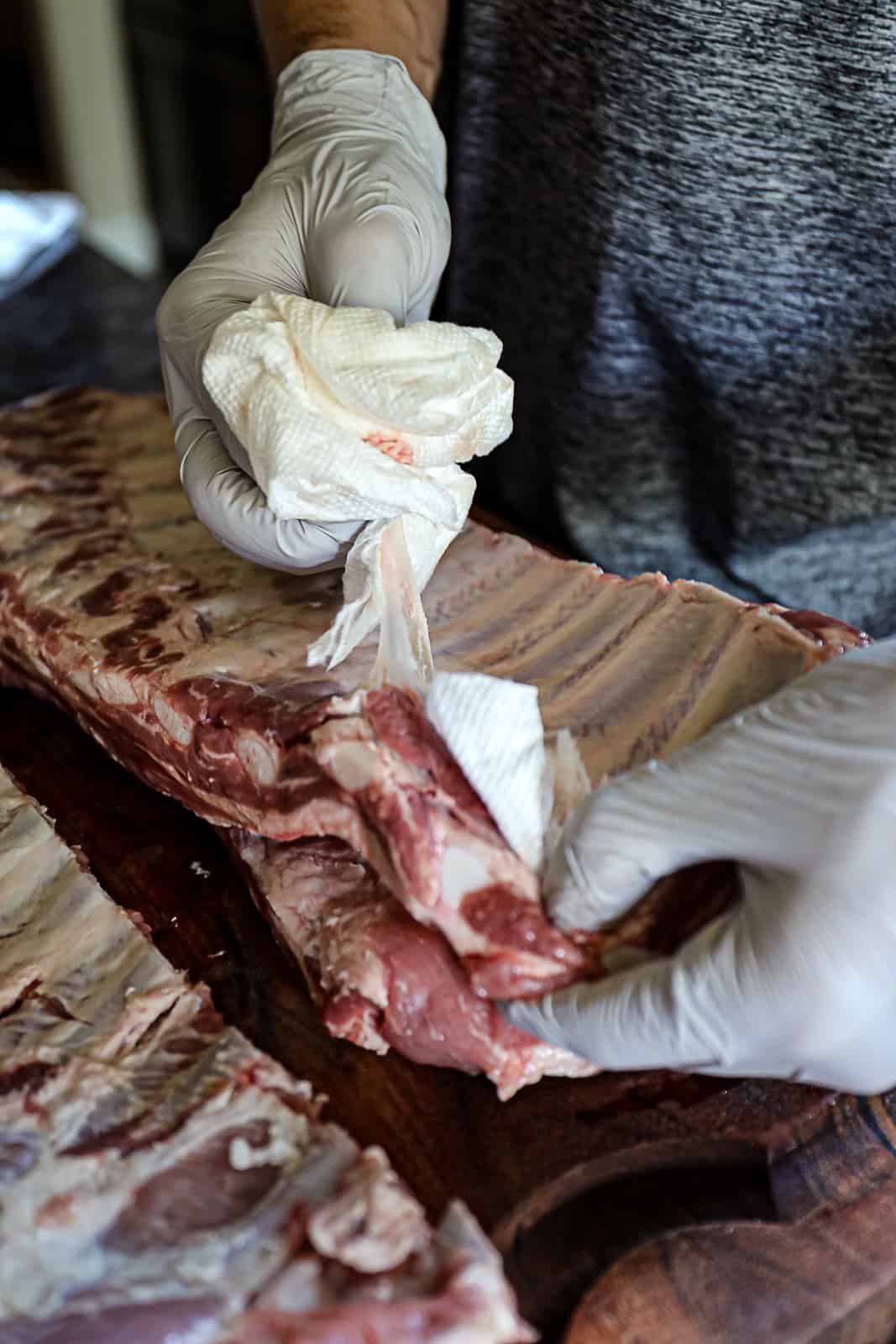 How to remove the membrane
It's easier than you'd think.
Pat the ribs dry with a paper towel.
Use the paper towel to find an extra flabby piece of white membrane and pull it back slowly to separate the meat from the membrane. It takes just a minute and is completely worth it.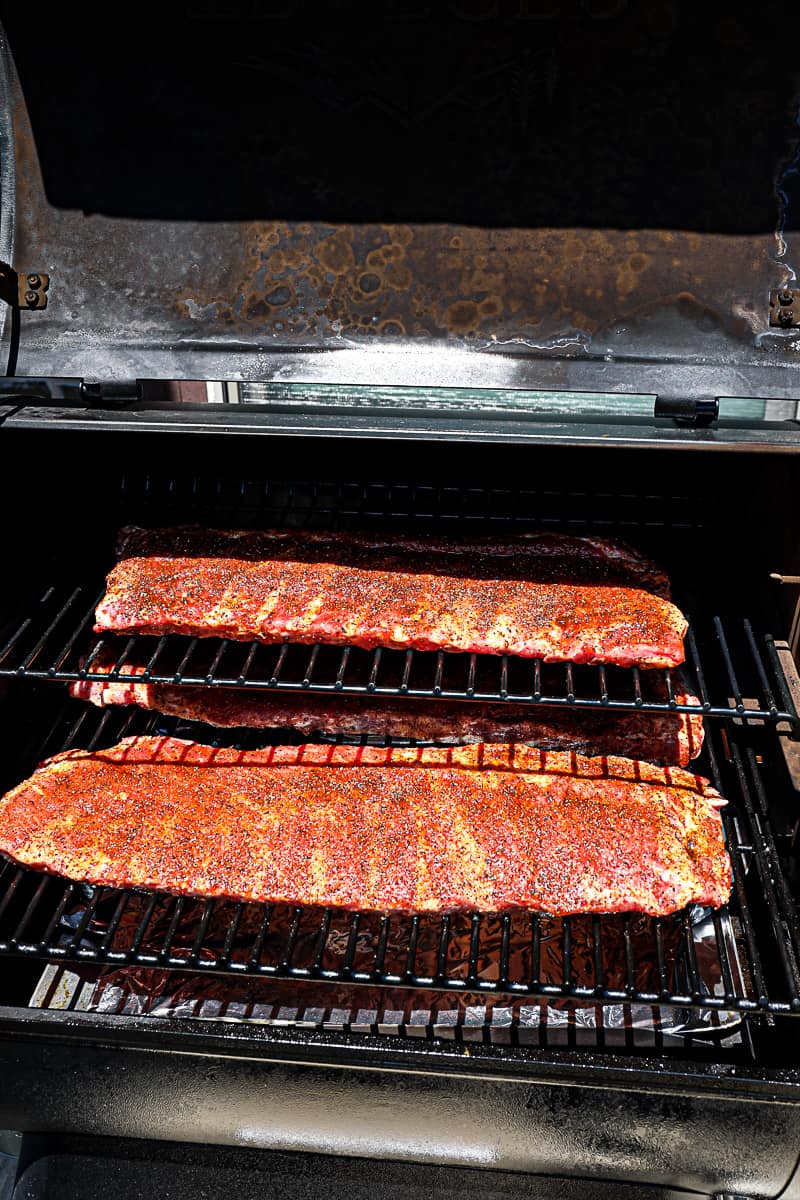 How to smoke St Louis ribs
Now I'll walk you through it…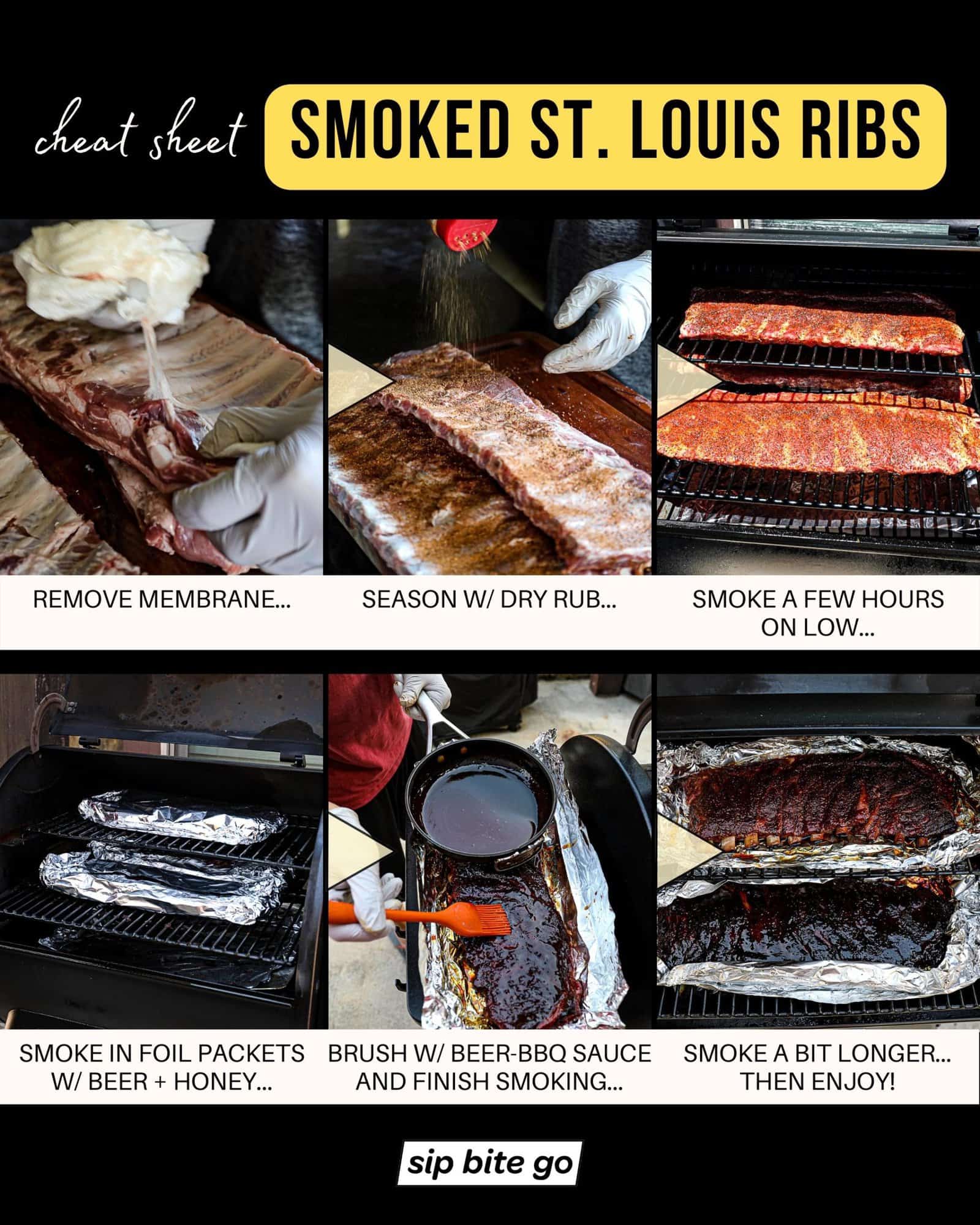 Quick look at this smoker recipe for St. Louis style ribs
Preheat the smoker.
Prepare and season both sides of the ribs.
Smoke ribs for a few hours.
Add smoked pork ribs to foil packets with beer and honey mixture (or substitute BBQ sauce).
Smoke again, sealed in packets.
Whip up beer and BBQ sauce (100% easy, tasty glaze for finishing your irresistible ribs!)
Open smoked St. Louis ribs foil packets and brush on BBQ beer sauce for the grand finale.
Finish smoking St. Louis style ribs until done.
Admire your smoked ribs and promise your family / friends you'll make the recipe again very, very soon.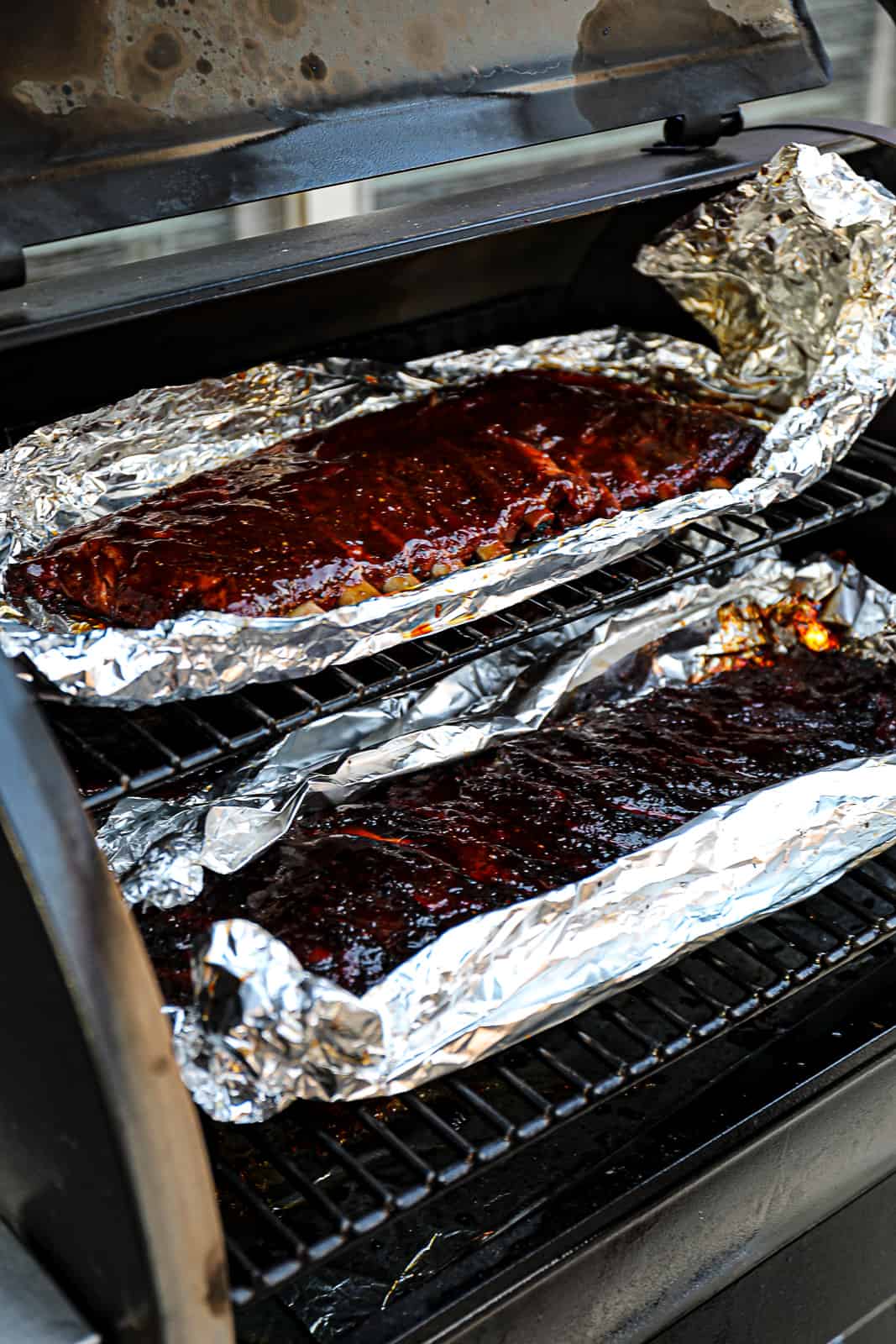 When making St Louis ribs smoker style, I like to really turn up the flavor and get a beautiful coloring inside the pork. This cook was done with very flavorful Traeger Hickory chips.
Detailed recipe steps
Preheat Traeger Grills or Pitt Boss or whatever pellet grill you're using to 275 degrees F.
Prep St Louis ribs (optional step, will improve taste and allow seasonings to get through to the meat better). Pat St Louis ribs dry with a paper towel. Use a piece of paper towel to grab on to the white connective tissue / membrane attached to the ribs (most cuts come with this still attached). Pull off what naturally comes off and discard.
Season St Louis ribs for smoking. Generously sprinkle a Pork rub or BBQ seasoning all over the ribs, front back sides – I mean, all of it! Go the extra step and massage the seasoning into the meat with your hands.
Add St. Louis ribs to smoker, with the meaty side of the ribs facing up (bone side down).In the Traeger 650, both the top rack and bottom rack were needed to fit 3 racks of ribs.
Smoke St Louis ribs at 275 degrees F for 3 hours. Remove the ribs from the smoker and leave the smoker on with the lid closed.
Make a foil packet for smoking ribs. For this step, you'll make a foil packet to hold the honey beer sauce and ribs. To do this, spread out a piece of foil that is about a foot longer than the ribs. Since you'll be adding liquid to the packet, fold up all 4 sides about an inch, so the foil resembles a rimmed baking sheet pan.
Wrap St. Louis smoked ribs in foil with beer and honey mixture. Each rack will be placed in its own foil packet. To do this, add ⅓ of the can of beer, and 1 tbsp of honey to the bottom of each packet, spread out a bit in the center (see my video). Next, add a rack of meaty side of the ribs facing down (so they'll get covered in the beer and honey mixture). Lastly, fold the foil all around the rack of ribs like a burrito, folding the sides inwards. Then add another large piece of foil on top, so when you flip the ribs over to smoke, the liquid won't come out. (Alright, now don't forget which side of your ribs is the meaty side, it will be important for the next step.) Wrap all the St. Louis rack of ribs in foil using this method and then get back out to the pellet grill and finish your ribs!
Smoke foil wrapped St. Louis ribs at 275 degrees F for ~2.5 hrs or until the internal temperature reaches 185 degrees F. (IMPORTANT: make sure the meaty side of the ribs is facing UP when placed back on the traeger, so the beer liquid and honey gets into the ribs.) Remove ribs from the smoker and leave the smoker on with the lid closed.
Make the BBQ beer sauce (optional, or just use BBQ sauce). In a small saucepan on the stove on medium heat, add BBQ sauce and beer. Stir regularly (basically constantly) while the sauce simmers and bubbles for about 2-3 minutes. Remove BBQ sauce from heat once it foams and the color becomes lighter (once the beer is cooked into the BBQ sauce).
Go back to the smoking St. Louis ribs on the Traeger with your BBQ beer sauce. Carefully remove each foil packet of ribs and open up the packet. The inside part of the ribs (not the meaty part) will be facing you. Use two tongs to gently flip over the ribs (which will be fall-apart-tender at this point) so the meaty part is facing up again. (watch the video, this isn't easy to explain!) The ribs are going to look unbelievably delicious at this point, but I encourage you to smoke them just a bit longer with the BBQ sauce on top so you can fully experience this epic smoked ribs recipe!
Add BBQ sauce on smoked St. Louis ribs. Brush the sauce right on top of all the ribs. Leave the ribs on top of the opened foil packed (and leave the packet open, almost like a rimmed baking tray to hold all the juices). Then add each foil sheet holding ribs back on the smoker and finish smoking at 275 degrees F for 15-30 minutes (on top of foil, but uncovered on top).
Finish smoking St. Louis ribs on the pellet grill until done. Ribs are officially done when the internal temperature reaches 185 to 190 degrees F, which they should definitely be by this point – use a thermometer to test it.
Remove ribs from the smoker. Transfer them to a cutting board to cool as desired, admire your work, and enjoy your ribs.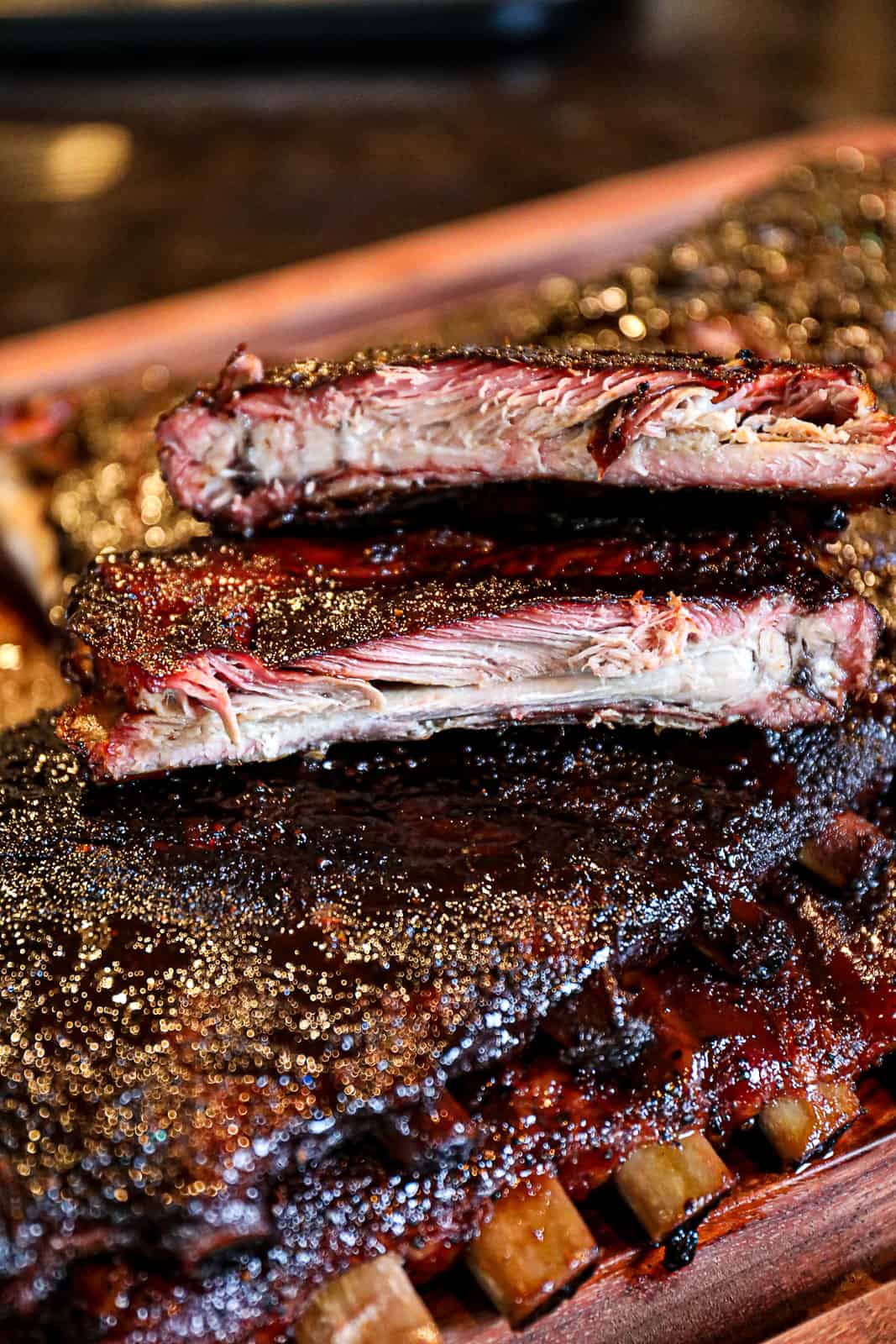 Serve these ribs with smoked corn on the cob, smoked baked potatoes, or a heaping spoonful of Traeger smoked mac and cheese.
FAQs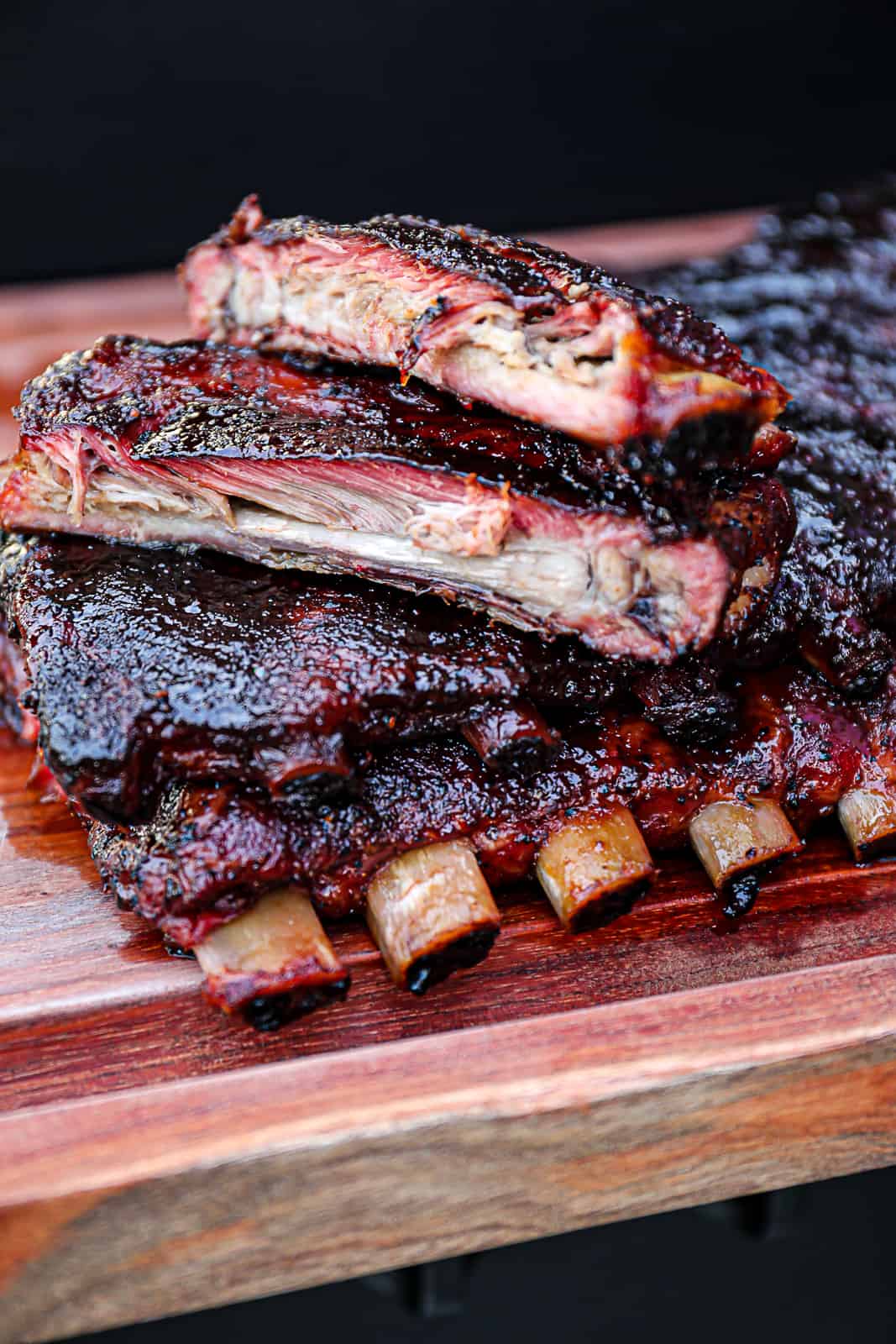 More Tasty Grill + Smoker Recipes
Smoked mac and cheese
Smoked brisket flat
321 ribs
Smoked wings
Traeger tri tip
Smoked turkey breast
Whole smoked turkey
Smoked Traeger pizza
Smoked onion rings
Traeger smoked ham
Smoked whole chicken
Smoked jalapeno poppers
Smoked corn on the cob
Traeger beef ribs
Smoked leg of lamb
Smoked shrimp
Grilled chicken wings
Grilled skirt steak
Flank steak marinade
Grilled potato wedges
Smoked pulled pork
Want more? See my lineup of easy smoker recipes
See my favorite smoker tools and seasonings in my Amazon Storefront.
Meat thermometer recommendations
Every home chef needs a reliable meat thermometer to cook food perfectly.
On Sip Bite Go, you'll often see me using:
Meater thermometer – a fancy wireless thermometer that connects to a phone app – gifted to me from a Traeger partnership.
ThermoPro digital thermometer – which has a wire that connects the thermometer to a display box outside the oven/grill.
It's like being psychic! The great thing about either of the thermometers above is that I don't have to take the food out of the oven to know the temperature.
How to use 'em… What I do is stick the digital thermometer in steak, pork, chicken, whatever… Then put the food in the oven, on the smoker, or grill.
While the meat cooks, it reads the temperature so I know exactly what temp meat is as it's cooking. Without having to take it out and check. It's really difficult to overcook food when you know exactly what temp it is inside!
Why I wrote this recipe
First off, ribs are a staple in my house. They're easy to cook when you get the hang of them, and both my toddler and husband love them.
So perfecting how to cook ribs perfectly on each of my outdoor kitchen appliances, as long as indoor tools like the crock pot, and this sous vide spare ribs recipe, has become a cooking hobby of mine all in itself!
But for this particular Traeger st louis style ribs demonstration, my husband went to run our monthly Costco trip.
I asked him to bring back plants (or text me photos) and he's usually so good at remembering these little add-on items I throw onto the list in his mind as he heads to the car.
But not on this trip!
Instead he completely spaced on buying me plants, and instead brought back 3 racks of pork ribs – these St. Louis style ribs.
Hmm. Definitely tastier than plants, sure. But next time I'll make an actual note!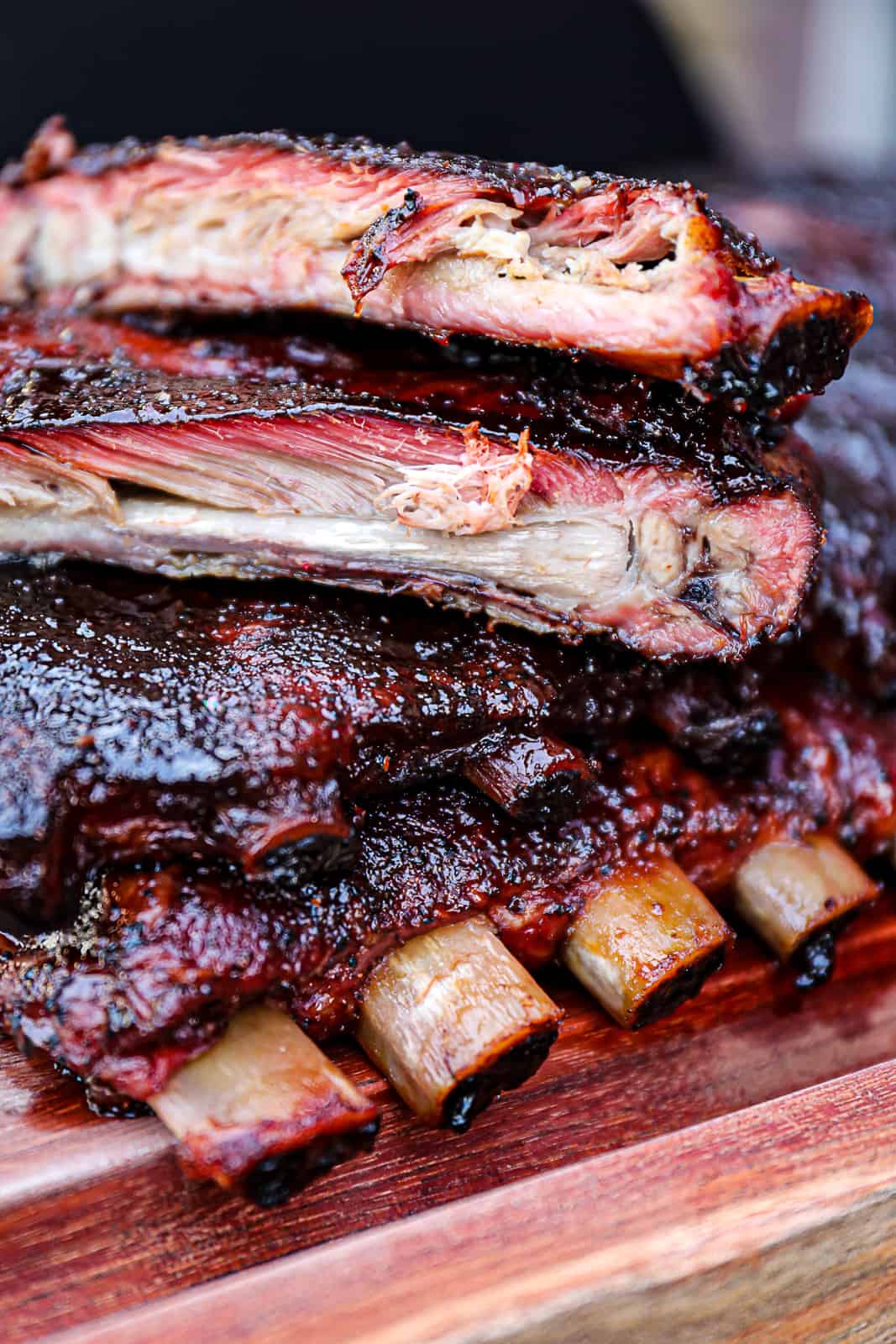 Are you a foodie, too?
Hey home chefs, hope you have all the kitchen confidence you need to make st louis ribs on Traeger Grills or whatever pellet grill you're using. In the future, I'll share how to smoke them on a charcoal grill with indirect heat tips with wood chip recommendations, and more.
Check back soon for my recipe for the 321 ribs method for making smoked baby back ribs that are smothered in barbecue sauce.
If you don't follow me on instagram you totally should @sipbitego. And for more deliciousness, subscribe to the Sip Bite Go channel and see the Sip Bite Go recipe collection.
Through this article, we hope to help you understand Smoking ribs on a pellet grill
Detail: 🔗