A simple yet very tasty vegan jam packed vegan salad combination with a combination of sweet corn, black beans, quinoa, avocado and peppers just to name a few drizzled with a sweet balsamic vinegar dressing.
If you're fan of salad or even just looking to hop right on the wagon, then you are in the right place. I hope that this jam packed black bean and corn salad with balsamic vinegar will win you over.
It's made from scratch, using ingredients that are easy to obtain from your local supermarket, some you will already have to had and doesn't take long to prepare (bonus).
Who doesn't love a salad that comes together within 30 minutes? I know I do!!.
This black bean and corn salad with balsamic vinegar is what you have been waiting for because it gives you that ultimate goodness with some Latin flare.
Since first making this recipe I've tweaked it by increasing the amount of corn and black beans and adding balsamic vinegar which I think makes a difference in taste, it's so good I wanted to share it with you.
You know I'm a big fan of latin flavours I just recently made this Colombian coconut rice known as Arroz Con Coco
In the same breathe, I'm very partial to some some black beans (as if that wasn't so obvious) so this Black Bean Curry or some Moros y Cristianos are ideal for a girl like me.
Ingredients you will need
I will list the main ingredients needed to build your salad
Black Beans: To keep the time down use cooked beans. They can be canned, just make sure water is drained off and it's free from sodium.
Sweet Corn: When eating any corn related I try to go for NON GMO/organic corn. You want loose corn pieces, not corn on the cob.
Red Peppers: This is for that crunchy flare with sweetness. Red bell peppers are the sweetest of them all so I would definitely use these or yellow ones.
Mango: This is optional but I like do add some uber sweet mango to my salads. It's so nice to get a random burst of sweetness with savory
Quinoa: Cooked quinoa, red, white or tri colours, it doesn't matter!!
Red Onions: That slight tartness from using red onions is what you need to balance things out.
Scallion: This is optional but I like scallions!!
Avocado: It would be quite a theme theme dish without avocados, make sure they aren't firm, purchase soft ones.
How to make black bean and corn salad with balsamic vinegar
Add all of the ingredients to large bowl (mango too and avocado if you are eating straight away)
Toss all of the ingredients together so they are fully combined and ready for the dressing.
Why you should make this salad
Salads are a creative way of incorporating your 5 a day fruit and veggies.
It's really simple to make and beginner friendly
Both quinoa and black beans contain protein
It's a salad that contains no leafy greens (if you don't like them)
The salad has flavour – no boring, bland rabbit food around here!!
It's healthy with nutritional value
It's suitable for vegans and contains NO gluten.
You can also switch things up a little and add some meat if you're not a vegan. Alternatively, you can add more fruit and not just go with the mango or even include more veggies.
It's such a diverse salad but really all you need is here in my recipe.
How do you prevent avocado from turning brown?
Just like apples, avocado have a tendency to slightly darken in colour. This occurs when the flesh is exposed to the air.
Granted it doesn't look very appetising though it's still perfectly safe to eat. You can omit this from happening (to a degree) by cutting your avocado and leaving it to soak in some salt water.
How long can I keep the salad refrigerated?
I would advise to consume within 2 days from making it to be on the safe side.
Notes and tips
Chop your veggies ahead of time. If you're really pushed for time or simply want to be a head of yourself then I would suggest chopping up your veggies and storing them in a zip lock bag ready to use (excluding the avocado).
Avocado inclusion. I would advise cutting your avocado as soon as you're ready to eat the salad. Don't leave it soak overnight or for a length of time. In other words, let it be one of the last things to add to your salad bowl.
Mix things up. There's no reason why you cannot add some other herbs like parsley, thyme to the salad.
For best results. Allow the bowl of salad to rest in the refrigerator for 15 minutes with the dressing on so the flavours really infuse.
Be diverse. That's right, think outside the box, serve this salad as a salsa or with some corn chips.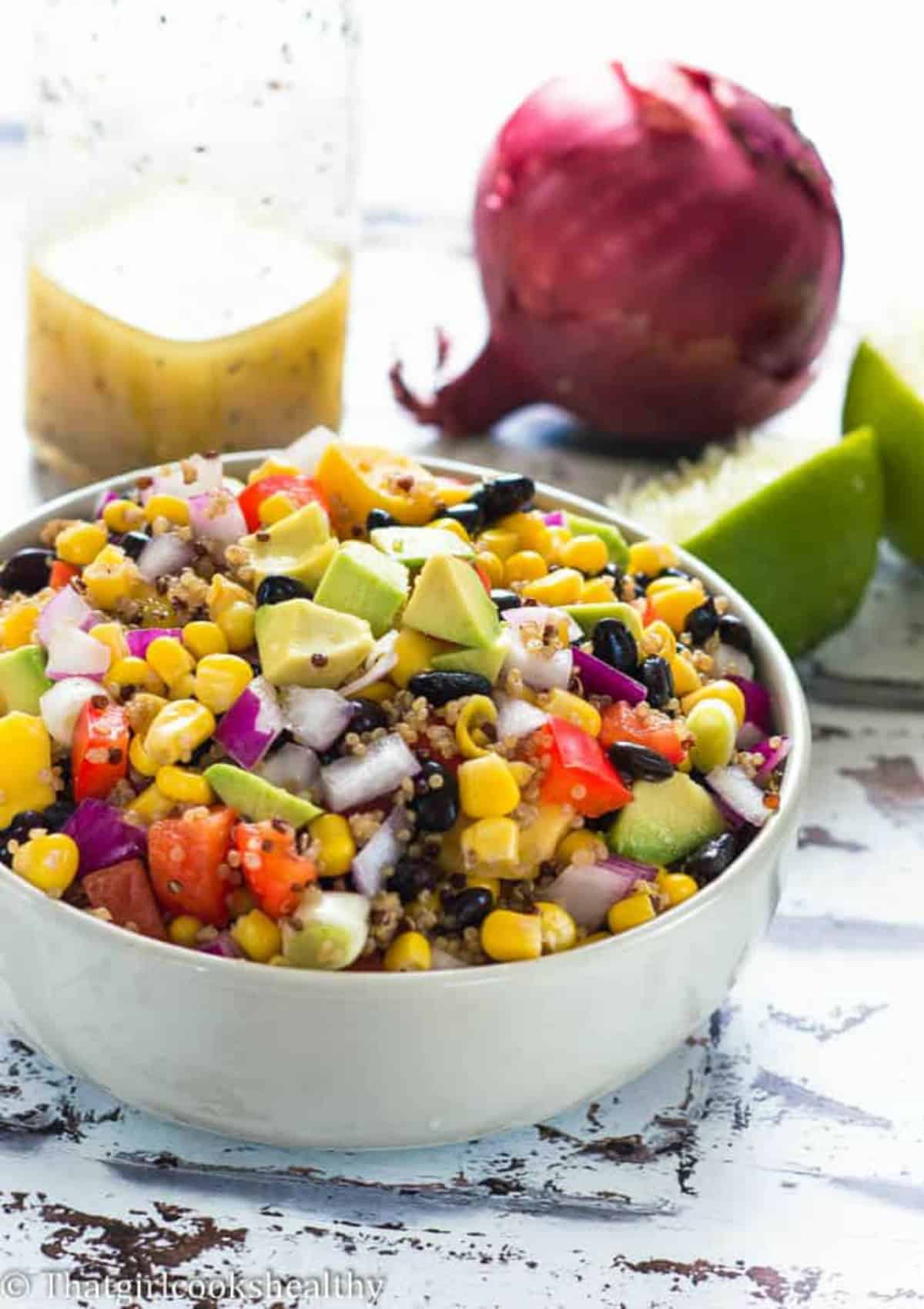 Try these avocado desserts
**Don't forget to comment below and star rate if you have tried my recipes. Let's be friends and engage on Facebook and Instagram I also like to pin on Pinterest, where you can find more amazing recipes.**
Please see more list about Black bean and corn salad with balsamic vinegar
Detail: 🔗